Dual WhatsApp accounts by Parallel Space
The Parallel Space is a best free application to use dual WhatsApp accounts (Two WhatsApp) on the same Android device. by the way, this app allows you to use dual accounts not only on WhatsApp but also you can use dual accounts on Facebook, Facebook messenger, Instagram, twitter, Gmail, Dropbox and so on.
Parallel Space developer said on Google play store, there are 20 million users log in to use their multi-account using Parallel Space. Moreover, it has got pretty good star rating (4.6 out of 5 stars) and user reviews on play store.
When we talk about the feature of Parallel Space, the app has designed with a simple user interface and also we can simply access all the features of this app. the app supports for any of service to use dual accounts including the games such as Viber, skype, telegram, facebook, Clash of Clans, Etc as I talked before. However, I get WhatsApp service to demonstrate the Parallel Space in this article.
Run two WhatsApp accounts on on single Android
Step 1: First of all, Download the Parallel Space app from here
Step 2: Once you downloaded the app open it from app drawer and either read the intro or skip it.
Step 3: then you will see a plus marked "+" icon at the bottom of the app's main screen. Now, you can add WhatsApp or any other service to Parallel Space by tapping the plus marked "+" icon.
That's it, Enjoy! Now you can you dual WhatsApp accounts on single divice.
Don't Miss: How to read WhatsApp messeges without sender kowing
Other Useful features of Parallel Space
Create a shortcut on home screen for Parallel Space
Step 1: Open the app
Step 2: Tap the icon named "Control center" from the app's main screen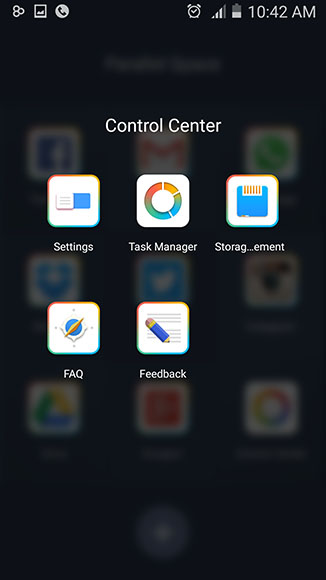 Step 3: then tap settings > Create shortcut
Access Parallel Space app directly from Home screen
This app has a quick access feature that allows you to access the app directly from any screen by swiping the home screen whether from the left bottom or right bottom, this feature has been disabled by the default and you can enable it through the following method.
Step 1: Go to the app setting page as I explained above.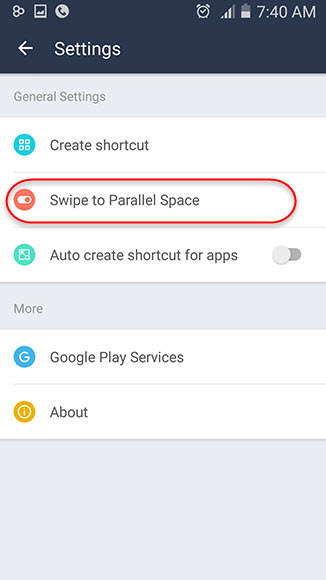 Step 2: Then tap the "Swipe to parallel space" button.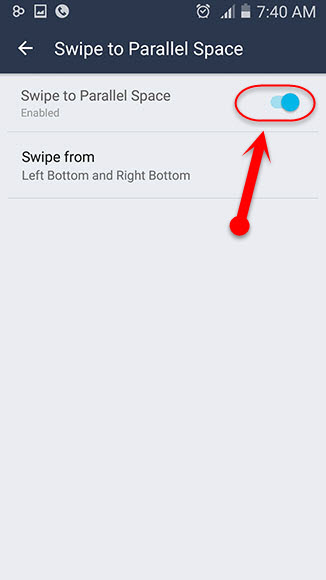 Step 3: Finally, enable it by the given switch button.
Final thought
There are many reasons forces us to use dual WhatsApp accounts on a single device such as when you want to hide some WhatsApp conversation from friends and families, or sometimes you don't wish to bulk your business with a personal conversation on WhatsApp or any other reason that can force you to do this. So, above I explained method is secure, simple and you don't want to afraid of your privacy.
Also Read: How to reply specific messege on WhatsApp