Here are 4 of the best missed call reminder apps for Android. These free Android apps help you remind your missed calls and unread SMS after a certain period of the time it was made. And also some of these SMS and call notifier applications provide widgets too, so you can simply see all of your pending calls, unread text messages, and email just by looking at your home screen. In addition to that, this list also includes an app that shows all your Android missed call notifications on the lock screen as well. See Also: ACR Call Recorder for Android
We receive so many calls every day but sometimes we may miss to pick up calls because of several reasons such as our phone may have had in the silence mode when a call arrives, our phone may away from us, or unable to listen to the sound, and so on. You know that these types of calls will be marked as miss call on the mobile phone. Although all miss calls are not important, one or a few miss call may be very important for us.
As far as I know, there is no built-in missed call reminding function on the most mobile devices. However, some third-party Android apps let mobile users to get this facility on their smartphone. Nowadays there is a lot Android app available for reminding missed calls therefore now we can easily manage each and every calls we have missed answering. Let's see 4 of the best Android missed call reminder apps here.
Missed call reminder
Missed call reminder is an Android app that helps you to remind your miss calls as well as text messages. The app has designed with a simple user-interface and it offers material light and dark theme for the app's interface. And it offers lots of settings options about reminding missed calls and SMS.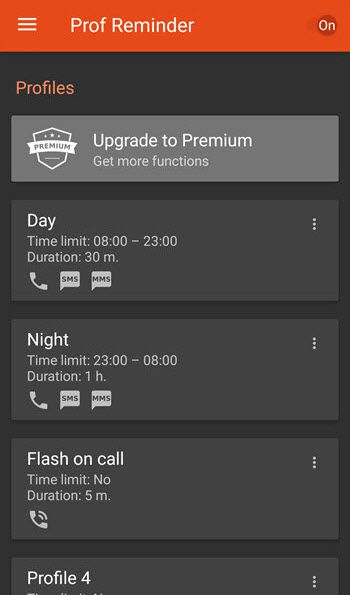 The Missed call reminder app provides profile features for ease of use. You can create multiple profiles on the app to remind missed calls, unread SMS and MMS messages. The app gives various options to remind your missed call or SMS. There are also available the options to choose to remind notification schedule, disable notification sound when you set your phone in silent mode, and ignore accidental (short) calls. As of your schedule, once your profile has reached the exact time and date, the app will be reminded your miss calls and unread SMS by sound, vibration, camera flash, LED indicator, or turning the screen on. You can use any of these reminding options for your each profile.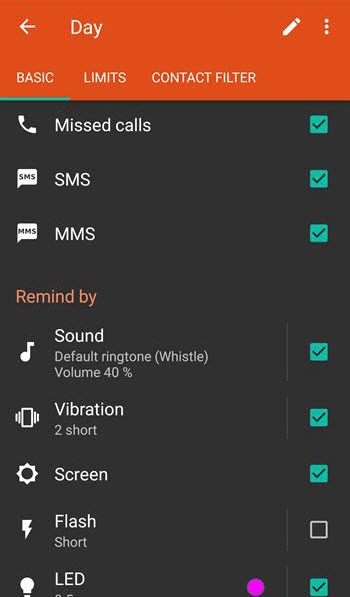 The app will work on Android 4.0 and above versions. It is free and simple to use, even it doesn't show ads within the app. But the free version of this app doesn't allow to set miss call or SMS notification for a specific contact or group of selected contact, you can access this function and some other features by becoming a premium user.
Alert.Me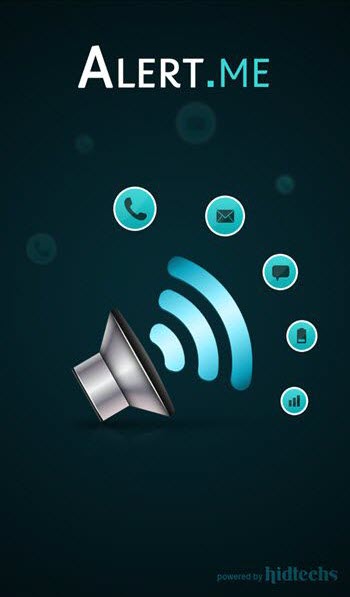 The Alert.Me is another excellent Android missed call reminder app available on Google Play Store. This app will alert you by the notification whenever you have to view missed calls or unread messages on your phone. Like the Missed call reminder app above, it also offers several types of reminding options like flashlight, vibration, and sound. You can choose a convenient reminding option for the alert.
In addition to that, you can specify the preferred alarm frequency, max alarm count for alerts, and tone volume for the each alert on the app's preferences section. Apart from these, the app provides android widget as well, which can be used to enable/disable Alert.Me app or sound notification just by a single tap right from the home screen.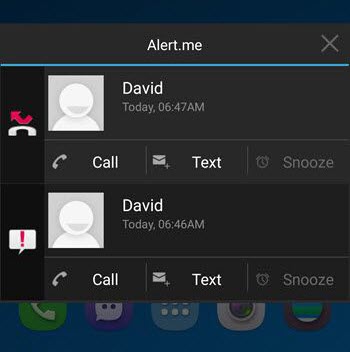 Although the free version is enough to get alerts for missed calls and unread messages, premium version of Alert.Me app offers some advanced features like rejected incoming call alerts, missed outgoing call alerts, unread chat alerts, (WhatsApp, Messenger, Hangouts, Line) Battery & Signal alerts, and much more.
Smart Notify – SMS and calls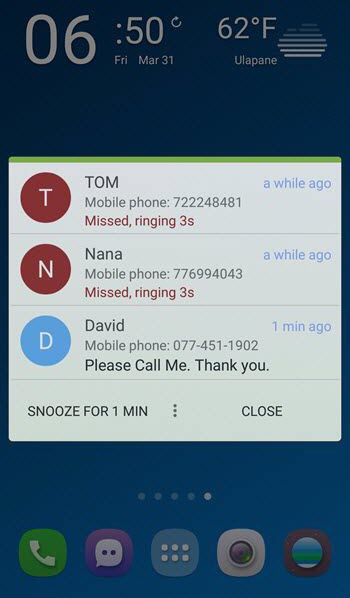 Smart Notify is an advanced call and SMS manager. It also features a quite useful popup window notification
with reminder for SMS, MMS, calls, events, and chats (WhatsApp, Facebook, Viber, etc). As soon as you are received a missed call or SMS, the app will show up a pop-up window along with the details of the caller or sender, which includes caller name, number, triggered time, and the length of ringing and message. These details will be listed for each call in the pop-up window. And you can also set a reminder for important calls or add them to calendar just from the pop-up dialog with a few taps.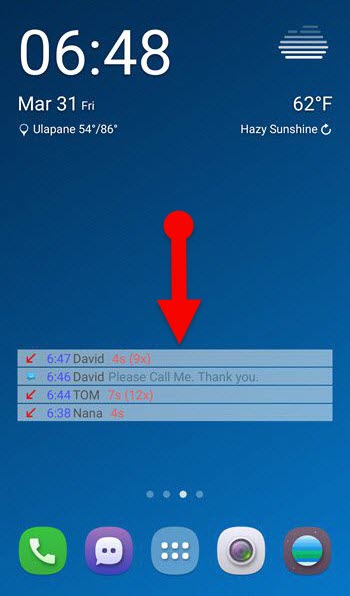 Besides these features, Smart Notify also offers a widget which lets you see missed calls, new SMS, rejected calls, and unsuccessful outgoing calls right from your home screen. And all pending calls (Missed, rejected, and unsuccessful outgoing) and SMS will be reminded you by Pop-up notification, Sounds, vibration, turn the display on, or LED flash. You can assign any of notification method in the app's settings section.
Missed Call / SMS Reminder: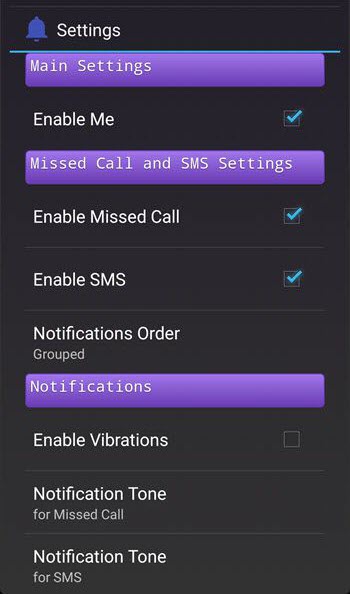 The Missed Call / SMS Reminder app is a simple but an efficient miss call reminder app. The app has designed with a user-friendly interface. It also supports both SMS and missed calls. You can choose either sound or vibration as your reminding option. And the best part of this app is that it lets you see all your new messages and miss call over the lock screen along with caller/sender name, number, message and the time call/SMS has made.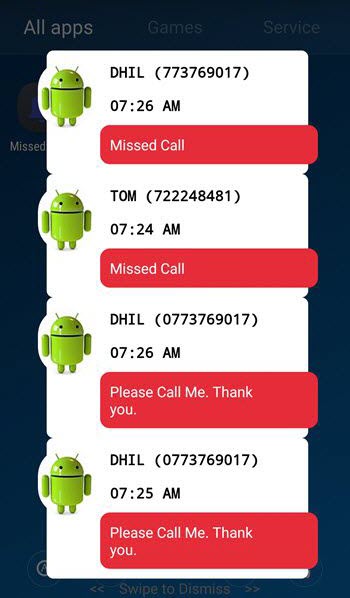 There is an option to mute the app on a specific time period so that you can simply avoid additional notification and noises while on your busy hours. Not just that, it provides various customizable themes for the pop-up window to make your Android lock screen more look and feel.
Final Words:
Among our busy life, there are many chances to miss an important call which could be made by your friend, suppose, boss, or anyone else. But sometimes, the missed call may be very important to you because the small
things do the big business so that you can simply remind your missed calls and unread SMS using any of above apps. And personally I have tested all of these miss call reminder apps on my Samsung Galaxy smartphone so I hope these apps will give you a better experience, and it will be useful for you! I'd love to hear your thoughts so don't forget to drop your comments below.