Savefrom.net offers many free tools to Internet users who wish to download YouTube videos or any other videos from the Internet. So, this review is for those who want to learn How To Use Savefrom net as their needs.
Savefrom.net is a well-known online website to download videos from popular video sharing websites such as Facebook, YouTube, Vimeo, Dailymotion VK.com, Veojam and many other sites. And it is safe and virus free. It is also totally free to use, and there is also no need to sign up for an account to using Savefrom.net website.
You can use it on your PC as well as Mobile Phone (Android, iPhone, Windows Phone, Etc.) Additionally, you can also be able to install Savefrom extension for your internet browser. It has also known as savefrom net helper. Which lets you download any of online video directly from those official websites. Also Learn: How to Download Torrent Videos with IDM
En Savefrom net Extension
After installing En Savefrom net helper, you can download any of video file with a single click. SaveFrom.net Helper is available for almost every browsers including Google Chrome, Firefox, and Opera. However, extensions are not available on the official browser extension store. Instead, you should download "En Savefrom net helper setup file" from Savefrom.net website and install it on your PC. "Savefrom.net helper setup file" size around 6 MB, which contains extension for all of your Internet browser.
How To Use Savefrom net to download Videos
Method 1: Download Videos Using Savefrom net helper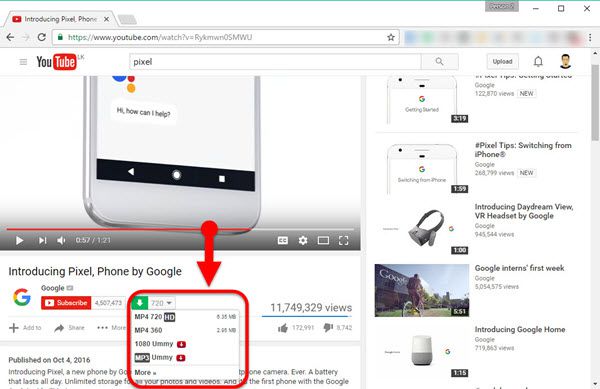 Savefrom.net offers various ways to download videos. If you are a PC user, and If you regularly download videos from Facebook, YouTube, and other sites, then you can download and install Savefrom.net extension for your Internet browser. As I mentioned above, It is available for Google Chrome, Firefox, Opera, Safari, Yandex.Browser and Chromium. Once installed the extension you would be able to download videos just in a click.
Method 2: Download Online Videos Via Savefrom.net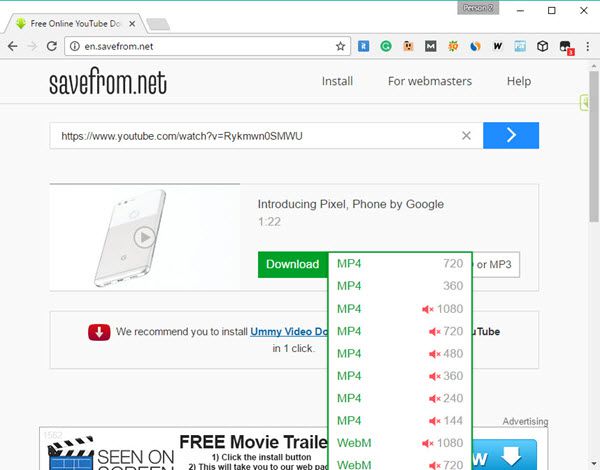 2nd way is that you can directly download a video file from Savefrom.net official website. To download a video via Savefrom.net, first visit "En Savefrom net" official website using your Mobile or PC, After that, you must paste URL of the video link on given box at there and click the Arrow icon next to the box. Then Savefrom.net will generate a download link for your video file. Finally, select a video type from either SD or HD. That's it. Now your video file will be downloaded to your device.
Recommended Article: Learn How to Download APK from Google play
Method 3: Download Facebook videos with URL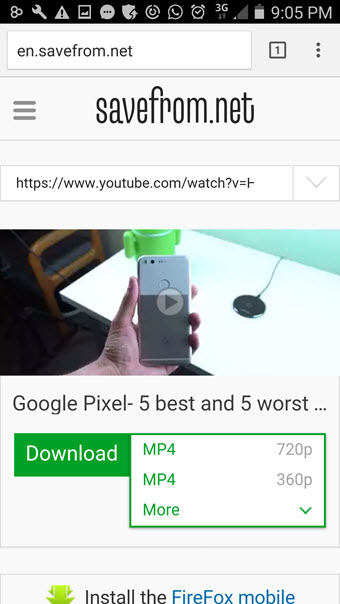 It's simple, Using this method, you may able to download a video file without opening Savefrom.net website. That to say, you can download your video file by adding "ss" after the "www" in URL or adding "sfrom.net/" before the URL. As in the example below.

Example 1: sfrom.net/https//www.facebook.com/comedy.central.buzz/videos/123456789101112/

Example 2: https://www.ssyoutube.com/watch?v=kOkQ4T5WO9E
Note: Adding "ss" before the URL does not work with Facebook video as in the 2nd example, so you need to add "savefrom.net/" or "sfrom.net/" before the URL to download Facebook videos. (see the 1st Example)
Final Words: Savefrom net review 2017
It is the brief review and simple guide about "How To Use Savefrom net." Savefrom.net is a most useful website to every Internet users who usually download videos from the Internet to their device for offline view. Savefrom net doesn't offer an official mobile app for Android, iPhone or Windows Phone although EN savefrom net website works on Mobile as well.
And also Savefrom net provides users to both types of video SD video and HD video, users can download one of them as their need. And generally, lots of users hesitant to download third-party browser extension including me. So it will be even better when Savefrom will provide an official extension for Internet browsers.