Here is a list of the best Twitter widgets for Android. These Android Twitter widgets help you explore your Twitter feed without opening the app. And you can see various types of Twitter widgets below, such as light, dark, scrollable, transparent, small, large, simple, colorful, etc. Let's see the best free Twitter widgets below. See also: Best Free Facebook Feed widgets for Android.
Plume for Twitter: (Best Twitter Feed Widget)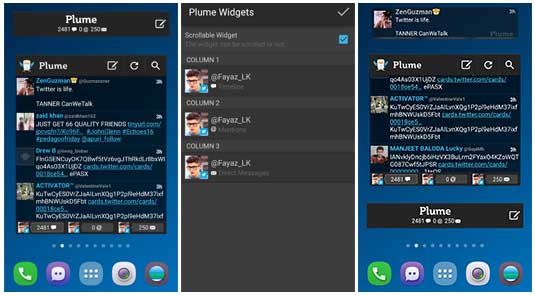 Plume for Twitter is the best Twitter client app for Android. You can use this app as your primary Twitter app, and even it offers several Twitter widgets for Android including various features.
Plume for Android app has the Android Twitter widget in 5 different sizes; the sizes are 4×1, 2×1, 4×2, 4×3, and 4×4. You can add any of them to your home screen. While you are adding a widget to your home screen, the app will ask you to configure the widget. So, you can determine how it should appear on your Android home screen.
Plume for Twitter allows you to add three different columns on a Twitter feed widget, where you can view your Twitter timeline, mentions, and direct messages. Also, this Android Twitter widget features the option to add a non-scrollable or scrollable Twitter widget on your home screen.
In addition to that, each Twitter feed widget has the compose tweet, refresh, and search tweets buttons as you can post a tweet, refresh your Twitter feed, or search the tweets right from your home screen quickly. Plume for Twitter has an unread count Twitter widget as well. So, want you get this Twitter widget for Android, then head over to the Play Store to try it out.
Echofon's Android Twitter Widget
The Echofon is also a third-party Twitter client app with four different Android Twitter Widgets. The small widget (3 x 1) has shortcut icons only—such as home, mention, direct message, and new tweet.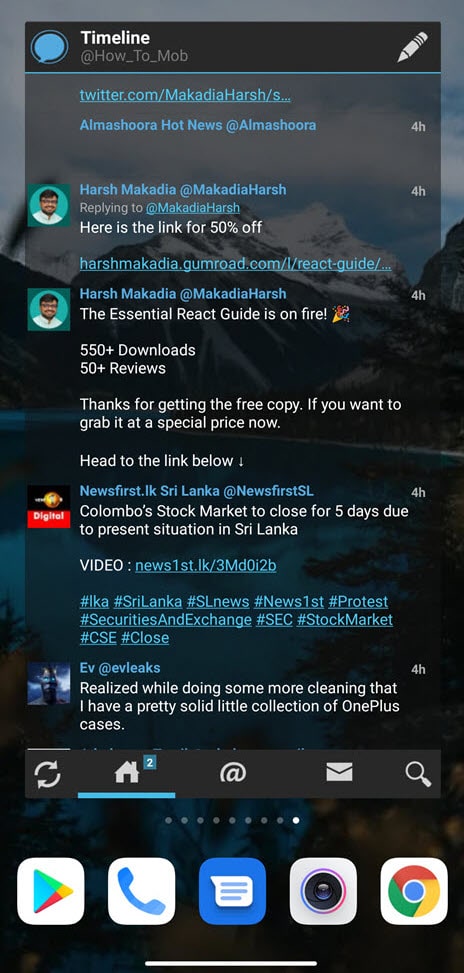 The other three widgets are scrollable Twitter widgets for Android. They also include shortcut badges along with unread counts. And each widget contains a search and refresh button at the bottom. Almost all these three widgets provide the same features, but they can be classified based on their size—4×2, 4×3, and 4×4. Otherwise, there are no differences between them.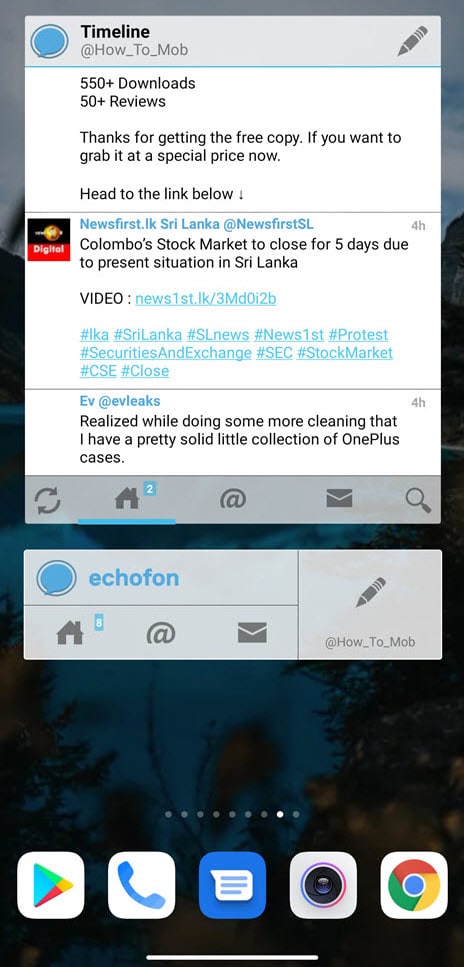 Echofon app comes with a dark theme by default. You can switch it to a light theme from its setting section if you prefer to use a light theme. Once you have changed the appearance, the changes will be applied to the entire app and widgets. So, navigate the settings > Theme option in the Echofon app to apply a light or dark theme to your home screen Twitter widget.
UberSocial for Twitter: (Colourful & Scrolling Widget)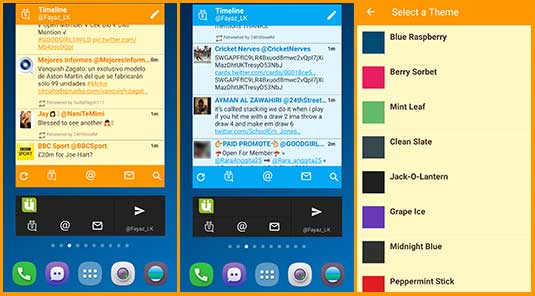 UberSocial for Twitter is also a 3rd party Twitter app. It provides scrollable Twitter widgets from small to big sizes, including three Android Twitter feed widgets and one Twitter shortcut buttons widget for tweeting and viewing the mentions & messages. Each Twitter feed widget comes with a refresh, mention, messages, search buttons, and even a button for posting new tweets.
You may also change the look and feel of this widget by changing its color, layout, font size, font style, etc. Moreover, the UberSocial app shows the notification with the sound, and you can change the notification sound with a different ringtone or disable the notifications if you prefer.
TweetCaster for Twitter: (Transparent Twitter Widget)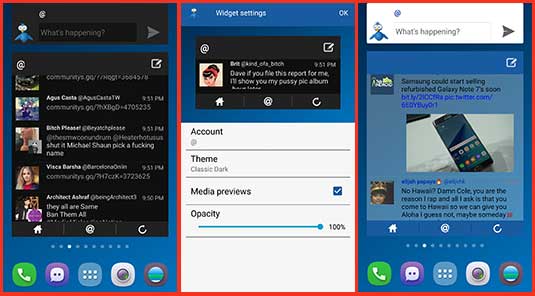 TweetCaster for Twitter is also a popular third-party Twitter app. The app comes with a beautiful and intuitive user interface. TweetCaster provides two different Twitter widgets for android phones. The first is the Twitter post widget. It lets you quickly post a tweet right from your home screen, even without opening the app. The other is a scrolling feed Twitter widget.
The scrolling Twitter widget helps you to view your Twitter feed and mentions. Furthermore, it provides an option to choose a custom transparency level as you can add a transparent Twitter widget on your home screen. You can also select either the light or dark theme for your widget if desired.
Owly For Twitter: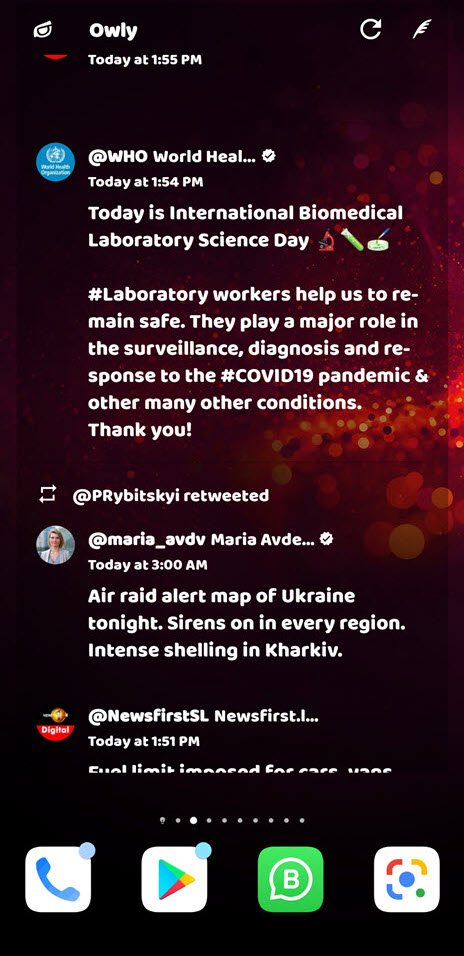 The Owly for Twitter has four Best free Twitter widgets to add to your home screen. You can post a new tweet, search for tweets or users, or view your Twitter NEWS feed right from your Android home screen using these Android Twitter widgets.
The Owly for Twitter's feed widget has a transparent scrollable theme using which you can view your Twitter feed without opening the app. However, since this feed widget does not show the media preview, you need to tap the tweet to view a particular tweet's photos, videos, or other media files.
Also, this Twitter feed widget has a feed refresh and a new tweet button at the top right corner of the widget to view the most recent tweets and quickly post a new tweet. Apart from this Twitter feed widget, the Owly for Twitter app provides another three tiny shortcut widgets.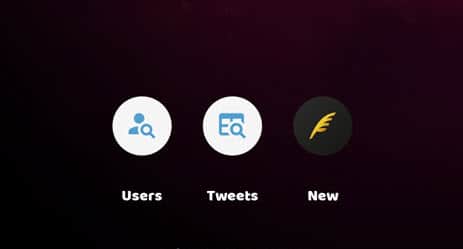 They are new tweets, search tweets, and search people, which can be used to access the various tasks on your Twitter account from your home screen.
Porch: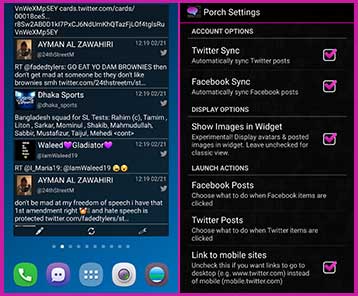 The Porch is a standalone Twitter widget for Android. Once you choose this free Twitter widget through the widget section, It will add a beautiful Twitter widget to your home screen. The Porch is also a transparent and scrollable widget.
UPDATE 2022:
Unfortunately, this app is no longer available on Google Play Store
By default, It will show your Twitter feed on your home screen without images and user avatars. However, if you prefer to see your Twitter news feed and the pictures and user avatars, you can also configure the app to show the images and avatars on the widget.
Twitter: (Official and Simple Twitter Widget)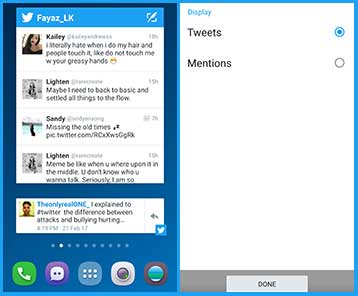 The official Twitter app also provides a pretty simple Twitter widget for Android. It comes with a light theme and a simple user interface. Also, It offers widgets in two different sizes; small and large. The large twitter widget is scrollable, while the small widget displays one tweet at a time. You can add these widgets as a Twitter feed or Twitter mention widget.
Update: 2022
The Twitter widget has been removed from the official Twitter app since release 6.8.0.
Even though the widget is simple, it doesn't allow users to change the default color of the Twitter widget and does not offer a transparent effect feature. The official Twitter app comes pre-installed on some devices, and you can also get over to the Google Play Store to install it if your device doesn't have it. See Also: Best Email Widgets For Android.
Final Thoughts:
This app list contains the best free Twitter widgets for Android. Using these free Android Twitter widgets, you can view your Twitter feed, mentions, and notification right from your home screen.
If you are an official Twitter app user, then you can use the simple Twitter widget of the official app without installing any third-party app on your phone.
As the official Twitter lacks its native widget, the Twitter users forcibly need to move to another third-party client app if they wish to add a Twitter widget on their home screen.
So I hope this widget list will be helpful for those who need to choose the right Twitter widget per their convenience from hundreds of Twitter widgets apps on the Google Play Store.