Among numerous Android home screen widgets, Android email widgets are the most valuable and time-saving widgets for Android users. They let Android users check their email inbox or compose a new email right from the Android home screen, even without opening the email apps. So, today I have brought you a list of the best android email widgets.
Here are some of the best email widgets for Android which let you quickly view your email, at a glance, right from your Android home screen, just like the Android Twitter Widgets that we previously reviewed.
Typically, many Android email widgets come with third-party email clients apps. So, you need to install them on your phone to access those email widgets. At the same time, we have also reviewed a dedicated free email widgets app in this list.
Unlike before, now nearly all email client apps support adding multiple email accounts from various providers, as you do not need more than one email client app to add each email inbox to your home screen. Instead, select a suitable mail widget app or an email app that has the right widgets according to your need from the list below, and use it to check your multiple email inboxes right from the home screen.
So if you are one who prefers to add the Gmail widget on the home screen, you don't need to install any email widget app on your device to view your outlook, yahoo, or any other email inboxes. And you can view any of your email inboxes with the Gmail email widget; it will be already installed on your Android device.
Let's the list of the best email widgets for Android
BlueMail Email Widget: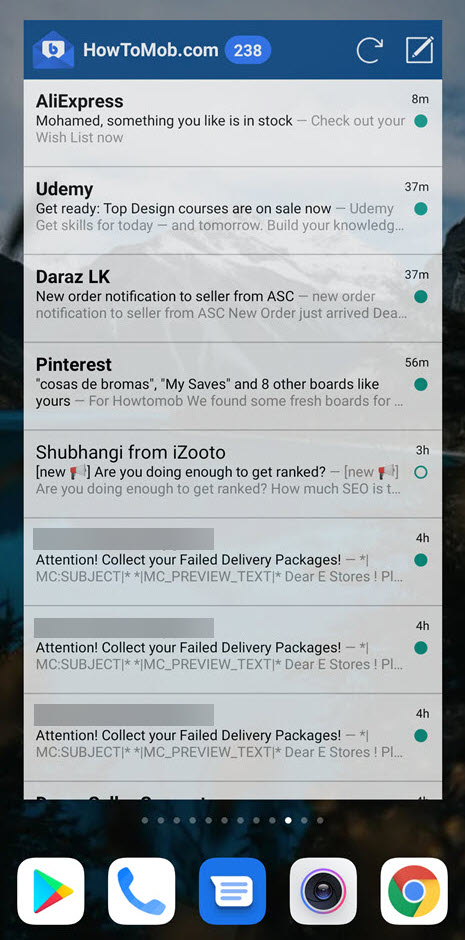 Do you prefer to have a transparent email widget on your Android phone? The BlueMail email widget would be the best choice for you! Because it lets you add a 100% transparent email widget right on your Android's home screen.
Even though it is an email client app, you can install it on your Android to get its beautiful email widgets. It has three different widgets, transparent, white background, and shortcut icon widgets. The shortcut icon widget can be used to quickly open a particular email account from various accounts that you added to the BlueMaill app.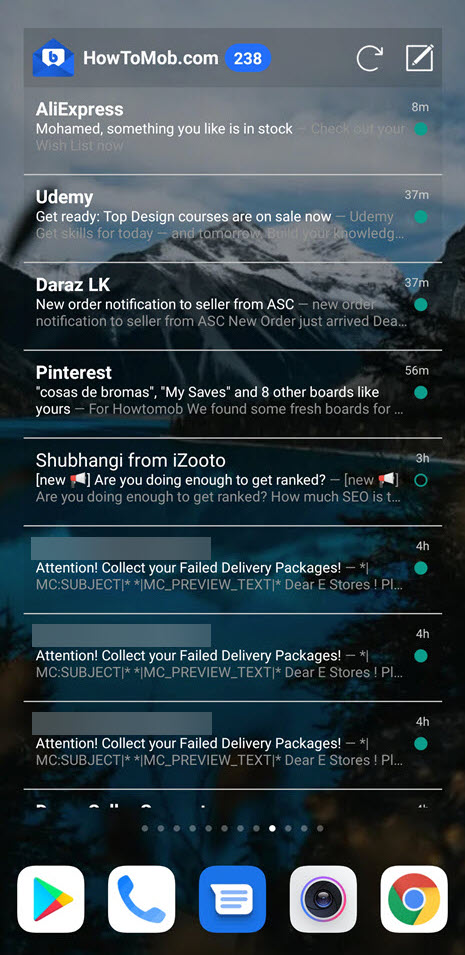 The transparent and white background email widgets are scrollable email widgets that let you scroll and view up to 20 of your recent emails right from your home screen. And with its unread count badges located at the top of the widget, you can know how many emails remain in your inbox to read.
Because the BlueMail app supports an unlimited number of mail accounts from various providers, no matter what email service you use or how many email accounts you have. You can bring any of your email inboxes to your home screen with its Android email widgets.
If you wish to get a mail widget with these features, then visit the Google Play Store to get it now!
Gmail Widget Android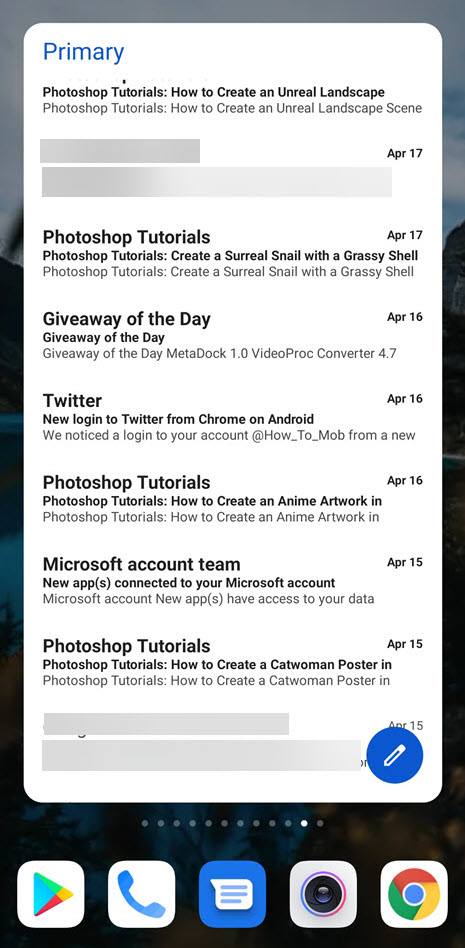 Gmail widget for Android is a pretty neat mail widget with an intuitive interface. Its white background theme and round corners give a pretty nice look to your home screen.
Apart from making your Android home screen informative, the Gmail widget will give your Android home screen a fantastic look with its simple UI.
Gmail widget also has a new email compose button at the bottom to create a new email quickly. And unread emails are highlighted with bold texts to rapidly identify the read and unread emails.
And emails within the Gmail widget will automatically update as soon as an email arrives in your inbox. And you can check approximately up to 24 recent emails of the corresponding label at a time with this scrollable Gmail widget.
As I mentioned earlier, the Gmail app allows you to add numerous mail accounts regardless of service providers. So, you can add your Yahoo, Outlook, AOL mail, iCloud, or any other email accounts to Gmail widget and view their email within the Gmail widget.
How To Add a Gmail Widget To Android Home Screen
Part 1: Tap and hold on to any available space on your Android home screen, tap the widget, and scroll down until you see the Gmail widget in the provided widget list. Tap and hold the Gmail widget and drag and drop onto available space on your home screen.
Part 2: Reposition the widget where it wants to appear on your home screen, and resize the widget by moving the resize points around the widget.
Part 3: After that, You will be asked to select an email account you want to add to your home screen. If you have more than one email account on your Gmail app, all your email accounts will be listed. Choose an email account from the given list and select a folder from various folders, such as Primary, Social, Promotions, Unread, Starred, Etc.
The Gmail app comes pre-installed with most Android devices. However, if your device doesn't have it or you want to enjoy the most recent features, you can get it on the Google Play store.
Learn Also: Best Disposable Email Address Services.
Type App Email Widget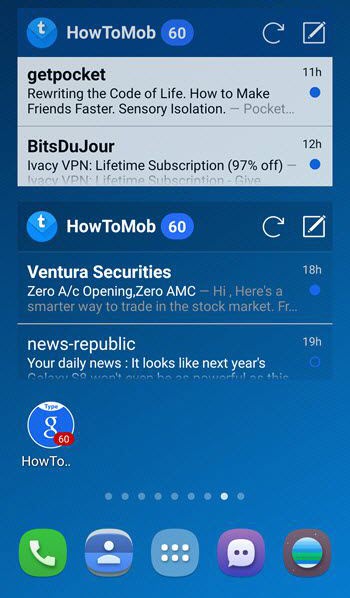 Type App for Android is another excellent choice for those who wish to add a transparent email widget to their home screen. It provides both the dark theme and light theme email widgets. And these two widgets are transparent, scrollable, and resizable.
Additionally, TypeApp has a mini icon widget that you can add to your home screen to quickly open a particular email account among various email accounts you are using on TypeApp.
Like many other email widgets, you can add multiple email accounts from different email providers like Gmail, Yahoo, Outlook, AOL, etc. Support for IMAP, Exchange & POP3 mailbox is also integrated. And you can directly open any email with its attachment with just a single tap from the home screen.
If you prefer to add a mail widget with these features to your Android home screen, you can download this free app from the Type App official site or Google Play Store.
Aqua Mail Email Widget For Android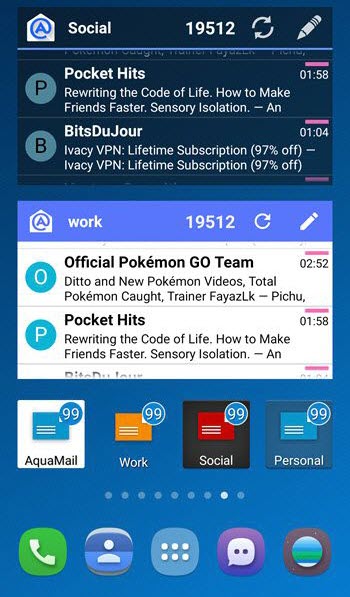 Aqua Mail Android app has a feature-rich email widget for Android using which you can add various style widgets with different features to your android home screen.
The Aqua Mail email client app contains three widgets to offer users various features: unread counters, text to speech, and scrollable email widgets. And you can apply five different themes to those email widgets.
When you drag the Aqua Mail email widget from the widget list and drop it to your home screen, it will ask you to choose a theme for the widget, where you can select a preferred theme for your mail widget.
These are the available themes: Frameless, Light (Material Design,) Dark, Light, and Translucent. Each theme gives a unique effect to your widget, such as transparent, dark background, borderless, etc. You can apply these themes to any email widgets that Aqua Mail offers.
In addition to that, you can add various colors to your unread count email widget along with the themes I mentioned above.
And the unique feature of this app is that it offers a Text To Speech function. So, the app will read your email whenever your email inbox receives a new email if you have enabled this function in the app.
After adding Aqua Mail's email Text To Speech widget to your home screen, you can quickly turn it on and off by tapping the widget.
Nine-Email widget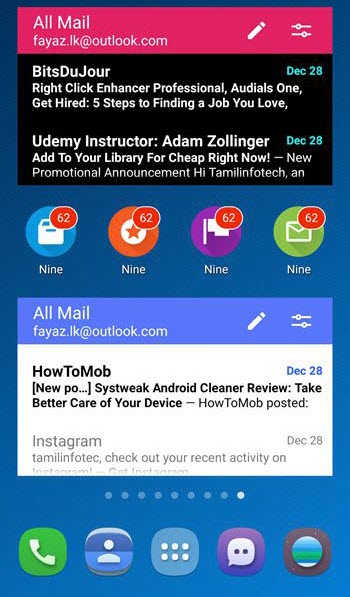 The Nine mail email client offers two different email widgets; an unread badge widget and a scrollable email widget. These widgets are fully customizable.
While adding Nine – Email's scrollable email widget to your home screen, you can choose an email account you desire to add to the widget, email folder, themes and color, and font size.
When it comes to unread email count widgets, you can select the unread counter badges for unread mail or new mail, label name, iCon, iCon color, and icon size.
Like the Aqua mail widget, the Nine-Email also provides five different themes to its widgets—including dark, light, and transparent themes.
And the unique feature of this is that you can change the font size from small to large according to your convenience.
So, Nine-Email mail widgets also would be an excellent choice for you if you are looking for an email widget for your Android home screen with fully customizable options.
You can learn more about it from its official page or download it from the Google Play Store.
Outlook Widget For Android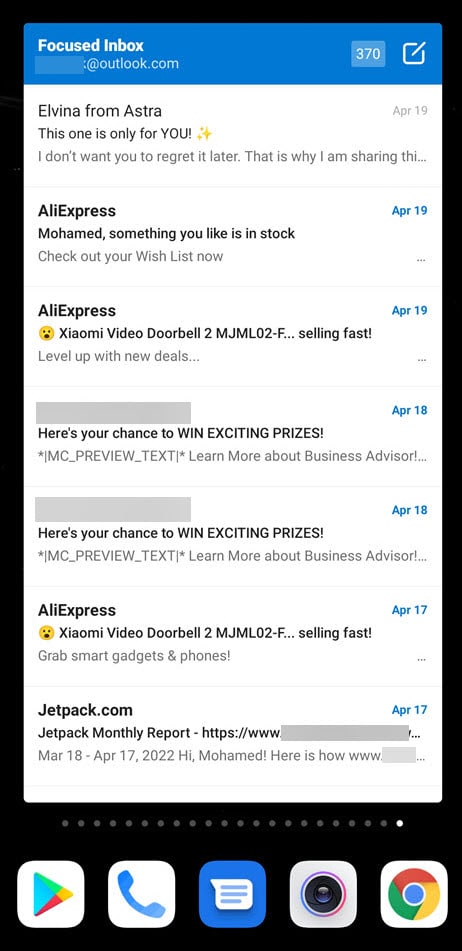 Outlook email app has a simple email widget for Android. It comes with a light theme and has a new email compose button and an unread count badge at the top of the widget.
Thanks to the official Outlook email app supporting multiple email providers, you can view the emails of any email service with outlook's email widget.
Apart from showing your emails of a particular email account within a widget, the Outlook email widget can display the emails from your multiple email accounts to easily manage all your emails in one place.
Furthermore, there is also an option in the Outlook mail widget to specify the widget to show your emails from your focus inbox or other emails.
Final Thoughts:
Android widgets are the most valuable part of the Android operating system. Using a widget, we can quickly access various features right from the home screen of a particular app.
In this manner, email widgets for Android are handy for those who need to be updated with their email inbox frequently. So, The email widgets in this list are everything an email widget should be.
If you are a Gmail, Outlook, or Yahoo email user and using their official apps, but their email widgets don't fulfill your needs, you can try an alternative third-party email client app that provides features according to your needs in this list.
For example, suppose you may wish to add a transparent Gmail widget, dark theme outlook mail widget, or colorful yahoo email widget to your Android home screen. In this case, official apps of corresponding email providers probably won't help you. If you try one of the above third-party email client apps, you can almost reach your needs.