GIPHY Stickers is a mobile app that helps you to share beautiful animated GIF stickers with your friends, families, and loved ones. GIPHY Stickers app comes with a huge collection of animated stickers. All of those free animated GIF stickers can be share via WhatsApp, Facebook Messenger, Viber, and other popular social media services. The app is available for both Android and iPhone for free.
As you know, GIPHY is one of the best GIF sharing sites. It has a wide variety of animated image collections like funny, Anime, cartoons, action, etc. You can share those GIFs almost everywhere on the internet for free. Unlike before, now all the major social media platforms support for sharing GIF pictures with others. GIPHY already has been introduced the mobile apps for Smartphone users who wish to explore cool moving images on their mobile device and share them with friends, families, and others.
GIPHY Stickers App
Explore Tab:
GIPHY Stickers app has designed with a straightforward user interface and very easy to handle. Using this app, you can explore GIFs by either search for a particular sticker or just browse the large collection from the home page. On the main screen of this app, you can see 25+ categories including cats, animated text, emojis, and so on.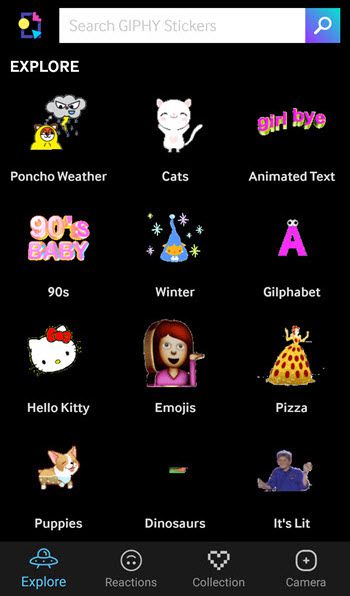 Reaction Tab:
You may be able to see a "Reaction" tab on the app's main screen, which includes a wide range of animated reactions GIFs such as happy, hi, I love you, I miss you, bye, OMG, deal with it, etc.
Collection Tab: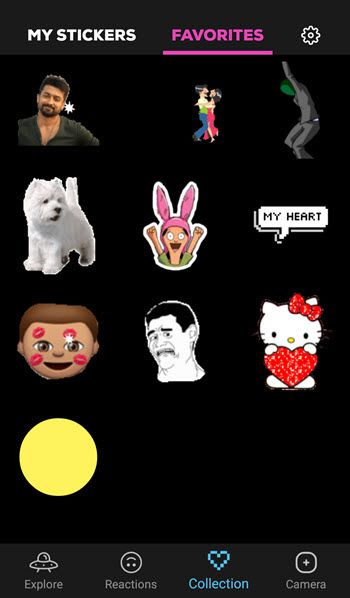 GIPHY Stickers app also has a "Collection" tab which will contain all your favorite GIFs and your own animated GIF stickers.
Create your own animated GIF Stickers
Besides exploring and sharing animated GIF stickers, the app helps you to create your own animated GIF stickers as well. To create an animated GIF sticker, you can use a captured image from your Gallery, or you can simply click a photo of yourself and then turn them into an animated GIF Sticker. See Also: How to make a GIF out of a YouTube video
How to create an  animated GIF Sticker using GIPHY Stickers app
First of all, head on to the Google Play Store and download the app.
Open the app from the app drawer.
Tap the camera tab at the top right corner of the app.
You will be asked to choose either just take a Picture or Choose from Gallery, select the desired option you wish to add a photo to the app.
Once added a photo to the app, you need to draw the edges of the object you wish to keep on your animated sticker.
After that, the app will show the several animated effects, apply a preferred effect from given animated effect to your sticker.
Finally, tap the Create button.
That's it; now you can share your own animated GIF stickers with your friend via WhatsApp, Facebook, Twitter, etc.
Download GIPHY Stickers application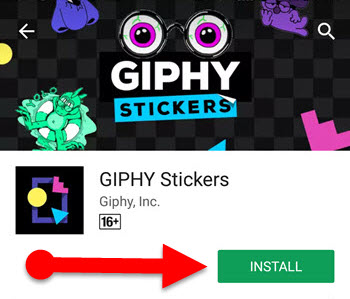 As I mentioned above, GIPHY Stickers application officially available for both Android and iOS devices. To download the app, open Google Play Store (Android) or App Store (iPhone) on your Smartphone. Type "GIPHY Stickers" and search it. Then, tap on the appropriate app and install it.
The app works on Android 4.0.3 and above versions. App's size around 4.9 MB. If you have any issues with downloading the app from Google Play Store, then you can also download the "GIPHY Stickers APK" using the link given below. Learn Also: How do I Install APK Files on My Android Phone
GIPHY Stickers APK: https://goo.gl/mxlPG2
Final Word:
GIPHY animated Sticker app is a great app to explore, create, and share animated GIF stickers on Android and iOS devices. The app will be useful for those who wish to share moving stickers via WhatsApp, Hike, Viber, Line, WeChat, and messaging services. If you found this article is helpful, then don't forget to leave you valuable thoughts in the below comment box. Read Also: How to Send Hike Stickers in WhatsApp