This is a list of the best Tamil keyboards for Android. All of these apps let you type the Tamil language anywhere on your Android phone. Using these Tamil keyboard apps, you may be able to type in Tamil in WhatsApp, Facebook, Viber and many other messaging services. Want you to compose an email in Tamil? No problem! You can do so using any of these apps.
When it come to Android keyboard apps, there are so many keyboard apps available on the Google Play Store to type our native languages like Hindi, Tamil, Malayalam, Marathi, Gujarati, etc. But some keyboard apps are very complicated to use. While Some Android keyboard apps are handy to use which provide a wide variety of features such as themes, gesture typing, multiple languages, and different input methods, etc. So today we will see the best Tamil keyboards for Android below.
Google Indic Keyboard: (Google Tamil Keyboard)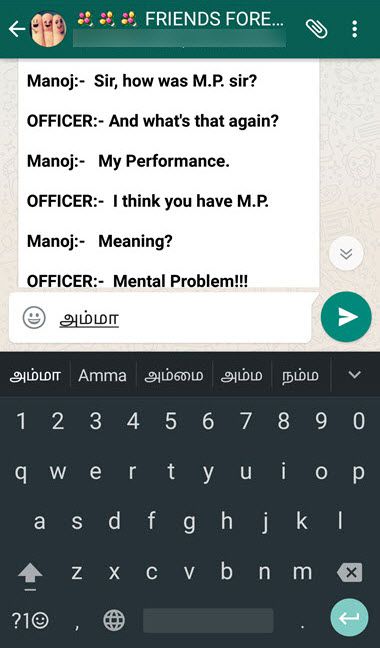 Google Indic Keyboard app is the most popular app to type Indian languages as well as English on Android mobile and tablets. Also, the app has been used by the hundreds of thousands of Android users every day because of its cool features and simplicity. The app comes with an intuitive user interface, and also you can customize the appearance of the app as per your liking.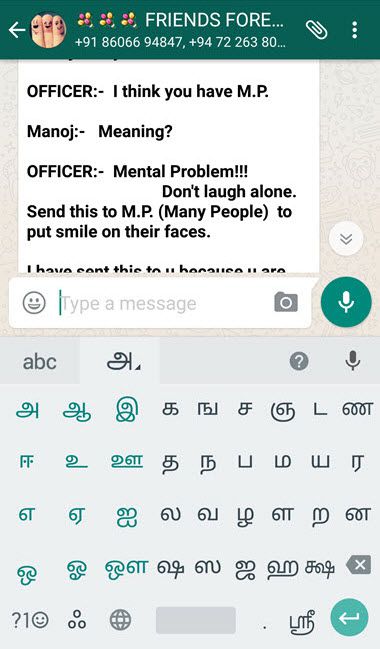 Using this Google Tamil keyboard app, you could type Tamil in two different ways one is you can type Tamil in transliteration method. This input method helps you to convert English letters into corresponding Tamil letters according to its pronunciation. Other is you can type Tamil by tapping the appropriate Tamil native scripts which show in the keyboard app.
Moreover, this free Google Tamil keyboard app lets you to quickly switch one language to another language right from the keyboard. By the way, you can customize almost everything about this keyboard app including keyboard height, background image/color, size, words suggestion, keypress sound, and much other stuff.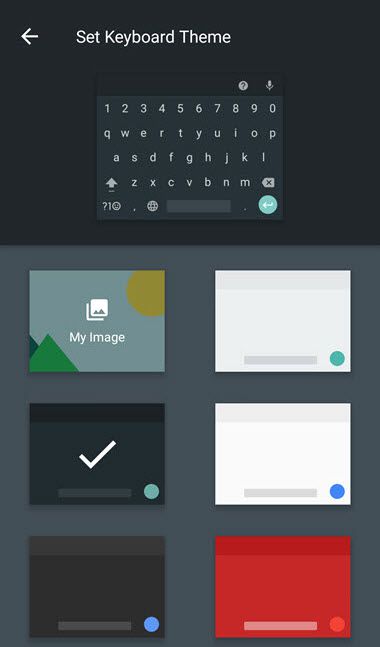 Key Features of Google Indic keyboard
Multiple input method support (Native script method/handwriting mode/pronunciation method [English to Tamil transliteration])
Multiple Language support.
Word suggestion for Tamil and all other languages.
Gesture typing.
Personal dictionary support.
Able to hide app icon from the app drawer.
Sellinam: (Tamil99 & English to Tamil Transliteration Keyboard)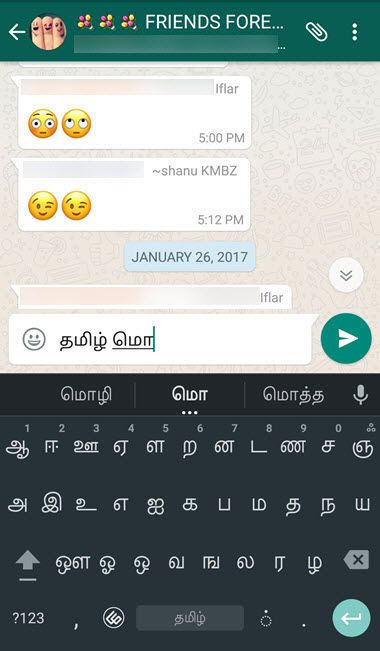 Sellinam is one of the best Tamil Keyboards for Android. Lots of Android users have been used this keyboard app to type Tamil on Android. The app also comes with a simple user interface. You can use either dark or light theme for the keyboard interface.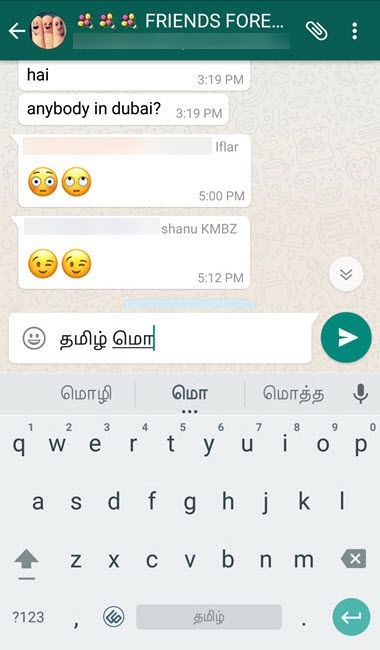 The Sellinam keyboard app allows you to type Tamil in two different ways on the Android mobile; Murasu Anjal and Tamil99 Mobile. The Murasu Anjal method can be used for typing Tamil letters using English words (English to Tamil transliteration). Whereas, you can use the Tamil99 Mobile input method for typing Tamil words by tapping the Tamil native scripts.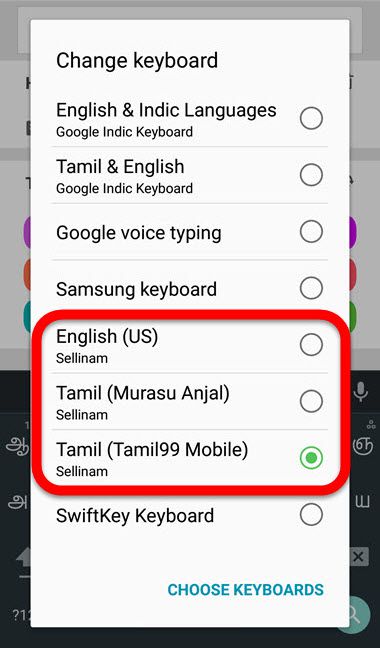 Other Features of the Sellinam Tamil Keyboard:
Correction Suggestions – It will suggest you type the correct words while you are typing the incorrect words.
Contact name suggestion – Sellinam will suggest and help you to type your contact names correctly.
Next-word suggestion – Sellinam keyboard will suggest you type next word whenever you are typing a word using this keyboard.
Personal Dictionary and WordSync features.
Theme support – The app provides four different themes for the keyboard interface: light, dark, white, and blue. You can pick any of them for your keyboard for free.
Works on Android Ice Cream Sandwich, KitKat, and Lollipop.
Swifkey: (Multilingual Keyboard)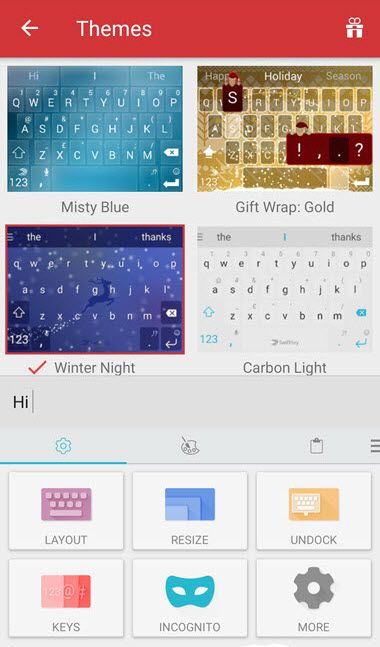 Swifkey is one of the best keyboard apps for Android. It offers a bunch of features for Android users. The app also crossed 5 million app installs on the Google Play Store. Swifkey is also used for typing Tamil by so many Android users. The best part of the Swifkey keyboard is that it offers many eye-catching themes, you can use all of those themes for free. In addition to that, you can also personalize the size of the keyboard as well. There are five sizes available; small to extra-large.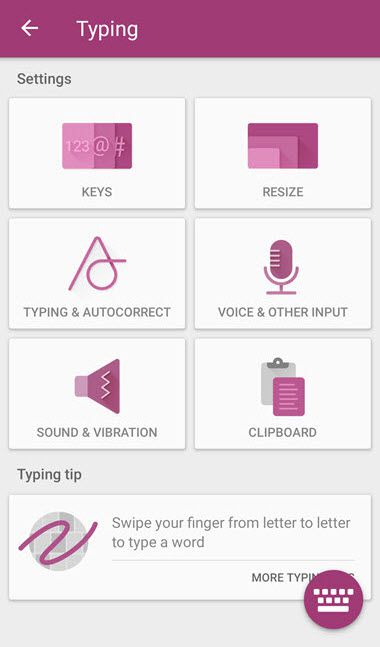 Swiftkey also has a built-in clipboard manager which will save all text you have copied. The copied text will be expired after 1 hour. However, you can keep your important clips forever by pinning it on the clipboard manager.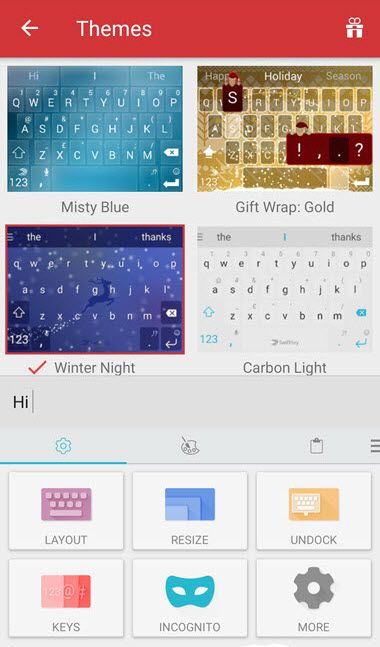 Some other Features of Swifkey:
Typing & Autocorrect: (Emoji Predictions) Swiftkey will suggest you the Emojis while you are typing the words. Swiftkey also helps you to replace the correct words instead of incorrect words you have typed.
Voice Input: You can type the words by pronouncing it.
Sound & Vibration: You can set the app for receiving sound and vibration feedback while you are typing the letters.
Backup & Sync: You can store you all personalized language data on the cloud and sync them across all your devices.
Swiftkey stats: The app provides the status all about your typing behavior including typing heatmap, the number of words predicted, completed, words flowed, etc.
Gboard: (Google Keyboard)
Gboard is also a popular keyboard app. Previously this keyboard app is known as "Google Keyboard." It is a multilingual keyboard app so you can use Gboard keyboard app as a Tamil keyboard as well. Recently Gboard keyboard app has updated with the built-in translation feature also. So, now you can quickly translate a word between multiple languages.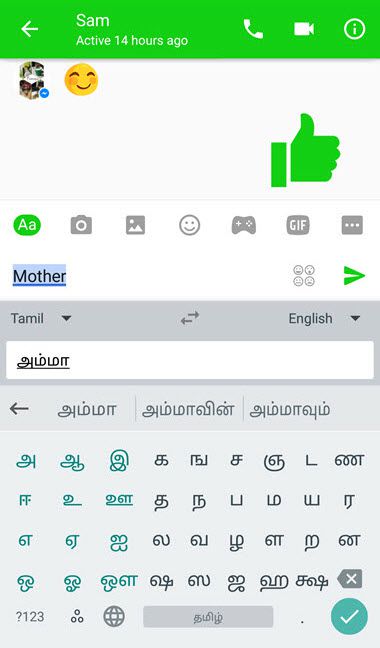 But the users only can type Tamil using the native script input method in the Gboard app. Unfortunately, Gboard does not feature to type Tamil in transliteration method.
If you prefer to use Google Gboard as your primary Tamil typing keyboard, then you need to navigate to the language section on the Gboard app and Switch on the "Tamil (India,") "Tamil (Singapore,") or "Tamil (Sri Lanka.")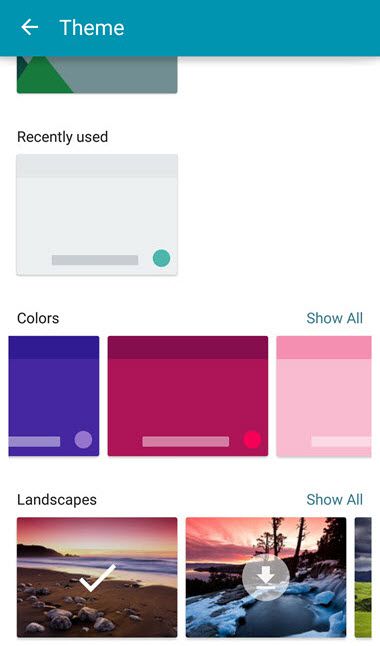 Built-in search and built-in translation features are the notable features of this app. Apart from this, the app also supports for typing letters in one-handed mode.
Head on to the Google Play Store and download this free Google Tamil keyboard for Android from there if you prefer.
Google Handwriting Input: (Tamil Handwriting keyboard)
Google Handwriting Input also a handy keyboard app to type Tamil on Android phone. Many Android phone users use this keyboard app as their primary keyboard app on Android. To type the letters on this keyboard, only you need to draw the appropriate letters on this keyboard app instead of tapping the letters. Besides English language, it supports 90+ other languages including Tamil and all other south Indian languages.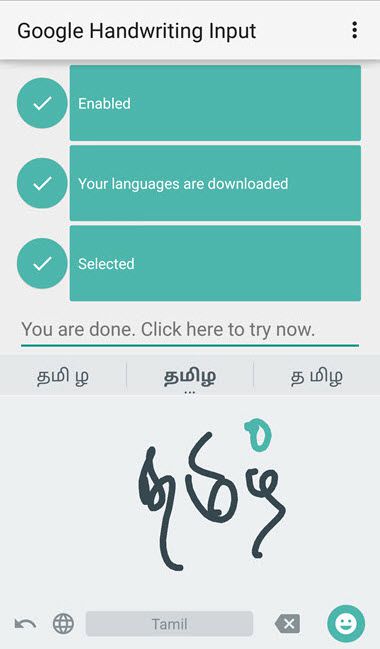 To type Tamil language with the Google Handwriting Input, first, you need to configure the app correctly. To do so, once installed the app, open it from the app drawer and then tap the "Enable Google Handwriting Input" button, and choose the "Google Handwriting Input" on the next page. After that, tap the "Configure Languages" button and find the Tamil language. Now "switch on" the button next to the "Tamil." Then, you will see the "Download Languages" button on the app's main screen, tap on it. Now selected language will be downloaded into the keyboard app. That's it. Finally, you can type Tamil letters anywhere on your Android by drawing them with the help of Google Handwriting Input.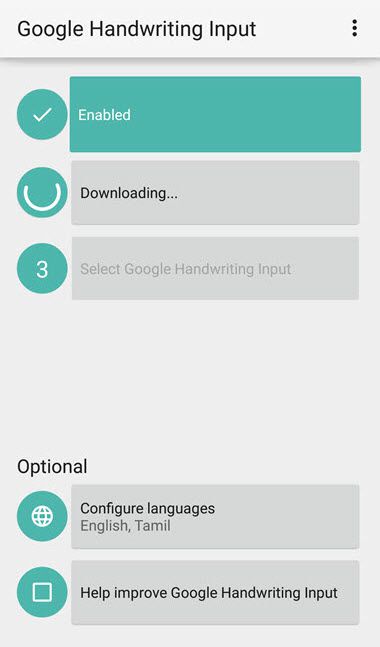 The app works across your Android phones and tablets running Android 4.0.3 and up. So if you desire to use this app as a Tamil Handwriting keyboard on your Android, Then give a try to this app. You can download this handwriting keyboard app from the Google Play Store for free.
Final Words:
This is a list of 5 of the best Tamil keyboards for Android. All of these Tamil keyboard apps can be used for typing Tamil on Android. The Google Indic Keyboard app is a great app to type Tamil as well as English, Hindi, and all other South Indian languages on the Android Mobile. And it is also a quite useful app to type Tamil letters using English words (Transliteration method.) However, each of these Tamil typing keyboard apps has its own unique set of features that allows you type Tamil on your Android quickly.