Duplicate Photos Fixer is an Android app that helps users to clean duplicate photos instantly from their Android phone. It offers many great features to find and remove similar pictures on your Android. So, in this Duplicate Photos Fixer Review, you can learn the useful features of Duplicate Photos Fixer app. See Also: A Great Similar Files Finder App For Android (All types of Files)
How are duplicate images created?
We click photos, we download photos, we upload photos, and we share photos so there are a lot of photos here and there on our devices. Do you know how much space these pictures take on your device? Most of the photos on your phone get a duplicate because they keep saving in different places on the devices.
Can I Remove the Duplicate Photos from my Android Mobile Easily?
It is not that easy to get rid of these duplicates either you need to search manually for the duplicate photos, or you can go for the factory reset. In one scenario you need to spend hours, and even after that, you cannot be sure that all the duplicates have been removed. In the other scenario if you decide to factory reset your phone then you will lose all the data on the device. So the question still remains the same that what can be done to the duplicate photos.
The good news is there is an easy solution to remove duplicate photos and with the artificial intelligence of this application you can find similar images on the basis of content. That means if your devices have duplicates with different names then too the application will able to identify them. Let us know more about the interface and working of this fantastic application. Read Also: App to Remove WhatsApp Junk Photos on Android
Home Screen: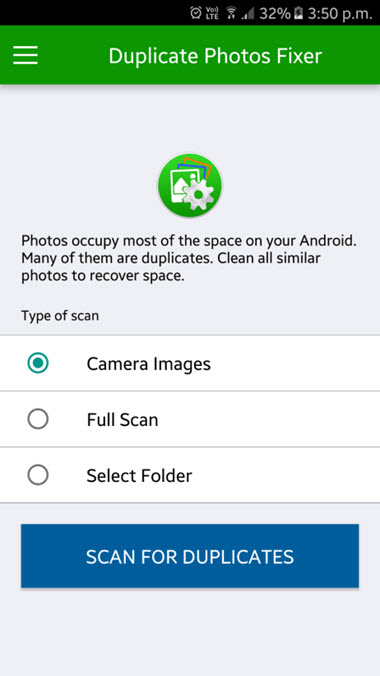 Once you are done with Download and install, you will be on the home screen of the application. Here you will find different scanning options.
Camera Images:
If you choose this option, the application will only scan duplicates in the pictures taken by the camera of your device.
Full Scan:
It will be a full device scan. Each and every part of your device will be scanned for duplicates.
Select folder:
To remove duplicates from a particular folder, you can go for this option. Sometimes we love to keep all the stuff in a single folder so in this situation this option is very helpful.
Mark/Unmark Duplicates: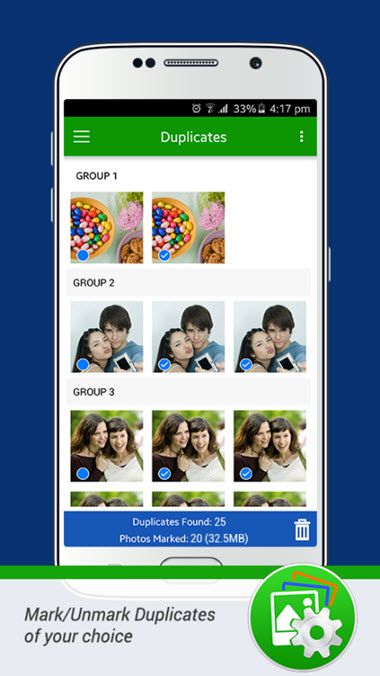 After choosing your preferences, you can tap on "Scan for duplicates button to proceed further. Once the scan is complete you will see duplicate files on the screen; now you can mark and unmark photos to delete. On the results screen also there are some quick options to mark or unmark duplicate files. For example, you can mark or unmark first from the group of duplicates. You can mark the last one, and the other options are to unmark the shortest file location.
Setting Matching level: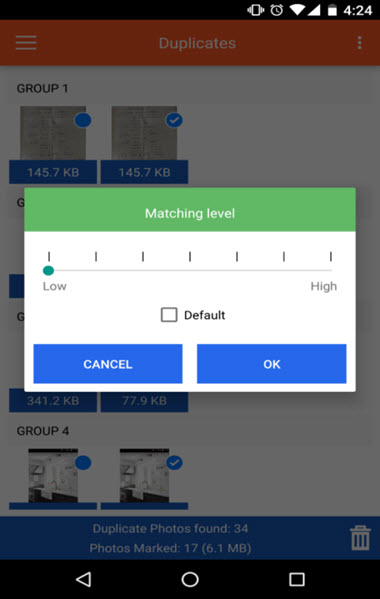 The best part about Duplicate Photos Fixer is that matching level is not fixed. You can manually adjust the level of matching for duplicates. The default value for matching level stands at 91% which is the medium one. Whereas if you do not want an intense scan, you can set low value at 86% and for an in-depth scan high value up to 99.99%. You should choose the maximum level if you are scanning your device for the first time. You can always mark and unmark files for the deletion.
Languages: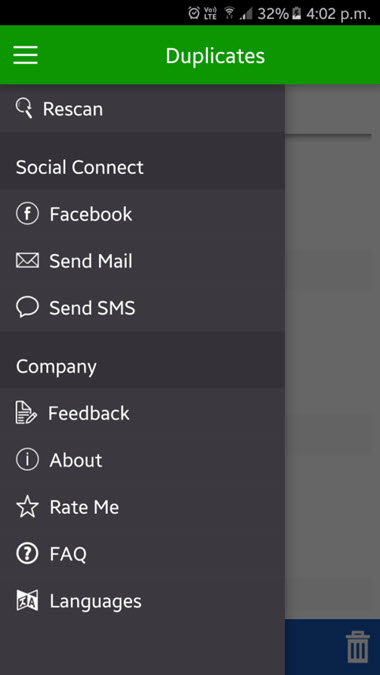 The application supports almost all the popular languages of the world, which makes it more user-friendly and make you understand the options in your language. Thus you can use the app effectively. To choose a language of your choice, go to Options > Languages.
Clear cache: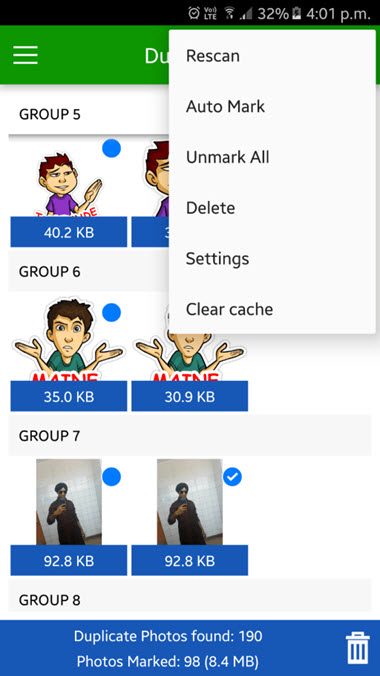 Use of application is not only limited to eliminate duplicates, but it also helps you to boost the performance of your device by clearing caches. In the Options, you can tap on "Clear cache" to free up cache memory. Caches also contribute in taking space on your device. So by clearing caches, the application becomes a complete solution for boosting up space on your Android device.
See Also: Duplicate Photo Fixer Review
Other Options & Summary:
With all these features options also include to choose from re-scan, to provide feedback and to rate the app.
The application is loaded with artificial intelligence to find duplicates on the basis of content. So, even if you have duplicates with different names on your device, then they will be found and cleared by the app. With a friendly user interface of the application, it only takes few minutes to find out duplicates not only this clearing cache space makes it a powerful tool to increase your device storage. So we can say duplicate photos fixer is a useful tool to find and remove duplicates pictures and helps you to manage photos on your device.
I hope this Duplicate Photos Fixer Review will help you to learn the key functions and aspects of the Duplicate Photos Fixer app. So, you can use this free duplicate photo cleaner app on your Android phone to clean Duplicate Photos Instantly if you prefer.