As you know, Google Chrome is a popular internet browser developed by Google and available for all devices, including Android, iOS, Windows, and Mac.
Thanks to its simplicity and useful features, many Android users prefer using Google Chrome internet browsers instead of other browsers.
However, sometimes for downloading or updating the Chrome browser on some Android devices, users need to look for external sources instead of the Google Play Store.
There would be several possible reasons to download Chrome APK from an external source. Even though there are numerous sites to download Google chrome APK files, all are not safe. So, here I have brought you three secure external sources that you can use to download the APK of the Google Chrome browser.
The APKMirror: Highly Reliable Place To Download Chrome APK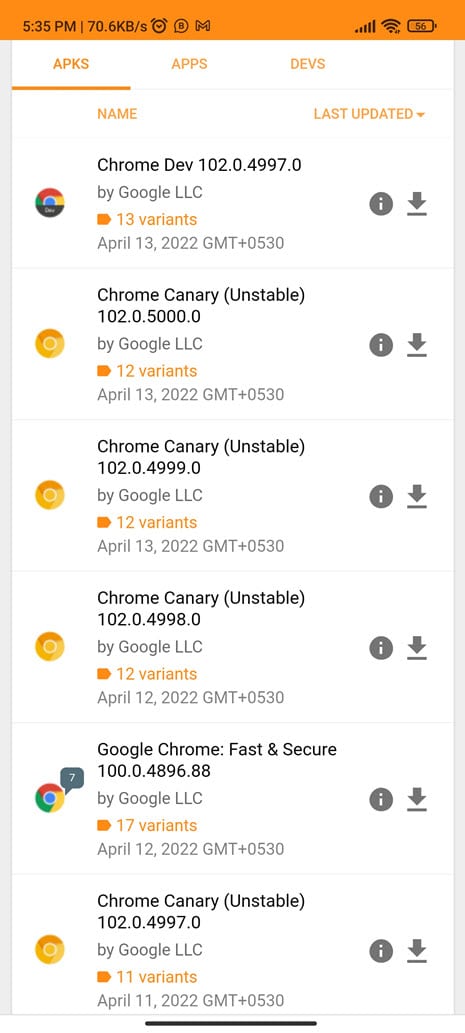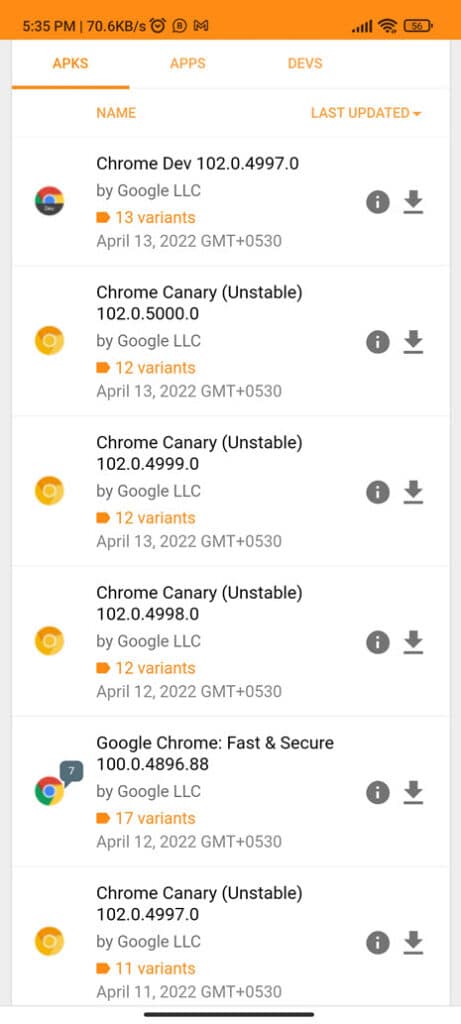 The APKMirror is one of the safest external sources to download APK files, where you can download a Google Chrome APK file to sideload on your Android device.
The site not only provides the APK for the stable version of Chrome, but also you can download the APK file of Chrome Dev, beta, and Chrome Canary.
In addition, APKMirror is the most recommended APK site for downloading an APK file of the most recent version of the Google Chrome browser.
And this online APK repository can offer all variants of a particular version of the Google Chrome browser, and you can find the oldest to the most recent versions of Chrome APK files there.
The site also lists some important information regarding the Chrome APK files, such as the version number of the APK, the required processor in your phone, the Minimum version of your Android OS to sideload the Chrome, and Screen DPI. So, you can easily choose a suitable chrome APK file among various versions.
Before downloading the chrome APK, you can check its size, download counts of individual chrome APK, compatible devices, and uploaded date for each Chrome APK file.
Furthermore, APKMirror also serves Google Chrome in an APK bundle format (.AAB file.) It is the sophisticated file format of traditional APK files. APKMirror offers Google Chrome app bundles in APKM format. To sideload APKMirror's app bundle, you need to install the APKMirror Installer app on your device.
So, visit APKMirror and search with chrome APK on its search bar. You'll find all variations of Android App Bundles (.AAB) and Android Application Package (APK) for Chrome stable, Dev, Beta, and Canary versions. Now Choose the desired version and download it to your device.
The APKPure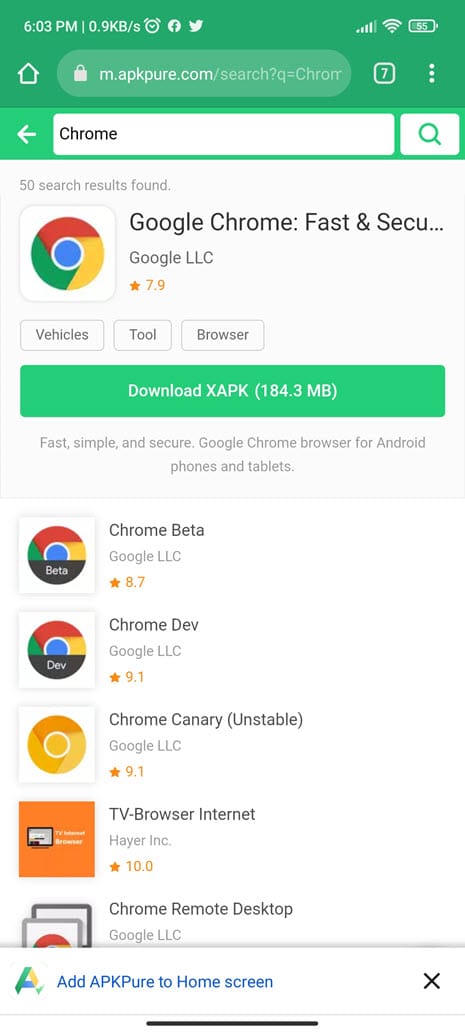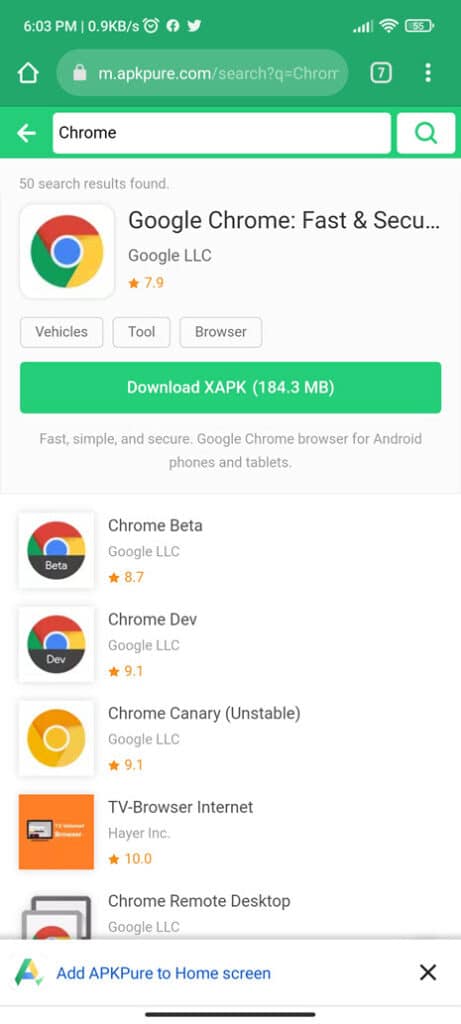 The APKPure is another safe APK-hosted website to download Chrome APK files. The site claims that its apps are the same as Google Play. And the technical team at APKPure always fixes the issue whenever they identify malware hit to the apps in the store or their APKPure official app.
So, you can use the APKPure site to securely download Chrome APK to your device. Like APKMirror, You can find both APK and AAB files of Google Chrome. But here, APKPure provides the Chrome AAB file in XAPK file format.
If you have downloaded Chrome source files in APK format, you can sideload them with a few taps. However, you need to install the APKPure installer to sideload the chrome if you have downloaded the XAPK file of the Google browser.
The APKPure has the complete set of Chrome APK and AAB files, including Chrome stable, unstable, Dev, and beta.
Visit APKPure or install the APKPure app on your Android device and search with Google Chrome, and download Chrome APK or XAPK files you need. Finally, sideload them with a few taps or APKPure installer.
Apps.Evozi.com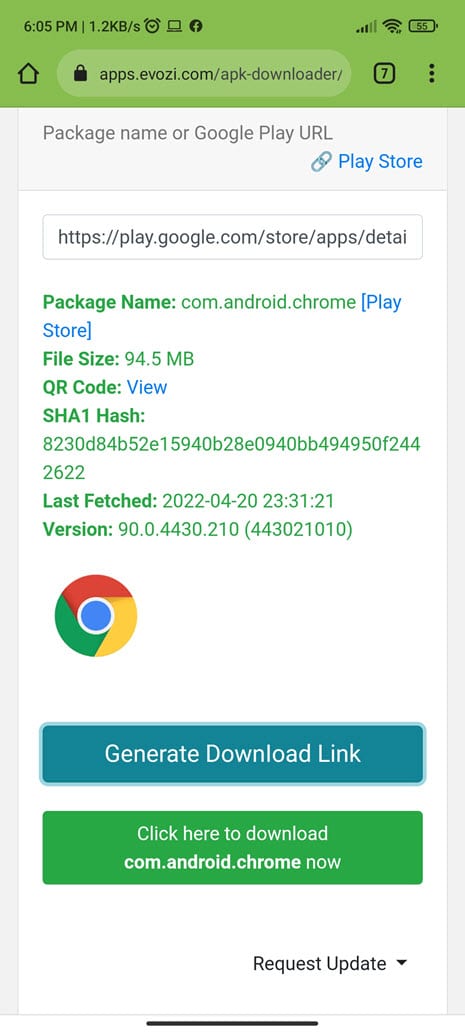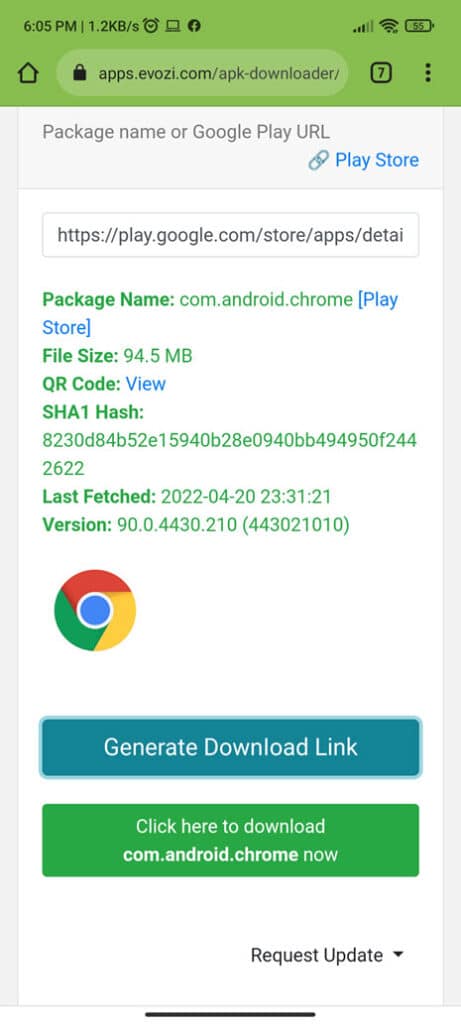 Apps.Evozi.com is the third solution to download Chrome APK to your Android device or PC in this guide. It is an APK downloader. It will fetch the app from the Google Play Store and provide you with a direct download link.
To download Chrome APK files with Apps.Evozi.com, you must copy Chrome's package name or Google Play URL and paste it onto Apps.Evozi.com. Shortly after that, you will get the download link to download the Google Chrome APK to your device; in this way, you can download an APK file of the Google Chrome stable, Canary, Beta, or Dev with Apps.Evozi.com.
Chrome Google Play URLs and package name (Package name highlighted in bold text at the end in URLs)
Chrome Stable: https://play.google.com/store/apps/details?id=com.android.chrome
Chrome Beta: https://play.google.com/store/apps/details?id=com.chrome.beta
Chrome Dev: https://play.google.com/store/apps/details?id=com.chrome.dev
Chrome Canary (Unstable): https://play.google.com/store/apps/details?id=com.chrome.canary
However, it is not guaranteed that the provided download link by Apps.Evozi.com for Chrome is the latest version and will be compatible with your device.
Final Words:
Downloading Google chrome APK from an unknown third-party site could be harmful to your device, or it may contain malware. However, we must use a third-party source to download chrome APK in some cases. In such cases, I hope these third-party sources will be helpful for you. These sites are most reliable sources to download Chrome APK and ABB files.