Would you like to add a Recycle Bin For Android Phone just like a Windows PC?  Then Dumpster app will help you to fulfill your thoughts. It is a popular recycle bin for Android Mobile and it is free to use. It offers a bunch of features such as password protection, auto clean, cloud backup, able to filter deleted files, and much more.
The Dumpster app can restore all kind of deleted files including photos, videos, documents, apps and music files. However, it will take a part of your Phone Memory to save deleted files Although "Auto-clean" function can decrease usage of your Phone memory.
Dumpster app has designed with user-friendly interface, and it doesn't require root permission to run on your Android Mobile. And it also allows you to view deleted photo and videos within the app. Moreover, you can filter deleted files by type, date, size, and name. Also, you may able restore deleted files all at once or one by one.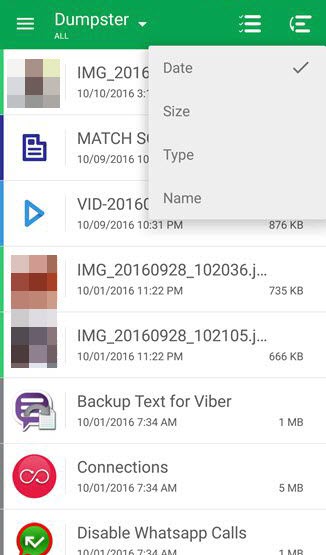 What kind of files Dumpster will save?
The dumpster will keep almost any type of files including MP3, MP4, MKV, 3GP, JPEG, PNG, DOC, XLS, PPT, and PDF. And there is no limitation on file size or number of files although you may able to select what kind of files Dumpster should save. Do you wish to delete your video files permanently but keep Photos little longer? Then Dumpster lets you do so.
Download Dumpster app (APK or Play Store)
Dumpster app works on Android 4.0.3, or Higher devices; file size is just around 7.5MB. So, it is easy to download. And the latest version of Dumpster 2.11.242.59082 has come with Android Marshmallow full permissions support. If you wish to download the app, then open Play Store on your Phone, Search "Dumpster" and tap the install button.
Also, you can able to download Dumpster app APK using below link.
Add Recycle Bin For Android using Dumpster App
Step 1: First of all, download Dumpster app using one of above methods.
Step 2: Open the app from app drawer.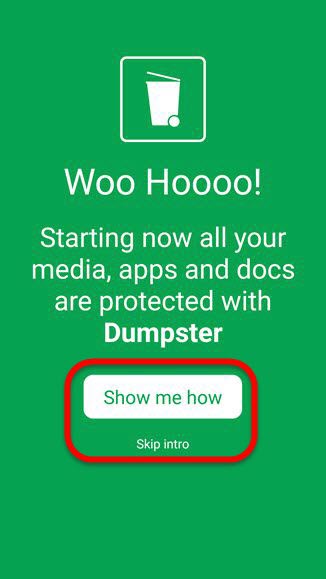 Step 3: Then tap "Show me how" button and learn something about Dumpster or just tap the "Skip Intro" button.
That's it. You don't need to tap any of extra buttons! Now all your deleted files will be saved on Dumpster automatically.
How to include/exclude a particular type of file from being recycled (Android-Dumpster)
Step 1: Open Dumpster app.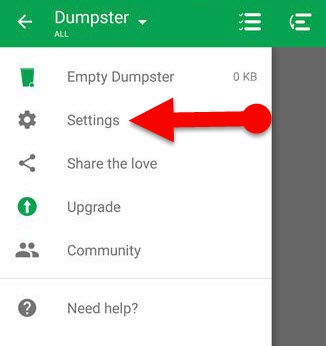 Step 2: Tap the menu button and go to "Settings."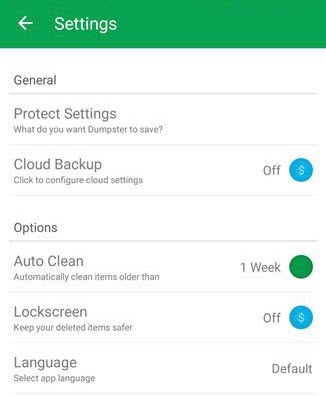 Step 3: Then select "Protect Settings."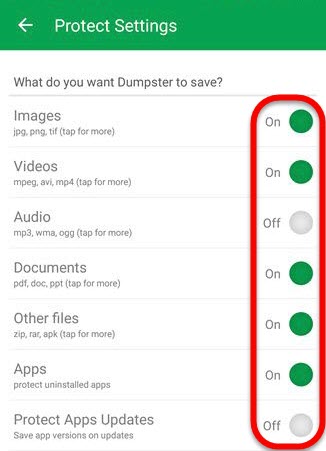 Step 4: Now you can able to choose what kind of file should Include or exclude from being recycled.
Bonus: Do you have dozens of the unused app on your Android Phone? And have you bored to uninstall them one by one? Then you can simply uninstall android app all at once using Easy uninstaller app.
Final Words: Dumpster app free and Pro
Dumpster app is an excellent recycle bin app for Android; it is lightweight and straightforward to use. The free version of Dumpster app is good enough to an average Android user. However, you can get some of Advanced functions in the pro version such as Cloud integration, Lock Screen, etc. If you have any queries related to this article, then leave a comment below.