You can learn "How to Recover Deleted Photos From Android" through this article. And you don't worry about whether the phone is not rooted device. DiskDigger is the best free application to recover deleted files from Android phone. No matter if your phone is root or unroot even don't need a computer. It can able to retrieve images as well as videos.
Although DiskDigger can able recover deleted Pictures from Android without root permission, it requires root permission to recover deleted videos from your phone memory. Also, when your phone is rooted, you can able to recover full-resolution Photos. Otherwise, you may be only able to recover lower-resolution images.
TIP: You can add a Recycle bin app to Android phone. It will help you to restore deleted file quickly just like in Windows PC.
Furthermore, DiskDigger lets you save recovered Photos onto several kinds of storage such as Google Drive, Dropbox, SD card, phone's internal memory. And also you may able to email recovered file to yourself or upload to FTP saver. However, when you attempt to save recovered files on your phone, then you must select a different partition than the one from which the files are recovered. That means if you are recovering files from SD card then you should save recovered files on phone memory, not recommended to save them to the same partition. Therefore, you can choose a cloud storage to save recovered files if you haven't an SD card on your Mobile.
Bonus: Learn a way to backup WhatsApp messages through my previous article. It will help you to restore deleted messages including photos and videos.
I have used to free version of DiskDigger and Unrooted Samsung Galaxy phone to demonstrate this article. As I mentioned above, unrooted Android phone only be able to recover Photos, and those pictures should be lower quality although you can recover other types of files besides Photos using the rooted phone with pro version.
Download DiskDigger app (APK or Google Play link)
It is simple to download because of the file size in only around 1.3MB. Another good news is DiskDigger app can run on any version of Android phone even though your phone is Android 2.2 (Froyo.) If you decide to download the app, then Open the Play Store on your phone and search "Diskdgger." You will get DiskDigger app free version as a first result, then tap the app and select Install button.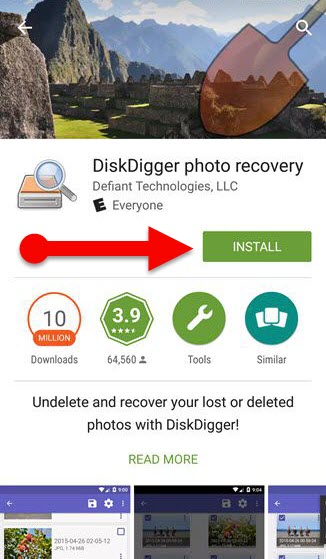 If you are having a problem with downloading the app on Google Play Store apps, then you can grab DiskDigger APK file from below link.
Recover Deleted Photos From Android (without Root or Computer)
Step 1: First of all, Download DiskDigger app through Google Play store.
Step 2: Open the app from app drawer.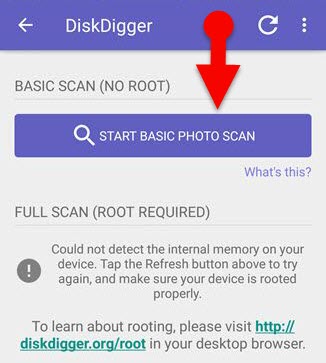 Step 3: Then tap the "START BASIC PHOTO SCAN."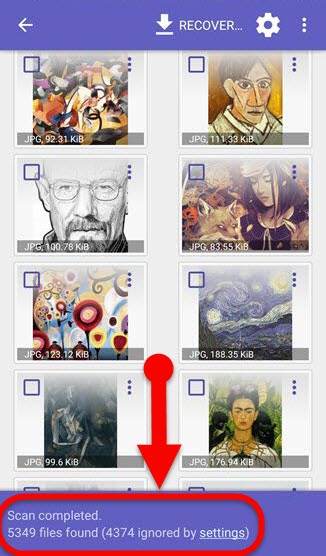 That's it. Now you will see thousands of deleted Images within the DiskDigger app.
Filter DiskDigger recovered result.
It is not an easy job that is finding a proper image which you want to retrieve among thousand of recovered photos. Consequently, DiskDigger has an image filter function that may help you to find exact image that you intend to recover. You can filter search results by Size, Date, and thumbnail size.
How to save DiskDigger filtered result
Step 1: Select the check box of images which you want to save from recovered result.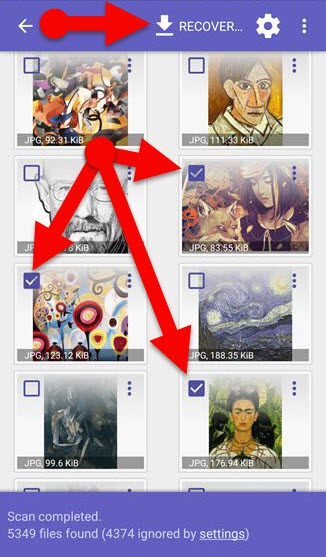 Step 2: Now tap the "Recover" button at the top right corner of the app.
Step 3: Then a popup will appear, and it will ask "How would you like to recover the files?"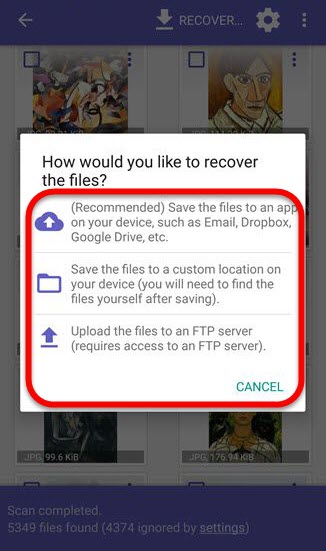 Step 4: Now select a source wherever you want to save. (SD card, Cloud storage or FTP Saver)
Final word: Pro and Cons of DiskDigger app
This article is about "Recover Deleted Photos From Android." DiskDigger is a convenient app to recover deleted files. It is Simple to use and even free too. Its main advantage is that it can perform a scan on any of old Android Smartphone since Android 2.2 (froyo.) And the other one is it doesn't require root permission to carry out a "Basic Photo Scan."
However, you must root your Android Mobile to recover videos, documents, music and other types of files besides Images. If your phone is rooted, then the free version can recover images and videos only. If you wish to recover documents, music and other types of the files, then you should use pro version of DiskDigger app.
Also, I had found a little disadvantage in DiskDigger app when I scan my phone that it will show an image more than one time in the scanned result thus it seems to be little difficult to scroll down recovered images. Hope this article will be useful to those who wish to recover Deleted Photos From Android phone. And I love to hear your thoughts about this article.