Have you wondered how to hard reset your mobile phone, smartphone, or tablet device? But have you ever had trouble finding a proper solution on the internet or elsewhere? Don't worry! Today I am going to introduce you to a quite useful website that helps you to learn how to perform a hard reset on any mobile phone or tablet. The site contains the step by step guides for more than 17500 mobile devices. You can also see the video tutorials and screenshots in almost every guide, which help you understand about hard resetting your phone more clearly.
In addition to that, the site has a wide range of hard reset instructions for all kind of mobiles devices, manufacturers, brands, carriers, and operating systems. Therefore you won't leave the site without finding an exact solution for your mobile device.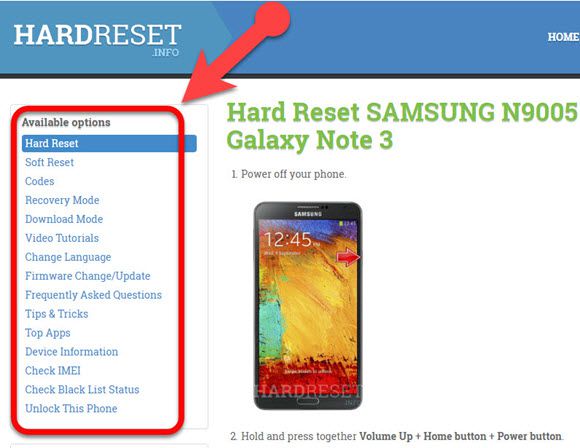 Apart from finding a solution for master resetting your phone, you can also learn useful tips and tricks, soft reset, secret codes, recovery mode, download mode, device information, firmware change/update guides, and much other information about your device. Another useful feature of this website is that it has been given all possible ways to hard reset a phone, smartphone, or tablet. And you can choose the easiest way to perform a factory reset your device.
Furthermore, this HardReset website also explains what "hard reset," "soft reset," "bootloader mode," "Fastboot mode," "safe mode," "hardware key control mode," mean and so many other information related to resetting a mobile phone.
www.HardReset.info (Site To Find How To Factory Reset Guide)
If you want to learn how to hard reset your Android, iPhone, Windows Phone, Samsung, BlackBerry, LG, Sony, or any other mobile devices, then simply head on to the hardreset.info website and find a solution for your device.

The hardreset.info website has designed with a simple user interface and very simple to explore "How to hard reset" tutorials for any mobile phone or tablet. Hardreset.info site loads quickly on PC as well as mobile device.
How to Find "How to hard reset" Tutorials on HardReset.info Website For Your Device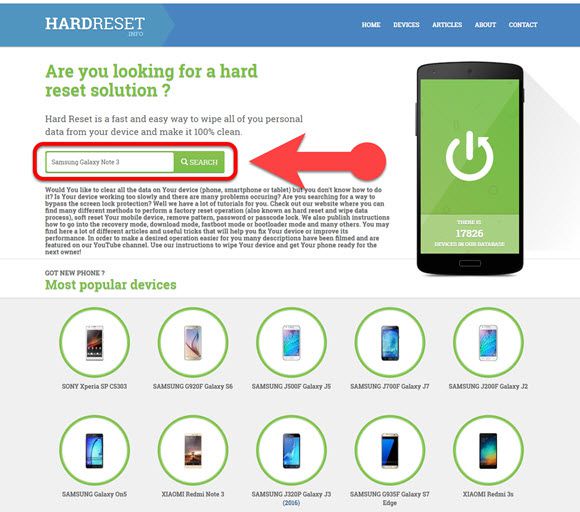 To find a master reset guide about a particular device on hardreset.info website, all you have to do is enter your device name on HardReset website's search bar. After that, HardReset website will list all variants of your device. Then, you have to choose the proper device from the list. That's it, now, how to hard reset guides and other useful tutorials & information will be listed for your device.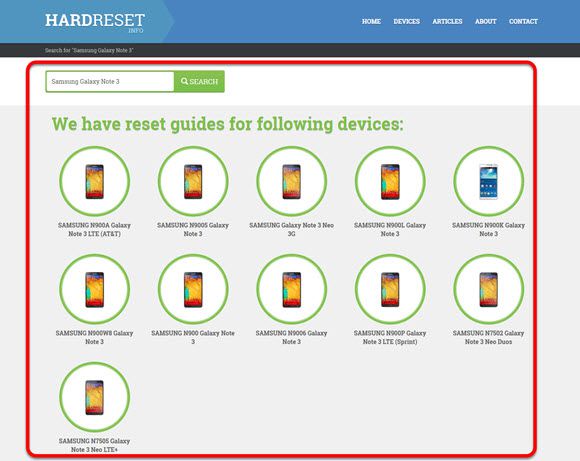 Final Words:
Sometimes, you may need to wipe all your personal data and settings on your phone, or you may need to bypass your phone's lock screen and perform a factory reset your phone without the password (In the case of forgot pattern/password). In these cases and several other cases, you can perform a hard reset on your mobile phone or tablet, so your phone will get refresh and speed up in a short period. And the hard reset feature available on almost every device but many people don't know about how to perform a factory reset on their mobile. Thus, this site will be useful for those who want to learn how to perform a hard reset on their mobile or tablet.