You can find the best disposable email list here. These temporary email address services are most popular and well-known temporary email services which help users to reduce the junk emails from their personal or business email accounts. Most of the temporary email sites have a mobile version that I have given below so that you can use any of them on your Android, iPhone, Windows Phone or PC.
Email is the most important aspect of an internet user. We use our personal or business email address on the web for a wide variety of needs and purposes. In most cases, we use our email address to create accounts on the websites. But, when you are using your email address on a huge number of sites, your inbox could be filled by the unwanted/spam emails. In such cases, we can use a temporary email address to get rid of junk emails.
There are dozens of disposable email address services on the internet, but I have selected some of the best temporary email generators here. Using these throwaway email address providers, you may able to create an unlimited number of the temporary email addresses which can be used to verify your online accounts or any other purposes. And almost every disposable email addresses would be used just for the one time, so please avoid using those addresses to create your personal Facebook account or any other your permanent online accounts. You can find the disposable email list below which I found on the internet.
See Also: Best Email Widgets For Android
Mailinator: Temporary Email Address Service
Mailinator is one of the best temporary email ID providers. It is a different kind of email service. Unlike other throwaway email servicers, Mailinator lets you create a disposal email address in your own name or any other name you like. Once you entered your email name on Mailinator website, your email ID will be created with @mailinator.com. For an instant, if your email username is "2017," then your email address looks like 2017@mailinator.com. Anyone can send emails to that email address, it will be visible to the public, and anyone can see those email messages from anywhere using any devices, even without an account or password.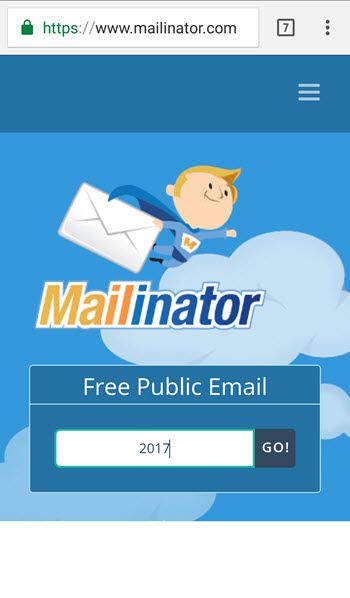 So you can a temporary email address for verification or any other reasons. However, all your received email will be automatically deleted after several hours. There are no any options to recover them. And you can only receive emails anonymously. You may not able to send anonymous email from Mailinator.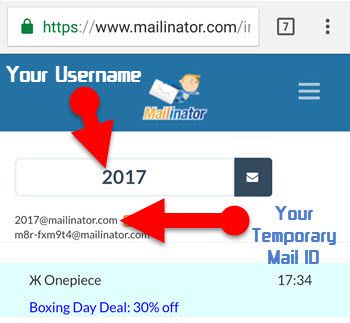 Mailinator also offers paid plan which will be given many other benefits to users such as private domain, API access, storage, and much more. However, free plan is good enough to verify your email address on the internet quickly.
Website Address: https://mailinator.com
Guerrillamail: Receive & Send Anonymous Email with Attachments
Guerrillamail is an excellent disposable email address service. You can instantly get a disposable email address to send and receive email messages; you don't need to register to use the service. And the best part of this service is that users may able to send an anonymous email with attachments. You can attach files in the anonymous email up to 150 MB. And Guerrillamail lets users choose their own email name with the predefined domain names like @sharklasers.com, @guerrillamail.com, biz, info, grr.la, etc.
Guerrillamail also keeps your emails for 1 hour, or until the user deletes it. In addition to that, you can also change your temporary email username anytime you want from the Guerrillamail inbox. To change your old disposal email ID to the new one, only you need to place your mouse over the Inbox ID at the top of the Guerrillamail inbox and click to edit. Although Guerrillamail website supports to the mobile version, it provides a mobile application to Android users. If you are an Android user, then you can download Guerrillamail app for your Android phone from the Google Play Store.
HomePage: https://www.guerrillamail.com
Learn more about Guerrillamail on Wikipedia.
NADA: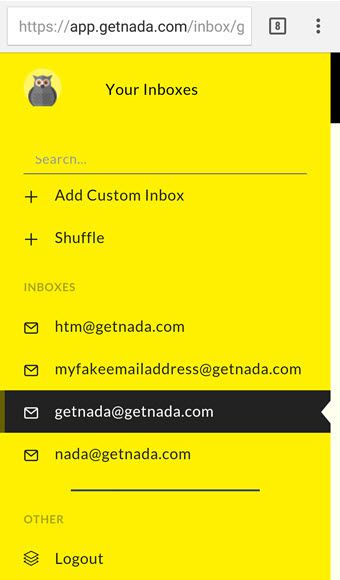 Nada is a brand new free Fake email address generator. It has designed with a pretty nice and user-friendly interface, very simple to use. Using Nada email generator, you may able to generate a random email address or a fake email address with your own username. Nada allows users to add up to 10 mailboxes at the right sidebar of the generator so you can easily manipulate multiple fake email addresses from the same window. It works on Mobile as well. Nada email generator is free and well worth a try.
Homepage: https://getnada.com
10 Minute Mail: Short-Term Email Service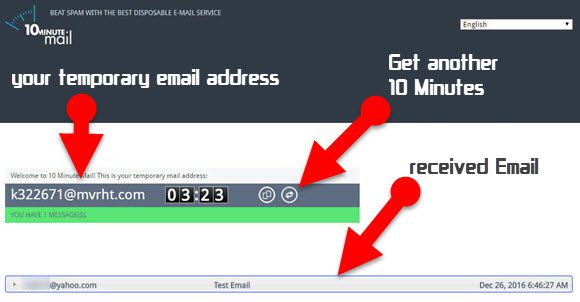 The 10 minute mail is a popular temporary email address service though it provides little features to the user. But basically, you can receive emails with attachments to avoid spam emails from the primary email inbox. And the 10 minute mail will keep your all emails for 10 minutes although you can increase the expire time limit by 10 minutes again and again for the same temporary email address. Finally, it will be automatically deleted by the 10 minute mail service. Unlike Guerrillamail disposable email address service, 10 minute mail won't let users select their own email name or domain name. Moreover, you won't be able to send anonymous emails from the 10 minute mail service, with attachments or without attachments.
URL: https://10minutemail.com
20 minute mail: Throwaway Email Address Creator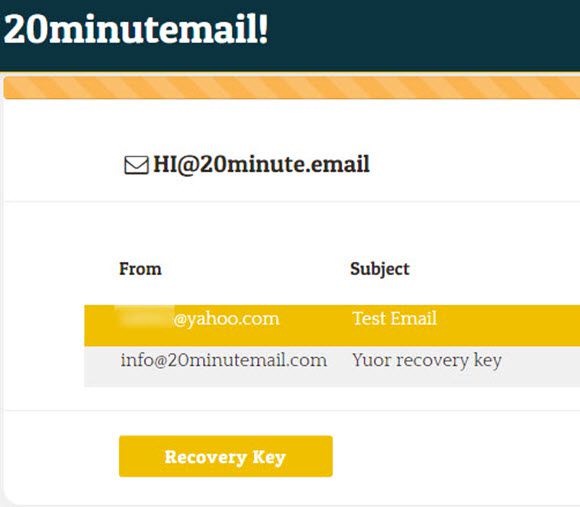 The 20 minute mail is the best alternative to the 10 minute mail website. It will keep your all emails for 20 minutes. You can create temporary email addresses with your own username. It also doesn't require a password to check your new emails. And the good part of this service is that you can keep your email messages up to 24 hours or you can forward them to your real email address.
Web Address: www.20minutemail.com
AIRMAIL: Disposable Email Address Generator
AIRMAIL is another short-term email address service. It is also used to avoid spam and marketing emails from various websites. Once you visited this site, you will see "Get Temporary Email" button on the homepage. To get a free disposable email address, you should click the "Get Temporary Email" button. After that, AIRMAIL site will provide a random email address; you can use it on anywhere on the web to sing up an account or any other needs.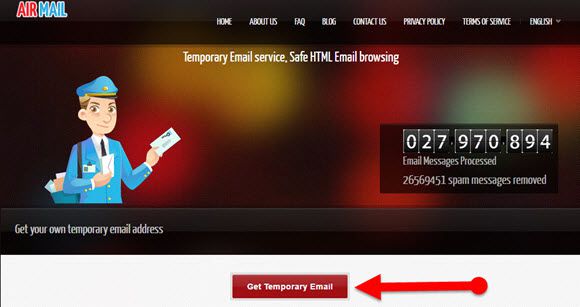 There is no any particular expire period on the AIRMAIL temporary email generator. It will keep your all emails as long as your browser window is opened. But if you close your browser or tab, your emails will be automatically deleted after 24 hours.
Site Address: http://en.getairmail.com
See Also: Create your own Facebook ID card with this free Facebook id card maker online
Final words:
This is a list of some free disposable email address service. Temporary email address very useful when we need to sign up on a website. And the anonymous email services are the best way to avoid spam/junk mail from our real email account. All of above throwaway email address services are provide you to random email address instantly and free.
Personally, I prefer to use Guerrillamail service because it offers a bunch of features including the ability to send an anonymous email with attachments. It also provides a mobile application for the Android users. So, you can send and receive anonymous emails from your mobile phone too. I hope this article will be useful for those who wish to keep their actual email account spam free by using a throwaway email address instead of using their real email address. If you found this article is useful, then don't forget to share with your friends.