Have you heard about Nada? Maybe or not. Whatever, Nada is a recently launched Fake Email Address Generator also known as temporary email address service. It lets you receive emails anonymously as much as you want, you can create an unlimited number of disposable email addresses through Nada Fake Email Address Generator, just with a few taps or clicks, and no need to use a password to access your fake email inbox. Once created a Fake Email Address, you can use them anywhere on the internet instead of your real email address.
What is a Fake Email Address Generator/Service?
A fake email address generator gives users the ability to generate unlimited free fake email inboxes which they can use when registering to a site which they do not trust or sites which they suspect can result in sending them lots of spam.
NADA: Fake Email Inbox Service
Nada (https://getnada.com) which is the new email service from the creators of AirMail (http://getairmail.com) is a pretty good example of such service. It has designed with a very simple and intuitive user interface, even really easy to use than other temporary email address services. And another best part of this service is that users can simply generate any number of disposal email addresses from the same interface, they don't need to leave from the current interface to generate another temporary email address. Using Nada Fake Email Address Generator, you can generate a random email address or a fake email address with your own username.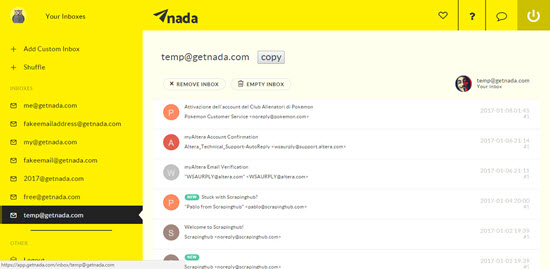 We like the fact you can add up to 10 inboxes to the sidebar menu and the site saves these for easy access in future sessions, this really helps when you want to check multiple inboxes and quickly access tons of emails but not risk your real, personal email address.
Unique Features of NADA Email Generator
Multiple Inboxes and Automatic Refresh: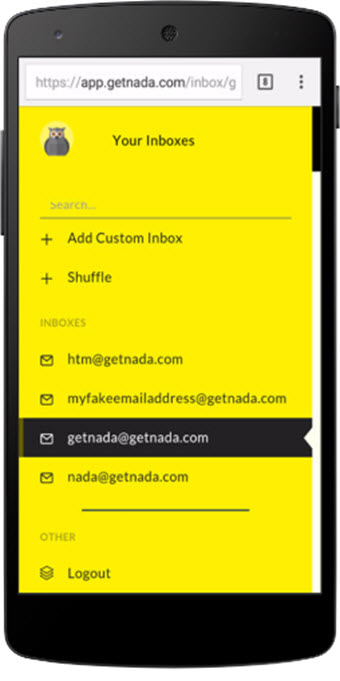 Unlike other fake email address generators, you can select your desired inbox name and you are not required to refresh the browser window to view new messages as the service automatically and instantly updates your inbox with fresh new coming emails as soon as the arrive.
See Also: Transparent Email Widgets For Android
Supported Platforms: Works on PC, Android, iPhone, Windows Phone & other IoT devices:
What we really enjoyed is the service works flawlessly on mobiles and all the great features you get on your desktop are available to iPhone and Android users just the same.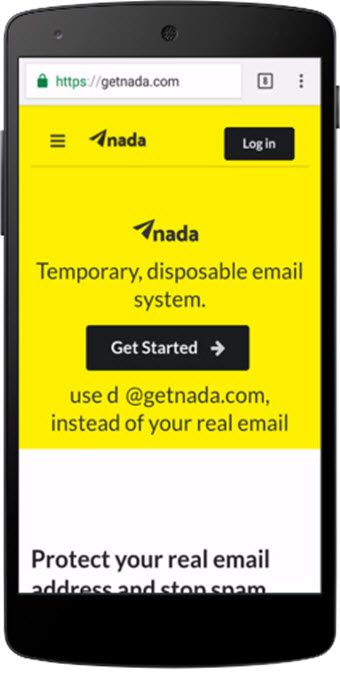 Nada disposable email system is a browser-based application but you can use it from virtually any device. According to the author, there is no plan to supply specific native apps as the browser html5 version works great on mobiles.
Simple To Start and Use: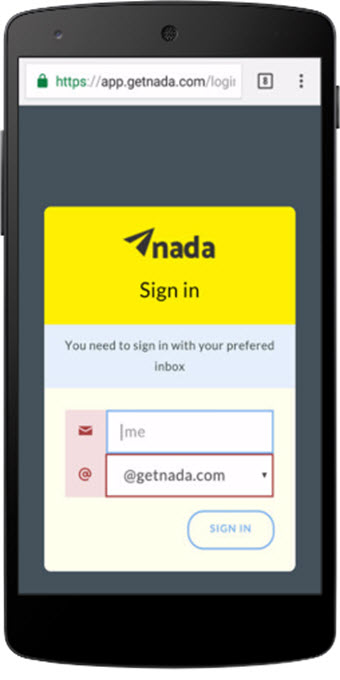 Inboxes never expire and individual messages stay in your inbox for 7 days, after that, they are deleted from the service forever. Privacy is taken very seriously and as a user, you do not need to supply any personal details to use the service. You can also get a unique link to be able and open all your inboxes on a different browser/device should you wish to do so.
A random email address just in a second:
Another cool feature is the ability to press the "Shuffle" button on the sidebar so a unique random inbox is created for you in one click and added to your session.
Able to receive a temporary email with the attachments:
One last feature which we haven't seen until now in temporary and disposable email services is the ability to receive attachments. This is a unique feature that is sure needed as in many times temporary email addresses are used to receive content like PDFs or photos.
Note that using NADA fake email address generator, you can not send email from this service and this disabled to not allow spammers sending emails without authenticating.
Learn Also: How to send an anonymous email with attachments
Security and Anonymity
The service is secure via https so your inbox will be safe from prying eyes. According to the author, he said Nada (fake email address generator) will integrate with some more useful features in the coming days, specifically the ability to lock an inbox and protect it so it can only be accessed by the authenticated user. Another thing we want to see is more domains added to the system so it's harder to ban it.
Go to the Nada temporary email address service and start to generate your own Fake email Addresses.