Here is a list of the best free pedometer apps for Android, sometimes, which also known as the footstep counter or step counter app. Using these free pedometer apps, you can calculate the number of steps while are walking, jogging or running. And you can also measure distance traveled, pace, elevation, calories burnt and more. And Almost every step tracking apps use phone's accelerometer sensor to detect users movements. However, some pedometer apps use smartphone's GPS function to tracking your outdoor activities. Let's see some best free pedometer apps for Android and iPhone. See Also: Best Email Widgets for Android
Runtastic Pedometer: Step Count App
The Runtastic Pedometer app is the best pedometer app for android. And it would be quite useful for those who wish to use their smartphone as a pedometer device. This app uses your smartphone's accelerometer sensor to detect your movements. And the primary function of this app is that it automatically calculates the number of steps, pace, calories burnt, and distance while you are walking. Runtastic Pedometer has designed with a simple user interface, very easy to use. Also, it shows very accurate and precise results.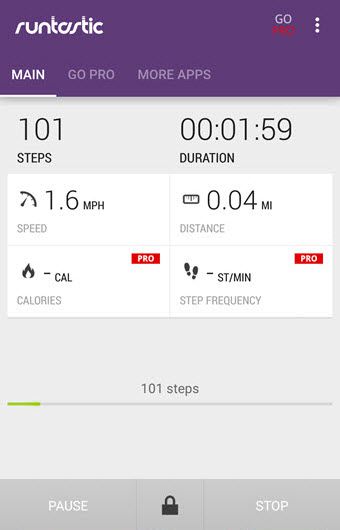 You also can sync your activity data with runtastic.com, so you monitor your activities from runkeeper.com. To manage all step tracker data online, only you have to create a free account on runtastic.com, or you may log into the Runtastic Pedometer app using your Google or Facebook account.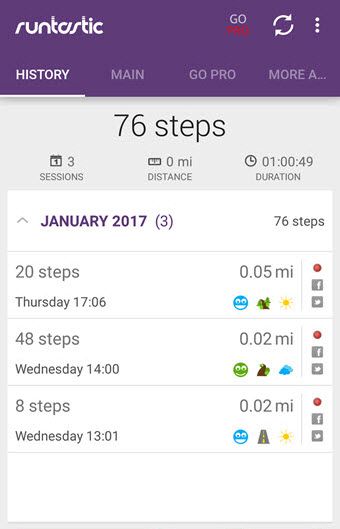 And the good part of this pedometer app is that it lets you count your steps, distance traveled, elevation, and walking speed without connecting the GPS or internet. Not just that, Runtastic Pedometer app also gives users to a pretty neat user interface to view and manage theirs workouts activity. Runtastic Pedometer is available as free to use but comes with limited features. To unlock all the features, you need to buy it from the Google Play Store. Give Runtastic Pedometer a try; You might like it!
Get Runtastic Step Counter app from Play Store (Android) or App Store (iPhone)
Read Also: Best face aging apps For Android
Noom walk: A Simple Pedometer App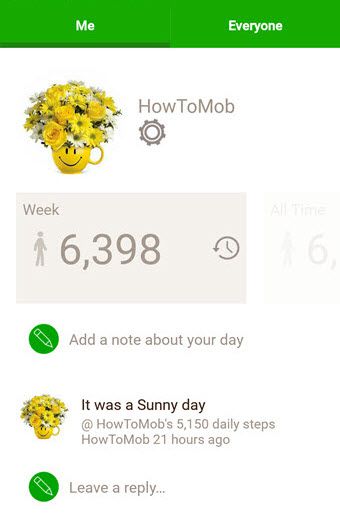 Noom walk is another best step counting app for Android. The app comes with a smooth, clean, and user-friendly interface, and very simple to use. The Noom walk app also uses accelerometer sensor of your phone, so it doesn't require GPS or Internet connection to detect your movements. But the Noom walk app allows you to count your steps while you are running or walking. The app also calculates and shows your daily, weekly, and all-time workouts activity.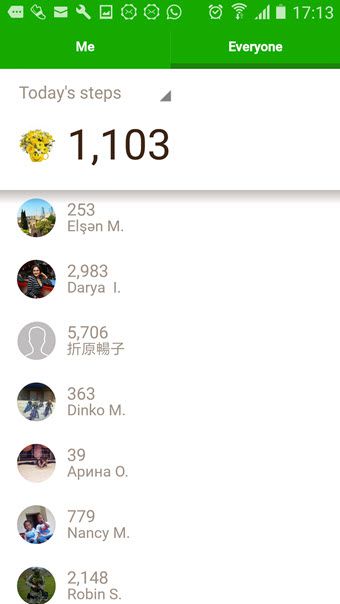 Noom walk step counting app also capable of running in the background without draining the battery because the app is so lightweight and efficient. And users also may able to use Noom walk app without an account, however, by creating a free account, you can add a note to your each workout, view others profile, leave a comment for others notes and so on. Once created an account, your profile visible to the public as well. Your friends and others can view your step count statics and notes, they also may able to add a comment for your workout notes, and vice versa. Noom walk app also provides a small widget to see your step counts from the home screen. Head on over to the Google Play Store to get it now!
Download Noom Walk Step Tracker app from Google Play or App Store!
Pedometer in S Health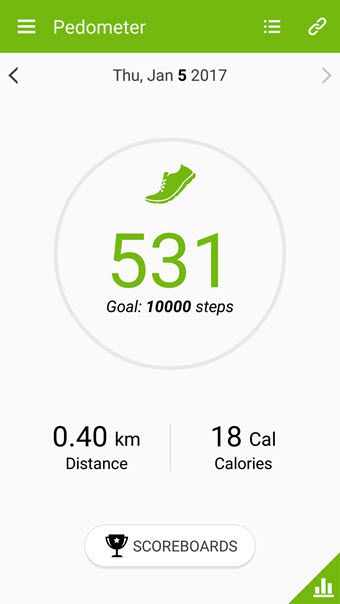 S Health is one of the best fitness apps for Android provided by Samsung. S Health has a simple yet intuitive interface. It offers so many tools and features to archive your fitness goals and boost your running training; Pedometer is one of them. When it come to S Health's Pedometer, it has a very straightforward interface. S health calculates the walking distance, calories burnt, speed and more. And it also provides very accurate results. S Health fitness tracker set a default goal of 10,000 steps a day.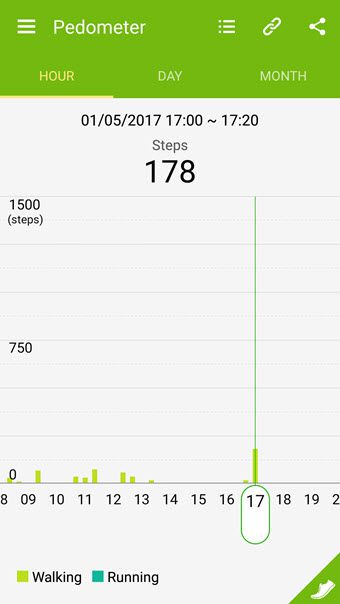 S Health Pedometer features an excellent built-in progress graphs as well, which helps users to easily and quickly check their hourly, weekly, and monthly progress report. You can also sync your step count records with Pedometer in S Health using a Samsung wearable device like Smart fitness bands, Samsung Gear device, etc. And Pedometer in S Health is designed for both indoor and outdoor activities. S Health app is highly recommended for Samsung Galaxy users who wish to use a step counter app on their device. While most Samsung Galaxy devices come pre-installed with S Health app and it supports all Samsung phones starting from Galaxy S3 onwards; includes Non-Samsung Android smartphones as well. You can download the app from the Play Store if your device doesn't have it.
Pedometer & Weight Loss Coach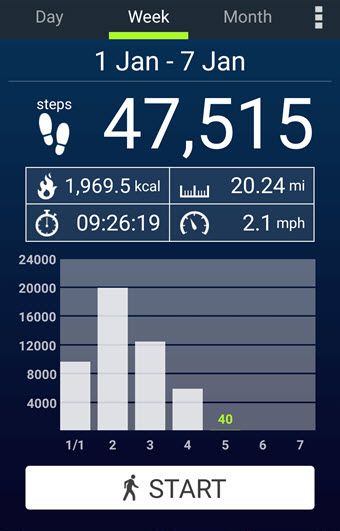 Pedometer & Weight Loss Coach app is a great step counter app for Android and comes with a beautiful and informative user interface. And it is designed for indoor and outdoor activities, provides very accurate results. No matter where your phone is placed – pocket, jacket, armband, or purse. This Pedometer app will sit in the background and can track your walking, running, jogging and cycling activities throughout the day. The voice feedback is available as well, and you can personalize it too!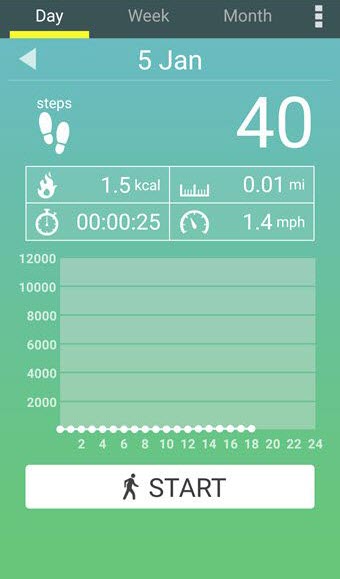 Once you activated the GPS based tracking for outdoor activities, you can see the real-time stats for your runs, walks, and rides on a map. Pedometer & Weight Loss Coach app will calculate your distance traveled, workout time, pace, calories burned and more. The app is available for both Android and iPhone.
Pedometer for Android
The pedometer is another simple step counter app for Android which helps you to count the number of steps, calories burned, distance, average speed, and active time. This free Pedometer app is handy to use, and there are many themes in the app, you can use any of them for free. The app also able to automatically count your footsteps while you are walking or running even if you put it in your pocket or bag.
This pedometer app also lets you quickly view your data recorded until the previous day by swiping the screen to the left. Users can see daily, weekly, and monthly log history from the app's main screen as well. Users can upload their stats to the social networking sites like Facebook, Twitter, Google Plus, etc.
Get It from the Google Play Store!
Final Thoughts:
This is a list of the best pedometer apps. All of these step counter apps available for Android and some of them available for iPhone as well. If you prefer to use a simple pedometer apps to reduce battery consumption of your Mobile, then you can choose Noom walk app from this list which can be able to count your footsteps by sitting in the background on your phone. Or If you wish to get the advantage of your Samsung wearable device, then you can also use S Health app. You know that it is a wonderful health & fitness app for Samsung Galaxy users. However, each pedometer app has some unique feature than other.