Do you prefer to know how you would look as an old man/women? Or have you ever wondered what will I look like when I'm older face transformer? Or if you want to know what will I look like in 10 years, well, you no longer wait to 10 or 20 years to see your old Face, these age progression apps lets you see what you will look like after 20, 30, or 40 years. Here is a list of the best face aging apps which can make your face look old, even you can transform photos of your friends, colleagues, child to look old. Once you turned your face, all of these apps let you save processed photo to the gallery or you can share it through social networking sites like Facebook, Google Plus, Twitter, etc. See also: make yourself a cartoon with this free cartoon picture apps
AgingBooth: Age Progression App
Yes, AgingBooth is on top of this list, because it is the best app to make your face look old, and it is a popular app to transform someone's face to look old among Android and iPhone users. AgingBooth app comes with a very simple user interface, easy to use, and even free to use. Only you have to download the AgingBooth app from Google Play Store or App Store. After that, simply take a photo using AgingBooth's built-in camera or upload your image from the gallery app, and finally adjust eyes, mouth and chin markers, That's all. Your photo will be transformed to look old instantly.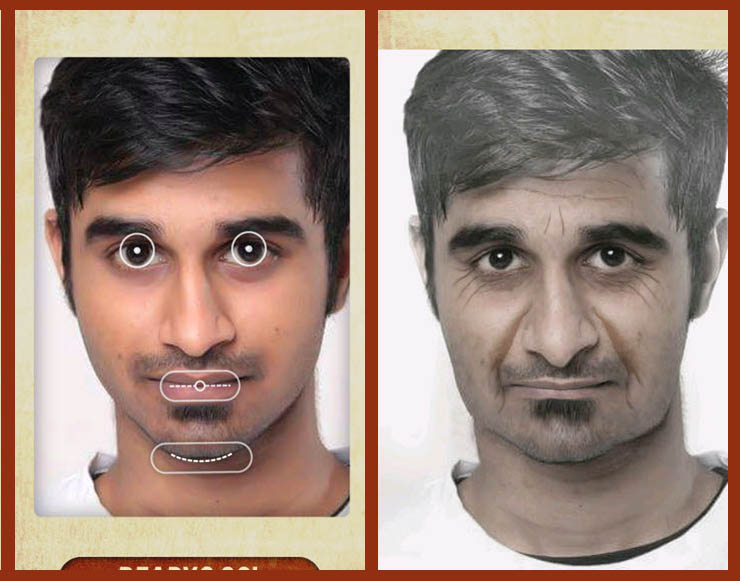 And the good part of this app is that it will work almost every version of Android OS, you can run this app on your Android phone even though it runs on Android 2.3. And also the AgingBooth app can make your face look old even without the Internet connection. In addition to that, you can view the transformed photo and original photo quickly by shaking your device. Give AgingBooth a try; you might like it!
Download: http://bit.ly/AgingBooth-For-Android
Download: http://j.mp/AgingBooth-For-iPhone
See Also: PhotoScan App : Turn Your Old photos Into Digital Prints
Oldify: Face Aging App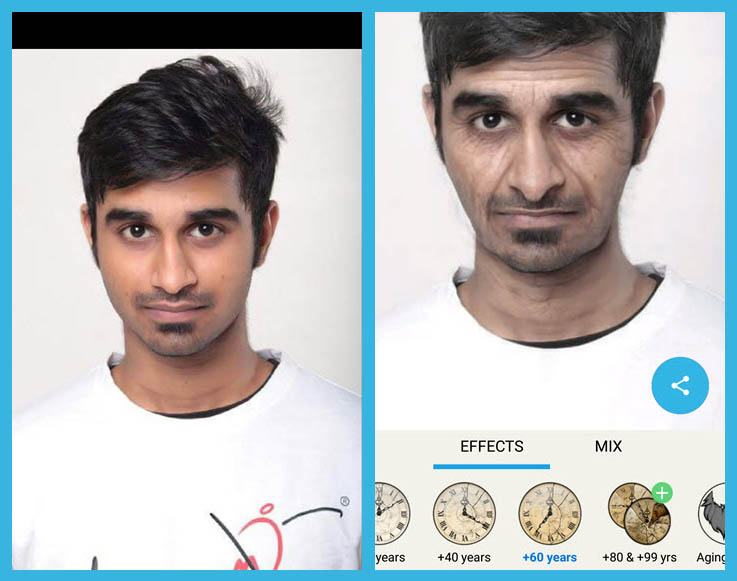 Oldify is another great age progression app which is also used to make someone face look old. The Oldify app is available for both Android and iPhone. Unlike AgingBooth app, Oldify lets users view their transformed old face as an animated image. While you make your face look old, you can select to add anything from 20 – 100 YEARS, and see your withered, gray-haired old-self come to life; touch your aged face to see yourself wink, coughing, yawning, and many other hilarious animations. So if you wish to know "how will I look in the future," then you can also use Oldify app to fulfill your thought. Android user can get this app for free from Play Store; iOS users need to pay $0.99 to get this app for their device.
Get Oldify for Android from Google Play Store
Buy Oldify from App store $0.99
Make Me Old: (Make Your Face Look Old)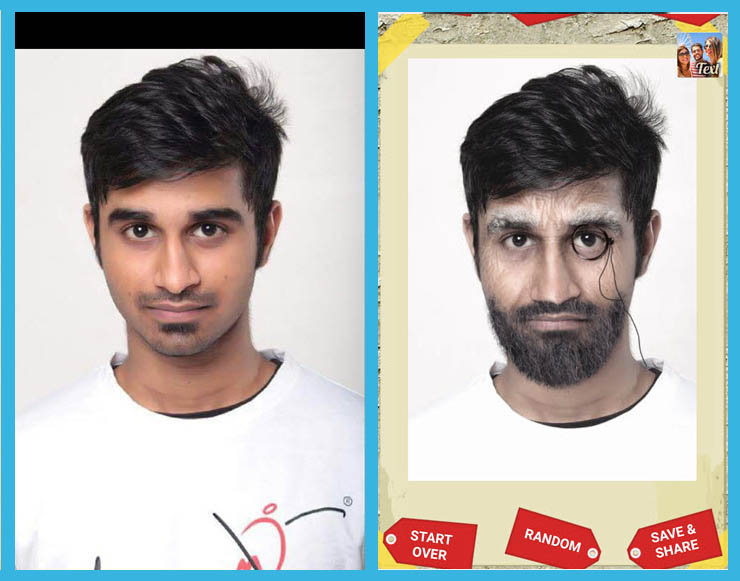 Make me old for Android is another useful application to make look old yourself. Besides making yourself look decades older, it also allows you to add some funny glasses or monocle and a funny mustache or beard for your Face. And the Make Me Old Android app is handy to use. To give an aging old effect to your face, First of all, you want to download and install the app to your phone. After that, you need to import your photo from the gallery, or you can just take a picture with the camera. Once you do that, you are asked to adjust the markers (eyes, mouth, and chin.) adjust them and tap on the next button. Finally, you will see your aging face. And now you may also be able to add monocle, mustache, and beard to your aging face by tapping on the "Random" button; That's it. Now you can save your aging face photo as a JPEG image, or you can share it with social networking sites.
Download Make Me Old for Android
See Also: Microsoft Selfie App For Android
Final Words:
There are many age progression apps on the internet. But I have selected some best age progression apps in this article. AgingBooth and Oldify apps available for both Android and iPhone but the Make Me Old app can be downloaded only for the Android phone. However, all of these apps lets you make your face look old with just a few taps. So install one of these photo age progression apps on your Mobile and see how you will look in the future. I Hope these age progression apps will be enough to make your face look old. If you found this article is useful, then don't forget to share with your friend.