Systweak Android Cleaner helps you optimize your device for better performance. It comes as a complete package to deal with all your Android related worries. You can use this tool to clear your device from all junk, duplicate and other unnecessary files, as a battery saver, duplicate file remover, and so on. This is one of the best Android cleaner apps available today. Let's have a look at its unique features.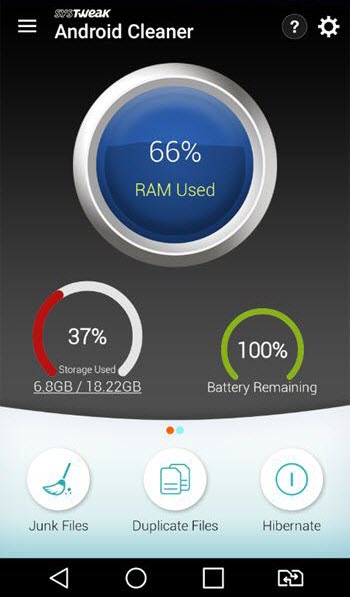 Systweak Android Cleaner's Main Screen:
Systweak Android Cleaner's start page includes details about your Android phone such as battery uses, RAM uses, occupied storage space, and other features. You can instantly clean your RAM by pressing "RAM Used" button as it works as a phone booster.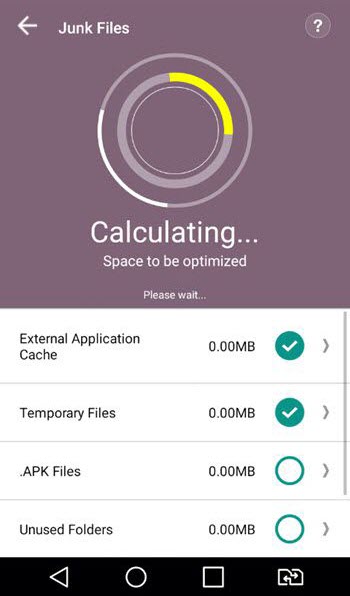 Junk Files:
This feature includes all junk files on your device under different folders like external application cache, temporary files, APK files, unused folders and 10 largest files. You can click on any folder to see details of the files to manage it.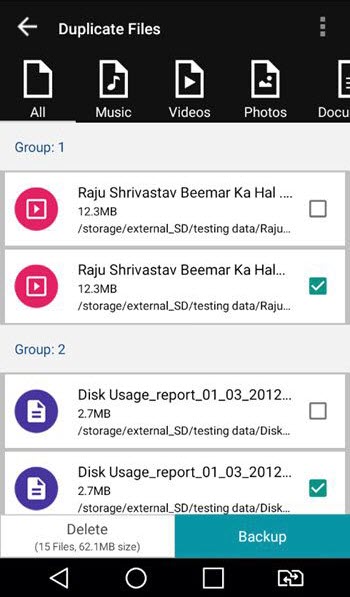 Duplicate Files:
Under this feature, you can find all duplicate files on your device including duplicate files in music, photos, documents and videos files. You can also see all duplicate files under "ALL" tab. It displays results in an auto-mark format where last file (s) of the group remain marked to be deleted. Alternatively, you can select "Mark all except last" to select the first file (s) of the group to be deleted. You can select "Unmark All" option to manually select the files.
In other options, you can select "Unmark Shortest file location" to unmark those duplicate files which exist at shortest file location on your device storage space. This will mark those duplicate files which exist at longest file location to be deleted. It will help you retrieve data fast. Based on the results you can take Backup of the files on Cloud servers, or you can easily delete duplicate files by pressing "Delete" button to recover some precious storage space.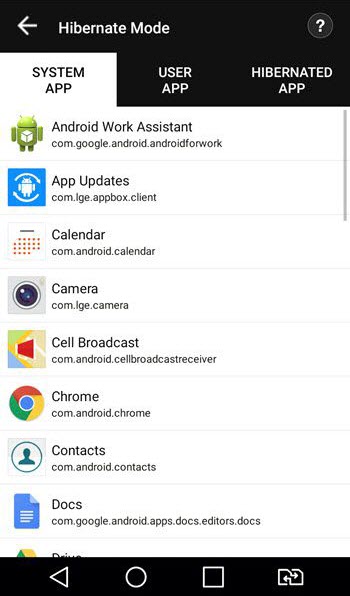 Hibernate:
It requests for accessibility service permission on your device before it starts functioning. Once you agree to this, it helps you put unnecessary apps into hibernate mode. Under hibernate mode it stops all functioning of the selected apps to stop them from using device resources. You can use hibernated apps anytime in the future at you will. It allows you to add system or user app to hibernate mode.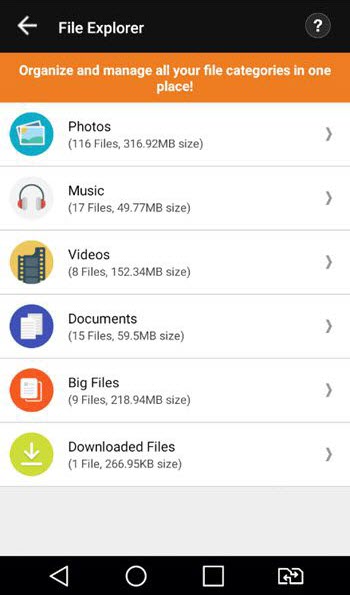 File Explorer:
It displays all files/folders on your device and space occupied by them. You can simply go to any folder to view files in it and to manage them. You can take backup of files, share them or simply delete them. Under Big Files folder, you can set filters to find files as per space they occupy to manage them well.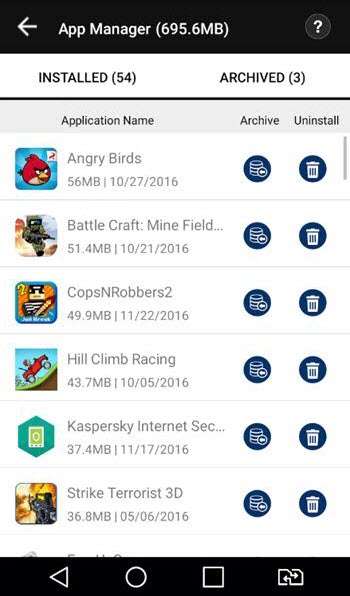 App Manager:
App Manager displays all the user apps installed on your device and space occupied by them. You can archive these files or simply uninstall them to recover some storage space. In "Archive" option it stores installation file of the app to use it in the future.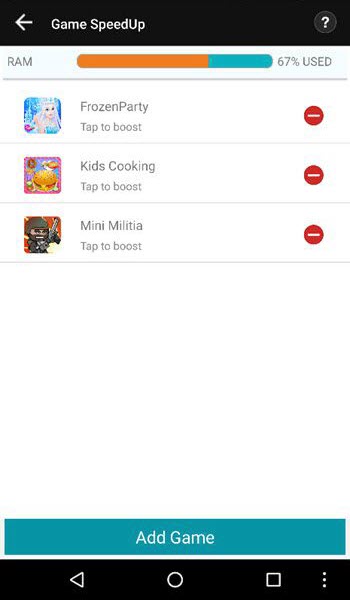 Game SpeedUp:
This option turns your device into a dedicated gaming platform by stopping all unnecessary apps and programs running in the background to clear some RAM. You can select any game or app to the Game SpeedUp list, and the app will clear some RAM space to provide better speed for selected game or app.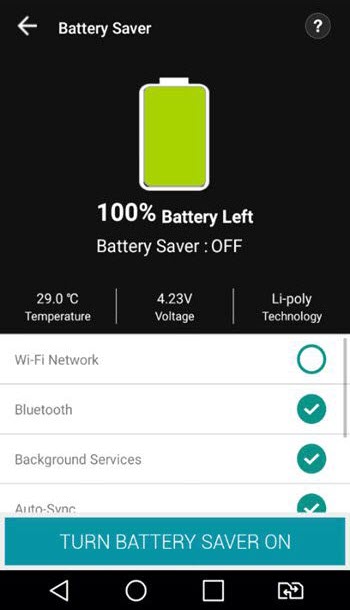 Battery Saver:
It displays all the battery related information and battery draining functions. You can press TURN BATTERY SAVER ON button to instantly stop all battery draining functions, or you can individually unmark these functions to stop them running.
See Also: Download Battery Doctor App for Android
Cloud Backup: You can use this function to take backup of your files and apps to Cloud servers.
Settings
You can get notifications related to the app by turning them ON or OFF.
You can set cleaning time of your Android device at regular intervals by setting time intervals using "Auto Cleaning" function.
You can put any user app to "Ignore List" to exempt it from scanning process.
You can set the language of your choice to perform tasks on it.
It offers many beautiful themes to select, and which provide an intuitive user interface and beautiful mix of colors.
https://www.youtube.com/watch?v=6S746OKROMs
Final thoughts:
Systweak Android Cleaner is a complete app to take better care of your Android device. It works on latest technology to offer you most advanced features. So if you are looking for some good app package for your Android device, then this is the best opt for you. Highly recommended!