If you are a Viber user and do you wish to backup Viber messages to keep it safe? Then this article will be useful for you, and you can learn a way to backup, and restore Viber conversations in later.
Viber is almost like WhatsApp messenger but not exactly. And it has millions of users around the World including you and me. We have used thousands of words, images, videos, stickers or emojis to chatting with our friends and families every day or frequently, using such messenger services.
Some conversations are most valuable to us. Therefore, many mobile messenger app has a feature to backup Viber messages to SD Card or Cloud. Likewise, Viber also offers to backup Viber messages to Google drive as well as you can email chat history to yourself or any other email.
Viber backup feature is most useful for users who ever accidentally delete text messages or images from their Viber conversations. In this case, users can quickly restore their deleted messages with a single tap. However, there are some limitation about backup and restoring Viber conversations. Viber will only restore text messages, and it won't bring back your Videos or other files though you will see files and videos in restored chats. But it wouldn't be accessible. Let's see a way to backup and restore Viber conversations.
Tip: If you are a Viber user then you should know this cool feature, Viber has a built-in feature to hide and unhide Viber chats individually, with a password. To let you know about so, click here and read my previous article.
How to Backup Viber messages on Android
Step 1: Open Viber.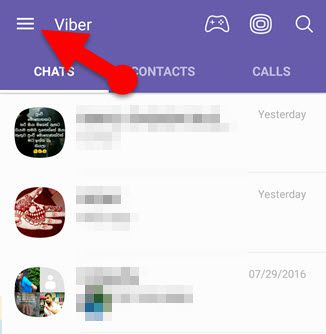 Step 2: Tap the 3 line (☰) menu button at the top-right corner of the app.
Step 3: Go to Settings > Viber Backup.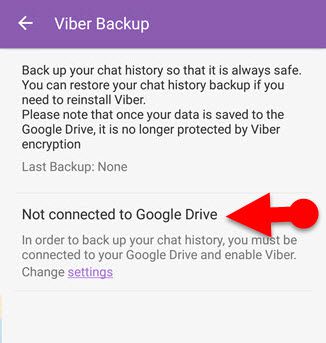 Step 4: Tap the "Not connected to Google Drive" option, and select your Google account to save the backup on Google drive.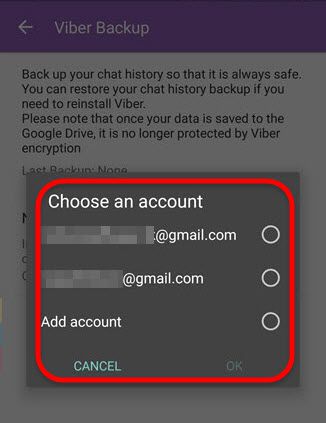 That's it, now tap the backup button and save your chats to Google drive whenever you want.
Email Viber messages
Viber lets Email Viber messages history to yourself or any other email. Although the backup file will contain only the text messages, you can see a text like "Photo Message" instead of Images, and it will show you file extensions (mp3, mp4, PDF, doc) instead of files.
However, emailed file won't be able to restore again in Viber although you can view text messages as well as conversation time, date, contact name and phone number. And you can view emailed file using a text editor like Notepad, Wordpad on your PC or Phone.
how to send Viber messages to email
Step 1: Open Viber.
Step 2: Tap the menu button.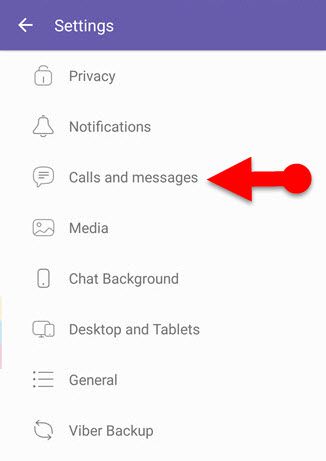 Step 3: Go to Settings > Calls and messages > Email message history.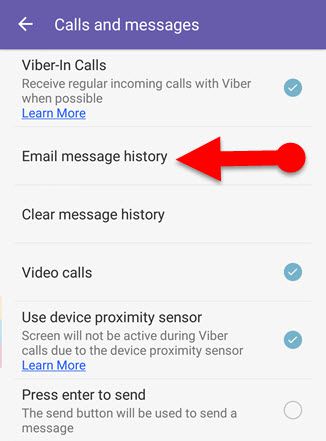 Step 4: Select your regular email app and send them to yourself or any other email.
Restore Viber messages or Recover deleted Viber messages
As I mention above, Although the restore function gets back your text messages only, you will see "file messages" and "Thumbnail of Video" instead of original files. If you suddenly delete any text messages in your Viber conversation, then this function is enough you to recover deleted Viber messages. Restore processing is simple! Follow the instruction below from your Android phone.
Step 1: Open Viber messenger.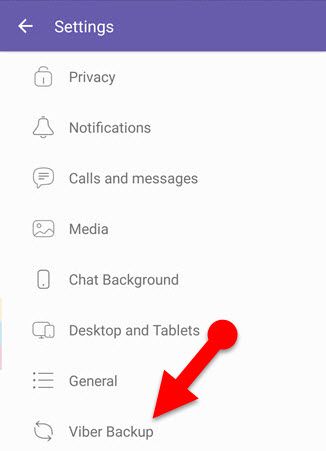 Step 2: Navigate to Settings > Viber Backup.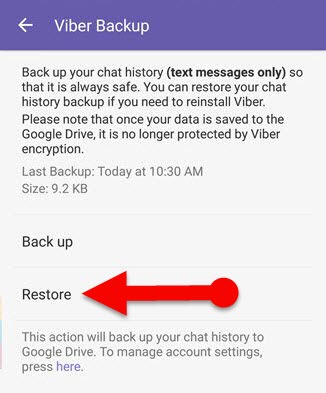 Step 3: Tap the Restore. (Make sure if data connection is enabled when you tapping restore button.)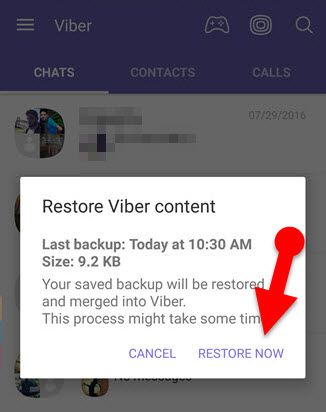 That's it. Now your all Viber conversation will be restored even it was deleted.
Backup Text for Viber
"Backup Text for Viber" is an Android app, which helps you to export Viber messages to the SD card or email attachment. It can convert and export your conversation as a text document, CSV, Excel or HTML file formats. Those files can be read on your PC or Android phone, using a text viewer.
"Backup Text for Viber" also helps you to filter your conversation as your want. That means you can filter it by date, message type, or person/contact. And after that, you can export them.
Backup Viber messages with "Backup Text for Viber."
Step 1: First, Download "Backup Text for Viber" Android app from Google Play store, Click here to download.
Step 2: Open the downloaded app on your Phone.
Step 3: Select a filter option if you prefer.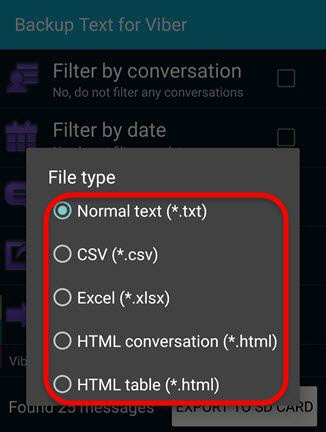 Step 4: Choose a file type as you want (.txt, .CSV, .xlsx, .html)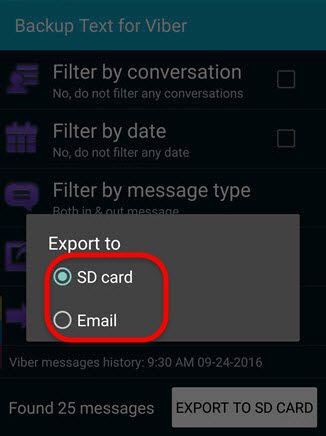 Step 5: Select target sources either SD card or email.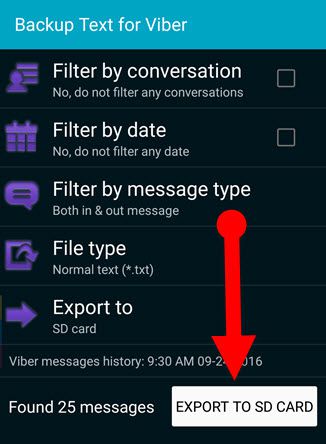 Step 6: Finally, tap "EXPORT TO SD CARD" button.
That's it.
Note: Though Exported file not able to restore again, you can read messages using text viewer.
Bonus Tip: Do you have a Smartphone with a PC then you can also use Viber on the big screen, using Viber desktop software. You can download free Viber PC software and read the complete guide to using Viber on desktop or Laptop through my earlier article.
Final words:
Backup function is most valuable to almost everyone. Nowadays, this feature comes with many of mobile messenger apps Viber as well. Backup feature in Viber is an excellent solution to restore accidentally deleted Viber messages though if it is even better when it supports to restore pictures, videos, voice messages, and files.
"Backup Text for Viber" gives some additional feature about Exporting Viber messages than Viber built-in feature. It is the free app, and you can use it for filter your Viber messages and export them to SD card or Email. Hope this article will be useful for you, If you have queries related to this article then leave a comment below.