Easy Uninstaller app is a handy tool to manage all installed app on your Android Phone. It is mainly designed to uninstall multiple apps at once on Android Phone (Batch uninstall app.) Easy uninstaller has a simple user interface and easy to use. And it also comes with some cool additional features such as virus scanning, app usage tracking, battery drain analyzer, able to see uninstalled app history, and so on.
Today I'm going to review the benefits of using easy uninstaller on our Android Phone, and I you can also find the download links below.
There are nearly 200 million apps on the Play Store. And most of them are free to use. Google's Android OS could able to store the unlimited number of apps if you are Phone has enough storage. There is no limitation about downloading apps from Google play store thus we have downloaded so many apps from there. Additionally, we also installing apps using APK files.
When we store many apps on our Phone, it could cause several problems on our Phone such as Battery draining, Slowing down, memory dumping, trouble to open a particular app among other apps, etc. consequently, removing unnecessary app helps us to keep our Phone in better performance.
TIP: You can also keep your Phone in better performance by deleting duplicate photos, videos, music, documents and other duplicate files. I have introduced a best duplicate file finder for android through my previous article; worth to check it out.
Easy uninstaller gives so many facilities about managing installed apps, let's see How we can manage installed Android apps using Easy uninstaller application.
Uninstall multiple apps at once/Batch uninstall on Android
"Batch uninstall" is the primary feature of Easy Uninstaller application. Using this feature, you can remove multiple apps at once from your Android Phone. You can also see the used and remaining storage space of your phone, and the number of installed apps through its main page.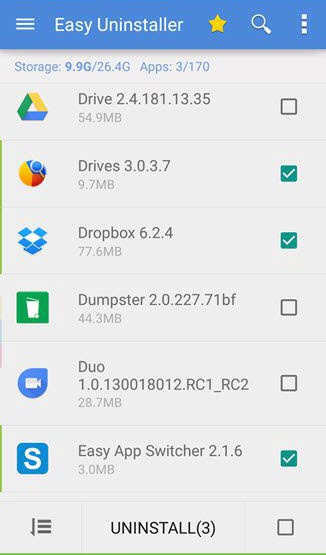 To uninstall multiple apps at once on your Phone; first, you want to open the app. After that, it will list all the app that you have installed on your Phone. (You can also short the apps from the list by name, size or date.) Then select the checkbox next to the proper app that whatever you wish to remove from your Phone. And finally, you should tap the "Uninstall button."
Battery Drain analyzer
Easy uninstaller app has a built-in minimal Battery Drain Analyzer. If you feel you Phone's battery draining quickly, then you may able see which app is eating you Phone's battery quickly through this app. And and you can quickly remove them by tapping "trash can" icon that next to it.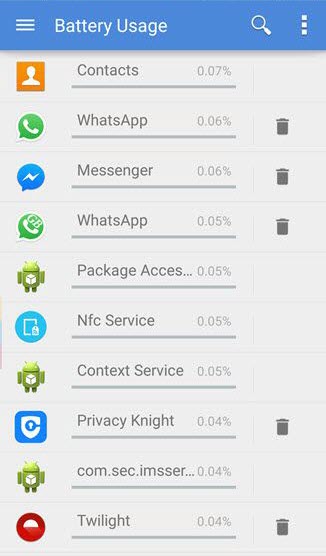 To accessing the battery usage, tap the menu button at the top right corner of the app and select "Battery Usage." then you will see all the app with consumed battery usage static.
Virus Scan
If regularly using APK file to install Android apps on your Phone instead of Google Play Store, then there are chances to spread malicious files to your Phone. Consequently, Easy Uninstaller has a built-in virus scanner, which lets you scan whole installed with just one tap.so, you don't need to use another app to scan your Android apps.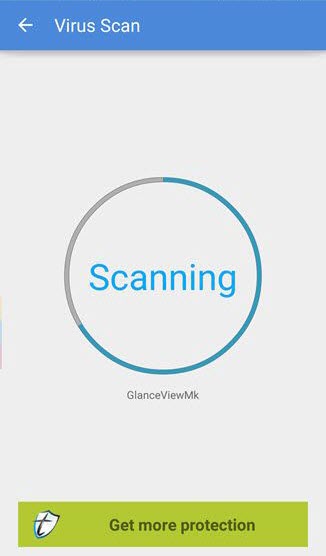 To perform a Virus scan, Tap the menu button > Virus Scan, and finally, tap the "Big Circle" button. Now your all installed apps will be scanned.
Android app "Uninstall History."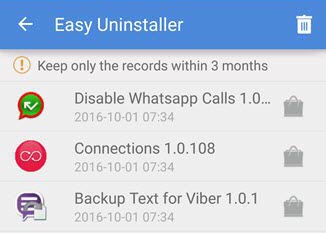 It is a useful feature for Android users who want to bring back uninstalled app again. Easy Uninstaller keeps you uninstall app history for three months. You can view and install them again from Google Play Store, by navigating to the "Uninstall History" of the app.
Reminding Feature: (Keep an eye with memory usage)
You can make a rule to warn when your Phone memory is exceeding the proper usage. It will help you to recover your storage by the uninstalling unnecessary app before slowing down your Phone. You can also find unused apps or (apps that you don't use very often) through its App tracking section.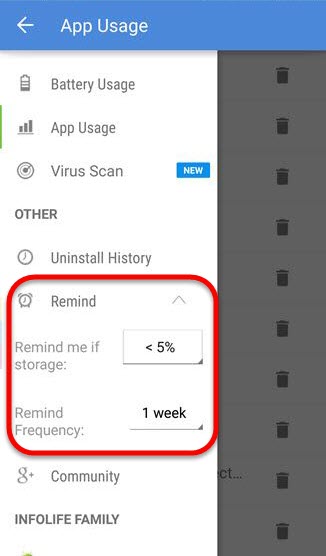 To set a reminder, Go to menu > Remind, and select a reminding frequency or minimum storage level.
Summary: Easy Uninstaller app is Handy app to Batch uninstalls Android apps
It is a bitter thing that causing memory dump and slowing down phone's speed. A large number of installed app would occur those problems on your Phone. So, Easy uninstaller app can able to get knowing about the problem before it happens. Moreover, you can also quickly identify the app that you don't use very often and uninstall them with few taps. Additionally, Battery Drain Analyzer will help you to identify battery draining apps.
As far as I know, there is no way to uninstall multiple apps at once on Android's built-in feature. So, it will help to Android users who wish to remove more than one app at a time, and this application works on almost every version of Android OS. Hope this article will be useful for you, if you have any queries related to this article then leave a comment below. You can download the app from here.