According to
WhatsApp blog post
, WhatsApp has reached one billion monthly users on February 1, 2016. Including you and me, And it is still keep growing. Let's look at some interesting facts about WhatsApp below.
What is the WhatsApp messenger?
According to the WhatsApp website, it says that 
WhatsApp Messenger is a cross-platform mobile messaging app which allows you to send and receive messages without having to pay for SMS.
  It is currently available for iPhone, BlackBerry, Android, Windows Phone, Nokia
Mac and Windows PC
. However, Whatsapp already said on their 
blog post
; its service will end for Nokia and some other old devices on the end of this year (2016).
What does it mean by WhatsApp?
There was nothing secret behind the name of WhatsApp. Despite, when we ask from someone that what's up. Cool, which often sounds just like the contraction WhatsApp. Probably I think that is the reason behind the birth of this name.
Who creates the WhatsApp?
WhatsApp Inc. founded in 2009 by Brian Acton and Jan Koum, both former employees of Yahoo!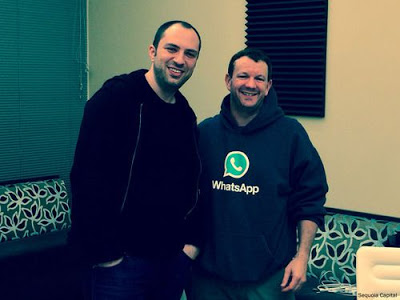 Brian Acton and Jan Koum, Image credit: Wikipedia 
After they retire, they applied for a job at FaceBook. The sadness was it rejected by FaceBook. But the interesting thing was. Finally, the FaceBook bought WhatsApp from them for 19 billion on 2014.
Wednesday
How does WhatsApp earn money?
Whatsapp made money from their users by getting a fee annually until January 2016. After that, it became a free messaging service all around the world. So now it's totally free for its users till now.
You can see some more interesting facts below about WhatsApp.
According to the February 2016 statistics, there are more than 1 billion of users in WhatsApp.
There are more than 200 millions of voice messages, 700 millions of images and more than 100 millions of videos were sent through WhatsApp each day.
More than 1 million of people join WhatsApp each day.
Most of the WhatsApp users are in India.
There are nearly 72% of WhatsApp users check their WhatsApp each day.
Whatsapp has tested by their users approximately 23 times per day.
Has WhatsApp faced to any issues in the past?
Whatsapp was removed from Apple store without a reason in January 2012. But it was readded after four days.
WhatsApp had removed from Windows store due to a technical issue in May 2012, and it was readded in the same month.