In this article, I will introduce you to the best caricature app to turn photos into caricatures. Creating a caricature with an Android or iOS app is a simple and time-saving method compared to drawing it.
Many apps with the labels "cartoon" or "caricature" in the App Store and Play Store are designed to serve numerous purposes. Some of them allow you to apply photo art, cartoons, caricatures, aging, and many more effects to your images. On the other hand, others have been built to solely provide one of those features.
So we'll look at both types of apps here: dedicated caricature apps and cartoon apps that can create caricatures from your images.
As you know, all cartoon images couldn't be caricatures because caricatures have some unique features. Caricatures can be distinguished from cartoon images in certain ways. So, before diving into the article, it would be better to know the difference between caricatures and cartoon images.
A cartoon is an image or set of pictures designed for satire, caricature, or humor, or a motion picture whose animation is based on a series of illustrations.
A caricature is an image that reflects the characteristics of its subject, and it can be used to criticize or laud celebrities, politicians, themselves, and so on.
You may have often seen entertainment magazines featuring caricatures of Hollywood stars. Also, you can often find meaningful, humorous, or political caricatures in your friends' Facebook posts or Tweets, as well as in sponsored content made by a company. For instance, below is a Tweet from Elon Musk that includes a meaningful caricature of him.
May 28, 2022
Many of the caricatures we see on social media platforms nowadays were created using computers and smartphones. With today's smartphones, we can rapidly generate caricatures from selfies and photos of celebrities and politicians with just a few taps. Let's see the list of the best characture apps.
MomentCam Caricature App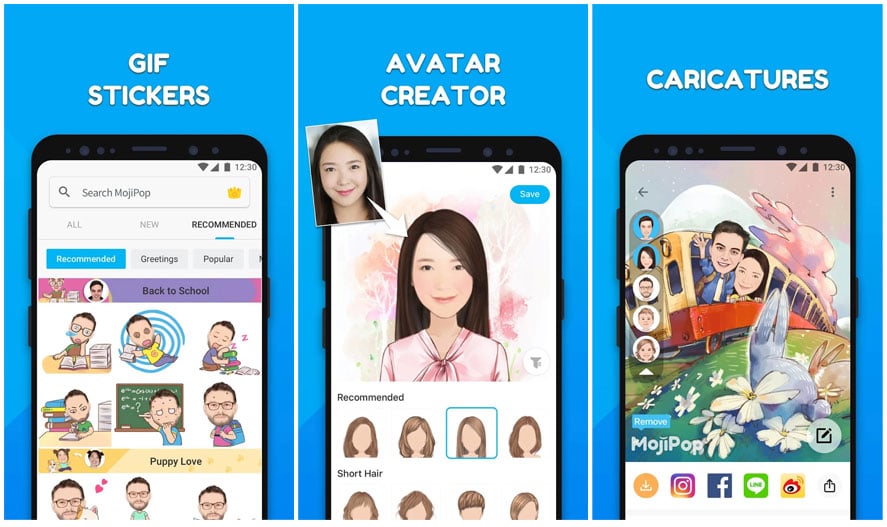 For those who prefer to turn photos into caricatures, we recommend The MomentCam for Android and iOS. It lets you create your own avatar using your pictures and create full-body funny caricatures with them in a few simple steps.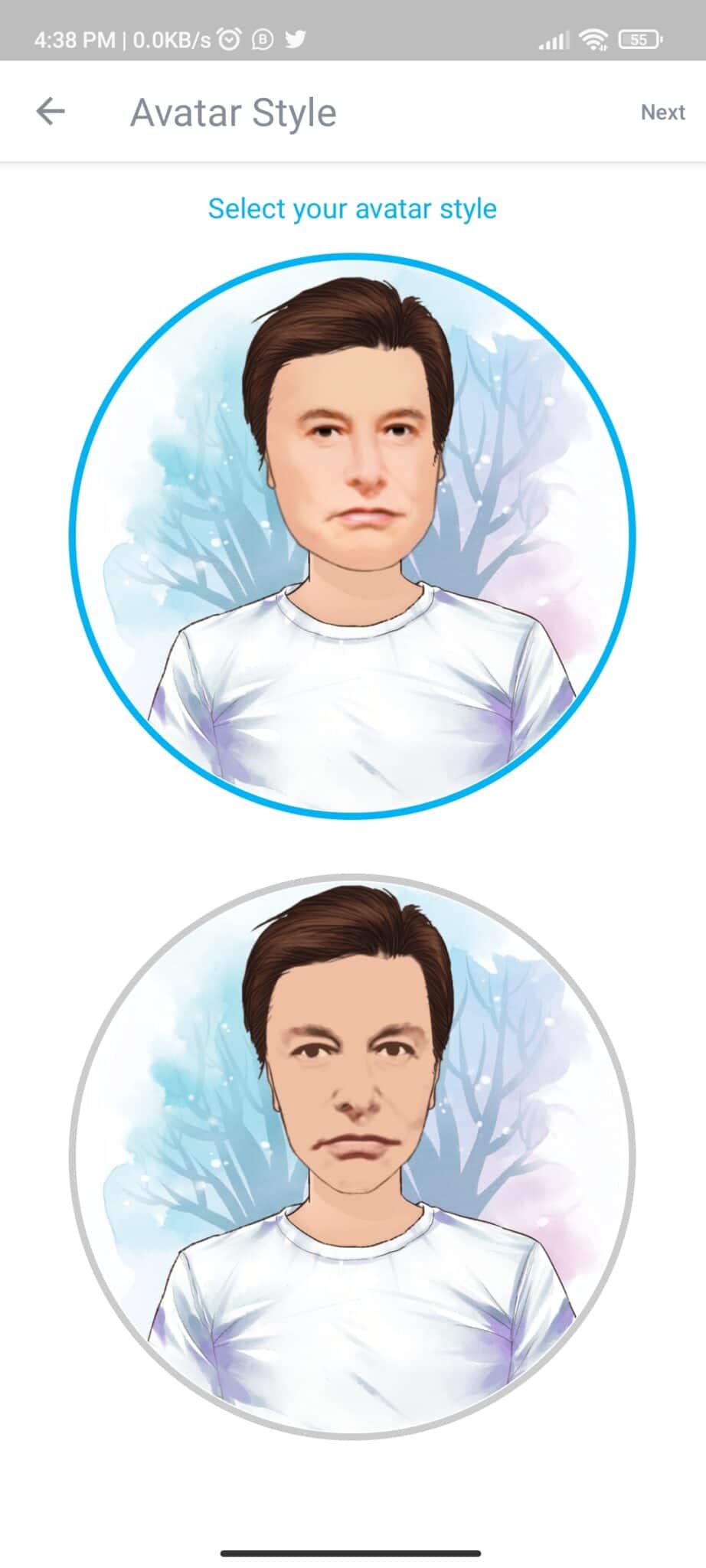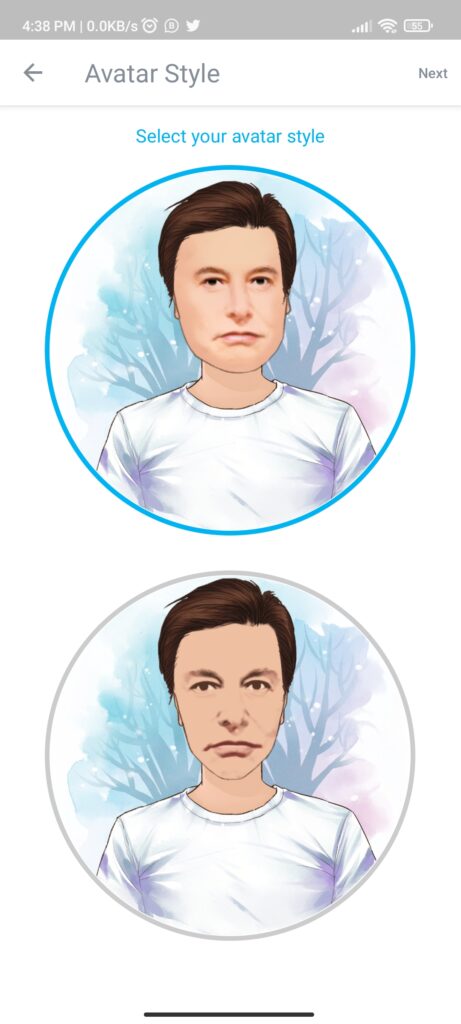 To create an avatar using the MomentCam app, you must shoot a selfie or import a photo from the gallery. After you've imported your image into the app, you'll be prompted to select your gender, then your age group from 0-3, 4-14, 15-29, 30-55, or 55+, and finally, the program will detect your face from the image and present you with two suitable avatar designs to choose from. Choose an avatar from the list offered to use on your caricature photos.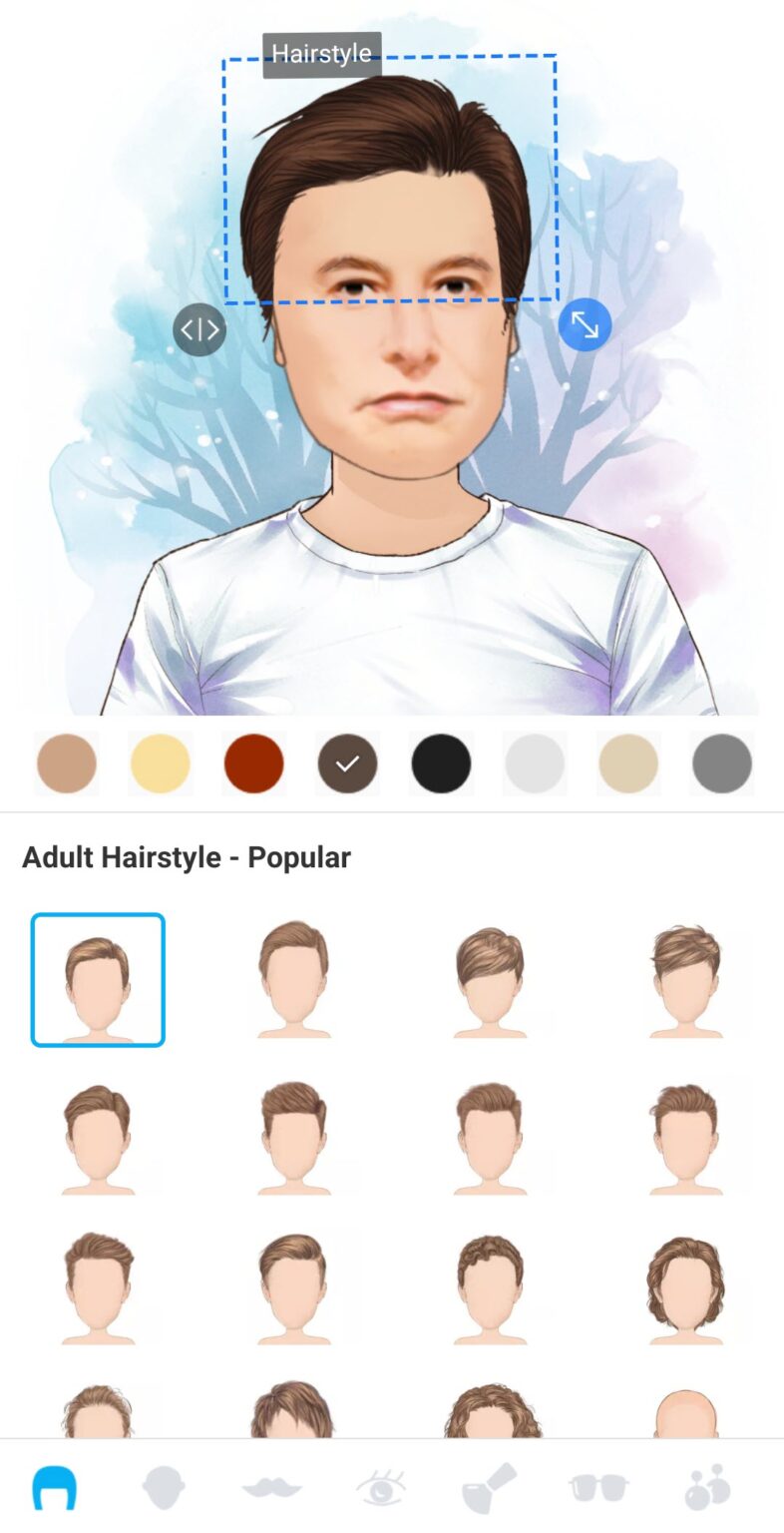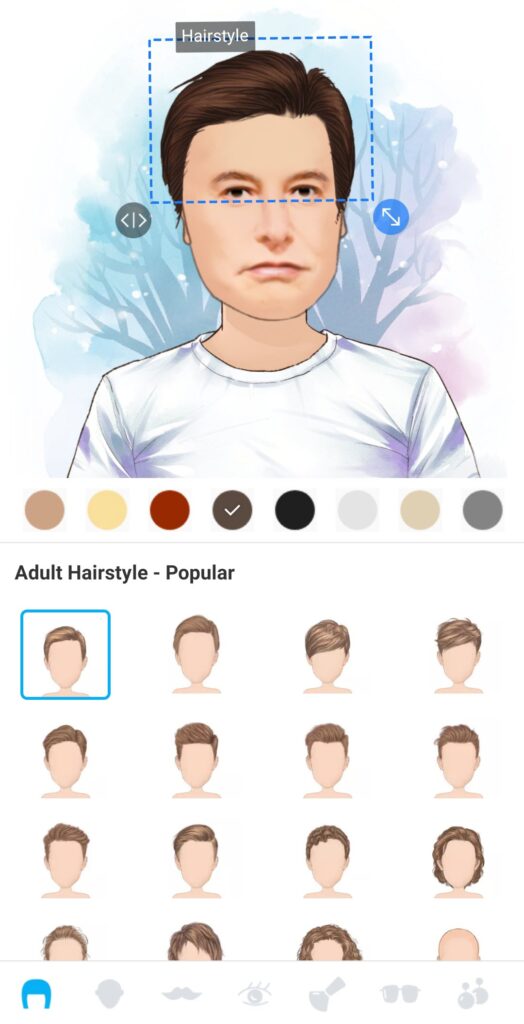 You can enhance your character image before saving it in the MomentCam app by applying an appropriate hairstyle, face shape, beard, eyes, and so on. In this way, you can create as many cartoon avatars as you want and select the top five to use on your cartoon caricature photo at the same time.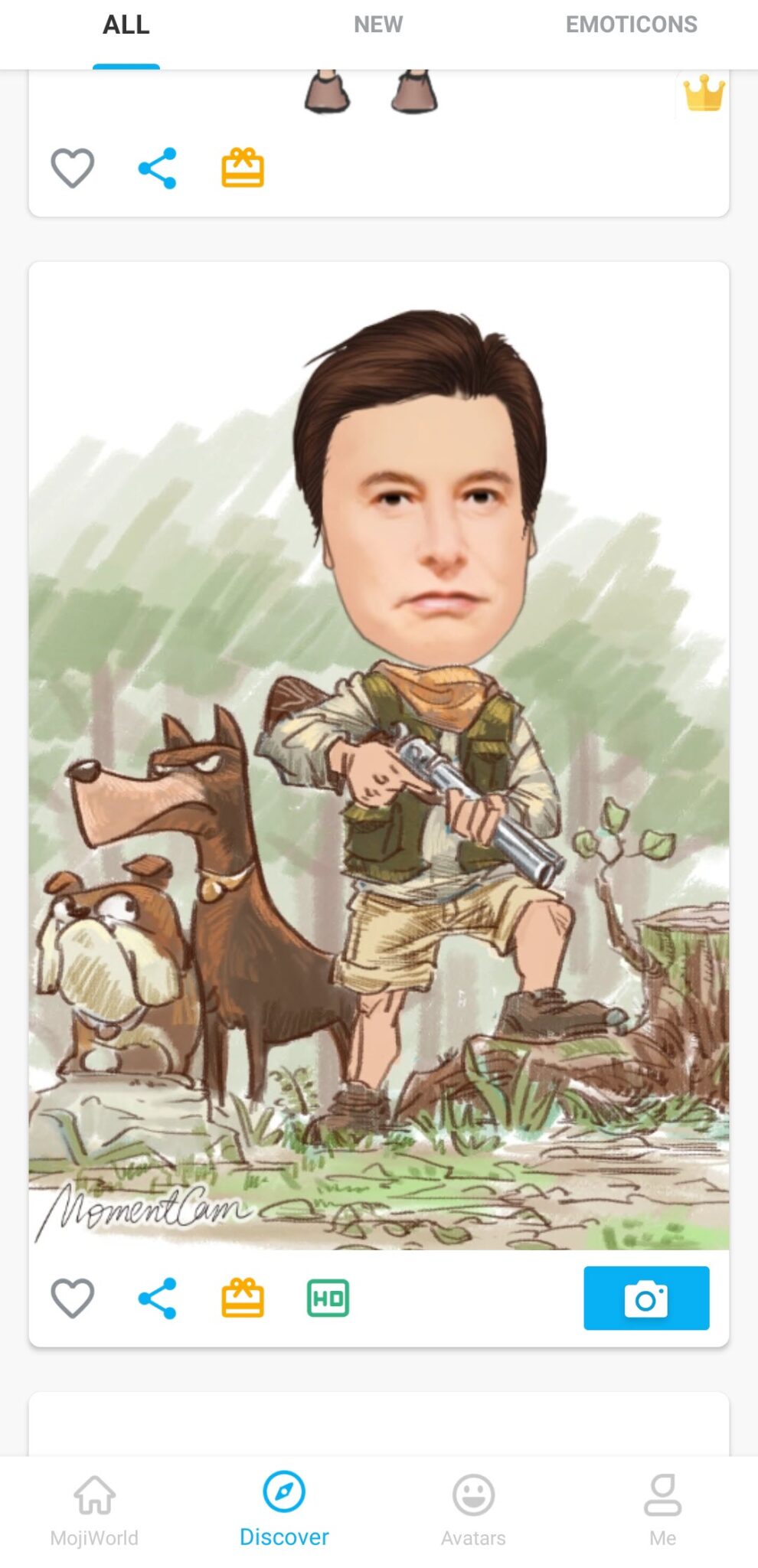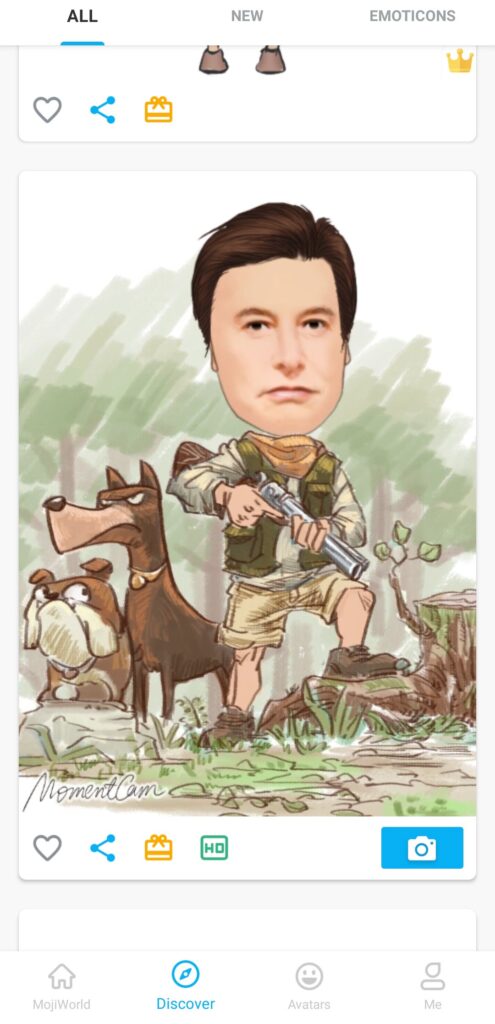 Once you have opened the MomentCam app, you will see two key caricature image feeds, MojiWorld and Discover. In the MojiWorld section, you can explore hundreds of thousands of hot and unique caricatures shared by MomentCam community members.
Let's say you're impressed by one of the MojiWhorld feed section's caricatures. You can then add them to your favorites list, write a comment, follow the creator, or change your avatars to one of the caricature images' avatars.
On the other hand, in the Discover caricature feed, you'll find a wide variety of caricatures created using your avatars. The best part about this app is that you'll see different cartoon images every time you refresh the cartoon caricatures feed. And apart from non-animated caricatures, the MomentCam app also offers animated caricatures that include your avatars.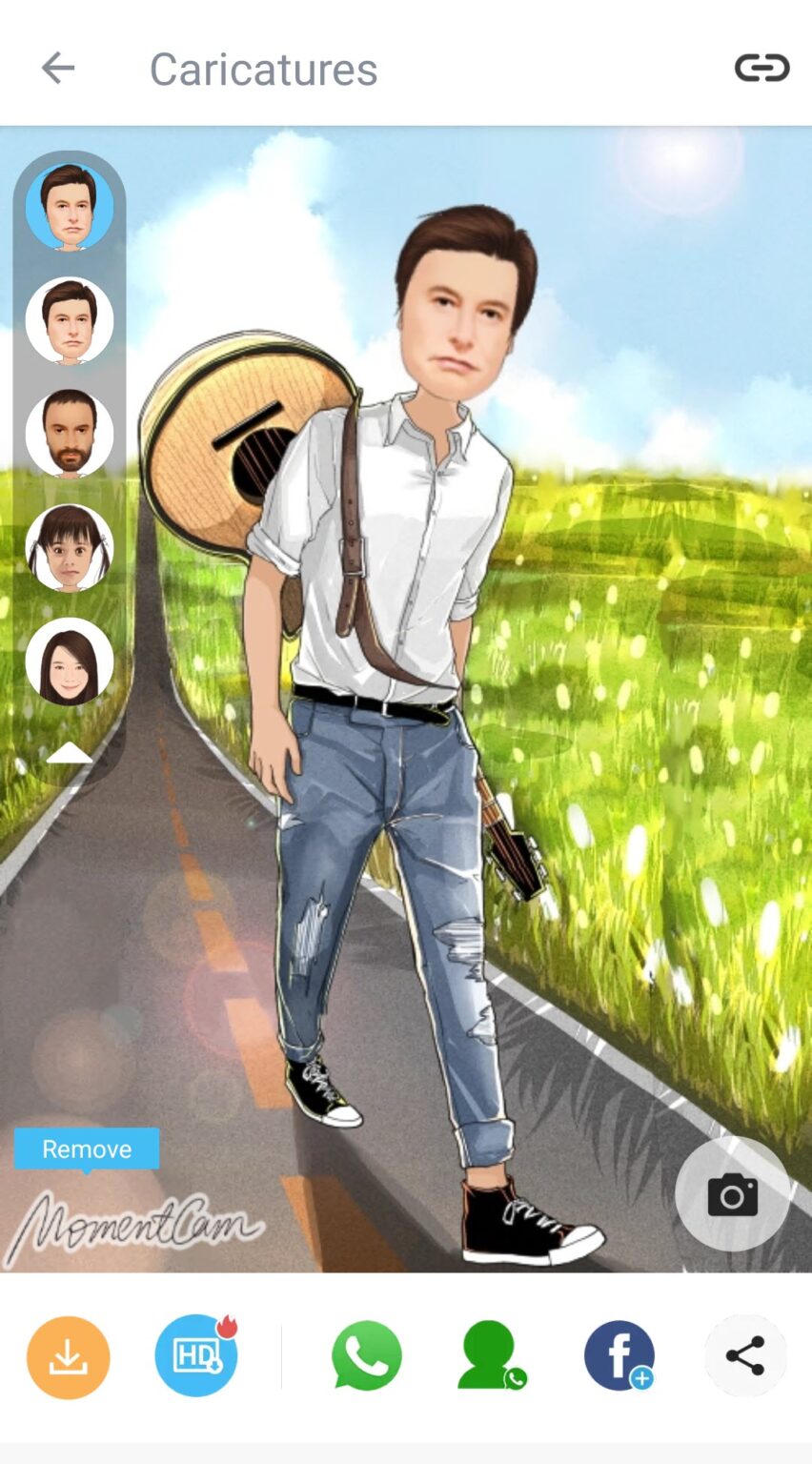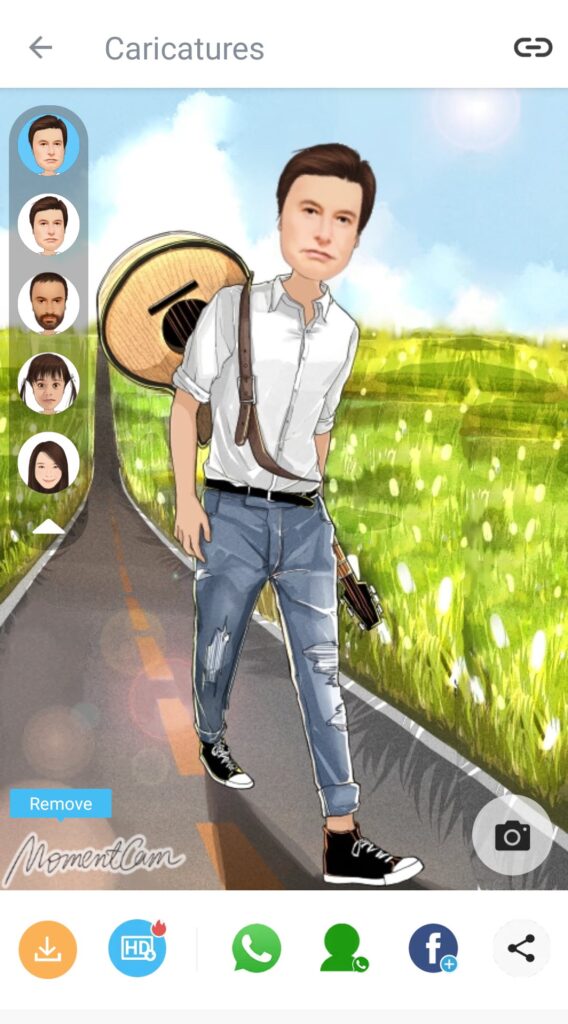 Furthermore, in the Discover > Emoticons section of the MomentCam app, you can find a variety of animated emoticons in many categories, such as greetings, love, hilarious, and so on.
Caricatures in the MomentCam app can be saved as a GIF, MP4, or JPEG on your phone, or you can share them through WhatsApp, Facebook, Messenger, or other social media sites right from the app.
Even though this caricature app is free, it requires a pro subscription to access all premium features, such as an ad-free experience, creating caricatures without a watermark, and unlocking app paid content.
Note: The MomentCam app's developer also maintains another caricature app called "MojiPop." MomentCam and MojiPop are both available on Google Play as well as the App Store. Both have the same user interface and offer the same functionality.
Voila AI Artist Cartoon Photo
And there you have it: yet another excellent app for creating caricature cartoon images. It has an intuitive user interface and lets you apply various cartoon effects to your pictures. Even though it isn't a dedicated caricature maker app like the MomentCam app, it allows you to make hilarious, realistic caricature drawings from your portrait pictures.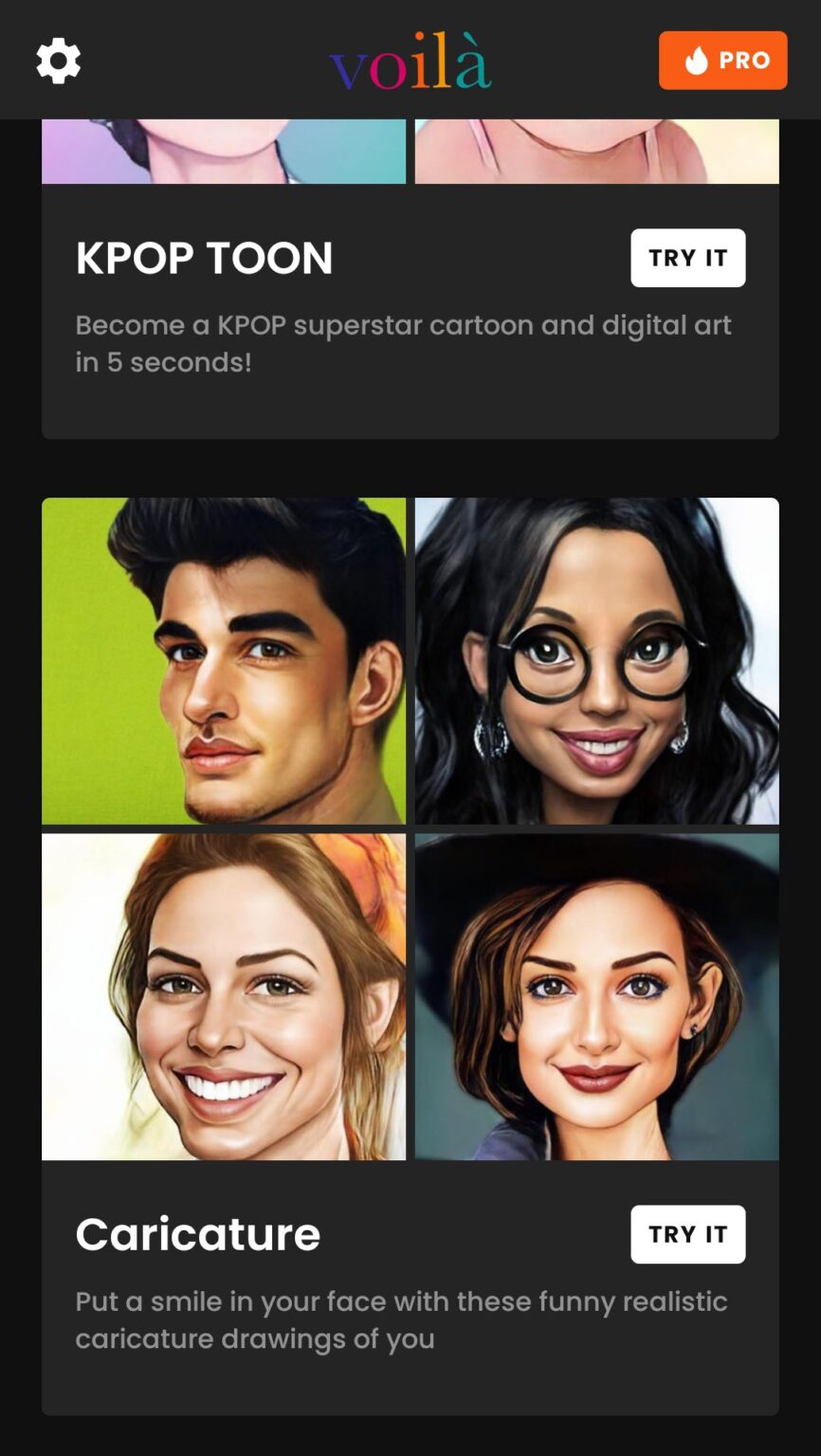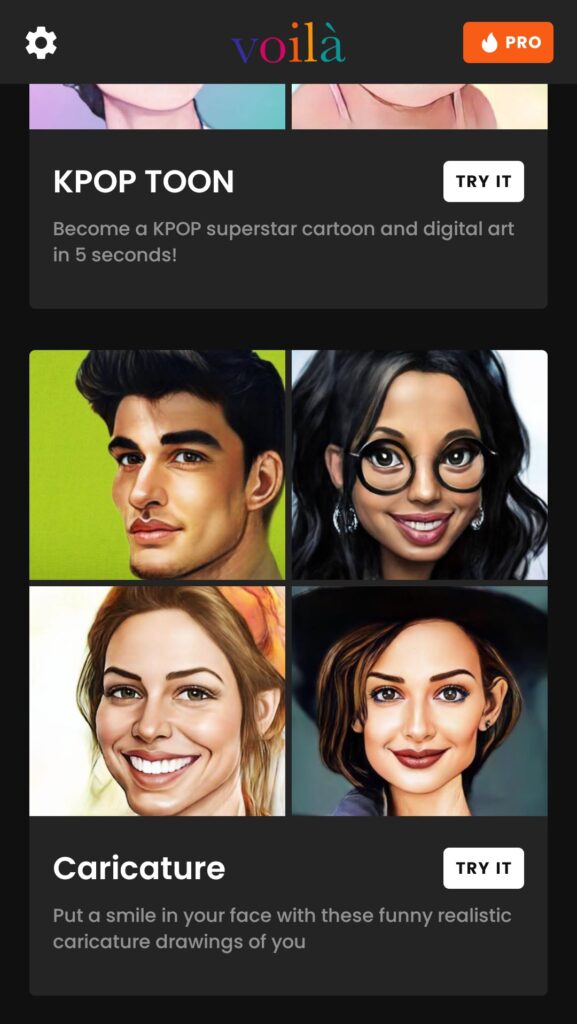 To make a caricature using this AI-powered cartoon picture editor, simply select the caricature filter in the Voila app and select the photo from your gallery you want to turn into a caricature drawing. The software will then apply its algorithm to your photo and deliver your styled caricature image in a couple of seconds.
Once you've created your caricature image with this caricature maker app, you can fine-tune your resulting image using various image enhancement tools, like brightness, contrast, saturation, sharpening, etc. In addition, you can even change the background of your caricature in the app with a single click.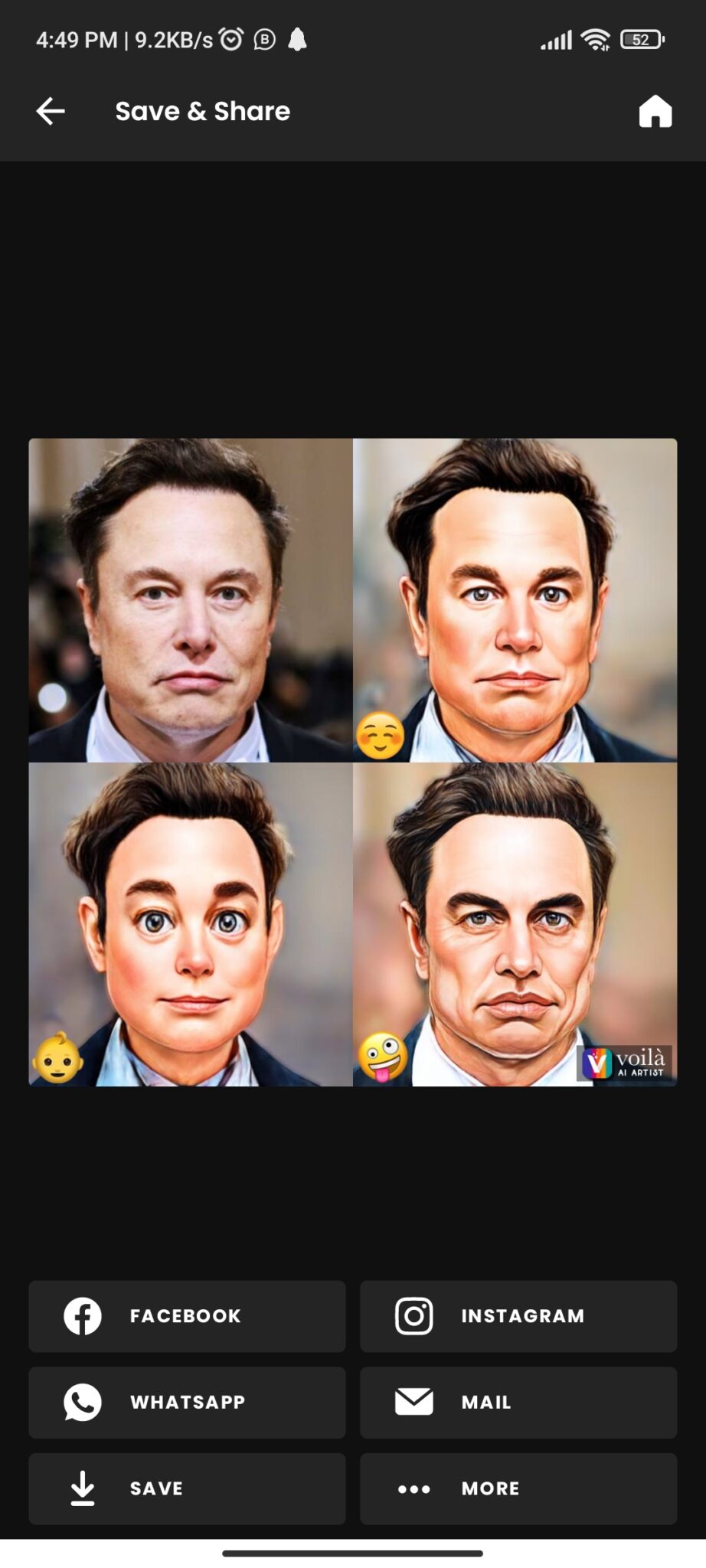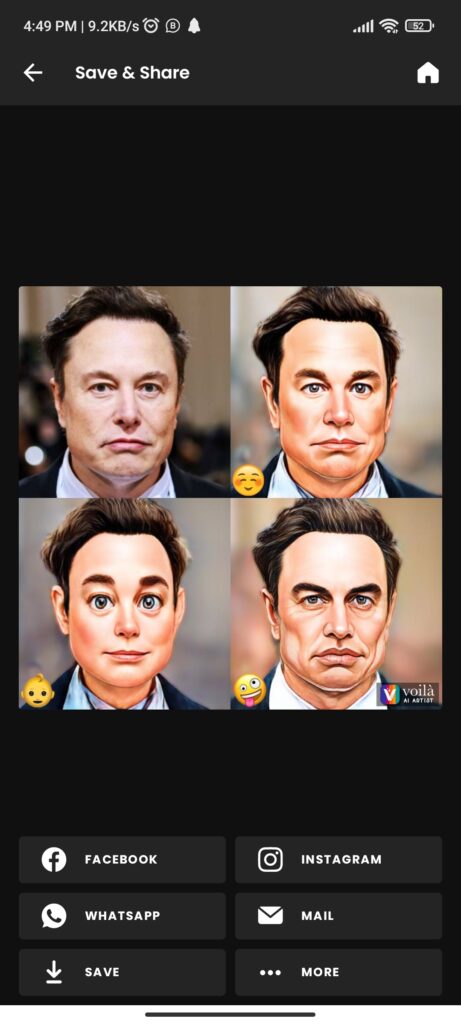 Voila is available for both Android and iOS. And this is a free caricature app. However, you need to subscribe to the app to speed up the image processing, remove the watermark and ads, and create unlimited caricatures.
Avatoon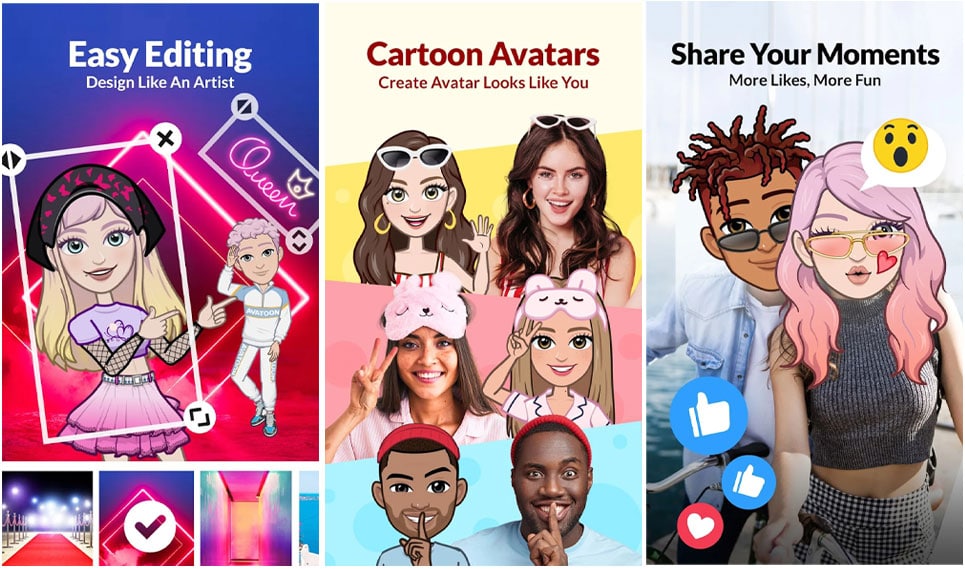 Avatoon is one of the best caricature-making apps for Android and iPhone. It comes with a straightforward user interface and is handy to use.
To make caricatures with the Avatoon app, you must first create an avatar, just like in the MojiPop and MomentCam apps. The Avatoon app allows you to build an avatar using either facial recognition or a manual process.
While creating your avatar, you can customize the face and body appearance by adjusting the facial shape, moth and piercings, nose and piercings, eye type, and so on.
Your avatar will then appear on the app's main screen, where you can change its pose and backdrop; when changing the backdrop, Avatoon will also allow you to add appropriate background decoration. Finally, you'll be able to save it to your gallery as a caricature.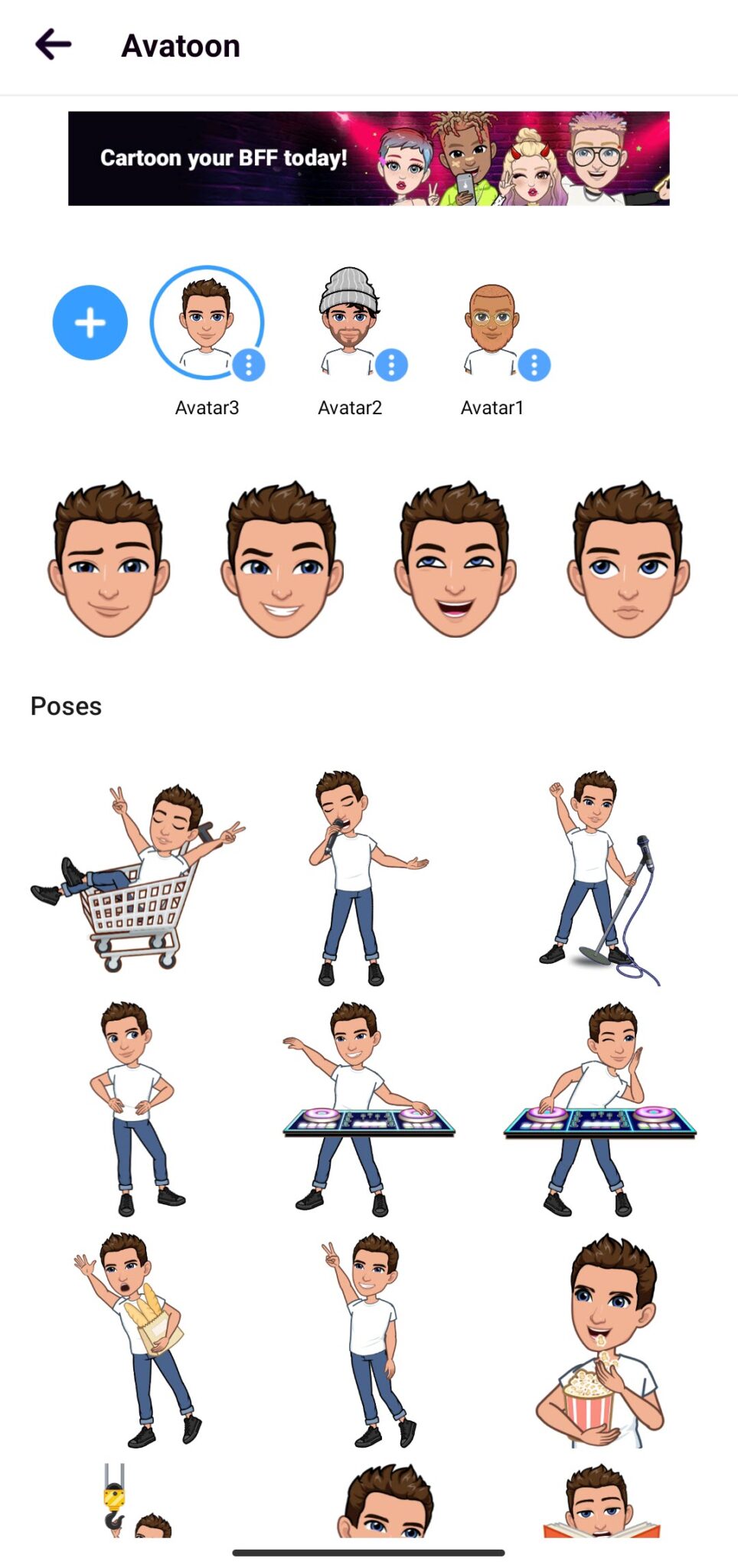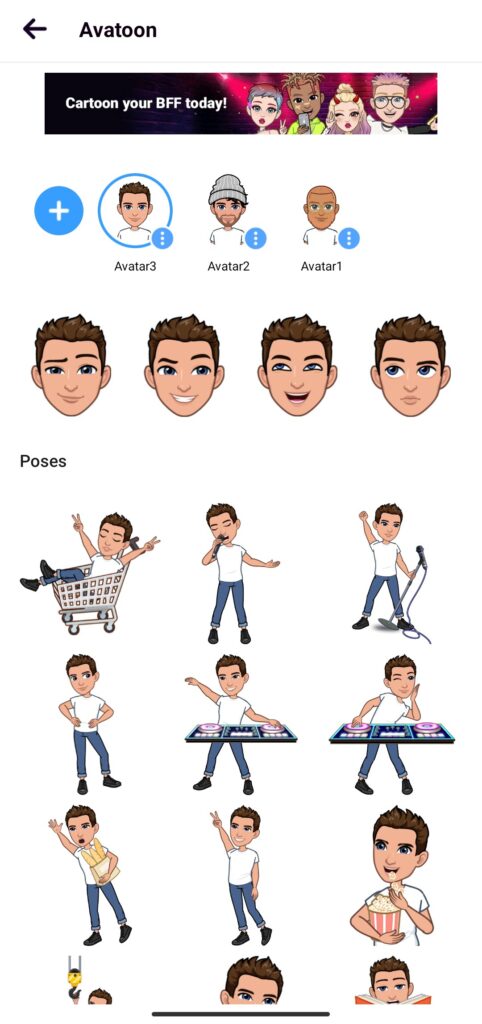 You may also find a variety of amazing caricatures in various backgrounds in the Avatoon app's PHOTOBOOTH section. You can use any of those caricatures' backgrounds and add your avatar to them if you need.
In addition to that, by tapping the "Create my photo" button in the PHOTOBOOTH section, you can create fantastic caricatures in the Avatoon app.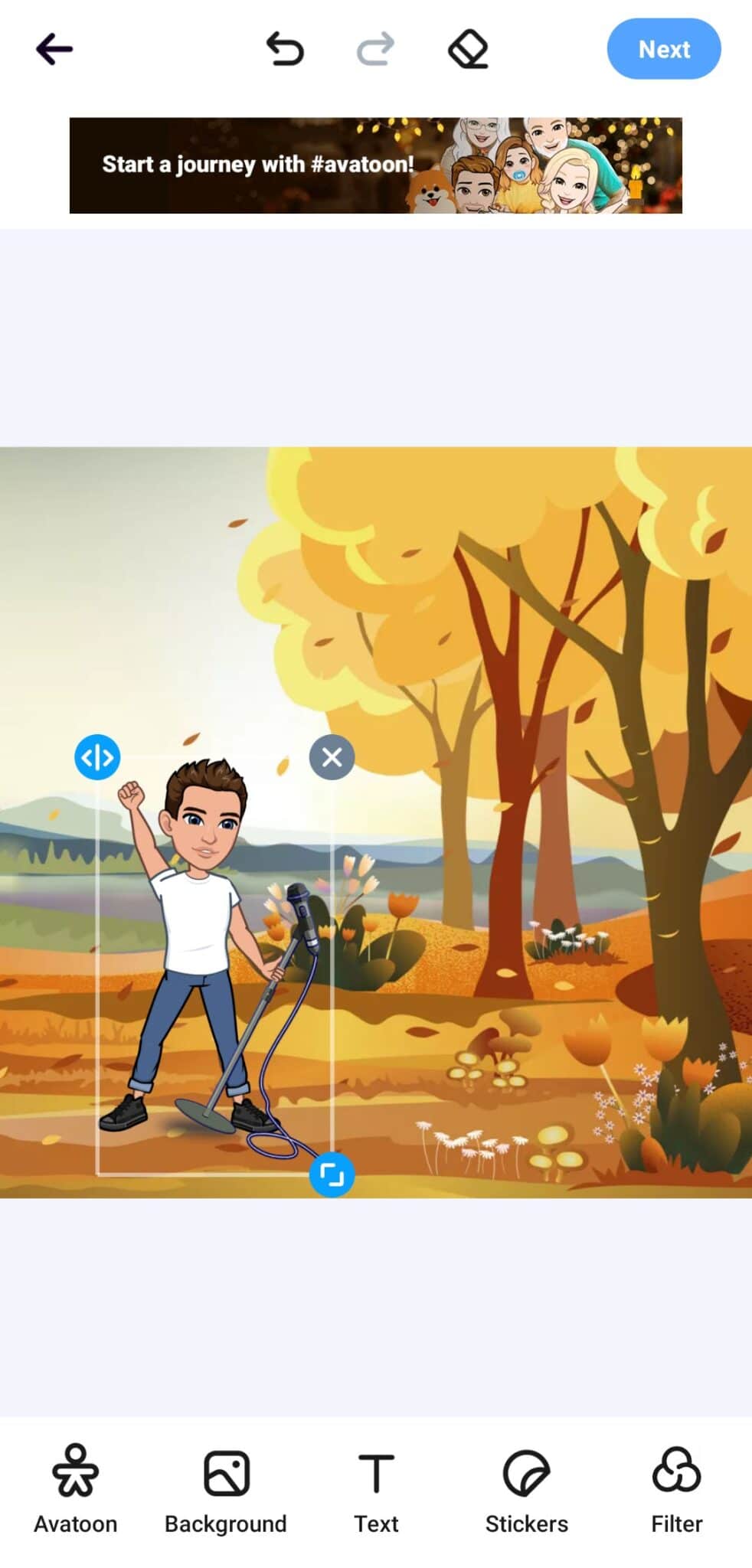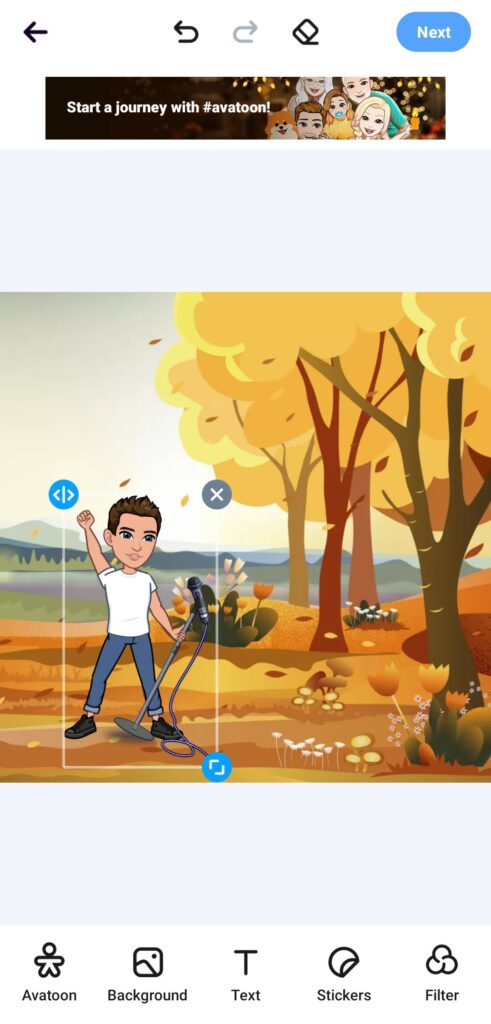 To create your own caricatures with the Avatoon app, tap the "Create my photo" button and select the backdrop image you want to use. After that, you can add your cartoon avatar, text, stickers, and filters to the background image to create your funny caricature images.
In the Avatoon app, you may use coins to buy costumes, backgrounds, glasses, and a variety of other accessories for your cartoon character. Each day, you can earn points by accomplishing various things in the app, such as saving images, purchasing accessories, creating new avatars, and so on.
You can use this caricature maker app for free, but by becoming a subscriber, you can get an ad-free experience as well as access unlimited avatars with over 900 variations and an enormous sticker collection.
ToonApp: Cartoon Photo Editor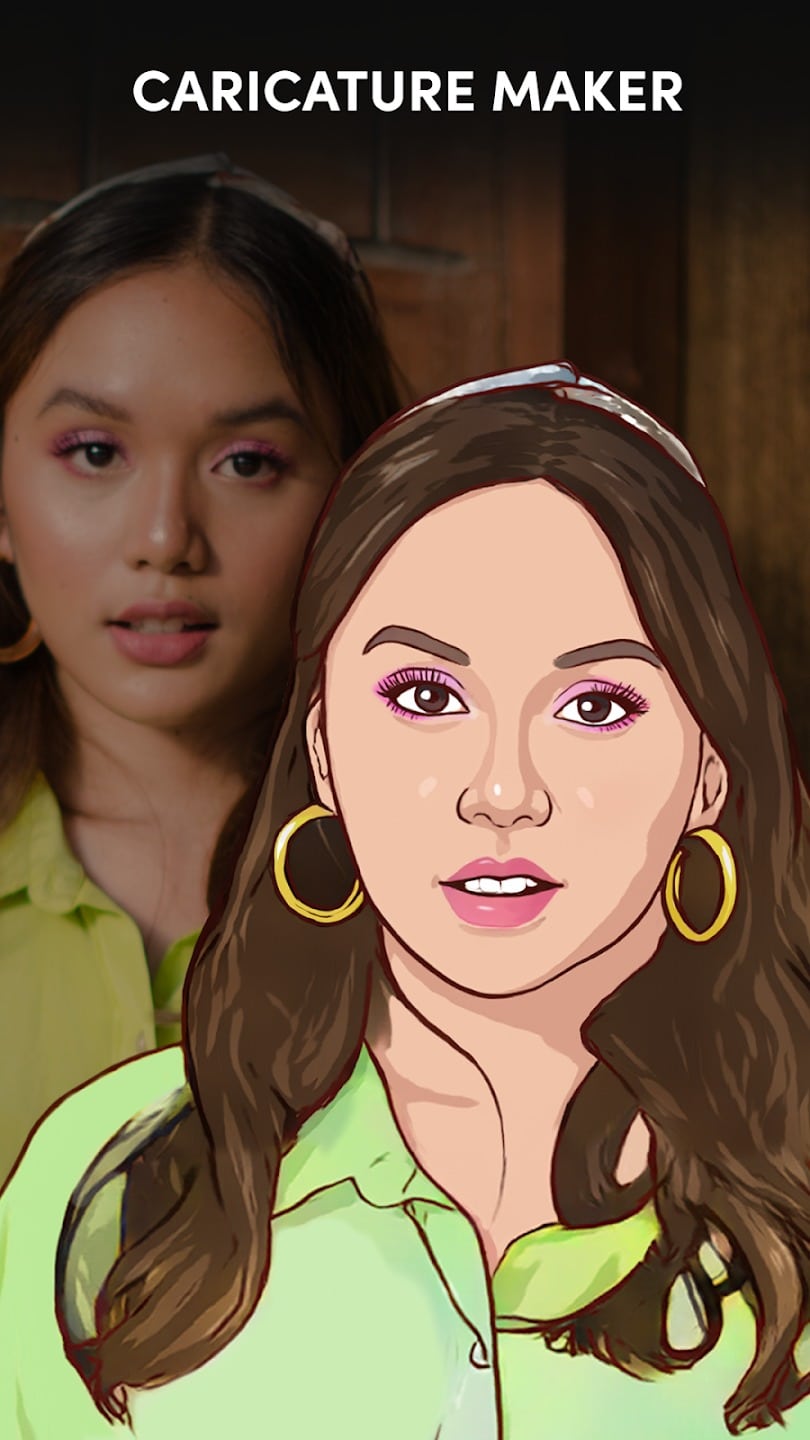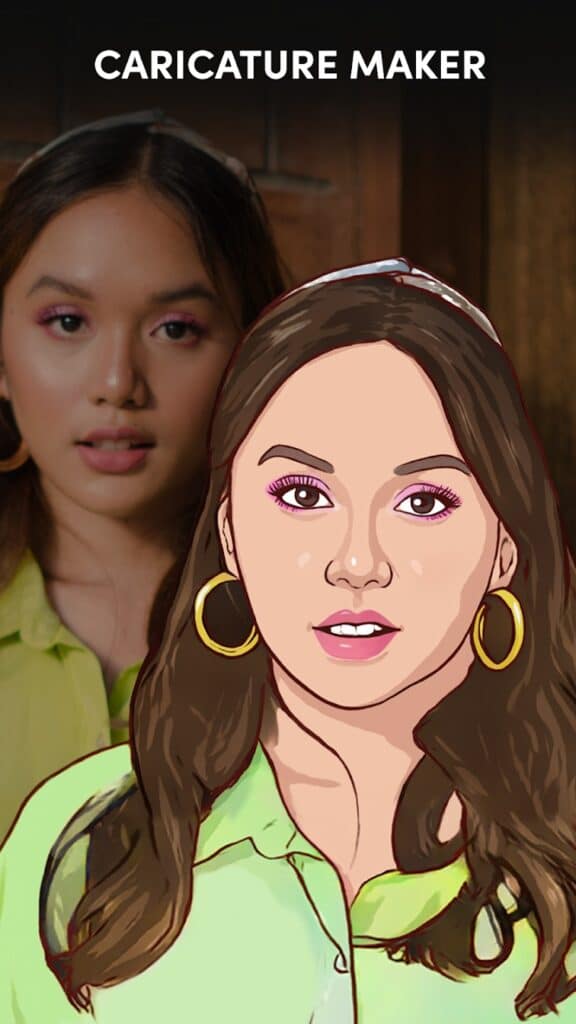 ToonApp is another pretty nice caricature app to make caricatures using your images. It comes with a simple user interface and a range of caricature full-body templates.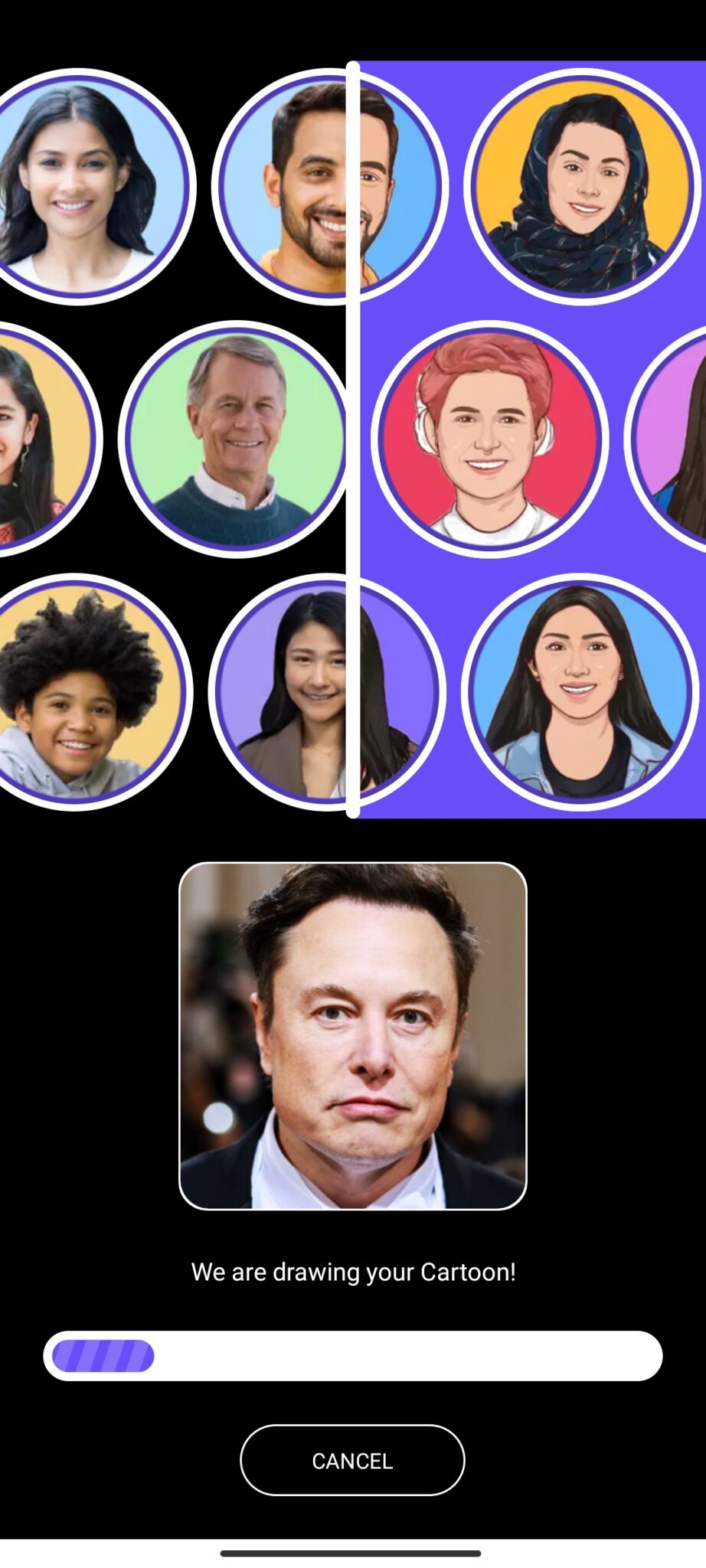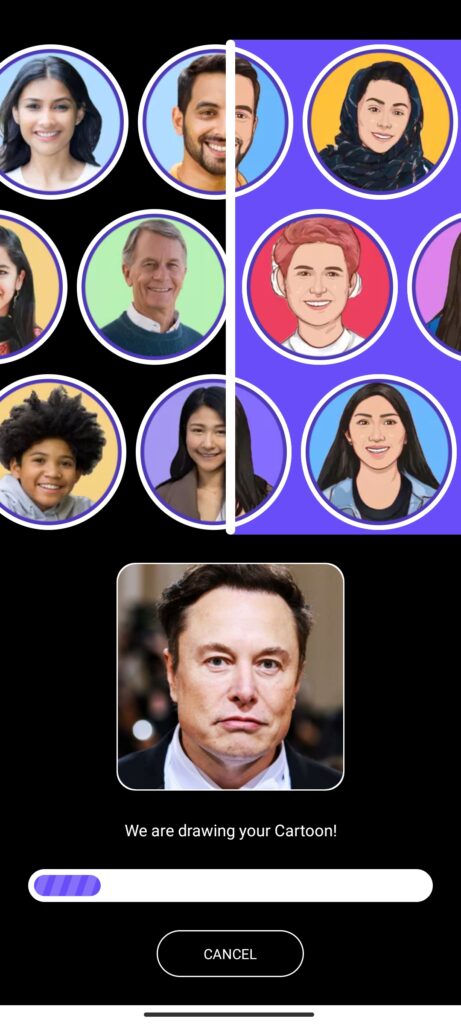 Compared to other caricature apps, ToonApp can create high-quality, much-appreciated, and realistic cartoon characters from your photos. However, after generating your cartoon avatar using ToonApp, you must erase the unwanted section manually. It would be better if the app could automatically remove unwanted objects from your portrait image using AI.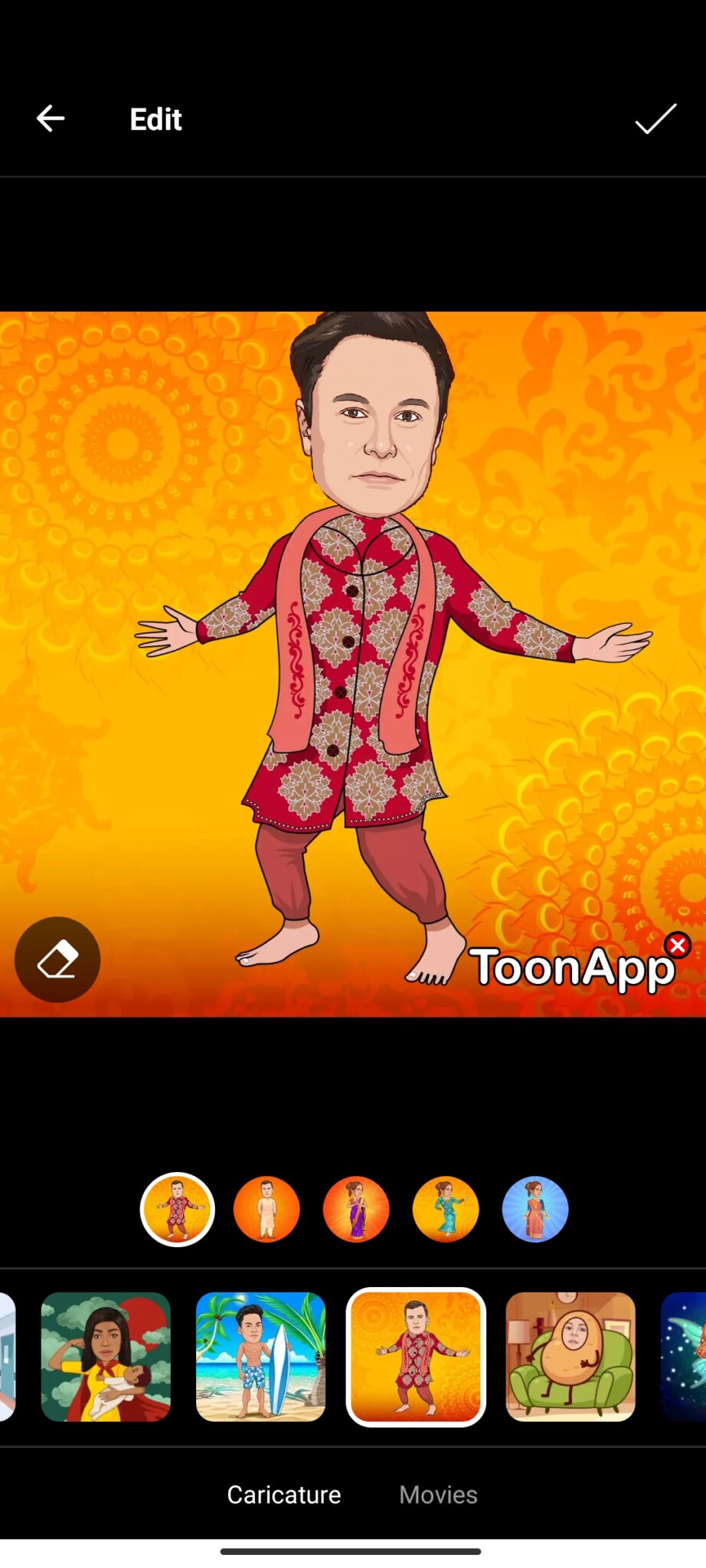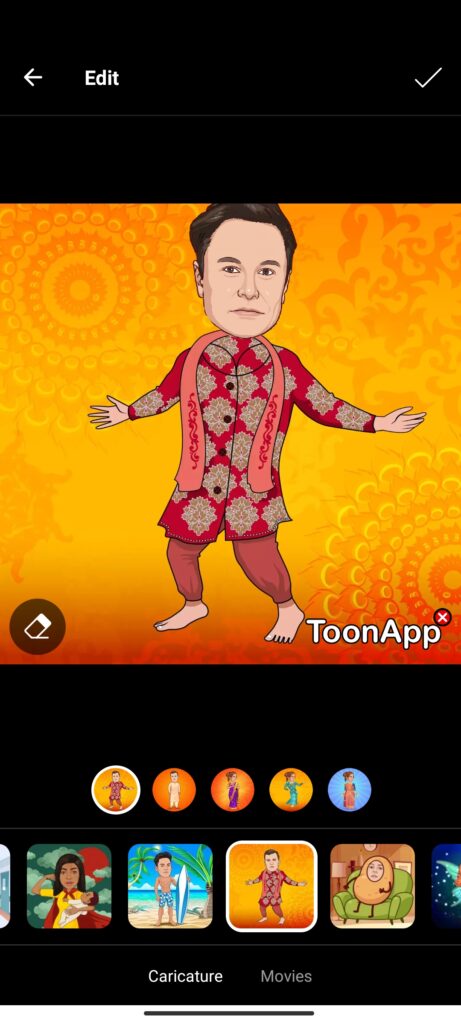 Furthermore, ToolApp includes beautiful premade caricature templates. You can easily insert your cartoon character into those caricature templates to create funny caricatures. While inserting your cartoon character into the ready-made caricature template, you can resize, reposition, and rotate using your fingers.
The app includes both free and paid caricature templates. You must subscribe to the app in order to access the premium templates, remove the watermark & ads, and get high-quality images.
Photo Cartoon Caricature Maker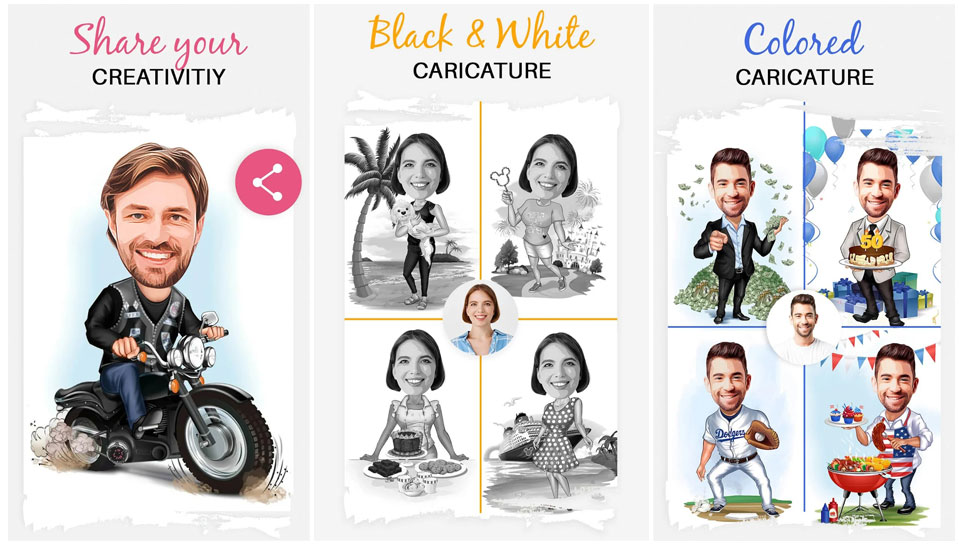 The caricature maker is another handy app for making caricatures. It has caricature templates for men, women, and couples separately. In addition, the app includes a "your creativity" section where you can view all of your saved works at once.
To make a caricature with the Caricature Maker app, you need to tap the camera button at the top left corner of the app and then take a portrait image or import a picture from the gallery by tapping the Gallery button.
The app will then ask you to use auto or manual mode to remove all unnecessary sections of your portrait image surrounding your face. With auto mode, you can effortlessly eliminate undesired elements from a picture. You can, however, select manual mode if you are familiar with it.
After that, the Caricature Maker app will show you a variety of caricature templates from which to choose. Your caricature image, including your head, will be displayed once you've selected one.
Additionally, the caricature maker app provides many caricature editing tools to help you enhance your final image. You can use those caricature editing tools to apply sketching, black and white, or color effects with varying opacities to your caricature image.
Caricature Maker is a completely free application. Although the app contains advertisements, you can use its preset caricature templates without any restrictions, watermarks, or payment.
Final Words:
Even though caricature images might convey a profound message, make people laugh, or instantly capture people's attention, it takes lots of time to draw by hand. Fortunately, thanks to modern smartphone technology, we can quickly create caricatures using caricature apps on Android and iPhone with few taps.
When it comes to caricature apps, the MomentCam and MojiPop apps provide lots of colorful, black and white, animated, and non-animated caricature templates compared to other caricature apps.
However, each caricature app on this list has its own set of capabilities. You can select a caricature maker app from this list based on your needs for creating meaningful, humorous caricatures.
Other caricature applications, aside from the Voila app on our list, let you make hilarious full-body caricatures using your selfies or celebrity photographs. You can also create caricature profile pictures and other user profile images with the Voila cartoon caricature app.