In 2022, WhatsApp will be an excellent choice for everyone concerned about privacy. Being a smartphone user, do you want to keep secure your WhatsApp chats from prying eyes? Do not worry; WhatsApp offers multiple ways to protect your sensitive data like Chats, Images, Videos, Documents, Etc.
When we are concerned about our sensitive data on this popular chatting app, we first must enable the fingerprint lock or Touch ID in WhatsApp. So that nobody can be able to see your WhatsApp chat without your permission
Method 1: Enable WhatsApp's Native Fingerprint Lock
To lock WhatsApp on your phone, WhatsApp has come up with its own way to lock WhatsApp chats on Android and iPhone. So you can protect this chatting app using your fingerprint or touch ID even without using a third-party app.
Minimum Requirements to Use WhatsApp's Native Fingerprint Lock Feature
Your smartphone should meet the following requirements to use WhatsApp's biometric fingerprint lock function on Android.
Fingerprint lock is only available on Android devices with a fingerprint sensor running Android 6.0 Marshmallow and newer.
This feature doesn't support the Samsung Galaxy S5, Samsung Galaxy Note 4, or Samsung Galaxy Note 8.
How to Lock WhatsApp on Android Using WhatsApp's Native Fingerprint Lock Feature
Open the WhatsApp app on your phone
Tap the menu button at the top right of the app
Go to Settings > Account > Privacy
Scroll down to the bottom and tap Fingerprint lock.
Enable the "Unlock with fingerprint" option.
You will be asked to confirm your fingerprint, so touch the sensor with one of the fingers you have registered with the phone.

TIP1: You can also tap to choose the preferred time frame to how quickly the app requires your fingerprint id to re-enter it if you close it.
TIP2: You can disable the "Show content in notifications" option if you wouldn't like to preview sender and message text inside new message notifications.

Deactivate Fingerprint Lock On Android
Open WhatsApp or WhatsApp business app on your phone.
Tap the menu button and select settings
Go to "Account > Privacy.
Scroll down to the bottom and tap the "Fingerprint lock."
Disable the button next to the "Unlock with fingerprint" option.
What Is The Best Method To Lock WhatsApp?
Even if multiple ways exist to Lock WhatsApp, We recommend you to use its built-in lock feature if your phone supports it. When writing this article, WhatsApp for Android supports locking your chatting app using Fingerprint lock only instead of Face ID, Pattern lock, or password lock. However, you can use Touch ID and Face ID to lock WhatsApp on your iPhone. Lock WhatsApp using its native locking feature is the best way to set a lock for WhatsApp without using any third-party app.
Method 2: Use built-in App Lock On Your Android
Built-in App Lock is another way to lock your WhatsApp without using any app. Some smartphone manufacturers with custom Android versions now offer an app lock option and allow users to lock apps with a password, pin, pattern, etc. We could see this in-built app lock feature on Samsung, Huawei (EMUI), Xiaomi (MIUI), Oppo (ColorOS), and so on.
So before installing a third-party app to lock your apps, dive into your Android smartphone settings section, and look into a built-in app lock feature if given.
You can learn how to lock your WhatsApp using built-in App Lock features if your smartphone is made by some of the manufacturers listed below.
How to Lock WhatsApp On Your Huawei Smartphone Using the built-in App Lock feature?
Open settings.
Go to "Security & Privacy" > App Lock.
Find WhatsApp from the app list and turn on the button.
Xiaomi App Lock.
Like Huawei, Samsung, and One Plus devices, You can find an in-build app locker on Xiaomi Redmi devices as well. It offers some unique features when compared with other manufacturers' App Lock.
By using the Xiaomi (MIUI) app lock facility, you may be able to hide message contents from WhatsApp notifications, and you can hide the WhatsApp app icon from the Home screen too. And you can use a PIN, Pattern, Password, or Face ID to unlock the Locked app when you use the Xiaomi app lock.
How To Lock WhatsApp On Your Xiaomi device Using the App Lock?
Open the settings on your Xiaomi device.
Navigate to Apps > App Lock.
Find WhatsApp from the app list and turn on the button.
Method 3: Use a Third-Party app to lock WhatsApp On Android
Even though WhatsApp works on all Android 4.1 and newer OS, its fingerprint lock will work on Android 6.0 and later devices. So if you are an Android 4.1 or Android 5.0 Lollipop user, your chatting app won't support fingerprint lock. At the same time, if your device doesn't have a built-in app lock feature, you should have to opt-out of our second method, which we have explained above.
You have to use a third-party app to lock your WhatsApp as a third option. There are dozens of apps available on the Google Play Store to do so. You can choose one of them to secure your favorite messaging app.
If you are looking for a good app locker app, we also recommend using this ad-free "Norton App Lock," developed by the world's most popular Anti-virus tool provider. In case this app doesn't support your region; alternatively, you can use this app called ChatLock+. It is also a handy app even it shows the ads within the app.
Third-Party App To Lock WhatsApp:
ChatLock+ is a handy app to lock all messenger applications installed on our Android phone, such as Hangouts, Facebook Messenger, Line, Viber, Telegram, Twitter, and so on. And it also offers to shake to lock, Auto-lock, Intruder detection, and many other cool features.
Lock WhatsApp messenger using "ChatLock+" app.
Step 1: Download and install the "ChatLock+" app for your Android phone using this link.
Step 2: Then, Open the "ChatLock+" app. When the first launch, it will ask you to set a password.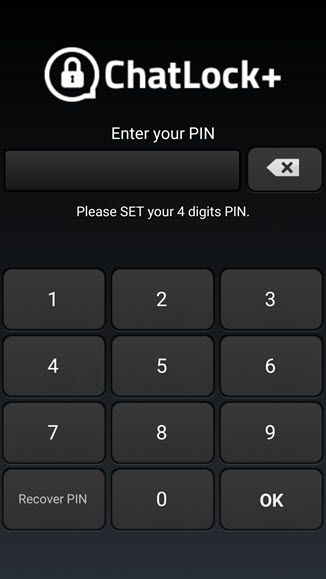 Step 3: Set a password and go to the next page.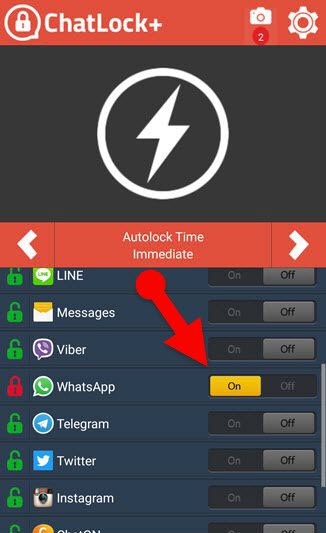 Step 4: Now "turn on" the button next to "WhatsApp."
Important: When using a third-party app as your app locker app, you may need to grant several permissions, including enabling accessibility, display over other apps, etc. Otherwise, those apps won't work correctly on your phone.
Final Verdict:
This article has explained three different ways to lock WhatsApp on your Android phone. As I said earlier, I recommended you use the first method. The first method explained "the way to lock WhatsApp using its native feature. It's straightforward to configure and use on any fingerprint sensor-enabled Android 6.0 Marshmallow and newer device.
If your device doesn't support WhatsApp native locking feature, it's better to use Android's app lock feature. Nowadays, many smartphone manufacturers offer the built-in app lock on their customized version of Android. So, As a 2nd option, you can use it if available.
Otherwise, you can give a try to our third option. It also lets you get rid of nosy people who try to access your personal WhatsApp chats. I hope this article will help those who need to lock WhatsApp on their phone.