Battery Doctor App (Battery Saver) is widely used Battery Saver application on Android. It has used by more than 330 million people around the world, and it also gets the 4.5-star rating on Google play store. So, let's see an overview of Battery Doctor
Battery Doctor App (Battery Saver): An overview
Battery Doctor is one of the products of  Clean Master development team! this app comes with a clean interface, Once you open the app, it'll show you the current battery power percentage and how long you can use it from then. On the same screen, you can see four tabs at the bottom of the page. Those are,
Save: (main function and battery status)
"Save" is the main page of battery doctor app. You can find the primary function of battery doctor app on this screen. Its main screen contains "Optimize now" button. It allows killing all the power draining apps with a click which are running at the moment.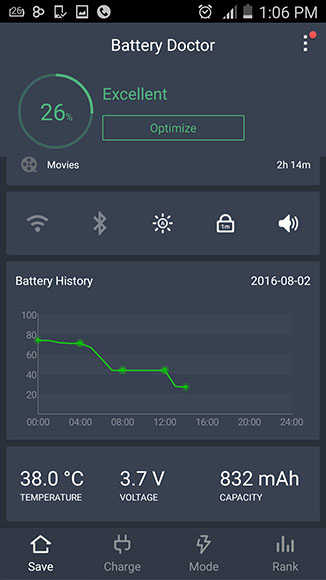 Also, you can see power remaining hours in various situation, app usage info for last 24 hours, Battery consuming history,  battery's voltage, temperature and much more information through this main page.
Mode: (Custom profile to save battery)
This option offers to manage the various profile on the various situation. That means you can put this app to battery saver mood when your phone is running with low power. for do that you can create a custom profile on this app through "Mode" screen.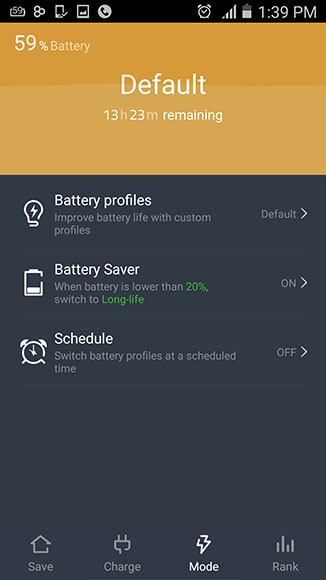 Also, you can put your custom profiles to run on specific time whether when your phone running on low  battery power or a specific time (Schedule)
How to put custom or default profile to run automatically
Step1: First of all, you must tap the mode tab at the bottom of the battery doctor app.
Step 2: Then you'll get a screen named "Battery Saver". On that, you can see an option called "battery saver." You just need to set it as "on" and you want to set the battery percentage that to active the app.
Step 3: Finally, you can select your custom profile or Default profile.
That's all. The app will automatically start on the proper battery level, which you set-up.
Charge: (Battery level and charging history)
You can be simply known your remaining battery percentage and charging history through this screen.
You can get the correct battery percentage level, by tapping the charge button. It'll show you the battery percentage in a big circle. And also you can see how long you can use this power from then.

Also, you can get a detail report of battery charging history, simply tap the charge history button; then you can view detail report of your phone's battery charging time
Rank: (Find individual consumption level and kill them)
You can find and close all applications that are running in the background without your knowledge. also, it will show battery consumption percentage of individual app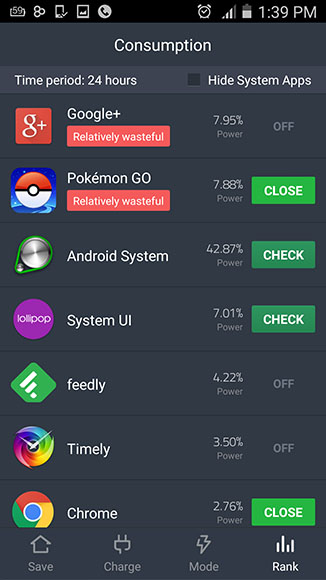 That means, If there are any apps on your Android device that you aren't working on it. But it's running in the background at the moment and consuming your battery power. You can temporarily block the apps from running in the background on your phone through the rank tab. The ranking section will show you all the app which are running at the moment on your phone. And you can just select the close button of the app which you want to stop.
Video about the Android Battery Doctor App
Pros and cons of Battery Doctor (Battery Saver)
Pros:
Clean user interface and simple to use.
It's working beyond a battery saver app by giving charging tips to users, monitor useful notification, Night saving mode and much more.
Regular updates.
Cons:
It shows lots of ads within the app.
Closing words:
Battery draining is a big problem among smartphone users. So, there are many apps on the play store to reduce this problem and battery doctor is one of them. This article covered the main feature of battery doctor application. Keep in mind this is not a recommendation.  Rather than, this is just a review about battery doctor app. Hope this will help who seeking information about battery doctor. Leave a comment below if you have any queries related to this article.
Click here to Download Battery Doctor