Are you looking for the best app to convert your photos into drawings? Or Are you wondering how to turn a picture into a painting on your Android phone?
Check my list here! Indeed, this app list will help you select the most suitable photo editor app to turn photos into paintings. I have carefully picked these apps from the massive photo editing tools list on Google Play Store.
Many of these apps have been built based on AI-powered technology. Thanks to Artificial Intelligence technology, smartphone apps have become so clever that they can identify the objects from your images and quickly make necessary changes to them—like changing the background, applying art filters, removing objects, etc.
Also, turning an image into artwork with these apps is straightforward. Many of these apps require only a single tap; once you have tapped on the pre-made art filters, your photos dramatically will be turned into works of art based on the selected art filter. And the resulting image will look as if Picasso, da Vinci, Van Gogh, or even Salvador Dali himself painted it for you!
What are the best apps to turn pictures into paintings?
There are a lot of excellent photo editing apps out there, but which ones can turn your photos into paintings? We've found five of the best apps to do just that!
| Apps | App Install Counts | Rating |
| --- | --- | --- |
| Prisma Art Effect Photo Editor | 50,000,000+ | 4.4 out of 5 |
| Painnt – Pro Art Filters | 10,000,000+ | 4.4 out of 5 |
| Deep Art Effects | 1,000,000+ | 4.7 out of 5 |
| Art Filter Photo Editor | 10,000,000+ | 3.8 out of 5 |
| VINCI | 1,000,000+ | 4.6 out of 5 |
| Varnist – Photo Art Effects | 10,000,000+ | 4.3 out of 5 |
Each of these apps has its own unique set of features and capabilities. Some apps are better at emulating certain painting styles, while others are more versatile in what they can create. But all of them will give your photos a beautiful and painterly look.
Prisma Art Effect Photo Editor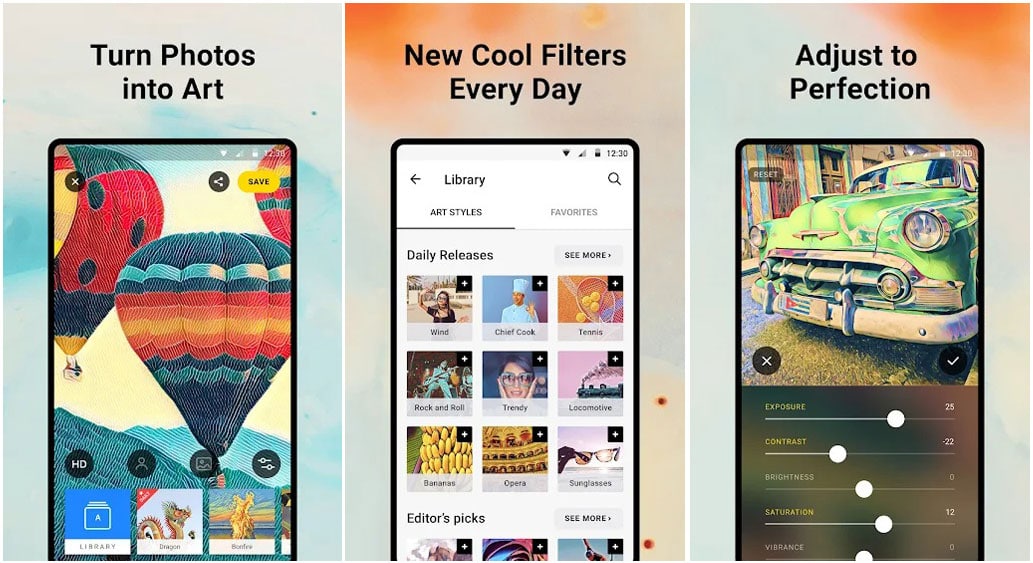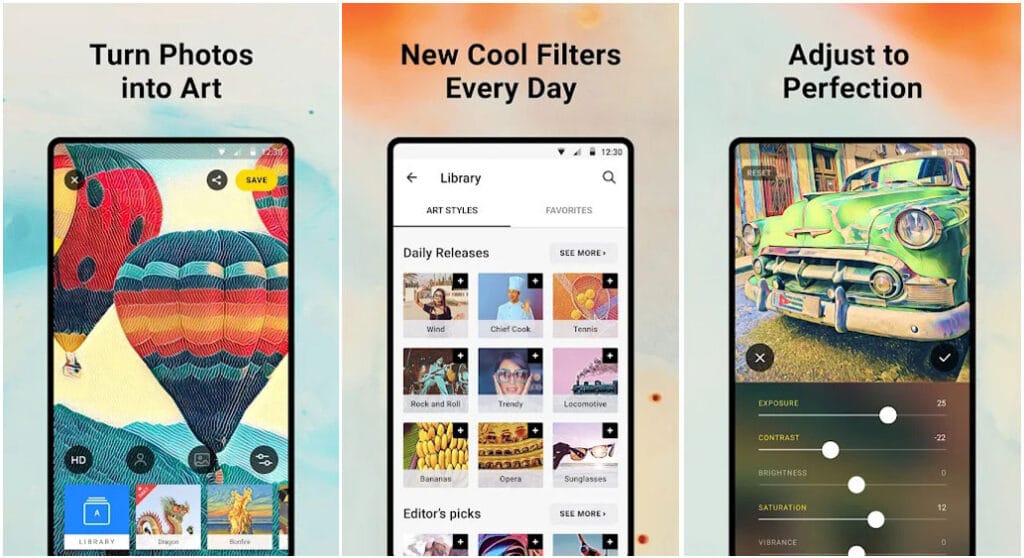 AI-powered photo editing app, Prisma, turns photos into paintings with varied beautiful color palettes and realistic painting styles. It was launched in June 2016 as a free mobile app. Once the Prisma photo editor app was released, it spread on social media like wildfire worldwide.
Many social media users are impressed by its AI-generated fantastic artwork, including me. So, many were used the Prisma app to transform their images and selfies into a unique masterpieces. And they used those artworks as their Profile pictures, cover images, and wherever they wanted to show their artworks to others.
Initially, Prisma Labs, Inc introduced the app on the App Store for iPhone users with a limited number of artwork/graphical styles. And the app requires an active internet connection to perform the task on the Smartphone. After that, Prisma Labs, Inc has gradually updated the app with essential features like offline support, the ability to change the background image, new art filters, etc.
Unlike before, now the Prisma app has a sizeable pre-made photo filters library where you can find more than 700 graphical styles and art effects to apply your pictures. Apart from turning your landscape and selfie images into various painting styles, it also provides the option to add frames and backgrounds for your portrait images with a single tap.
Prisma releases a new art filter every day so that you can apply a unique artistic style to your pictures daily. After adding an art style to your photo, you can fine-tune it by adjusting the exposure, contrast, brightness, saturation, etc.
Some Key Art Styles Of Prisma App
Color Boom
Harmony
Sketch
Cosplay
Handy Styles
Dream Blur
Prisma Retro
Outline Sketch
Pop Art
Psychedelic Art
Brushwork
Paint Daubs
Texture Wrap
Since Prisma offers hundreds of styles and art effects, you can use the search function in the Prisma Style Library to find a particular artistic filter.
Many filters and effects require a pro subscription to use them on your pictures. However, there are some beautiful photo filters available for free users too.
This app has been downloaded over 50 million times and has a 4.4-star rating on the Google Play Store. You can download this app from Google Play Store by tapping this link.
Painnt – Pro Art Filters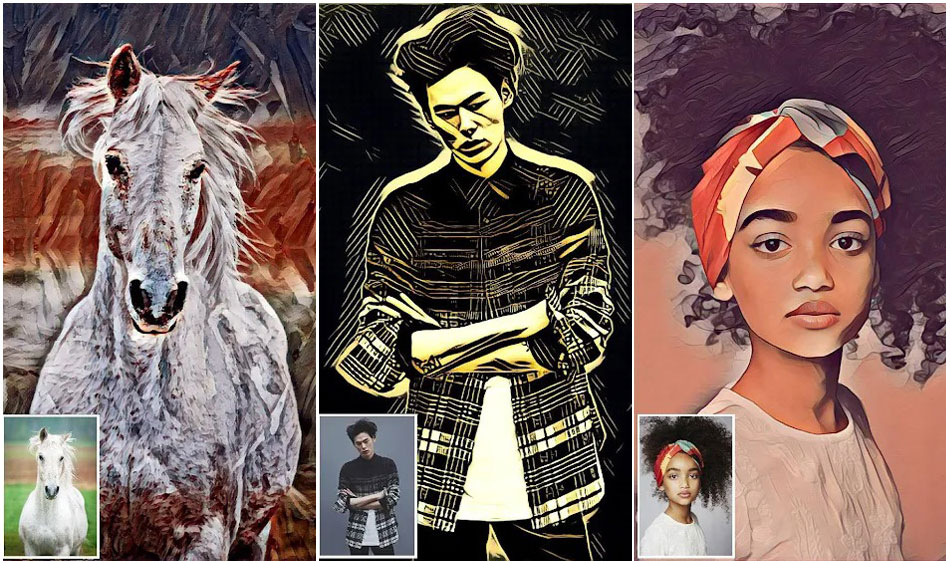 Painnt – Pro Art Filters is another pretty-nice app to turn photos into paintings on your Android device. Like the Prisma app, it also uses neural networks and artificial intelligence to apply artistic effects to transform images.
There are 1000+ photo filters available within the app in multiple categories such as nature, modern, sketch, mosaic, etc. And you can add any desired art filters from the available hundreds of styles to the favorite section to access them quickly when you need them.
To turn your photos into line drawings, you can find many art filters in the Sketch category within the app. Also, there are many free photo filters available in the Classic section to convert your photo to watercolor painting. And whichever you choose to turn photos into paintings, you can find a wide range of photo tools to enhance the results—like in the Prisma app.
You have to become a pro member to unlock premium filters, remove watermarks from your images, and save your final image in full HD, 4K, or original quality.
Painnt – Pro Art Filters app has been downloaded more than 10 million times from Google Play Store and has a 4.4-star rating. You can download this app from here to your Android smartphone.
Deep Art Effects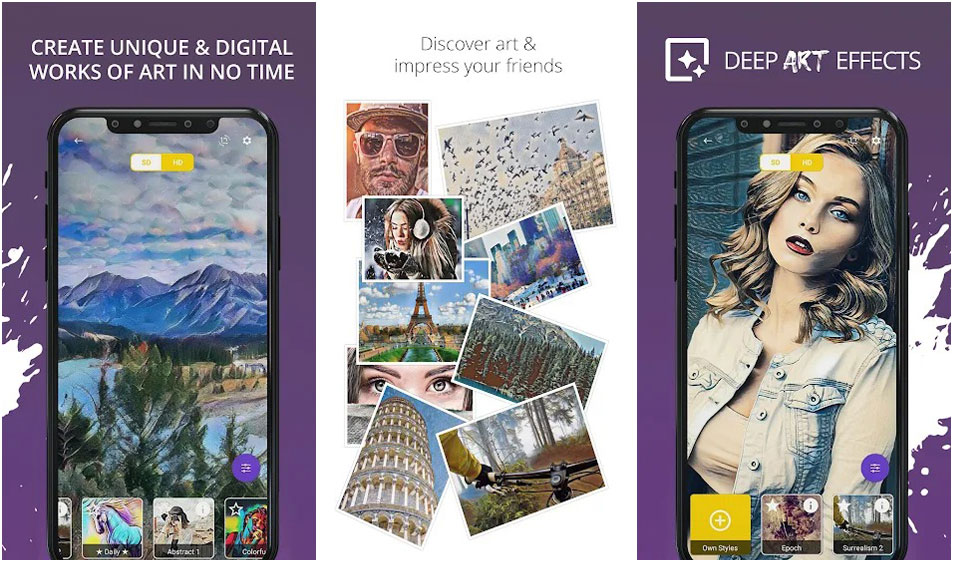 Deep Art Effects is one of the best apps to turn photos into paintings on smartphones. Like other photo filter apps, it also comes with a wide range of art filters; most of them are free to use.
The app contains more than 50 art filters from famous artists out of the 100+ available art filters in the free version. And you can also view the artist's name and the emerged year by tapping the exclamation mark at the top right corner of the corresponding photo filters.
With Deep Art Effects, turning a photo into a line drawing, work of art, or oil painting is straightforward. Once opening the app, select an image from your Gallery or capture a photo. And choose a 'photo filter' to be applied and then wait as the app executes its algorithmic magic. In a few seconds, you will get your stylized image and options to adjust the art intensity of the effect, sharpen, brightness, etc.
Even though this app is free to use, you need to become a subscriber to access several features like exporting your images in high resolution, removing the watermark and ads, accessing all Photo filters, etc.
Deep Art Effects has a 4.7-star rating out of 5 on the Google Play Store based on around 90000 user reviews. You can try the app by tapping here.
Art Filter Photo Editor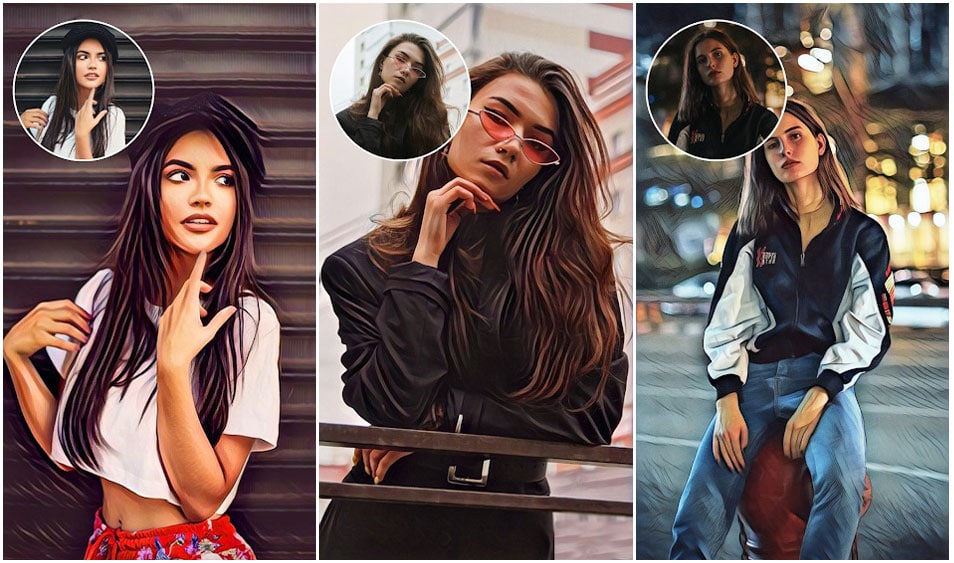 Art Filter Photo Editor is yet another excellent aesthetic photo editor app to turn photos into paintings. It also comes with a range of digital art filters and free photo effects, including artistic sketching effects, oil painting filters, Prisma effects, and pop art filters.
It also has colorful photo filters to make your images look like paintings and black & white sketch effects to turn your pictures into pencil art. And each filter is customizable with your editing preferences to create a unique masterpiece.
Once open the app, you will be asked to crop the image to your preferred size. You can cut your image according to various aspect ratios such as 1:1, 16:9, 3:4, 3:2, or choose the "ORIGINAL" to proceed to the next step without cropping it. You must select a preset art template you wish to apply to your image on the next screen. Now your photo will turn into beautiful art paintings in real-time.
When I used this app on my Xiaomi device, it crashed several times and showed interfering ads each time I tried to apply an artistic filter and perform some other task within the app. They are the considerable disadvantage of the app I have shown. I hope these disfavors may be fixed in the feature update to ensure a better user experience.
Like other art effect photo editors mentioned above, it also imprints a small watermark at the bottom of your artistic paintings. And It provides a limited number of photo filters to turn photos into paintings. You can unlock these limitations by becoming a subscriber to this app. Tap here to download the app.
VINCI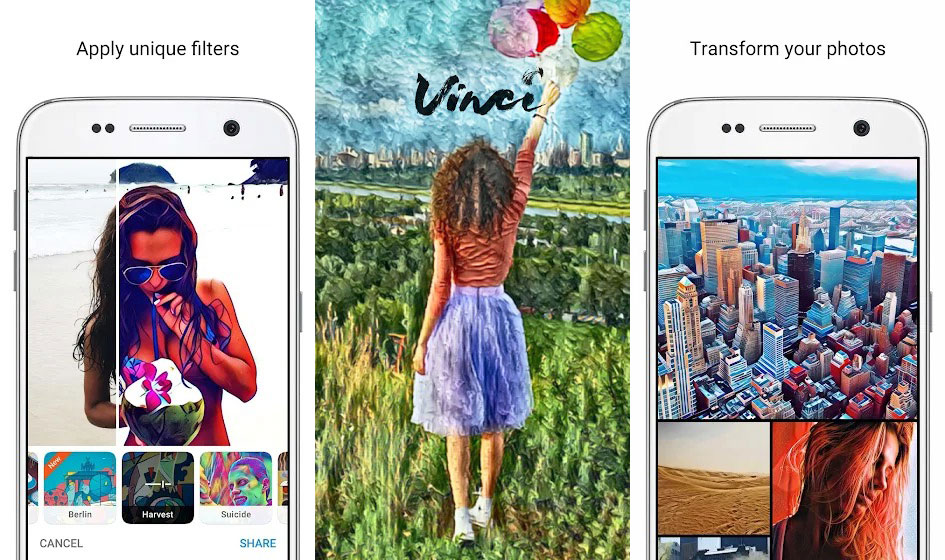 Vinci is another best artistic photo editing app to turn photos into paintings without the distraction of annoying ads. It has an intuitive user interface and various preset templates of famous fine art paintings.
One of the unique features of the Vinci app is that apart from turning your whole image into pieces of art, it lets you apply painting effects to either the background of your picture or the subject of your portrait.
In this app, you can find different artistic styles to make your digital art—such as oil painting filters, mosaic effects, watercolor painting filters, etc. But, there are only a few sketching filters available on the app to turn your pictures into hand-drawn pencil art.
Before applying artworks to your images, the Vinci app has an option to crop your photo into a square or any other aspect ratios and rotate them in multiple directions as well. And After transforming your photograph into artwork, it's also possible to adjust the intensity of the effect.
Like many other photo art apps, it also provides selected artistic styles for free, requires an internet connection to process the image, and puts a watermark on the processed picture.
Varnist – Photo Art Effects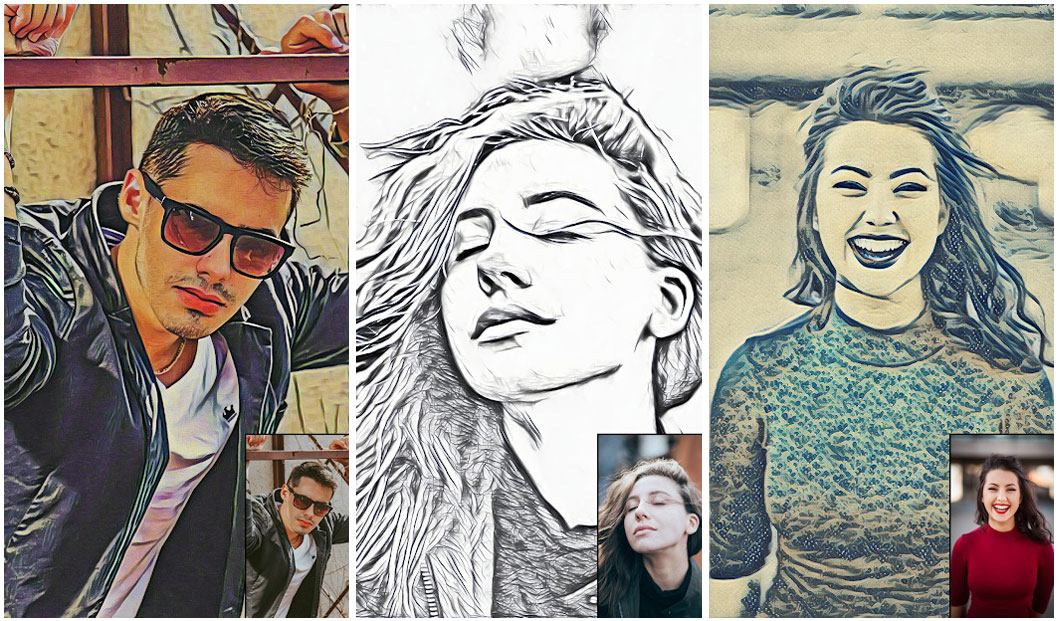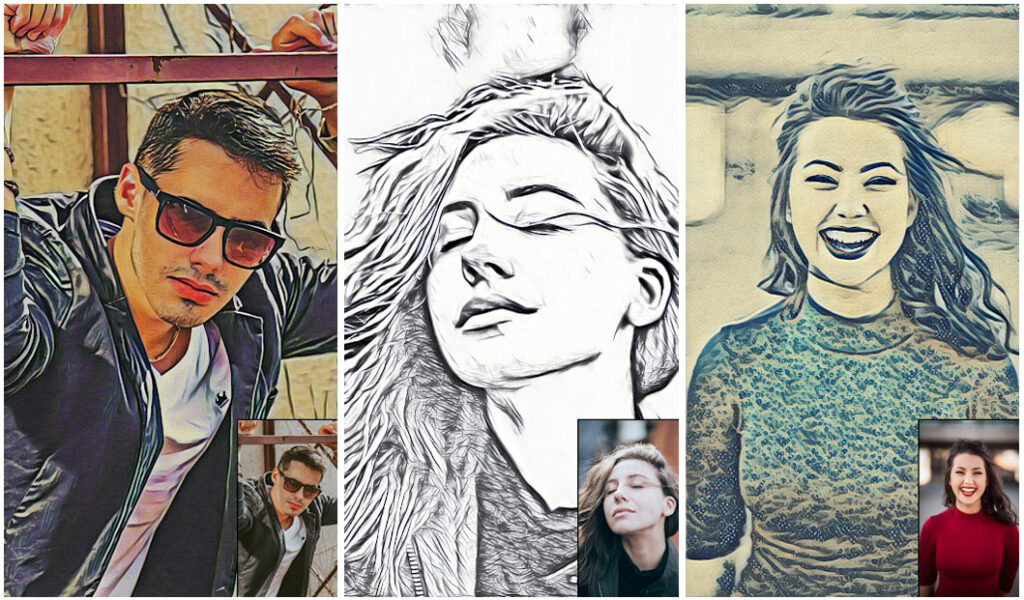 Varnist – Photo Art Effects is another excellent app to turn photos into paintings on your Android smartphone. It comes with many photo editing features like combining art styles, changing background, adding text, stickers, doodles on the digital art, etc.
Do you want to turn your pictures into oil paintings, hand-drawn pencil art, emoji art, beautiful watercolor paintings, or any other effects your want? You can find Almost all varieties of art styles in the app, using which you can turn your images into various painting styles in a flash.
The app also provides a faster photo processing speed and unique artistic effects. Once applying artwork to your picture, you can modify the art intensity of your final image to get a more fine resulting photo. To increase or decrease the art intensity of your artwork, you need to swipe right or left respectively on the screen.
After converting your image into a painting, you can share it on social media or copy a shareable public link right from the app. And the best part of this app is that you can save your artwork on your device without any watermark. Also, you can get an ad-free experience while using this digital art app.
However, you need to be a subscriber to unlock all styles, save your images in HD quality, recolor styles, and get many other features. Tap here to try Varnist – Photo Art Effects app.
Final Words:
I hope these five Art Effect Photo Editor apps will be helpful for those who prefer to turn their photos into digital paintings on an Android phone. These apps use neural networks and deep learning algorithms to apply artistic effects to transform images. So, You don't need to wait several hours or days to see your stunning photo paint effects. Just 3–5 seconds are enough with these apps.
Almost all apps in this list offer various photo filters, which you can use to turn your portrait or other images into paintings as hand-painted artworks, watercolored drawings, or hand-drawn pencil art.
So, it's your turn now! Choose a desired photo art app from the list above. Download it from the Google Play Store. Snap a picture or import an image from your Gallery. Select a preferred preset artwork style provided in the app. Tap on it to turn your photos into stunning artwork.