We may have to change the picture background for several reasons. You might have taken a beautiful selfie of yourself, but its background may be so awful. Or you may need to replace an awkward backdrop of your product photo for publishing a product on your eCommerce site.
Besides the reasons I have mentioned above, there will also be many reasons you may need to change the photo's background. So, have you ever wondered about a way to replace your photo background with some incredible background images? Then you are in the right place.
Here, I have brought you some of the best photo editing apps. They are capable of removing unwanted objects from your photos. And they allow you to make your photo background transparent or white, and even they let you put a new background for your blurry background images.
Some of the following photo editing apps automatically detect the foreground and background of your photos. So, you can quickly separate the subject from your images and give them a stunning look with some cool background pictures.
The collection of these photo background changing apps is not only for individuals; they will also help professionals. Let's see the list of the best photo editing apps to remove unnecessary objects from your photos.
---
1. Polish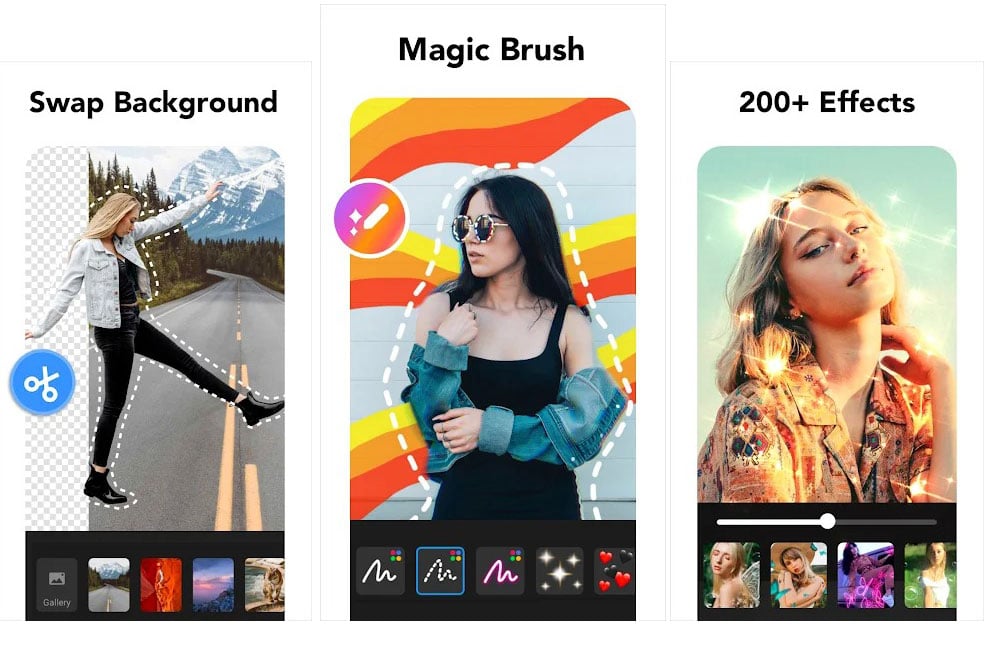 Polish is one of the most popular All-in-one handy photo editing apps with hundreds of free and paid backgrounds & cool filter effects. It provides so many exciting features for editing a photo. Its AI cutout tool lets you remove your photo background with a single tap. And one of the significant advantages of this app is it won't put the watermark on your final image.
Once you have the subject isolated, you can seamlessly combine your cutout photos with a ton of creative background templates, frames, and filters. You can also add glitch, double exposure, and blur effects to your photo background to get a DSLR blur effect.
How to change the background of a photo in the Polish app?
Changing the background in the Polish app is a straightforward task.
Upon starting this app, you can choose an image from the Gallery or take a photo with the camera.
Crop the image as much as you can.
At the bottom of the app, swipe from the right to left of the toolbar icons until you see the cutout option.
Now tap the "AI" icon. The unwanted part will be erased from your image. You can also use the manual mode brush tool and eraser tool to refine or repair the edges of your subject image.

TIP: You can also adjust the brush size and opacity to get a more precise result.

Tap the arrow button in the upper right corner of the app.
Select a preferred background from the range of background images or mix your cutout photo with preset background templates.
Polish offers both free and paid versions. The free version will show ads within the app, and you will get limited access to backgrounds and features. Some of the PRO features can be unlocked by watching sponsored videos. And you can try the pro version free for seven days if you wish.
The Pro version of the Polish app lets you access all features without any limitations. And it won't show any ads within the app until your subscription ends.
Pros
100+ cool backgrounds, frames, filters to choose from.
Able to change the background with a one-tap thanks to the AI cutout option.
You can use this photo background editing app without an internet connection.
Won't add the watermark in your final image.
Able to create awesome social media photos like WhatsApp DP, YouTube thumbnail, Instagram story cover, etc.
Over 100 million downloads on Google Play.
Cons
The app will show the ads within the app
There are only a few tools available in the manual mode to refine the edges.
There are no suitable backgrounds or pre-made background templates for e-commerce & marketplaces products.
---
2. Blend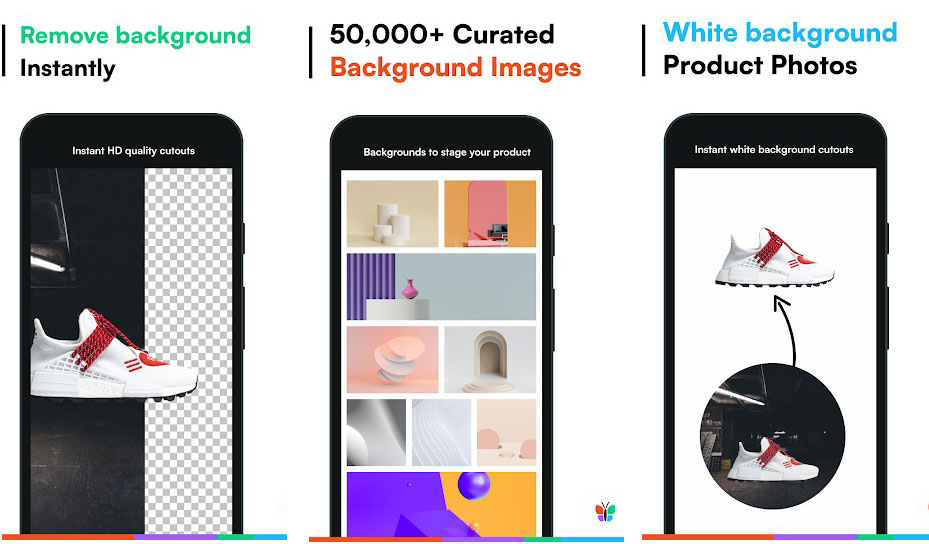 The blend is another excellent free app to change the background of your pictures with a wide variety of pre-made templates. It has specially designed for online sellers, resellers, and small businesses.
Blend provides 50000+ more backgrounds and 1000+ elements for editing your e-commerce product backdrops. The app also enables you to directly search and find the most suitable background from the Unsplash site.
So, you can simply increase your social media engagement or increase your sales by adding an appropriate backdrop for your product.
Unlike other background remover apps, you do not need to select the filters, effects, or background for your images one by one. Instead, the app will blend your subject image with all available preset templates and background images at once.
Once start the app, you need to import an image from your Gallery or capture a photo straight from the app. After that, the app will automatically erase the unnecessary parts from your picture and turn it into pro-quality content in seconds. So, you can browse through ready-to-use templates and quickly select the preferred one for you.
Besides these, you can make the background transparent for any of your product images and save them as a PNG in HD Quality. And you can also add a solid color for your product's backdrop and combine them with marketing stickers, text, elements, GIFs, or your own images.
Pros
Completely free
No watermarks on the image
No ads within the app.
Intuitive and easy-to-use interface
Can work offline.
Option to customize pre-set templates
Able to view all your designs at a glance on the "My Designs" section
Cons
Suitable for online sellers, resellers, and small businesses only
There is no option to edit the foreground photo manually.
---
3. PicsKit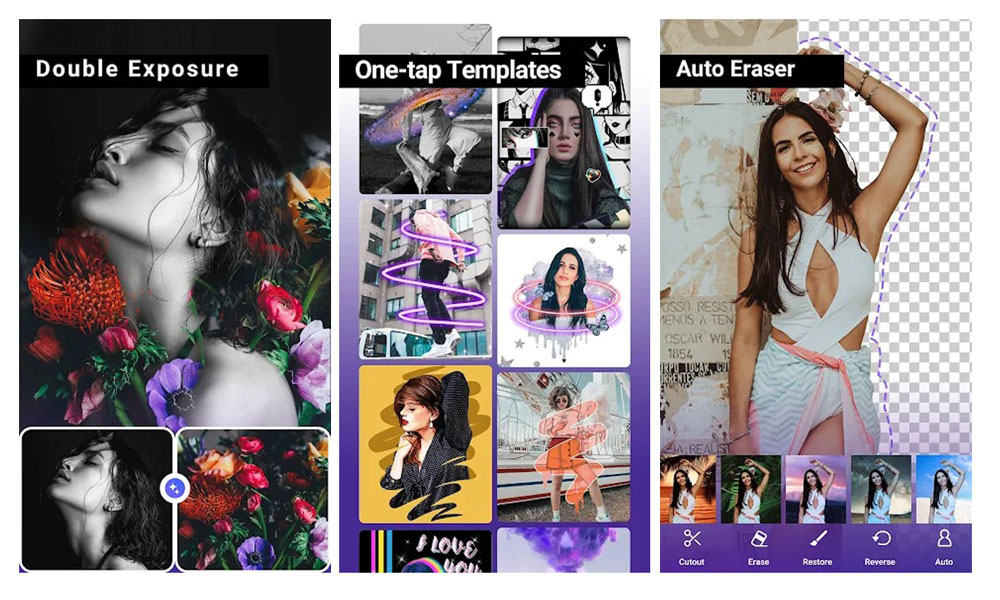 The PicsKit is also an all-in-one photo editing app that can change the background of your picture. This layer-based photo editing app lets you add an unlimited number of layers to overlay your images. You can use AI-based cutout or manual mode to separate the subject from your picture.
When you try to cut out the subject in auto mode, the app will ask you to choose "Portrait" or "Object." If you select "Portrait," objects in your photos will get erased, and vice versa.
TIP: When you erase the unwanted object in the manual mode, enable the "Edges Detection" option to seamlessly erase the neighboring pixels around the foreground edge.
Upon separating the subject from the image, you can save it as a PNG image with a transparent background or add the filter, neon, art, glitch, and many more effects to your photo.
PicsKit also lets you put the several types of background for your foreground image, such as solid color, gradient, texture, pattern, frame, etc.
You can merge your main image with multiple images and adjust its brightness, contrast, hue, saturation, and opacity to get more stunning results. And you can add it to doodles, stickers, text, WordArt, and so on. PicsKit app offers all of these features for free, and Some features require the pro version. Premium users can access all features and enjoy an ad-free experience.
Pros
Auto and manual cutout options are available.
Option to add blur a background
Supports unlimited layers.
It provides a lot of manual photo editing options.
Able to save as a transparent image without a watermark.
Cons
The app will show the ads within the app
It is not a dedicated app for changing the background
Not available for iOS
---
4. Photo Lab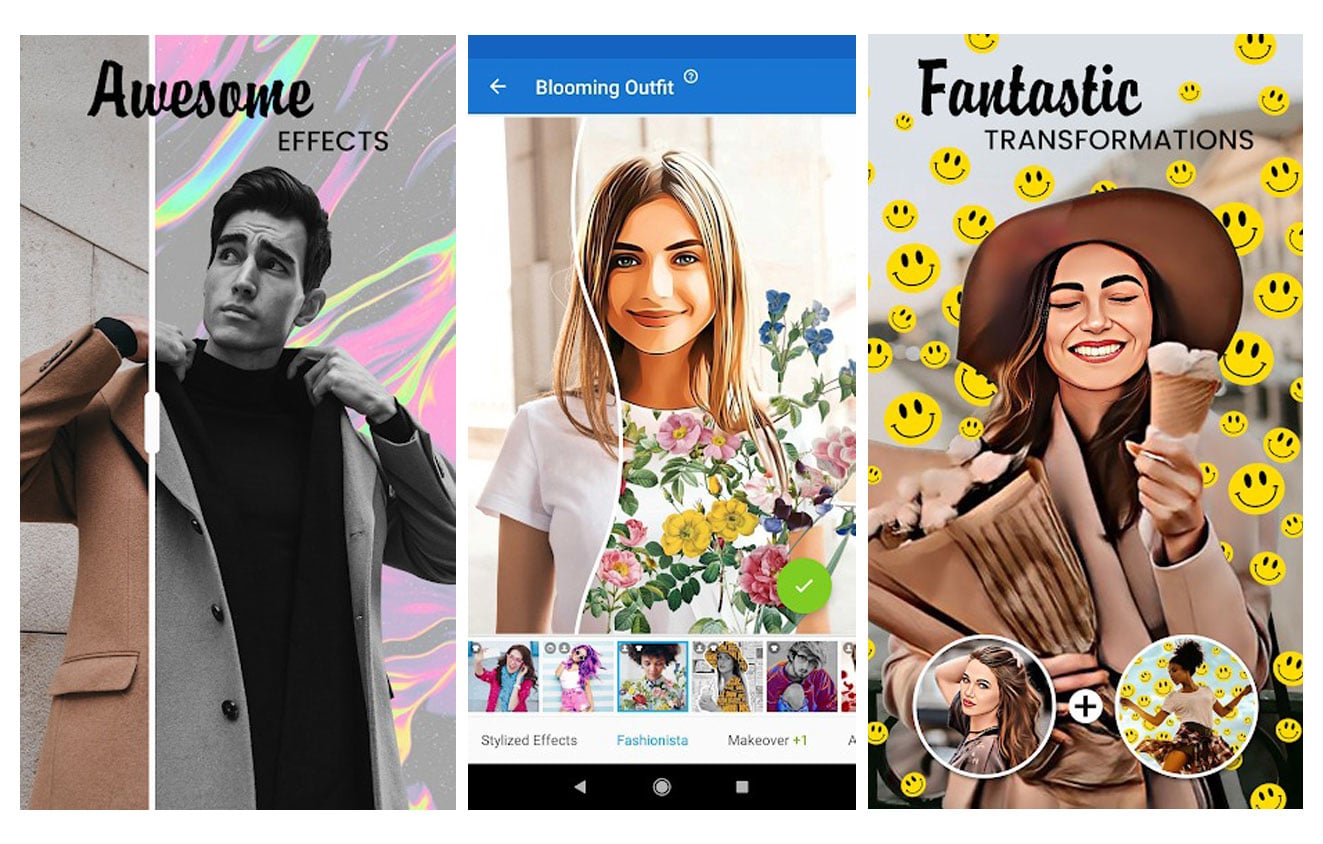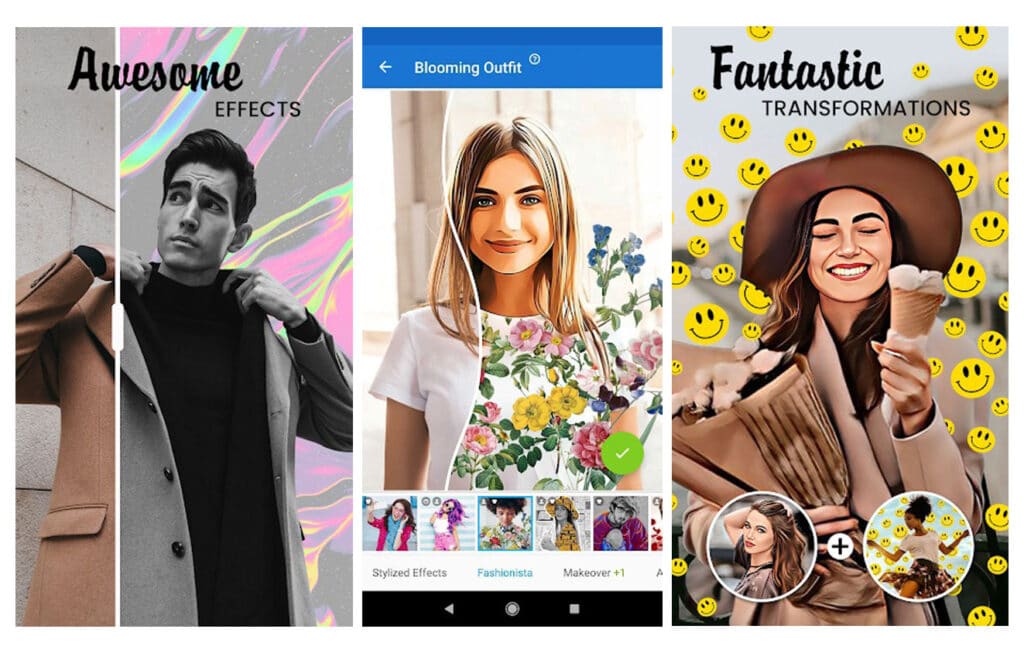 Photo Lab is another AI-based photo background changing app. Like Polish, Blend, PicksKit apps, the Photo lab also identifies objects and separates them from the rest of the photo. A unique feature of this app is that it allows you to put an animated background photo to your picture in just a few taps.
It comes with the vastest collections of stylish and funny photo effects, including fantastic face photo montages, photo frames, animated effects, and photo filters.
Once open the app, you will see the feed where you can find dozens of ready-made templates; you can choose the desired template for blending your pictures.
Some templates are available only for premium users. However, suppose you have been attracted by some awesome pro templates on the Photo Lab. In that case, you prefer to use them on your images. Then, you can apply those PRO template effects to your photos by watching a sponsored video.
And suppose you are a person who hates the ads within the app. In that case, Photo Lab allows you to become a PRO subscriber, so you can enjoy all the PRO features and get an ad-free experience.
Pros
There are more than 900 eye-catching effects available to transform your images.
Pro templates can be unlocked by watching sponsored videos
Able to change the background in a few taps
You can save your animated background image as a GIF image.
Able to save as a transparent image without a watermark.
Cons
It shows disruptive ads.
There is no option to save your picture as a transparent PNG
Not available for iOS
---
5. PhotoRoom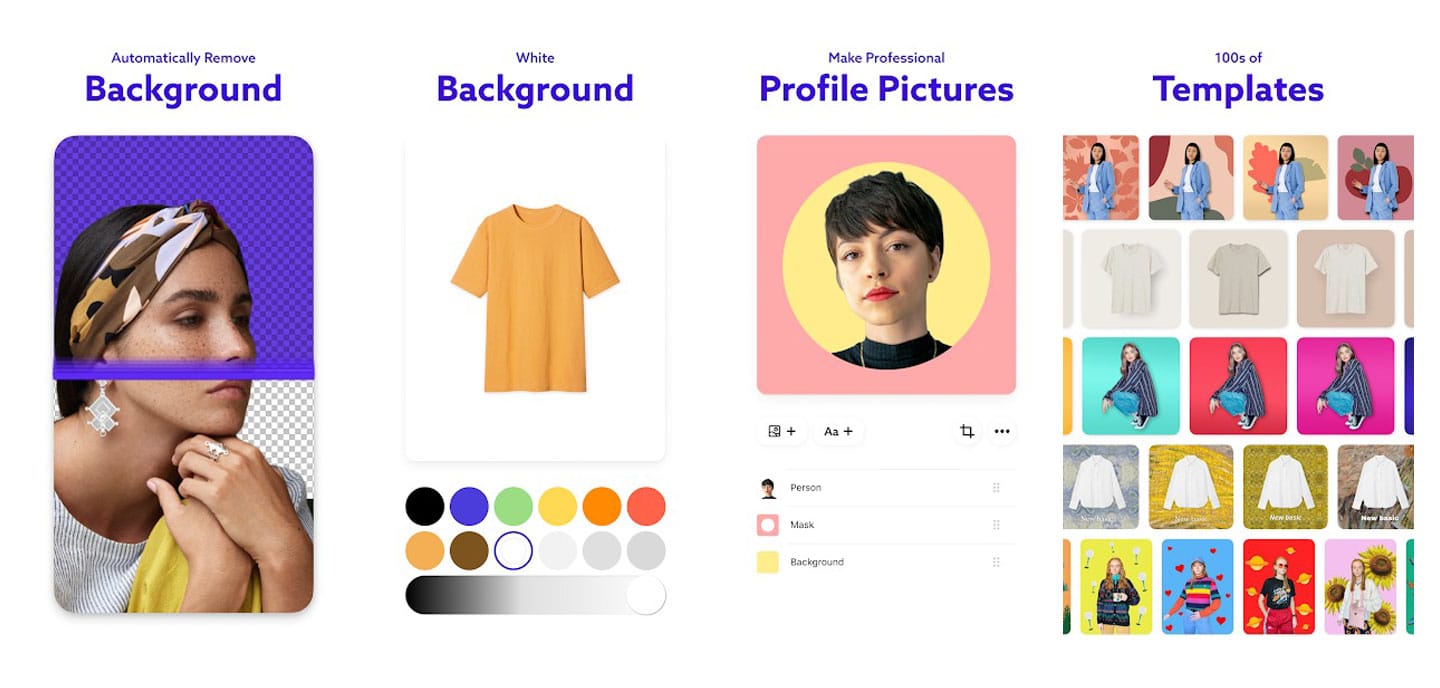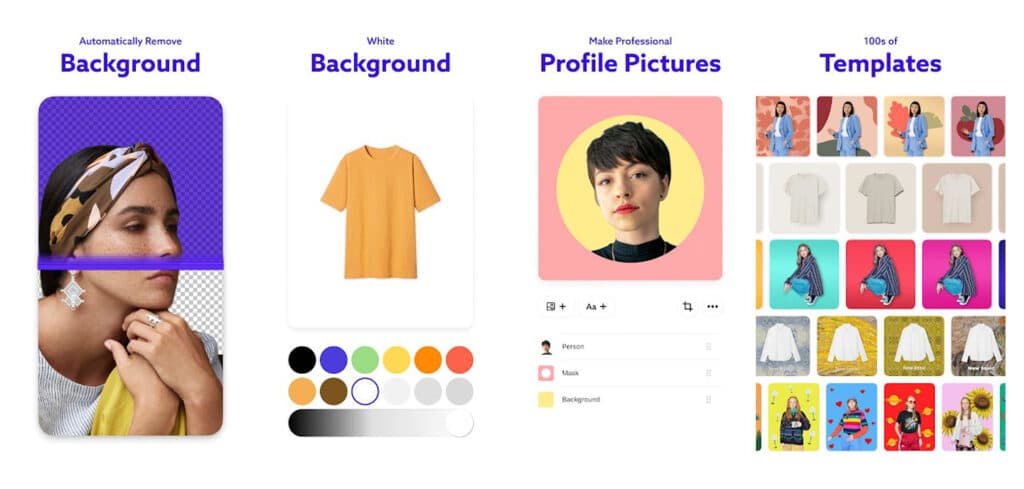 The PhotoRoom is another well-known image background changer app among Smartphone users. This all-in-one background changing app works as same as the Blend app, which I have reviewed above.
One of the main differences between the Blend and PhotoRoom is that PhotoRoom provides the background for personal and Business users like online sellers, resellers, and small businesses. While the Blend app targets business users only so it gives product-related backgrounds such as Instagram showcase, solid color, wood, Kids' clothing, fashion, etc.
Marketers can find the following types of backgrounds on PhotoRoom
Minimal Shop
Professional Product Imagery
Sales
Sell on Poshmark
Sell Kids Clothes
Sell on Depop
Podcast Covers
Fall Fashion
Solid Color
Shopify Templates
YouTube Miniatures
Online Shop
eShop Closet
Individuals can find the following types of backgrounds on PhotoRooms
Valentine's Day Special
Profile Pics
Photo Editing Classics
Love Portraits
70s Portraits
Solid Color
Beautiful Portraits
ID Photo
Lifestyle
Modern Art Collection
Makeup
Fun Collage
Pop Selfies
The PhotoRoom also has a batch editor. Using this batch editing function, you can quickly replace the background of your multiple images simultaneously. This feature is available only for premium users, though.
PhotoRoom also automatically adds text, colors, blur effects, and many other objects for your photo background to match the rusting image with your imagination. Each image and object in your pre-made template becomes a layer that you can customize as per your wish until you reach a satisfactory result.
However, this app will add a watermark to your final image. PRO members can save the image without the watermark and can be able to access 1000s of pro templates. You can use its trial version free for 7-days. After that, the trial version will automatically be converted to a subscription unless you cancel it before its end.
Pros
Suitable for Individual and Professional users.
Able to create Passport, ID, or Driver's License by adding appropriate background color and size.
You can get a wide variety of background images from the Unsplash site for editing your personal or Business Youtube Covers, Instagram posts, Facebook stories, etc.
Ads-free experience
Available for Android and iOS
Cons
It will put a watermark on each resulting image
Batch editing mode, HD cutout, and some other features are available only for PRO users.
Not available for iOS
---
6. Lumii Photo Editor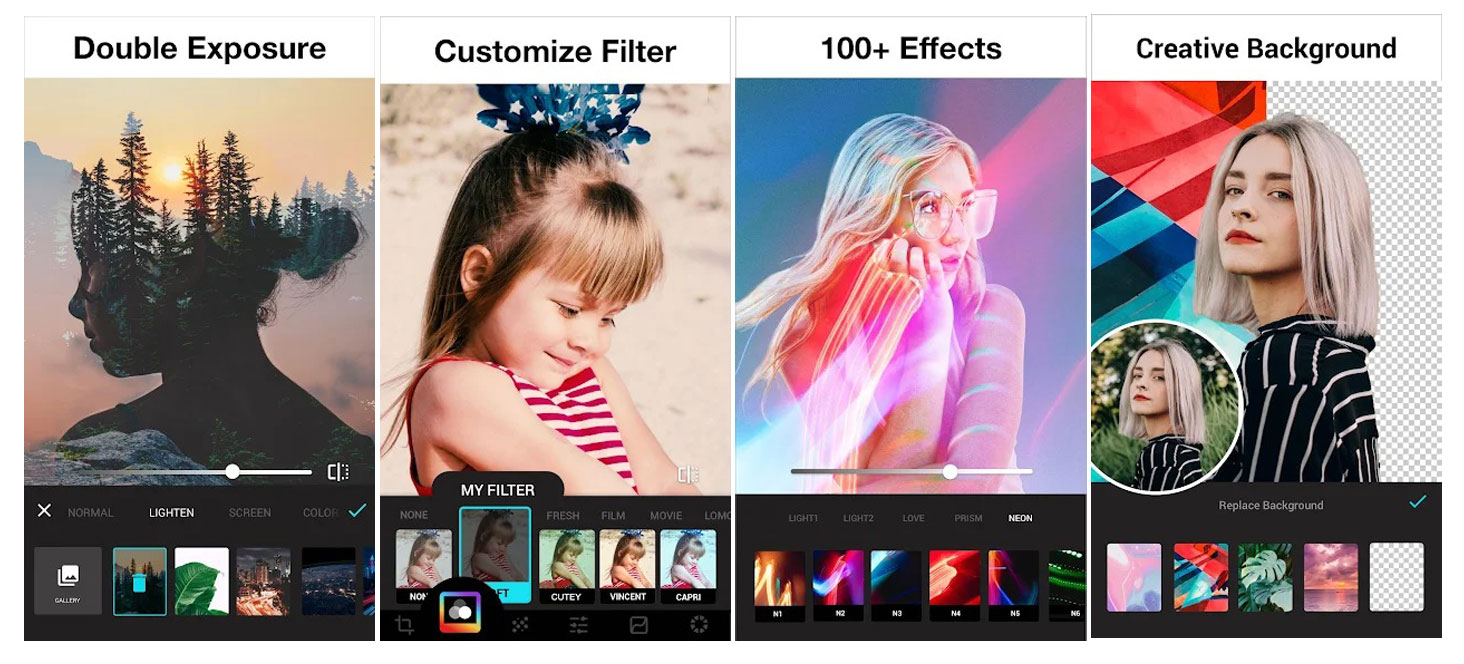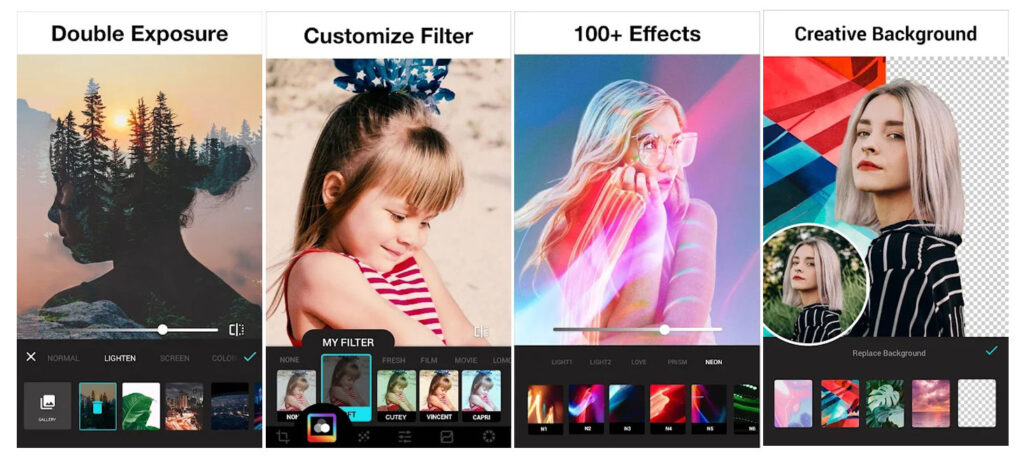 With Lumii Photo Editor, you can give your ordinary photo background a new look. It has some unique options to customize your image background. The "Background Remover" is one of its Photo editing tools; this feature has mentioned "BG" in the app. Inside the "Background Remover" section, you can see five essential tools to customize your picture background.
Lumii Photo Editor's main tools to customize the picture background
BG Blur: With BG Blur, you can apply the motion, spin, radial, and matte blur effects for your photo background.
BG Effect: Here, you can apply the Glitch or Bokeh effect to your background image.
BG Clone: It is also a fantastic feature of this app. This tool lets you add clone images in different directions and opacity around the subject picture.
Replace BG: It helps you replace your image background with another new background image, solid or gradient color.
BG Blend: You can combine another image or color with your desired picture using this tool.
Pros
Simple to use
Able to create custom filters and apply them to your background images.
No ads
No watermarks.
You can work with multiple images at the same time.
Cons
A limited number of backgrounds & templates are available
Many features and graphics available only to PRO members
Not available for iOS
---
7. Background Eraser
Background Eraser is one of the most popular free apps to erase unwanted objects from your images. It offers some handy tools such as extract, manual, magic, repair, zoom, etc. Using these tools, you can precisely isolate the subject and remove the background. The resulting image can be saved as a PNG image so that you can use it as a stamp or WhatsApp sticker.
Background Eraser app only helps remove the background from your picture or change its background to white/transparent. You have to install the photo layer app to superimpose your image, provided by the same developer. Photo layer app available to download on Google Play Store and app store for free.
You can find the following tools on the Background Eraser app to erase the unnecessary objects from your photo:
Extract: Once you select the extract tool in the Background Eraser, you will get the two essential tools at the top of the app; keep and remove.

Keep: The keep tool allows you to keep the subject on the picture, so you need to draw a selection around the subject using the keep tool to keep the necessary object on your image.
Remove: You need to mark the edges of the unwanted object with the "Remove" tool then the app will detect similar pixels automatically and remove them from your image.

Auto: This tool will erase similar color pixels when you draw over the unwanted objects.
Manual: You can erase the unneeded portions of your images by touching them.
Magic: This tool will work like how Photoshop's background eraser works. To erase part of the image, position the crosshair in the center of the brush cursor over the color you want to erase, then tap to sample the color. Touch and hold and drag your fingers over the image. Every pixel will delete any matching color those crosshairs hit upon. Pixels that do not match the sampled color will be ignored.
Repair: It restores any wrong areas that you erased on your photo.
Pros
Easy to use & lightweight app.
You can use all features for free
Available for both Android and iOS
You can use this photo background editing app without an internet connection.
Cons
Ads supported
Suitable for personal use only
The app doesn't support the modern AI cutout feature.
After removing the background, you need to install the photo layer app to overlay your pictures.
---
Final Words:
No matter you are a newbie or pro. If you have a good background editing app on your smartphone, you don't need to spend many hours sitting in front of your computer to change the background from your picture.
Thanks to modern machine learning technology, now smartphone apps got so smarter. They can quickly identify each element from an image and manipulate them according to user intention.
This way, now almost all photo editing apps rely on machine learning technology so they can identify and extract objects and people from your photo in a single tap.
In this background remover app list, all apps use AI technology to remove the background except the Background Eraser app. You can use this app if you are familiar with manual editing. Otherwise, I recommend you choose another app from this list according to your needful.