Have you ever seen a blank comment on Facebook left by your friends or others and wondered why those Facebook comments are empty? The answer is simple! Because your friend could have thought of impressing his other friends by posting an invisible comment on Facebook.
Leaving an empty comment or blank status update on Facebook is one of the tricks to impress Facebook friends, just as sharing a funny Facebook ID card on Facebook.
Do you also eager to write a white space comment on Facebook just like your friend has done and urge your friends to keep an eye on you? You are not alone! Many things like this. So, today I will tell you how to post a blank comment or status on Facebook.
You know that Facebook offers many options for users to share their thoughts, events, and awareness via Facebook statuses and comments.
What Kind Of Post Does Facebook Offer To Share
Photos/Videos
Tag people
Feeling/Activity
Check-in
Live video
GIFs
Question and answer
Life event
The options that Facebook currently allows users to share in their status or comments are listed above. However, when you post a status update or comment using a blank character, your friends will not see anything in their Newsfeed except your name and profile picture.
What Is Blank Text Or In Invisible Character
The invisible Character is one of the Unicode characters that can be copied and pasted, just like alphabet letters, symbols, and punctuation marks. It is also called white space, blank text, invisible space, etc.
How to make a blank comment or status update on Facebook
Previously many Facebook users have used this code @[0:0: ] to post an empty status update or comment on Facebook, but it no longer works today. Alternatively, you can follow the instruction below to do so.
You can quickly share a blank Facebook post or leave an empty comment with an invisible character. But, first, you need to copy an invisible character to your clipboard.
How to copy an unseen character?
There are two ways to copy a blank character. The first way is to generate an invisible text using our Invisible Text Generator. And the second way is typing a blank space character using your computer keyboard. Learn: How to Make a Blank Character Using Your Computer Keyboard
Steps To Post a Blank Comment On Facebook—Or Status Update
On Mobile App
Generate an invisible text using our Invisible Text Generator (Tap the link to visit the page).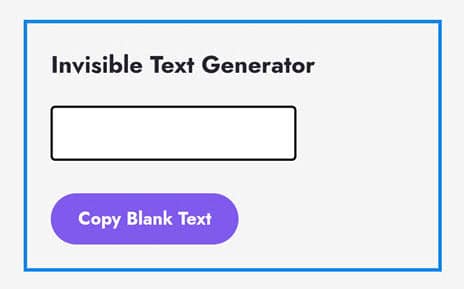 Open the Facebook app on your phone.
Tap and hold the text field of the comment or status update.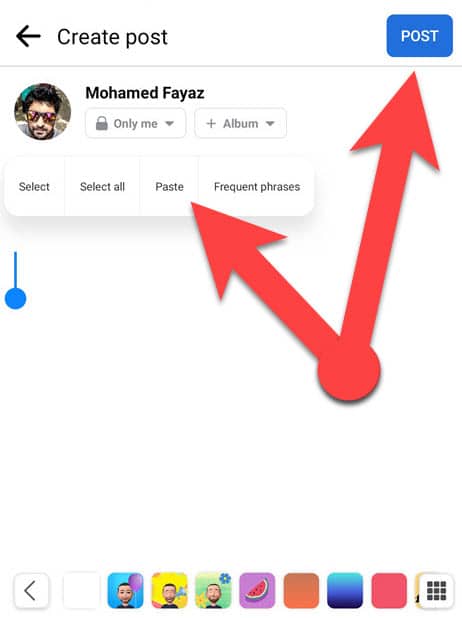 Chose the paste option from the popup menu.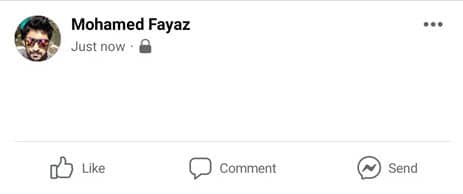 Tap the post button to publish your invisible comment or status with others.
On PC
Log into your Facebook account using your credentials.
Click on the "What's on your mind, [Name]?" input field at the top of your News Feed.
Press and hold the ALT key and type 255 using the numerical keypad section of your computer keyboard
Press the enter button to publish your empty comment or status.
Final Words:
I hope this guide will be helpful for those who prefer to leave a blank comment on Facebook. And no matter what device you are using, it will work on Android, iPhone, PC, and other devices.
Apart from leaving an empty comment, you can follow this trick to send a blank message, add a blank space bio on Instagram or WhatsApp, and create a username as well.
See Also: How to Copy Instagram Caption