Facebook doesn't offer users to download Facebook videos although they can save a video on Facebook to watch it later. But sometimes, you may think to download Facebook videos to your Mobile or PC. In this case, we can use "Facebook Video Downloader" to download an FB video to offline view. See Also: Best Free YouTube Downloader Online
Facebook is the best place to watching videos on the internet. And there are several kinds of videos have been shared on Facebook such as funny videos, news, movie trailers, jokes, educational videos, and so on. After watching a video on Facebook, sometimes you may wish to save it on your Mobile Phone or desktop computer. So I have given some of best free FB video downloaders below. You can use it on your Android, iPhone, Windows Phone, Windows PC or Mac.
There are several types of video downloaders on the internet, some are online downloaders, we can use those kinds of video downloaders on almost every device. Whereas some are app and Softwares, we should install it on our Mobile or PC to download Facebook videos. We will discuss each one below.
Savefrom.net is a popular free online video downloader and the best alternative to KeepVid. It is the best free Facebook video downloader as well as it YouTube downloader. Besides, Facebook and YouTube, which lets you download video files from popular websites such as Vimeo, Dailymotion VK.com, Veojam and many other sites. There is no any limitation to download online videos from this site. You can use it on your PC as well as Mobile phone (Android, iPhone, Windows Phone, Etc.) Additionally, you can also be able to install Savefrom extension for your internet browser, which lets you download any of Facebook video directly from the Facebook official website.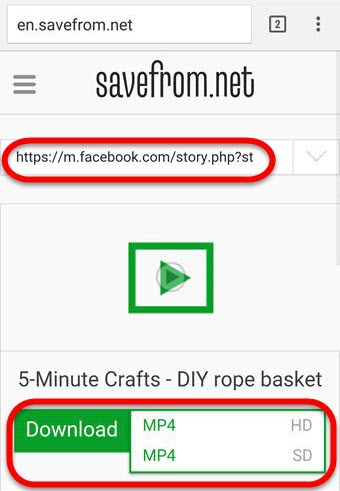 And the best part of this online downloader is that you can download videos in several ways. That to say "Savefrom" website lets you download online videos using its browser extension, also you may able to download videos by adding some letters to the URL, or you can download video files by pasting URL of a video on Savefrom website.  You can read a review of Savefrom net through my previous article.
Downvids: Facebook Video Downloader
Downvids.net is another free website to download online videos. Using downvids, you can download videos from YouTube, Facebook, Instagram, and Vimeo. It is also free to use. No need create an account and no any limitation, users can be able to download the unlimited number of video files through downvids. And the good thing is that downvids also lets users download a video as an MP3 file.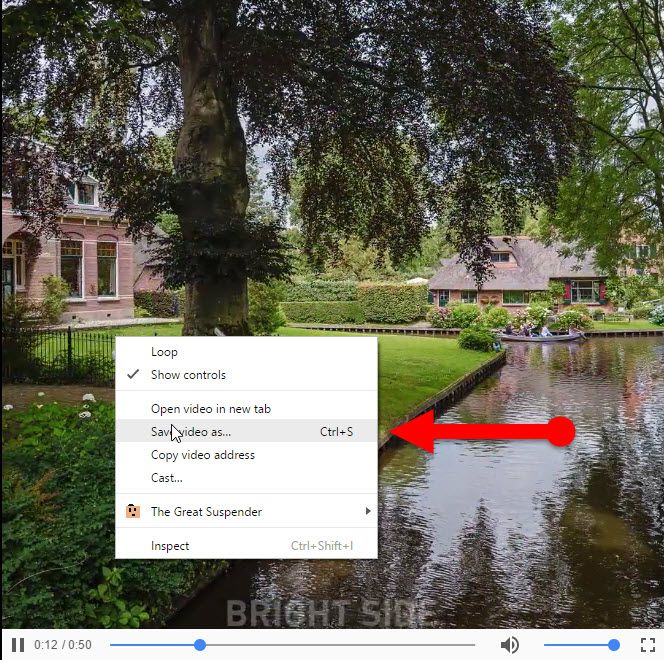 Furthermore, when you downloading a video via downvids, you would be able to choose exact type of video quality from whether normal (480p,) HD (720p,) Full HD (1080p.) To download an FB video using downvids, all you need to paste Facebook video link on downvids website and click the download button. In the final step, right-click on the video, select "save video as" button, and choose a location on your PC to save the video file. If you are searching a free Facebook video downloader, then add Downvids on your bookmark list.
Clipconverter: Downloader and video to mp3 converter online
Clipconverter.cc is one of my favorite websites to download online videos and convert them, and it is convenient to download Facebook videos. Clipconverter not only helps us to download videos, but it also lets users convert videos through online. Using Clipconverter.cc, users may be able to convert videos to MP3 and videos to video. Clipconverter website supports to convert popular types of audio and video files such as MP3, MP4, M4A, 3GP, AAC, AVI, and MOV.
Converting and Downloading is handy with Clipconverter, users just need to paste the link of the video on Clipconverter website. After that, they should select output format and press "start" button. It will take several minutes. After the conversion is finished, users can download the file.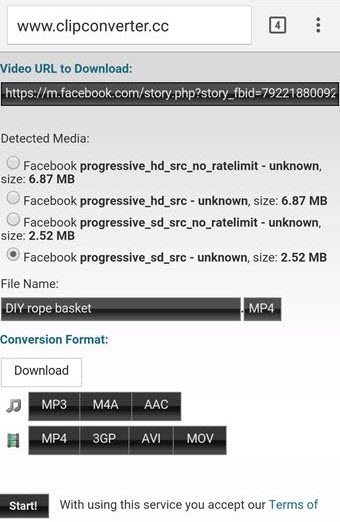 And nowadays almost every website are designed for Smartphones as well. Accordingly, Clipconverter also works with both PC and Mobile. But if you are a Desktop user, then you can get some additional features. That to say, Clipconverter offers Browse extension for Google Chrome, Firefox, and Safari. After installing these Addon to your browser, you would be able to download Facebook videos just in a click. So, Clipconverter also will be helpful for users who wish to use a Facebook video downloader with media conversion feature.
KeepVid: Best Site to Download Online Videos
keepvid.com is the best alternative to Savefrom net Facebook video downloader. And It is a largest online website to download online videos, which supports to download video files from more than 25 video sharing sites. I have listed some video sharing sites below which are supported by KeepVid.
dailymotion.com
lynda.com
vevo.com
abcnews.com
cbsnews.com
aol.com
vidio.com
123movies.to
hotstar.com
break.com
cloudy.ec
collegehumor.com
crunchyroll.com
discovery.com
ebaumsworld.com
funnyordie.com
genvideos.org
ispot.tv
liveleak.com
maker.tv
mixcloud.com
nbcnews.com
soundcloud.com
vimeo.com
vine.co
KeepVid not only an online video downloader but also it provides Softwares for Windows and Mac. It lets you download videos from your Windows 7/8/10 PC without visiting KeepVid websites. Also, it provides extensions for Internet browsers (KeepVid Helper,) which will bring download button beside the video. After installing KeepVid Helper, users would be able to download Online videos quickly, with a single click.
When it come to KeepVid Software, it has designed with a straightforward user interface, simple to use. KeepVid Software lets you download multiple videos or videos playlist at a time. Whereas, you can download videos from 10,000+ websites using this software. And it has supported more than 150 audio and video formats to convert video files. Users also able to record videos from online streaming sites using KeepVid Software. The sad news is that KeepVid Software isn't a free version software although you can use trail version of KeepVid Software, which lets you download only for five times. Its size around 33 MB.
But don't worry! You can download an unlimited number of videos from KeepVid website as well as this page. You can paste Facebook Video URL on below text box and simply download it by clicking "Download" button. Are ready to use this page as a Facebook video downloader?
SaveVid
save-vid.com is another notable Facebook Video Downloader as well as an online downloader. It is totally free to use. And It lets you download online videos and MP3 from Youtube, Twitter, Facebook, SoundCloud, Vimeo, Dailymotion and much more.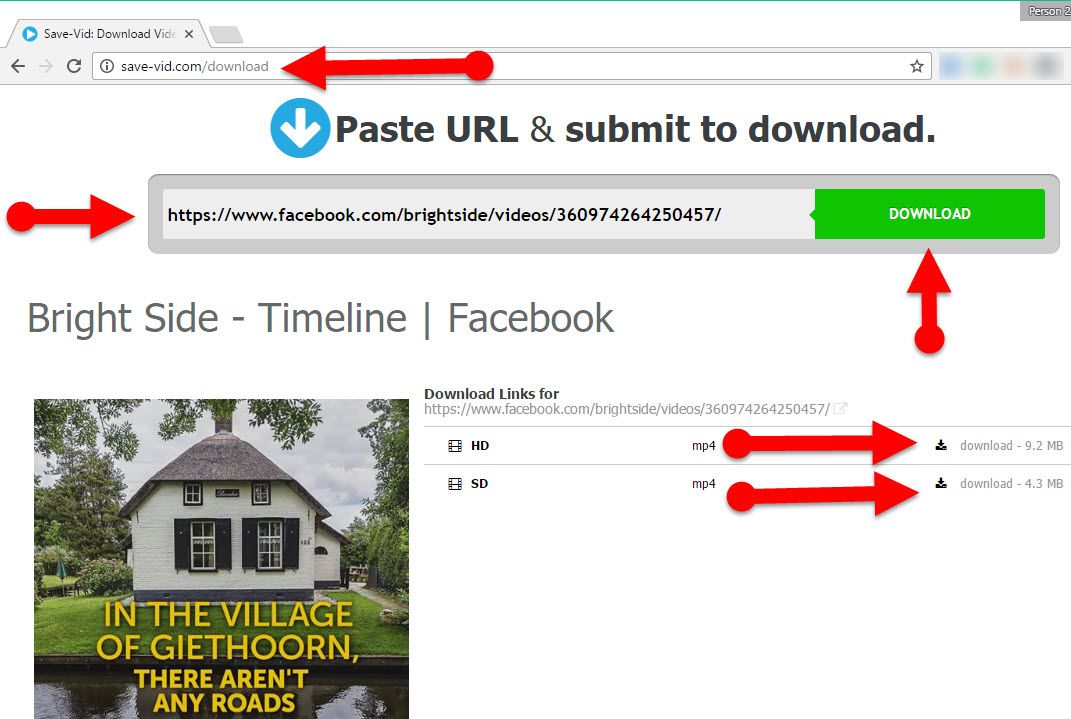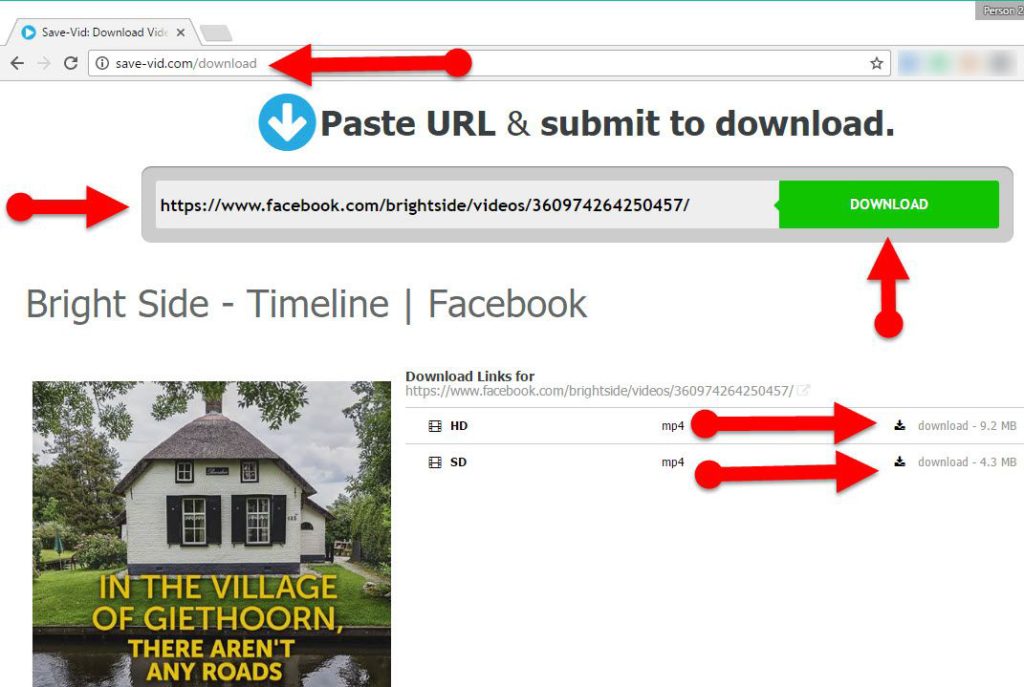 SaveVid also has listed most popular YouTube videos, latest videos, latest SoundCloud music and mix cloud music on its homepage, all are so awesome to watch, and you can get direct links to download them in various quality of video like WebM, MP4, 3GP, Etc.
SaveVid supports to download videos from following sites
Youtube
Facebook
Soundcloud
Vimeo
Dailymotion
TED
Instagram
Flickr
VEVO
Vine
Twitch
Blip.tv
CollegeHumor
Trailers
Adobe TV
Metacafe
Mixcloud, VK
Final Words: Best Free FB Video Downloaders Online
It's a simple review of selected Facebook video downloaders. And the Common advantage of online video downloader is that users can download online videos without using apps or Softwares. Instead, they can simply download any of online videos using such kind of online video downloader that I have listed above. And all of the sites are best websites to download online videos, whereas you can use these websites as a Facebook video downloader. Personally, I have tested all of above sites on my devices, all are working perfectly with Android, iPhone, Windows Phone, as well as PC.