Because of the Internet, we can have conversations with anyone, no matter where they are in the world.
Most modern-day conversations occur on social networking sites like Facebook, Twitter, and WhatsApp.
It can be challenging to put your emotions into words when chatting online. In cases like this, various options are available on today's social media platforms to help you convey your feelings.
Apart from words and voice messages, social media sites allow users to share images and GIFs, videos, emoticons, stickers, and many other things to ensure that users' thoughts are completely conveyed to others.
GIF Images are much more likely to grab the other party's attention during an online chat than alternatives like emojis, stickers, and static pictures.
Since more people like to use GIF images online, I will show you some of the best GIF sites today. They let you look at and download a wide range of GIFs for free, which you can then use to post or comment on social media sites or share with your friends while you chat.
GIPHY: No 1 Site Compared To Other GIF Sites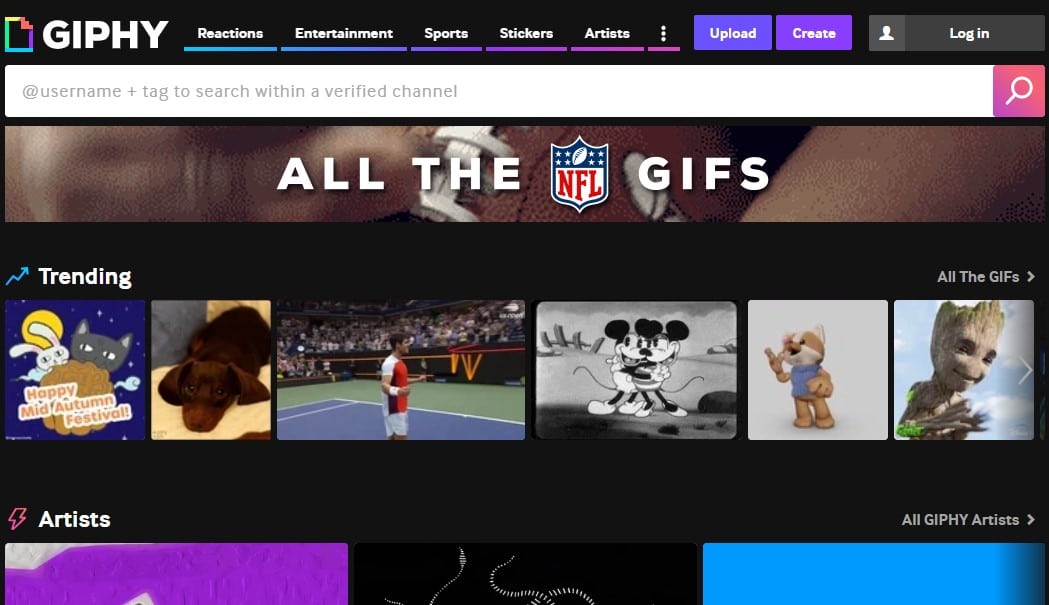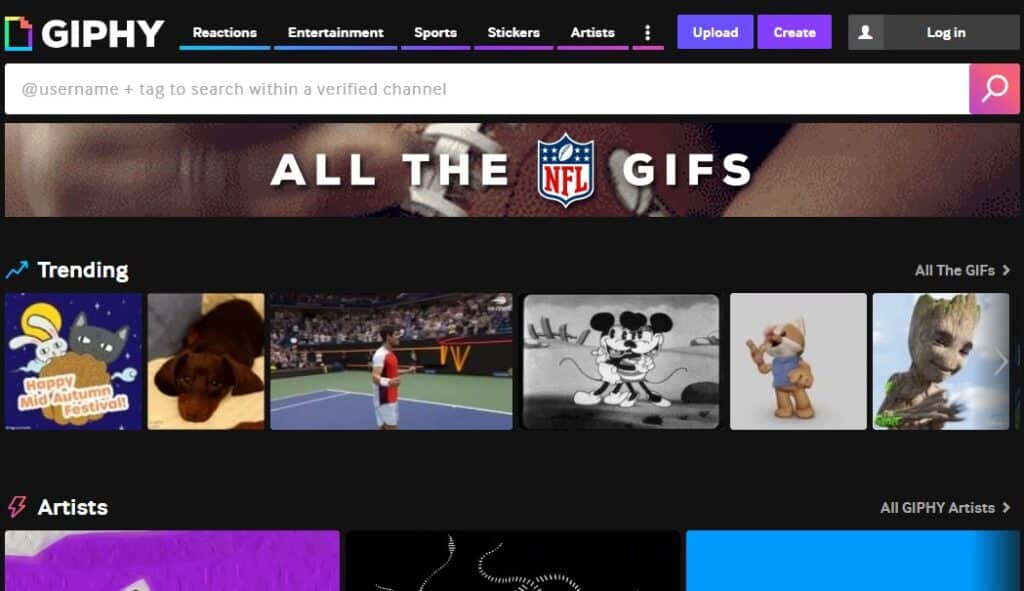 GIPHY, which Meta owns, is a well-known GIF search engine where you can find tons of animated GIF images for free.
Every day, it serves more than 10 billion GIFs to over 700 million users via the website, social networking sites, messaging platforms, and other apps and services.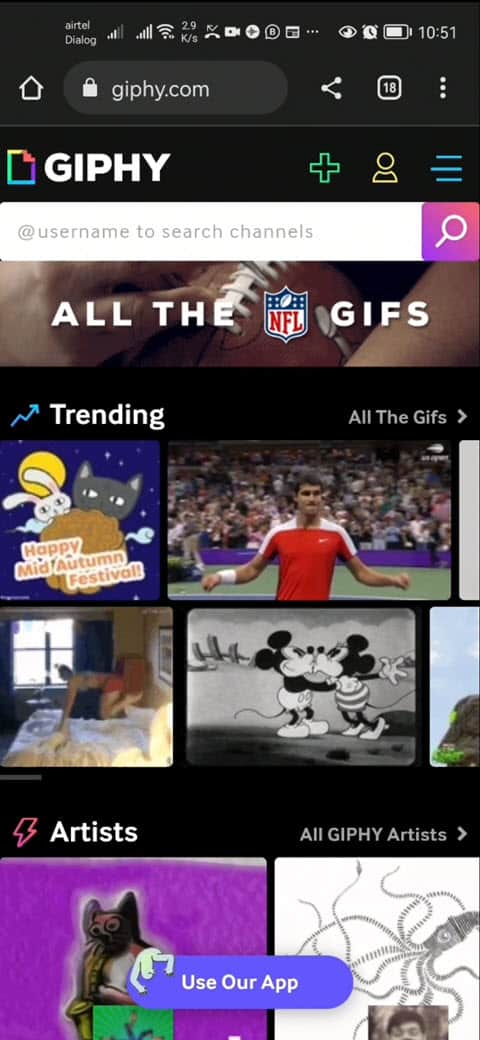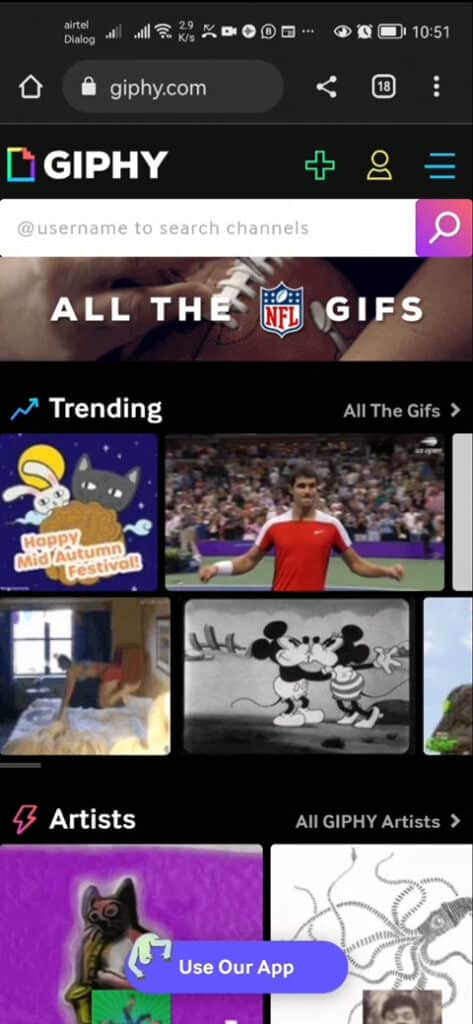 On GIPHY's homepage, it has a big search bar, using which you can easily search for any animated GIF images and stickers you want.
Also, it's the best place to find GIFs in different categories, like animal, cartoon, funny, stickers, etc. Besides GIFs, you can also find short video clips that loop and have sounds. The sound in those short videos makes them look like GIFs with sound.
If you can't find what you're searching for, you can create your own animated GIF stickers, images, or backdrops on GIPHY. Even If you can't find the perfect GIF for your purpose, you can have one created for you by hiring an artist through the world's largest GIF search engine, GIPHY.
Furthermore, the GIPHY site has many free animated GIF backdrops that can be used as virtual backgrounds. It will spice up your physical environment by providing an incredible vibrant GIF backdrop to your video call or zoom meeting.
So, if you are looking for a free GIF website with pro features, I highly recommend GIPHY. You can access all its features from your desktop and mobile.
GIPHY offers two different mobile applications for mobile users:
GIPHY World: If you prefer to add augmented reality GIFs & stickers around your real world, you can do so by using this app. (Available only for iPhone)
Tenor: Google-Owned GIF Sharing Site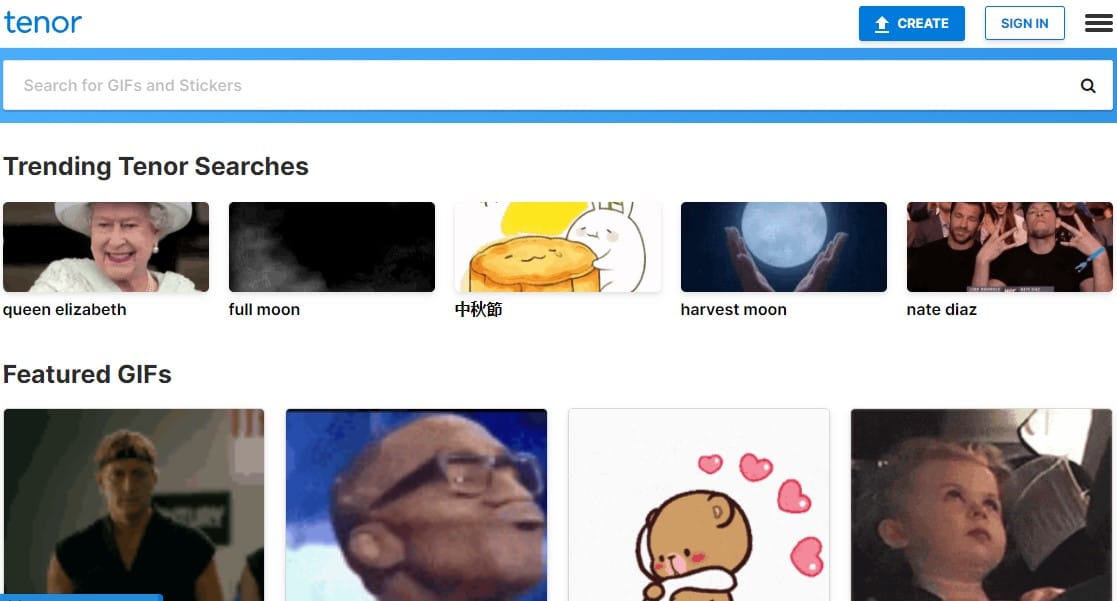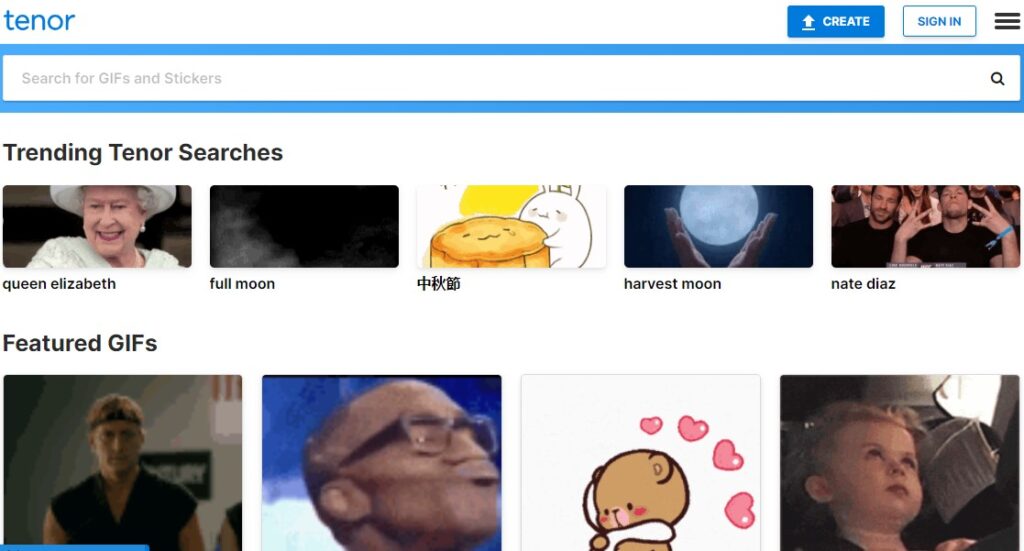 Google-owned Tenor is another excellent GIF-sharing website with over 300 million monthly users, serving over 12 billion GIFs monthly.
Like GIPHY, Tenor GIFs can be found in many places on the Internet, such as WhatsApp, Fleksy & GBoard Keyboard app, Dropbox, LinkedIn, etc.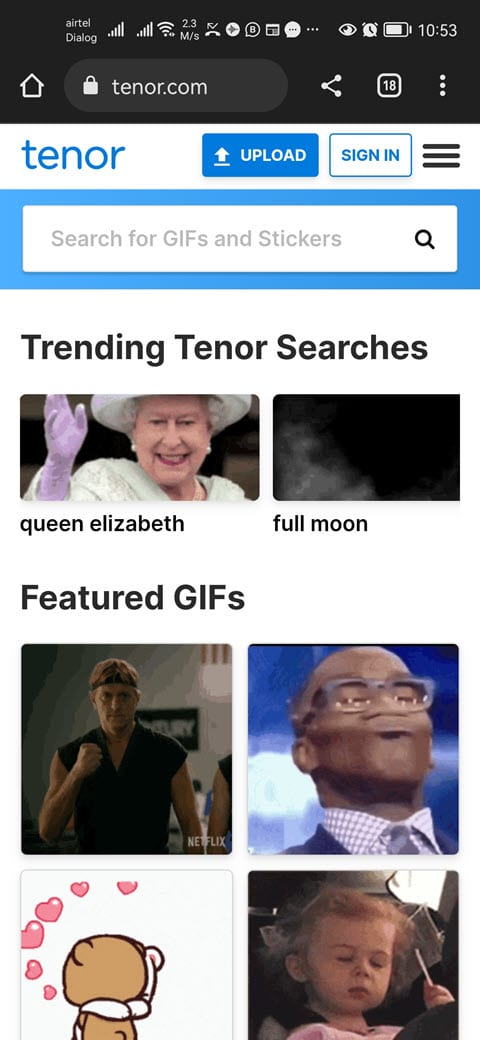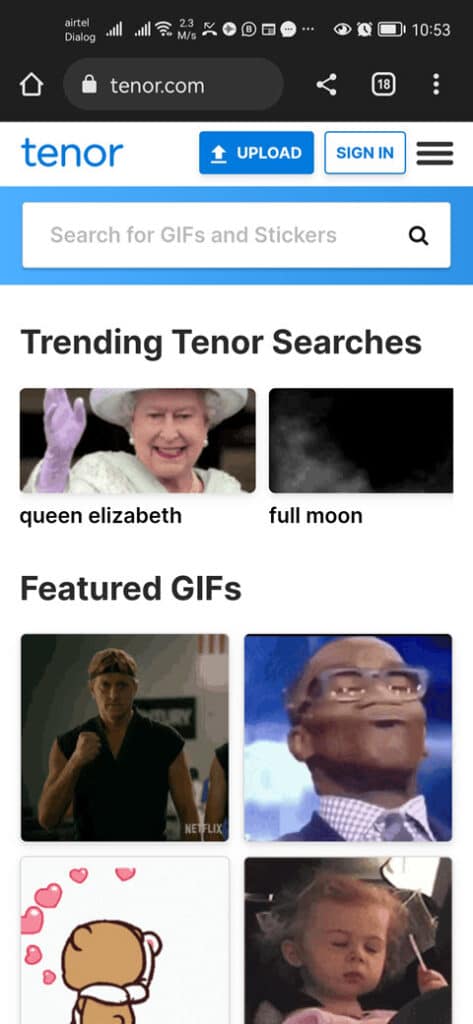 When you search on the Tenor website for a GIF, you will be presented with two choices on the resulting page: animated GIF stickers and GIF photos. Therefore, it will be simple to find and share GIF images and stickers independently.
In particular, this free GIF website has a massive number of reaction GIFs like OMG, Crazy, Angry, Happy, sad, etc. Are you searching for reaction GIFs or stickers? The Tenor is the ideal place to discover them.
In addition, Tenor will suggest related search phrases and GIF images to locate the perfect GIF from its vast library.
After you have located a GIF that best suits your needs, you will have the option to view it as a short MP4 video or a GIF of standard or high definition resolution.
Each sticker and GIF will have its own shareable URL and embed code, which Tenor will provide. To publish the associated GIF on social media platforms like Facebook and Twitter, or to embed it on your website, simply copy the URL or code and paste it into the appropriate location, like a Facebook post or Twitter comment.
The best part about this GIF website is that it will enable you to easily add your own caption to any GIF image. By doing so, you can express your messages more clearly while giving others a visual representation of your emotions.
This free GIF website is optimized for both mobile and PC use, with a clean, straightforward interface. Check it out for yourself at tenor.com.
GIFER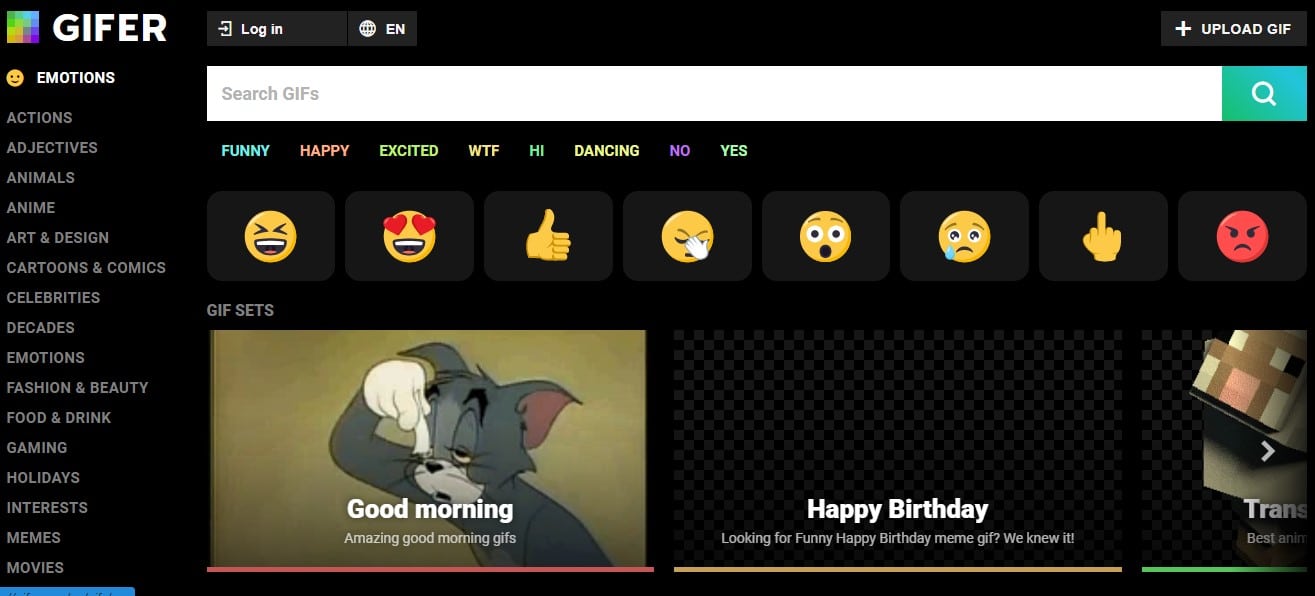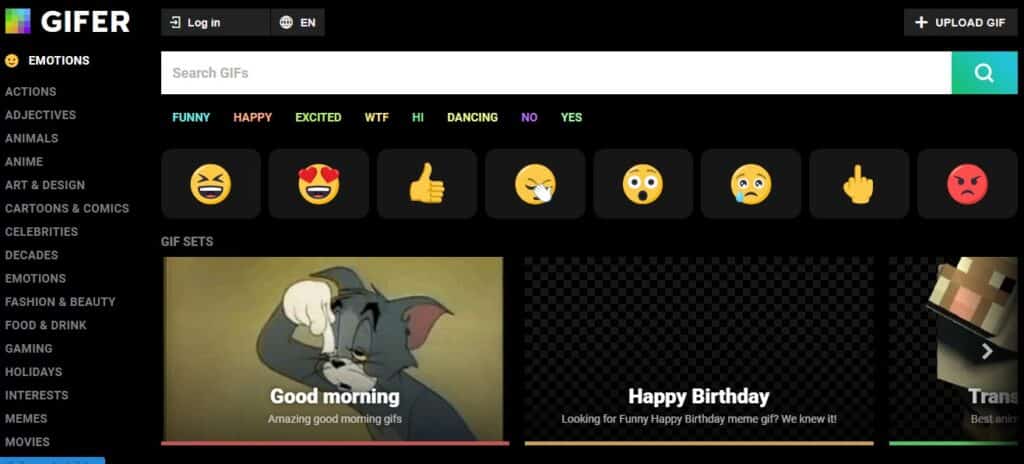 Another great website for finding animated gifs is GIFER.
It also has a large collection of moving pictures that can be used to post a status update on Facebook, visually show your reaction, leave an animated comment on Twitter, and so on.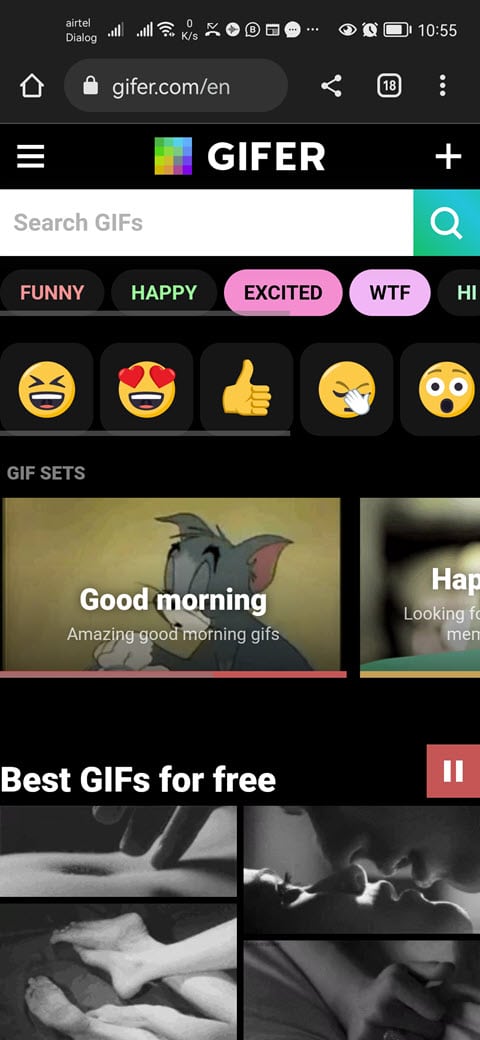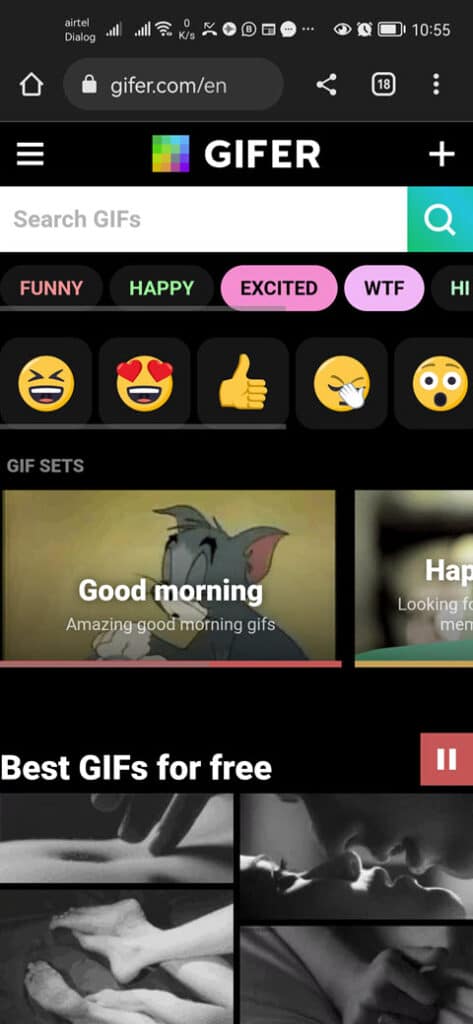 Like GIPHY and Tenor, GIFER offers GIFs for almost any topic you can think of, whether it's feelings, memes, stickers, celebrities, etc.
Once you find the GIF you want, you can download it to your device, add it to your favorite list, copy its URL or embed code, or share it on social media sites.
You must create a free account on GIFER before uploading or adding GIFs to your favorites list, which also applies to GIPHY and Tenor, as previously mentioned.
ImgFlip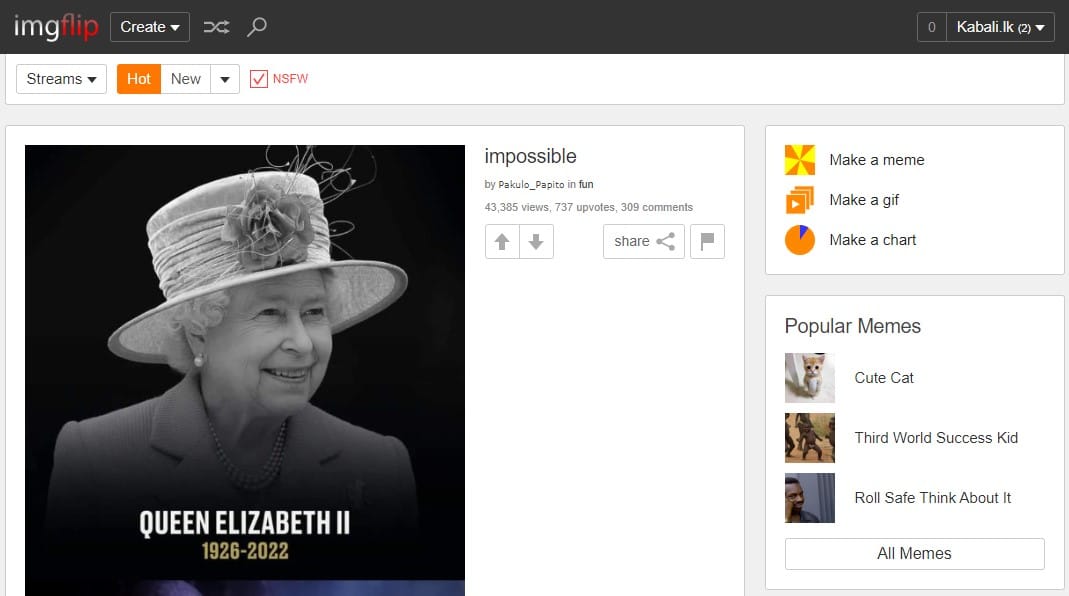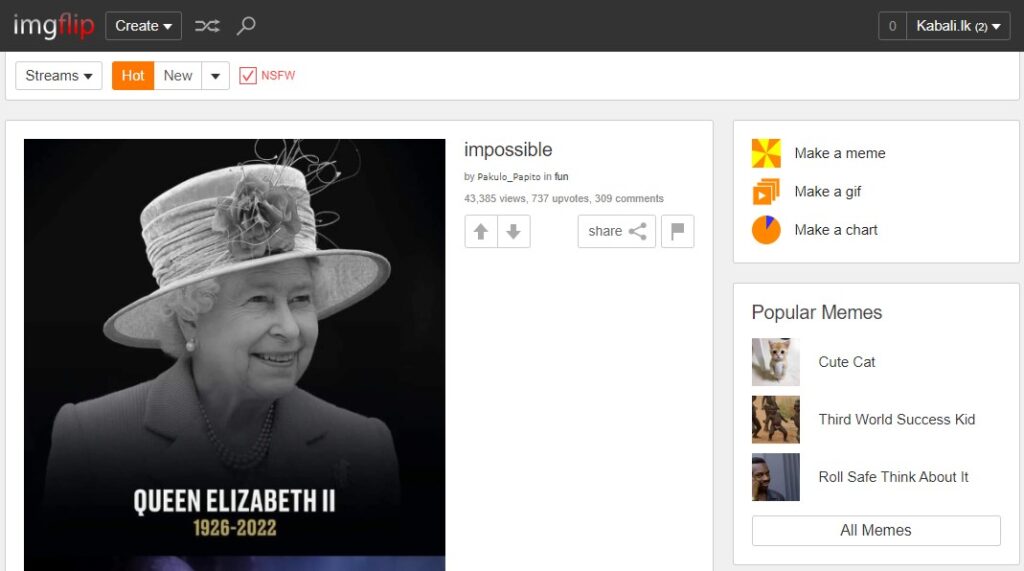 Imgflip is yet another excellent website for browsing, downloading, and sharing animated images. It offers users the highest quality animated GIFs and various features for free.
Imgflip is not only a GIF and meme repository but also allows you to create your own GIF community and draw inspiration from others.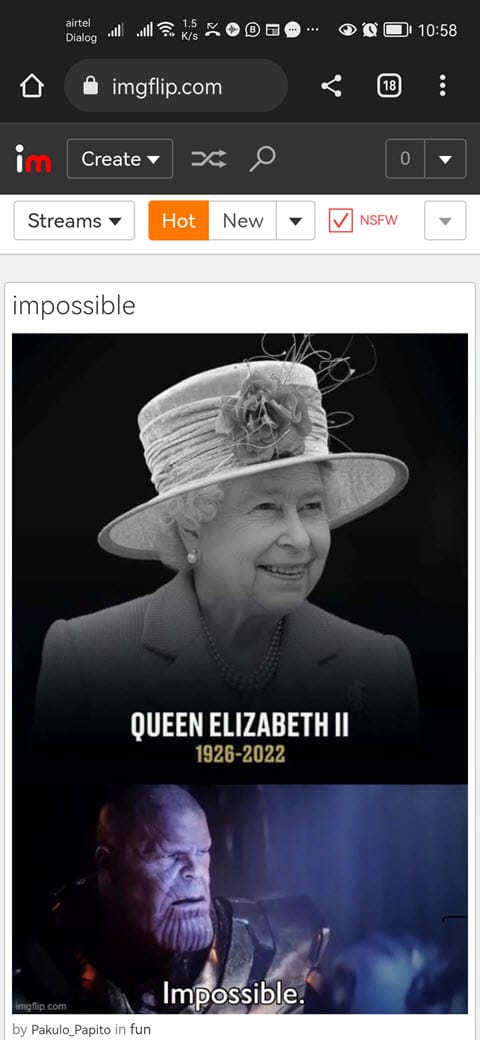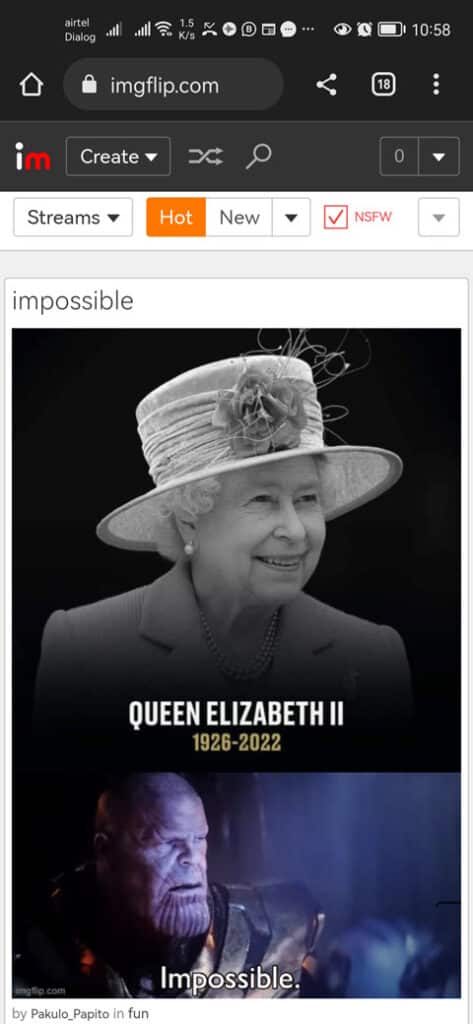 You can create your own stream on Imgflip. This stream will allow you to upload and share your own GIFs, and other Imgflip users can comment on your posts and upvote or downvote them.
You can grow your own GIF community on Imgflip by enabling other users to post their images on your stream, leaving upvotes, downvotes, or comments on those images, and following the streams of other users.
Imgflip's homepage feed is default filtered through Fun Steam, where you can find humorous GIFs and memes.
You can use the search bar on Imgflips to locate GIFs in a specific category, such as "awesome," "prank," "reaction," and so on, or you can browse by "popular streams."
Another best part of Imgflip is that it lets you make your own animated GIF images from your JPEG, PNG images, or videos.
You can use videos from YouTube or any other video hosting site, or even videos saved to your computer when working with Imgflip to create GIFs.
The Imgflip website also allows you to create a GIF by combining multiple JPEG and PNG images from your device or pictures hosted online into one GIF.
Moreover, Imgflip provides a library of the most widely used blank GIF templates, to which you can add your own caption, animation speed, custom FPS, overlay image, etc., to create your own animated GIF images.
In addition, Imgflip offers a browser extension that enables users to rapidly generate GIFs from the videos and images they discover on the internet.
MSGIF
Msgif is another excellent online tool for GIF enthusiasts. It lets you transform the text of your message into an animated GIF.
With Msgif, it's easy for anyone to make GIFs online and add typing animation effects to their messages.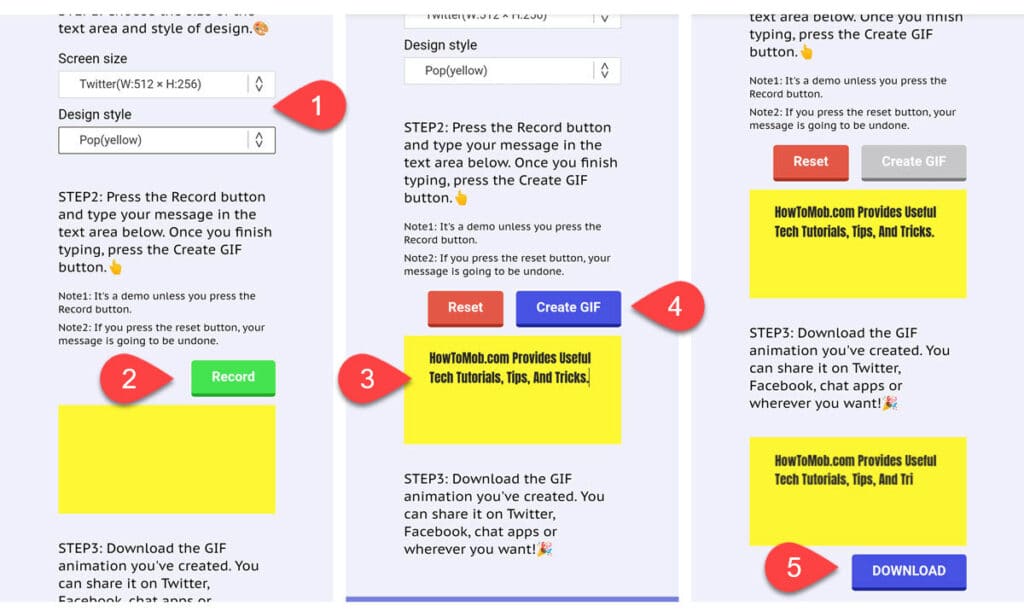 After creating your messages as a typing text GIF, you can save them to your device and share them wherever you want.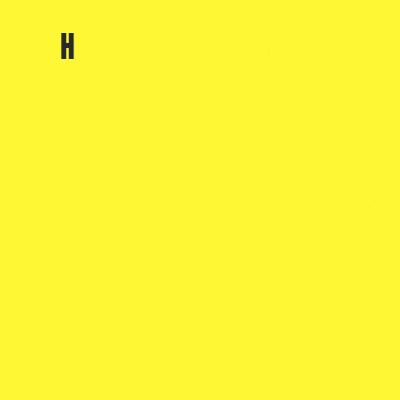 Msgif offers a variety of templates with pre-selected background colors and fonts that you can use to convert the text of your message into an animated GIF. It also allows you to customize your GIF's background colors and font styles.
If you're a fan of GIFs, you should check out Msgif.
GFYCAT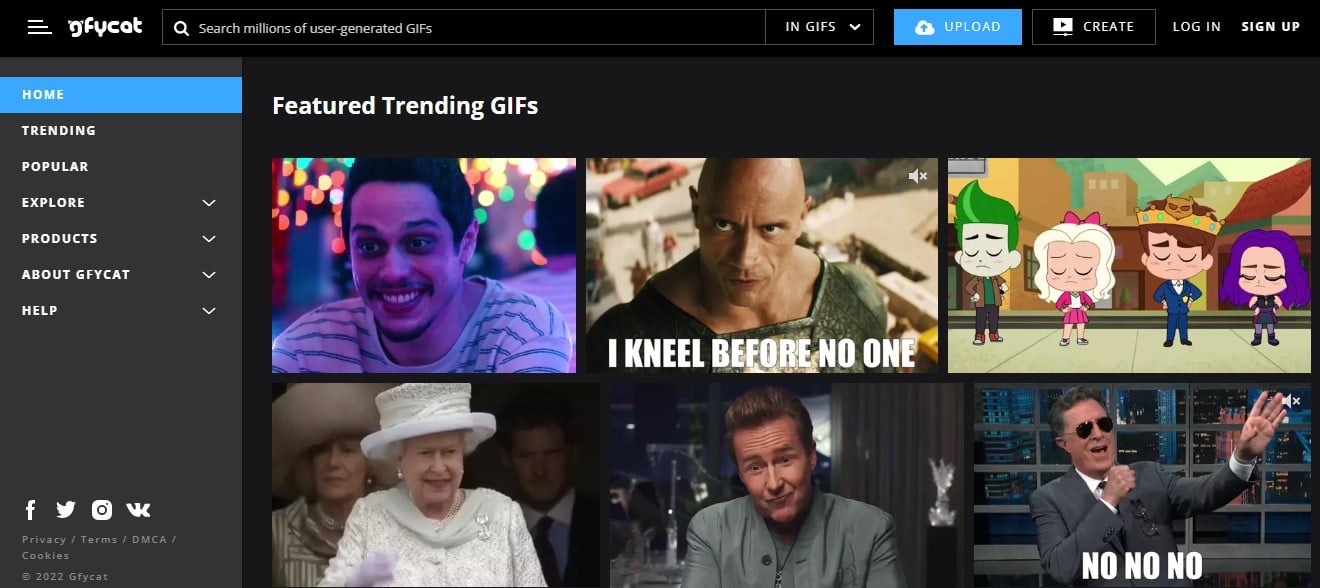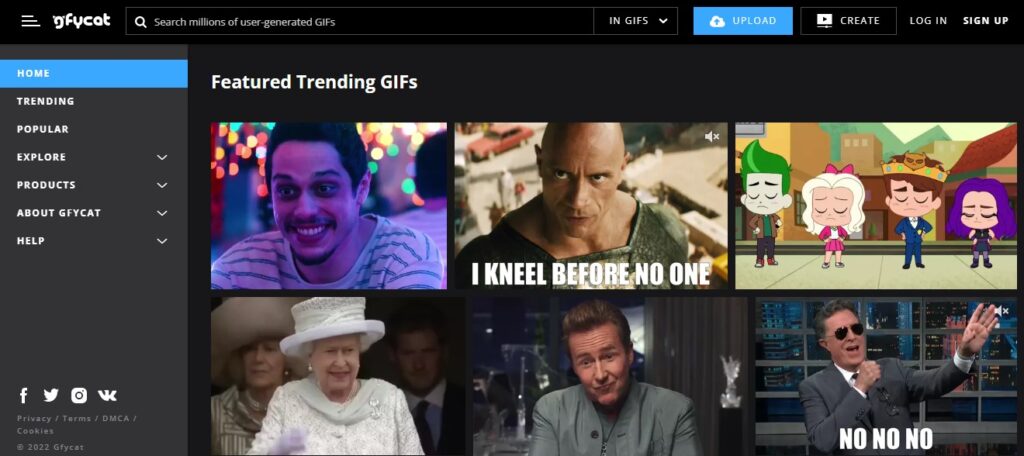 Gfycat is yet another top GIF site for discovering, downloading, uploading, and sharing looping images and videos. The website features a sizable library of GIF images, stickers, and looping videos organized into categories such as trending GIFs, popular GIFs, gaming GIFs, reaction GIFs, sticker GIFs, and more.
Compared to other GIF sites, Gfycat offers some unique features. As a result, users who discover GIFs through Gfycat have access to a more sophisticated experience. The following is a list of some of those features: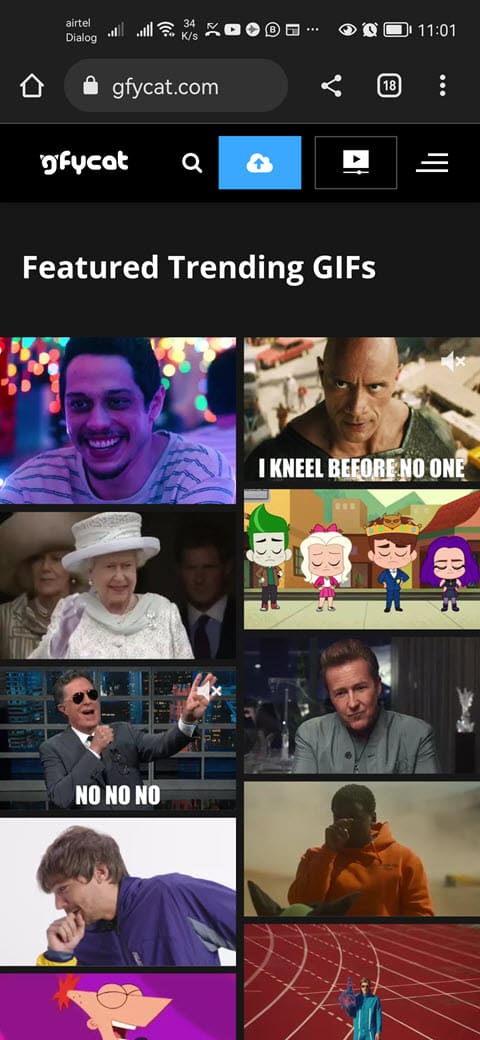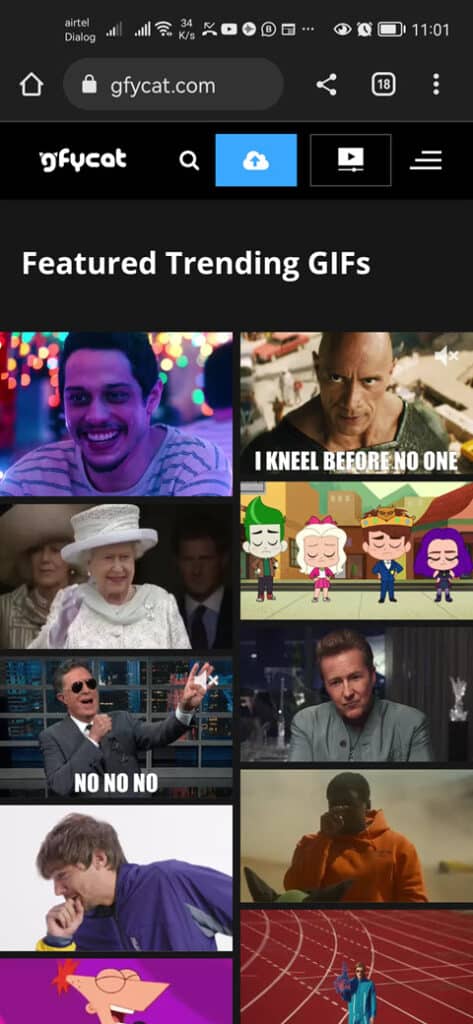 Control Options: With Gfycat's built-in GIF player, users can adjust the playback speed of any GIF and play or pause GIFs at any point to view them frame by frame.
Viewing: You can view any GIF in full-screen or theater mode and even zoom in or out.
Quality: Users can view or download GIFs in SD or HD quality.
GIF with sound: Gfycat allows you to search for GIFs with sound. To find a specific gif with sound in Gifycat, select "WITH SOUND," type your keyword in the search bar, and press the "Enter" button on your keyboard. You can now find a lot of GIFs with sounds that match what you're looking for.
Furthermore, if you sign up for a free Gfycat account, you will be able to enjoy many more benefits, such as the ability to create your own GIF with sound, save GIFs you like and sync them between Gfycat.com and its mobile app, customize your GIF feed, and so on.
You can also use Gfycat to create your own GIFs from YouTube, Facebook, Twitch, Vimeo, and Instagram videos, as well as videos saved on your device.
The Gfycat website provides a user-friendly interface and responsive design, enabling visitors to have an enjoyable experience regardless of whether they are using a desktop computer or a mobile device to browse GIFs.