Can't you express your emotion with words? That's why stickers are available on almost all chatting apps. Stickers on chatting apps are more popular and better than ever. They can quickly express multiple emotions, such as happiness, sadness, love, joy, and more.
So, we have picked some of the best sticker apps for WhatsApp from the massive WASticker apps they have listed on the Google Play Store.
After reading this well curated collection of sticker apps, you can download beautiful stickers or make custom stickers with your selfies and photos. Read also: How To Create Animated Stickers For WhatsApp
We have divided this app list by app's popularity, rating, and ads-serving type for your convenience. Let's see the list of the best WASticker apps.
Most Downloaded Sticker App On Google Play Store
In most cases, highly downloaded apps can give an excellent experience to the users. Because of its simplicity or better features, the app may have got the highest download than other competitive apps in Google Play Store. So, here, we have picked some highly downloaded WhatsApp Sticker apps after testing them.
1. Sticker.ly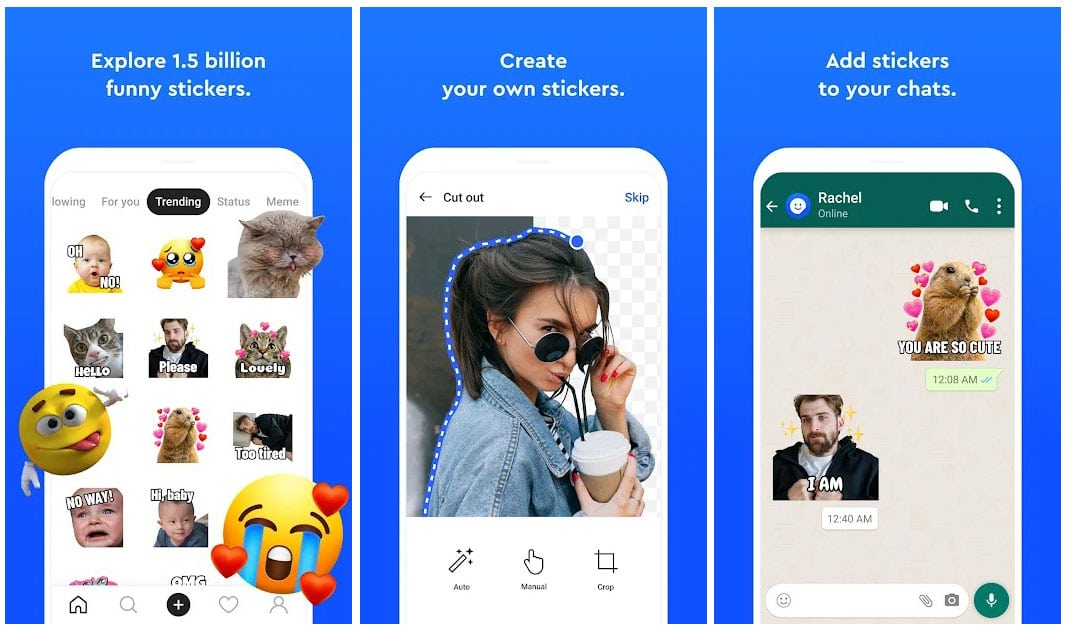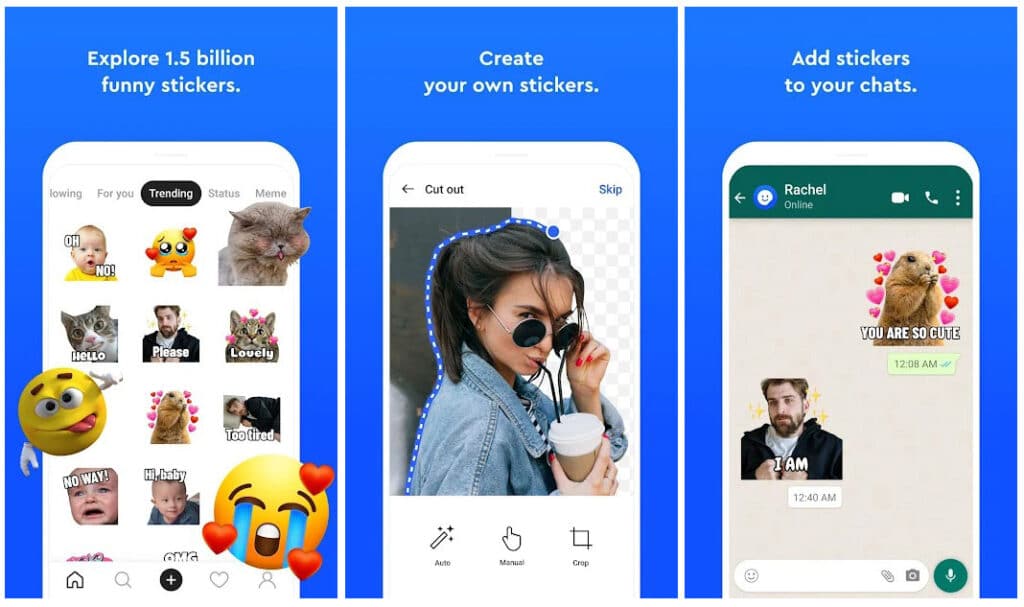 Sticker.ly is one of the most downloaded Sticker apps in the Google Play Store, with over one hundred million app installs. It has a good collection of sticker Packs in various categories like emojis, cartoons, Love, funny cat, dog, and more.
Apart from these sticker collections, the Sticker.ly app lets users create custom stickers with their own selfies or images. The app can automatically remove the background from your pictures while creating stickers, and then you can add emojis and text to your photo to make a sticker.
Pros:
Can quickly add any sticker packs to your WhatsApp
Stickers available in multiple categories
No interfering ads
Able to turn multiple images into stickers at once.
Can create animated stickers.
Cons:
Only a few animation stickers are available.
There is an unwanted status section on the app (It's not related to stickers.)
2. Sticker maker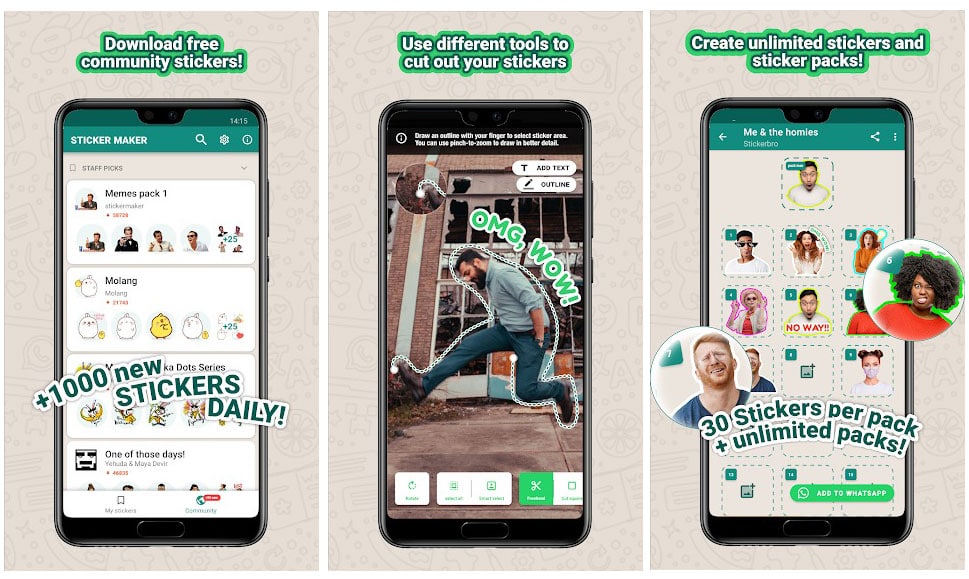 Sticker maker is another well-known Sticker app for WhatsApp, specially designed for creating stickers. The app is straightforward to make fun stickers on your phone. This app doesn't have its own WhatsApp sticker pack collection though you can download a range of WhatsApp sticker packs from its community section; other sticker maker users create them.
To create a WhatsApp Sticker, You can import your images to the app by taking a selfie of yourself or from the Gallery, then cut them with your finger. After that, you can add stylish texts and change the outline color of your sticker. And then, tap the save button to add it to your sticker pack.
In this way, you can add up to 30 stickers to your sticker pack. Finally, you can add them to WhatsApp by tapping the "ADD TO WhatsApp" button.
Sticker maker also provides an option to create and restore a backup of your stickers. Since this backup file has intergraded with Google Drive, you can quickly bring back your favorite stickers to WhatsApp if you lost or stolen your phone or reinstall the app.
Pros:
Able to create custom text stickers.
Easy to use.
Can extract the subject from your image by the freehand or smart selection tools.
Cons:
The app requires a premium version for creating animated stickers.
3. New Stickers For WhatsApp – WAStickerapps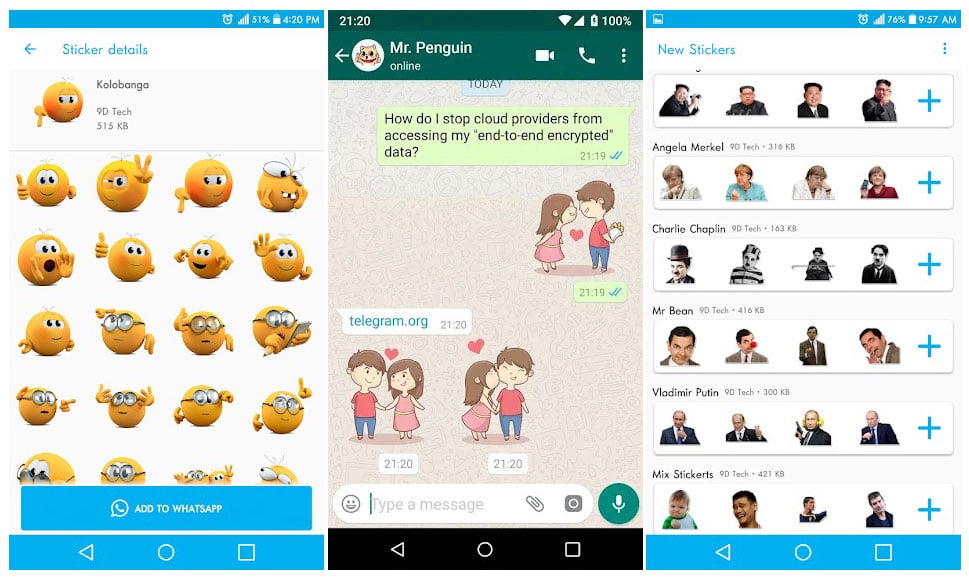 New Sticker For WhatsApp – WAStickerapps is another must-have android app for those who want to shock their friend with unique stickers every day. The app has an extensive collection of WhatsApp stickers in all varieties, including Nuevos, emoji stickers, Indian stickers, 3dsticker, and meme stickers.
The app has a built-in sticker-making feature with essential sticker editing tools like auto, manual, rectangular, and circular crop tools. It allows you to create your own sticker by overlaying text and emojis to your picture.
However, compared with other sticker maker apps, the "New Sticker For WhatsApp – WAStickerapps" app should be improved in the sticker editing function. However, its different sticker packs may undoubtedly impress any sticker lover.
Some of the popular Sticker Packs For WhatsApp that this app provides.
Kolobanga 3D emoji and smiley face sticker pack in the New emojis section.
Valentine's Day sticker pack in the Love sticker section.
Funny Memes sticker pack in the Funny sticker category.
Mr. Been, Putin, Kim Johng, and BTS sticker packs in the Celebrities section.
Happy birthday, Thank you, and speech bubbles emoji sticker packs in the Texting section
Minions, Joker, and Harry Potter sticker packs in the Movie category.
Fortnite and PUBG Sticker sets are in the Games sticker section.
Pros:
There is a vast collection of WhatsApp sticker packs.
All sticker packs are free to use.
Able to create your custom stickers.
Cons:
The app shows Interfering ads within the app.
The built-in sticker maker needs improvements.
4. WhatSmiley: Emojis WASticker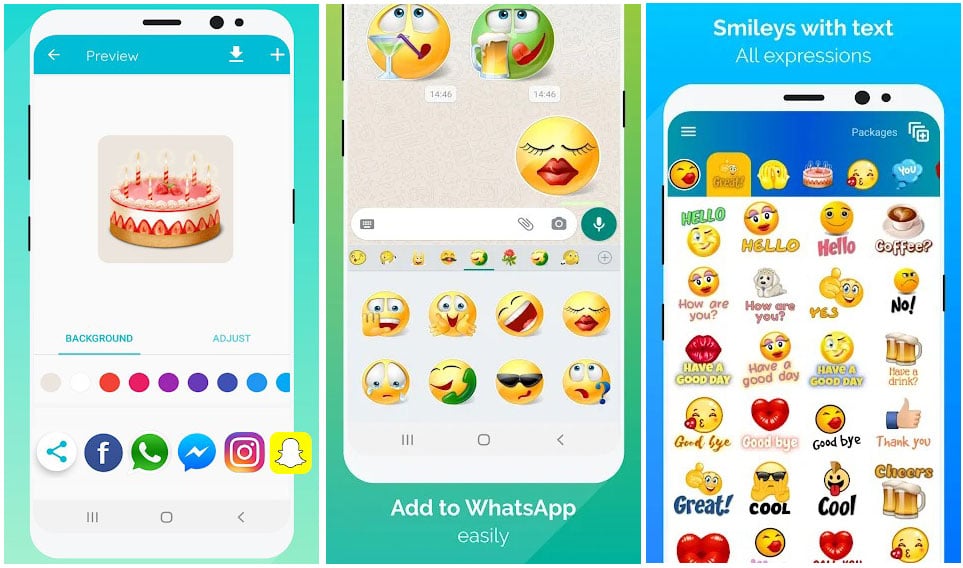 WhatSmiley: Emojis WASticker is another best app to download stickers for WhatsApp with 1000s of awesome animated and non-animated stickers. It has been specially made for providing Emoji stickers for WhatsApp.
There is a wide range of the cutest sticker packs available in this app; all represent an emoji such as happy, sad, love and smiley face, animal, and the current date and month emoji.
In addition to that, the "WhatSmiley: Emojis WASticker" app allows you to replace the text of any emoji with your own words, adjust the direction and scale, and change the background color of any emoji listed on the app.
Once you open the app, you will see the list of animated and non-animated emoji stickers that have been categorized by type. You can either select emoji stickers one by one and add them to WhatsApp from the main screen or add the whole emoji sticker pack to WhatsApp from the "HD Packages for free" section.
Here are some of the Cutest sticker packs they listed on the app
Smileys with text
Funky Santa Claus
Hand signs emoji stickers
Merry Christmas animated stickers
Love Lips GIF sticker pack
Halloween WhatsApp sticker pack
Pros:
HD sticker packs
Intuitive user interface
Animated and non-animated sticker packs are available.
Cons:
The app requires the premium version for removing the ads and unlocking the advanced features.
Suitable only for emoji sticker lovers.
Top Rated WhatsApp Sticker Apps
We would also have to consider the app rating and reviews while downloading an app. A highly-rated app couldn't be wrong because it receives a top rating and positive reviews thanks to its features and user experience. Let's see a top-rated WhatsApp sticker app with high app installs.
Some 96% of respondents say they would consider downloading an app with a 4-star average rating in an app store; 50% would consider downloading an app with a 3-star rating; only 15% say they would consider downloading an app with a 2-star average rating.

Marketingprofs
5. Stickers Emojis WAStickerApps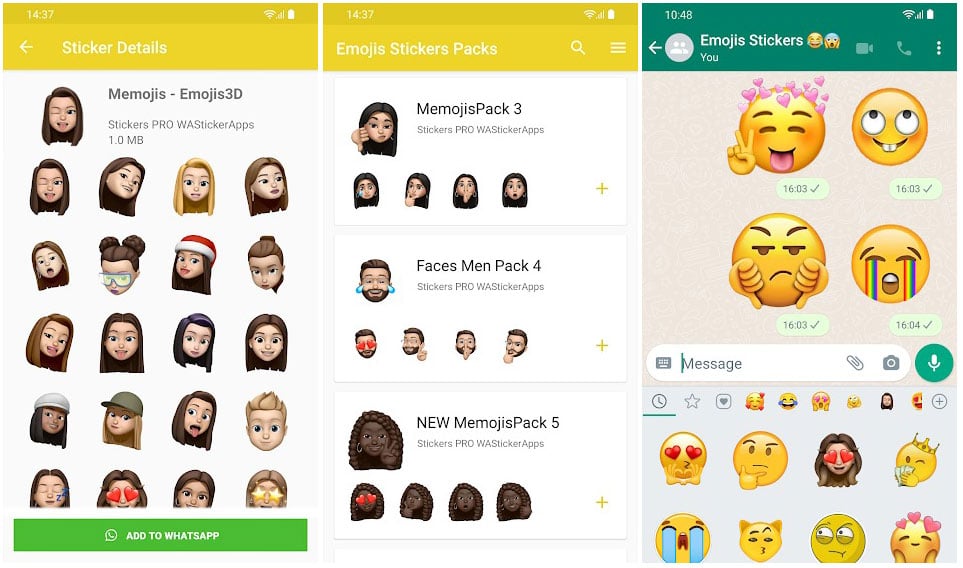 Stickers Emojis WAStickerApps is a simple Android app to download stickers for WhatsApp. It comes with a limited collection of emoji stickers, but all stickers are unique compared to other sticker packs given on the app.
The app is straightforward to use. To add a desired sticker pack from the app, you only need to tap the "+" button at the bottom right corner and choose either WhatsApp or WhatsApp business app if you have installed both apps on your phone.
Some of the sticker packs of this app are below.
Memojis – Emojis3D
Funny Emojis Faces
Thinking Faces Pack
Faces Men Pack
Cat Emoji Faces
New Love Emojis
Pros:
User-friendly interface
Easy to use
Cons:
Limited sticker pack collection
There are no animated emoji stickers
Ad-free Sticker Apps For WhatsApp
Nowadays, it's hard to find an ad-free Android app on Google Play Store. Almost all app developers have integrated their apps with ads for generating income. That's why many Android apps require you to become a premium member or Google Play Store subscriber or buy a pro version.
Beyond this strategery, there are some apps on the Play Store, and they help users access all features without ads and any limitations for absolutely free. The "Personal stickers for WhatsApp" is one of them.
6. Personal stickers for WhatsApp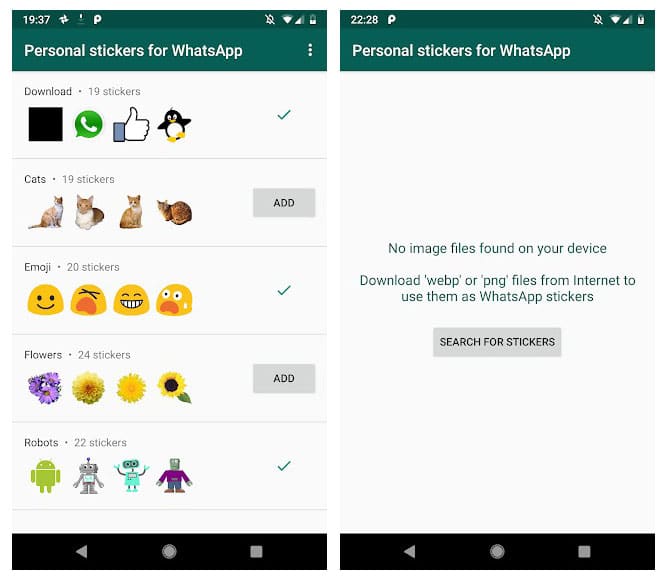 Personal stickers for WhatsApp is another popular sticker app for WhatsApp. Most WhatsApp users use this app to add stickers from their Gallery to WhatsApp. It has a simple interface, and anyone can quickly operate the app to turn their downloaded GIFs, captured selfies, or edited photos into WhatsApp stickers.
Upon opening the app, the app will automatically recognize the GIFs and photos from your photo album and show them category-wise on the app. After that, you may be able to add them to WhatsApp by tapping the "ADD TO WHATSAPP" button next to the corresponding sticker pack.
Pros:
Simple user interface
Ad-free app
Seamlessly turn any GIFs, JPEG, and PNG into Wabp (WhatsApp Sticker File)
Cons:
There are no pre-built sticker packs
Not able to customize your pictures.
7. Video Stickers for WhatsApp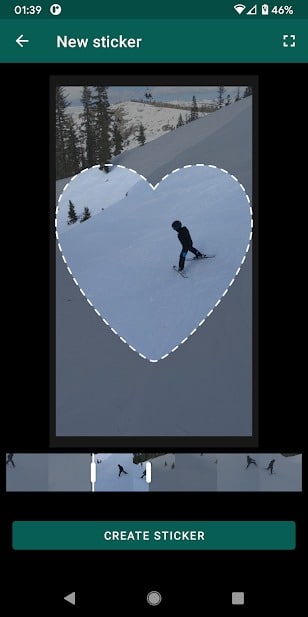 Video stickers for WhatsApp is another pretty-well Stiker app for WhatsApp. It comes with a user-friendly interface and doesn't show any ads within the app.
After downloading GIFs or funny videos or making 3-4 seconds video intro videos using an app, you can turn them into cool animated stickers with the "Video stickers for WhatsApp." app.
While making stickers with this app, you can crop your videos into multiple shapes like rectangle, oval, heart, and star. Also, the app allows you to choose a loop timing for your animated stickers.
However, you must select a smaller sticker duration (maximum 4 seconds) to improve your resulting animated sticker. Otherwise, your moving sticker won't give a smooth preview.
Pros:
100% free
No ads
Easy to use
Able to create unlimited stickers and sticker packs
Cons:
There are no its own sticker packs
No options to add texts or emojis to the sticker
8. Gboard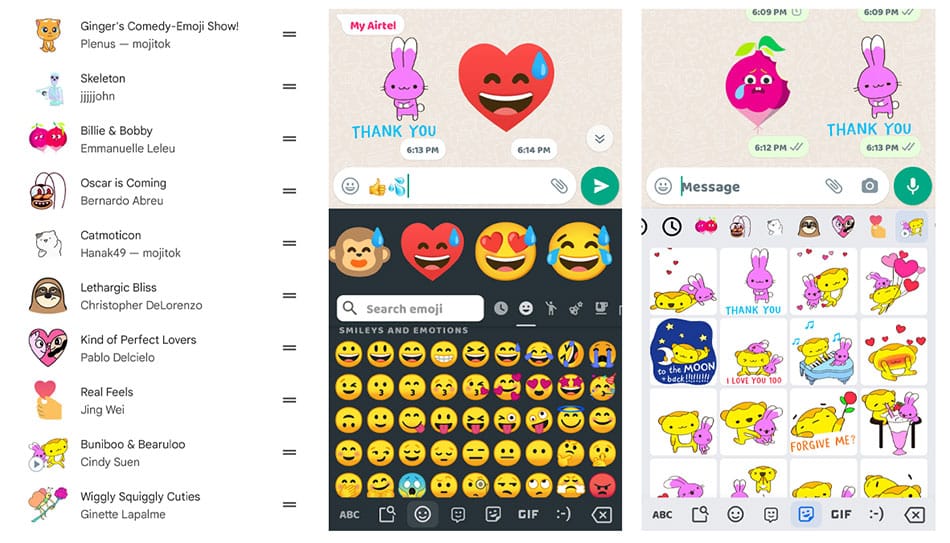 Even though the Gboard (Google Keyboard) isn't a dedicated sticker app for WhatsApp, it has a lot of gorgeous animated and static stickers. They are entirely free to use on any chat app, including WhatsApp.
Gboard's sticker packs are distinct from others, each containing unique characters, callouts, and animations. Each sticker pack includes the name of the artist who made it.
You can include the entire sticker pack in your collection of stickers in Gboard, or you can use the sticker you want from any sticker pack without adding it to your favorites.
Additionally, Gboard allows you to design and share custom stickers using the Bitmoji app. It enables users to design their self-styled avatars by customizing eye color, face shape, hairstyle, etc.
Furthermore, the Gboard app has a unique "Emoji Kitchen" feature, enabling you to combine multiple emojis and create big-size emojis in mixed styles. They can be used on WhatsApp as stickers.
Because of these things about the stickers in Gboard, we put it on this list of the best sticker apps for WhatsApp. It has a high rating (4.5), has been downloaded more than 5 billion times, and is free.
Conclusion:
As WhatsApp includes a few sticker packs, we need to find more sticker packs from other third-party apps to be different than others and express our various feelings. Even though many apps are available on the Google Play Store to download stickers for WhatsApp, some apps don't give a good user experience, are filled with annoying ads, or contain low-quality stickers.
We have reviewed several sticker apps for WhatsApp to meet your intention regarding the WhatsApp sticker in this article. Many apps come with their own set of non-animated and animated WhatsApp stickers. Some apps come with their pre-made sticker pack with an in-built sticker maker. Some other apps only allow you to turn your photos and videos into WhatsApp stickers.
So I hope, After reading through this article, you could be able to find a suitable WhatsApp sticker pack for you, like funny memes sticker pack, thinking faces sticker pack, 3D emojis WhatsApp sticker pack, or anything else. If you can't find a sticker pack that you imagine in your mind, then you can quickly create a custom sticker pack with your own selfie or photo, animated text, or 3D emojis as per your imagination.