Want you to send an animated greeting message to someone with your own custom text? Or do you want to make a personal animated text typing GIF image for any other reasons? Here, you can find your answer.
Plenty of animation effects is available on various GIF-making apps and other online GIF makers to apply to your custom texts. Many people choose the typing text GIF animation effect to use their personal text GIF among those text animation effects.
So this article will tell you multiple ways to make a typing text GIF on your Android phone or any other device like iPhone and PC. To create an animated writing text Gif on your device, I have brought you an excellent free online animated text generator, animated text video maker app, and video to GIF converter app.
Before we begin the tutorial, let's see some of the reasons why you need to make a typing text animation GIF.
Purpose of creating a typing text animation GIF:
To greet someone for their birthday, wedding, or anniversary in a modern way.
Send animated stickers on WhatsApp, Telegram, Line, or other messenger services.
To attach to your email or blog post.
Animated Text Typing GIF Maker Web App For Any Device
You know that We can access the web apps using any IoT devices to perform our various tasks like editing photos, playing games, taking notes, etc. The Msgif is one of those web applications.
The Msgif is a pretty-well free online animated text generator to create typing text GIF animation that comes with an intuitive user interface, and you can access it through Android, iPhone, and Desktop PC for absolutely free. Furthermore, this free online animated text editing tool provides colorful pre-made templates to add your own wring animation text GIFs without any watermark.
The Msgif web app offers two different screen sizes (resolutions) to customize your animated writing text GIF image. The first is 512*256 pixels; it's suitable for creating typing text GIFs for Twitter. And the other is 400*400 pixels; it will recommend making GIFs for other social media sites like Facebook, WhatsApp, etc.
How To Make a Typing Text GIF on Msgif.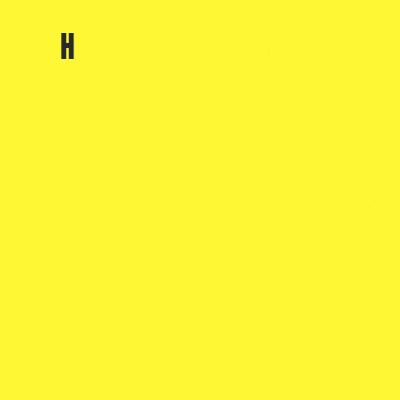 Making a typing text GIF with Msgif is very simple. Its simple interface lets anyone create text typing animation GIFs quickly. Please follow the instructions below to create a typing animated GIF with the Msgif typing text gif maker website.
How To Make Typing Text GIF With Msgif
Visit the Msgif website.
From the drop-down menu, choose the size of the text area and style of design.
Tap the Record button and type your message in the given text area.
Upon you finish typing, tap the Create GIF button.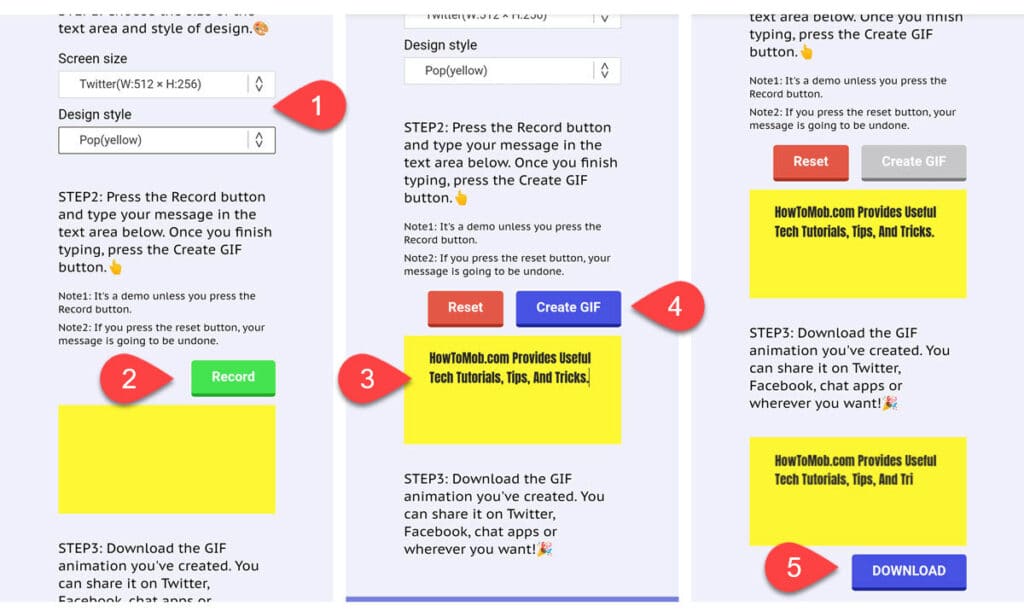 Finally, tap the Download button to download your typing Text GIF to your device.

TIP: You can also personalize your typing text GIF by choosing a custom font, color, and background colors while generating your GIF. Select the "Customized" option on the Design style drop-down menu to customize your typing text GIF.
Create Writing text Animated GIFs with Apps.
As long as you are an Android or iPhone user, you can create a typing text GIF with this second method as well. Even though there are no dedicated apps to make typing text GIFs on Google Play Store or App Store (at the time of writing this article), we can create awesome typing text GIFs by using these Android apps given below.
The CapCut App: Make Typing Text Animation GIF videos.
CapCut is a powerful video editing app for Android and iOS that comes with many video editing tools, including the typing text animation effect. You can use the CapCut Android app to create typing text animation short videos. After that, you can turn that short video into a GIF image by using a GIF editing app.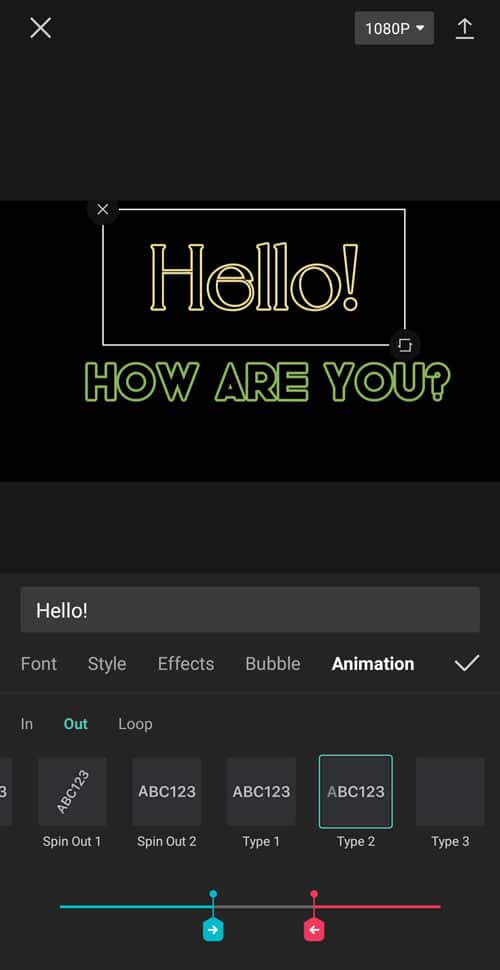 Applying a typing text animation to your message with CapCut is very simple. All you have to do is once you install the app on your device, you need to type your own message in the text field and apply typing animation effects from various animation effects to your message. After that, you can export your custom animated typing text video to your device by tapping the export button.
But the app only allows you to save your animated message as a video, So you have to use another GIF editing app to turn your videos into GIFs. There are a lot of apps available on the Google Play Store and App Store to turn videos into GIFs.
You can use this free GIF editing app, called the GIF Maker – GIF Editor, which lets you turn your animated typing text video into GIF. Alternatively, iPhone users can use this Video to GIF app.
Final Words:
Unlike before, now GIF images are widely used on the internet. Almost all chatting apps support this file type because they can express users' emotions more than non-animated images.
We usually share an exciting, funny, or informative portion of the video clip as a GIF with our friends and others. Apart from this, you can also generate important NEWS, helpful information, or famous quotes using a free online animated text maker website and share them via social media sites as well.
Making an animated message with the Msgif typing text GIF maker is simple. It has specially designed for making typing text GIFs. Also, It comes with a straightforward interface, and you can generate animated text messages using any device. It's ads-free and will not put watermarks on your resulting GIFs too.