Animated stickers speak louder than words! And they express more emotions than regular still-image stickers. One step ahead of this, your custom animated stickers will be more attractive than other pre-made animated stickers. Unlike before, now WhatApp lets send animated stickers on WhatsApp during a WhatsApp conversation. So in this guide, you can learn how to make animated stickers for WhatsApp.
WhatsApp animated stickers are also known as multiple terms like moving, video, GIF, Loop, and Motion stickers. Whatever you call them, they are all essentially the same thing.
For creating a WASticker, there have been many third-party apps listed on the Google Play Store since implementing the possibility of importing third-party sticker packs. However, many of those third-party apps focus on creating non-animated WhatsApp stickers.
So, creating a non-animated sticker on your Android phone is straightforward. But, It could be a little complicated for an average smartphone user to make a moving sticker. Hence, to meet your imagination, you need to install more than one app on your smartphone to create a GIF sticker for WhatsApp. I have used three kinds of Android apps to make personal sticker packs in this article.
See Also: How To Make Typing Text GIFs

TIP: Make Typing Text GIFs; Turn it into WhatsApp Stickers
Three Types Of Apps You Should Use To Make Animated Stickers for WhatsApp
Type 1: Apps that help you make animated stickers for WhatsApp and add them to WhatsApp.
Type 2: Apps that let you create moving stickers for WhatsApp, but they do not have an option to add them to the chatting app.
Type 3: Apps that allow you to add stickers to WhatsApp, but they lack the option to create motion stickers for WhatsApp. In other words, this kind of app only allows you to import custom animated stickers to WhatsApp.
Making an animated sticker for WhatsApp using a type 1 app is simple, but you need to jump to the type 2 apps to make Animated stickers with some advanced features. As type 2 apps are not dedicated apps for making stickers for WhatsApp, you necessarily need the type 3 apps for adding them to WhatsApp.
Create GIF Sticker For WhatsApp Using Type 1 Apps (Easy Method)
Video Stickers For WhatsApp
Video Stickers For WhatsApp is one of the best ad-free apps to turn your videos into moving WhatsApp stickers. After turning your videos into stickers, you can easily add them to WhatsApp or WhatsApp business app.
Turn your videos into an animated WhatsApp Sticker using Video Stickers For WhatsApp.
Install the app from Google Play Store and open it.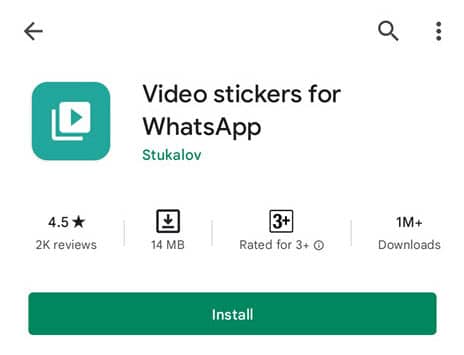 By tapping the "+" button, You can directly import any video from your Gallery to this app.Install the app from Google Play Store and open it.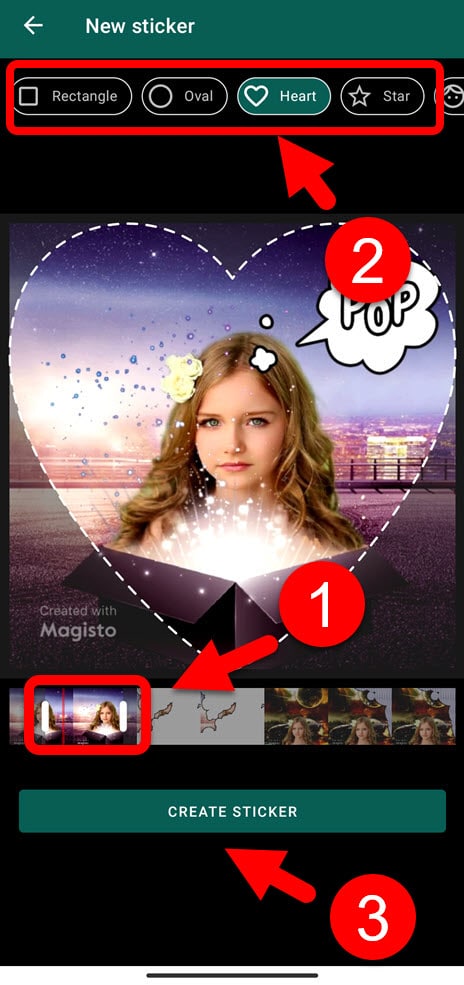 After that, the trim handles will show on the video timeline. Tap and drag the trimming handles to any portion of the video you want to turn into a sticker.

Keep the maximum playback time for an individual sticker as 4 seconds. Otherwise, your animated sticker will be choppy or stutter while looping it.
If you prefer to add an outline for your loop sticker as a shape, at the top of the app, choose the shape you want to crop to
Tap the CREATE STICKER button.
Once the app generates your sticker, tap the DONE button.
Choose an exciting sticker pack from the pop-up menu or create a new one by tapping the "ADD TO NEW PACK" button to add it to the desired sticker pack.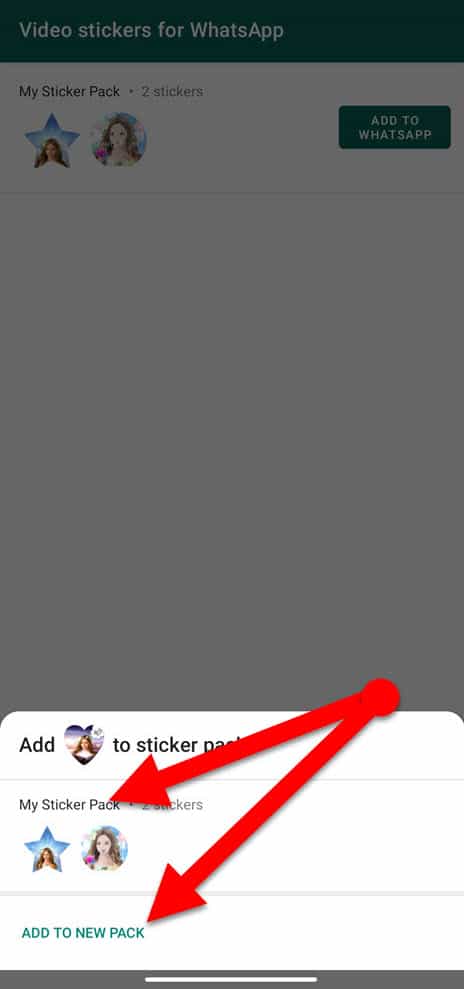 Tap the "ADD TO WhatsApp" button to add them to the WhatsApp sticker collection.
Though there is no information regarding the loop duration limit of a moving sticker on WhatsApp's official page, you should keep the playback time within 4 seconds to preview your own animated stickers smoothly.
Make Your Personal Stickers For WhatsApp Using Type 2 & 3 Apps (Advanced Method)
GIPHY
You may probably know that GIPHY is one of the world's largest online animated GIF libraries where you can find a wide variety of GIF images for free. You can explore GIPHY using your Desktop and your Android or iPhone devices.
There is a dedicated section in the GIPHY app to find sticker-style animated gifs. At there, GIPHY lists dozens of moving stickers in various categories: good morning, happy birthday, cat animated, love stickers, and more.
Apart from this, you can also find cool animated 3d emojis, moving texts, and looping memes on the GIPHY app. All of them are free to use; you can quickly download them by tapping the download icon.
Didn't you still satisfy with those pre-made animated images? Imagine saying hello with your own stickers: isn't it sound good? Actually, a personalized loop image sticker can impress your boyfriend, girlfriend, or those who are chatting with you.
So, why are you still waiting to make your own personal animated stickers for WhatsApp? Are you going to download another animated sticker maker? Wait. You don't need another app to do so.
Create Cool Animated GIF photos with GIPHY.
GIPHY is not only the largest repository of GIFs on the internet, but it also performs as an animated sticker maker. So, using this app, you can create some fantastic, incredible, and funny animated images as per your wish.
The app also lets you add your selfie images to your sticker. Upon adding your selfie to the app, you can make it even more attractive by adding animated 3D text, emojis, effects, accessories, and bling. Before creating a sticker with your selfie, you can use these apps to change the unwanted background from your selfie images.
Anyway, whatever you create or download with GIPHY will all be downloaded as a GIF image on your phone, so you can't directly use them as a WhatsApp sticker. Consequently, this is the time you need to install another (Type 3) app to download on your phone.
Personal stickers for WhatsApp
Personal stickers for WhatsApp is an Android app that quickly recognizes all GIF images from your phone and allows you to add them to WhatsApp by turning them into WebP files.
Therefore, you can use this Android app whenever you need to import custom animated WhatsApp stickers to your WhatsApp.
In this way, you can add all your downloaded GIPHY animated images to WhatsApp as stickers. Except for GIPHY, you can also download free animated pictures from Google and other online sites, or you can turn any YouTube video into a GIF image.
Isn't it enough? Here is another Bonus Method
I have recently downloaded a great app from Google Play Store called CapCut. It comes with a bunch of excellent editing tools. Using this app, you can quickly make stunning short video clips by adding transition effects and texts, combining images, and applying effects.
Especially while creating a short video, CapCut allows you to add your own animated 3D WordArt and stickers to your image or selfie. Also, you can customize the animation effect of those stickers and the 3D WordArt you added to your photo.
Once creating your short video clip with CapCut, you can turn it into a WhatsApp animated sticker using Video Stickers For WhatsApp discussed above.
Default Configuration For Moving Stickers When Making Animated Stickers With an Advanced Software or App on PC or Smartphone
Scroll down to find the standard playback time and frame rate for an animated sticker that you can follow when you make animated stickers for WhatsApp or other chatting apps using advanced software or app (applicable for desktop and mobile).
While keeping 4 second or less time frame for your looping sticker, you can also follow this guideline for a better sticker preview on any chatting app.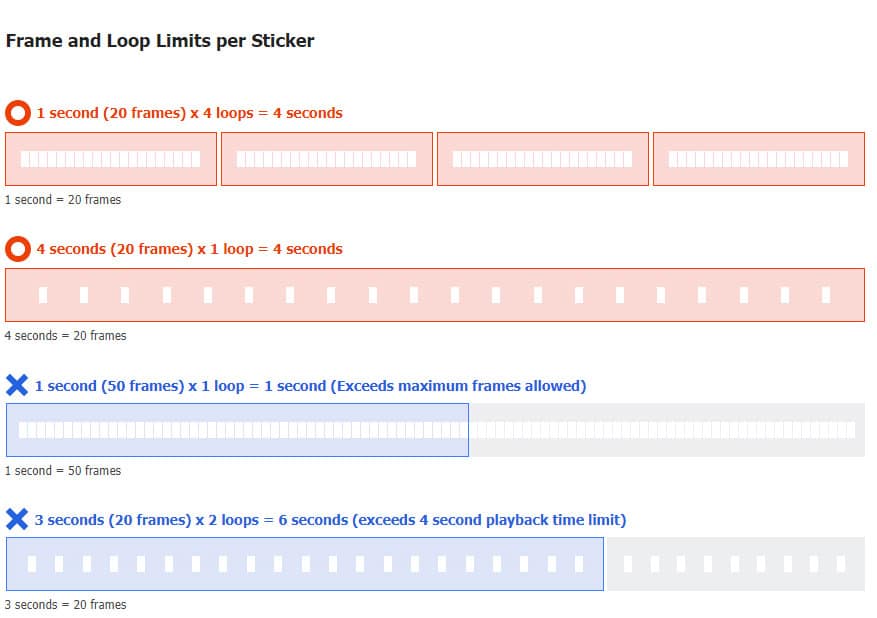 Final Words:
I hope you do not need to search again on Google for the term "How to make animated stickers for WhatsApp." I have explained some simple methods and tricks to make animated stickers for WhatsApp on your Android phone.
By using the Video Stickers For WhatsApp app, you can quickly create a moving sticker from any desired part of the video you saved on your phone. However, if you prefer to make animated stickers with advanced editing options, try GIPHY or CapCut app.
You can quickly make custom animated GIFs or short videos with these apps. They also allow you to add funny emojis, cool effects, animated stickers, and 3D loop texts to your resulting media files. Once creating them, you can easily convert and add them to WhatsApp by using Video Stickers For WhatsApp and Personal stickers for WhatsApp apps.