This is a list of the best free online ringtone makers from YouTube videos which let you create your own ringtone from YouTube videos as well as your favorite song. Unlike ringtone maker app and Softwares, Online ringtone makers are very simple to use even they save your device's storage space. Because the online mp3 ringtone makers are the web-based applications, they don't require installation. In addition to that, all of these web application can be accessible via desktop computer, Android phone, iPhone, iPad, Windows Phone, Nokia, Etc. See Also: Best Free Online Facebook Video Downloaders.
This guide is provided solely for educational purposes. Please do not misuse the primary tool mentioned in this article. Downloading, reproducing, and modifying are all prohibited under YouTube's Terms of Service. However, from a criminal standpoint, some videos with the proper licenses are legal to download. Please read YouTube's Terms of Service for more information.
Yout.com: Ringtone Maker Online
Yout.com is one of the best online tools to convert youtube videos to ringtones. It allows you record any YouTube video as an MP3 file. This web-based media converter tool works on both PC as well as Mobile. And it is very simple to use and free. You can directly search a YouTube video from the Yout website for creating a ringtone, or you can convert a YouTube soundtrack as a ringtone by pasting its URL on the Yout website. Also, you may be simply able to redirect any YouTube video to the Yout website by removing ube letters from the original YouTube URL.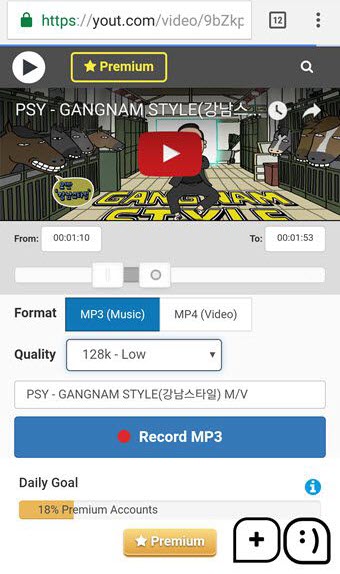 Furthermore, this online YouTube to MP3 converter also features to trim YouTube video from anywhere you want and use the desired a portion of the song for your ringtone. And you can choose the quality of the output MP3 file as well. And users can use this web app without making any registration. However, To download your mp3 file in high quality, you need to make a free account on the Yout website.
Pros:
Easy to use.
No registration required to download the low-quality MP3 files.
Able to search YouTube song within the website.
Premium features available.
Cons:
Registration required to download the Medium/High-quality output files.
10youtube: Online MP3 Ringtone Maker
10youtube.com is another quite useful online mp3 ringtone maker. This web-based application is also handy to use. And it works on PC and any mobile devices as well. This online tool not only extracts audio files from YouTube videos but also it lets you convert and download Youtube videos to other video formats like MP4, 3GP, WebM, etc.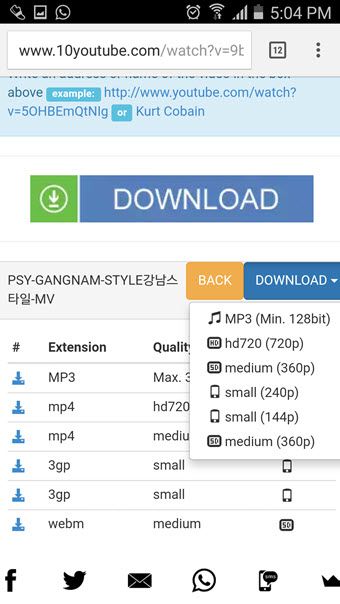 Like Yout.com, you can add a YouTuble video to this web app in three ways. To convert a YouTube video to ringtone using this web app,  just search for the name of the desired YouTube video song in the search bar, click your video, and then download it as a Mp3 (Music.)
You may also include the "10" before the YouTube URL to download a YouTube video as your ringtone. And the other way is that you can paste the desired YouTube URL in the search box to download it.
Pros:
10youtube is completely free and straightforward to use.
Woks on all devices.
Able to search any YouTuble videos with the 10youtube.com.
Besides the MP3 formats, it provides many audio and video types of a YouTube video.
Cons:
Although it is free, It shows annoying ads.
Users may not be able to trim the desired part of a video file.
Saveitoffline: Ringtone Maker From YouTube Video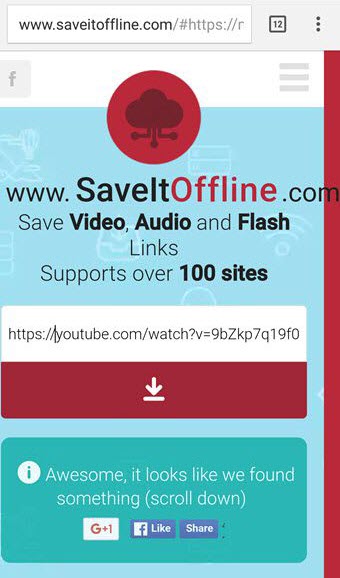 Saveitoffline.com is another pretty nice free online ringtone maker from YouTube video. This online tool has designed with an intuitive user interface, and it is compatible with Mobile devices as well. You can download output files in various types of audio and video formats like MP4, WebM, 3GP, M4A, etc. Read Also: 5 Best Free Android Video Converters
Pros:
Straightforward and convenient user interface to create your own ringtone from YouTube videos.
Beyond the YouTube videos, it supports Video, Audio and Flash Links over 100 sites.
Works on PC,  Android, iPhone, Windows Phone, etc.
Cons:
Not able to cut videos.
It doesn't allow to search YouTube videos within the app.
Youtubeinmp3: Online MP3 Cutter And Ringtone Maker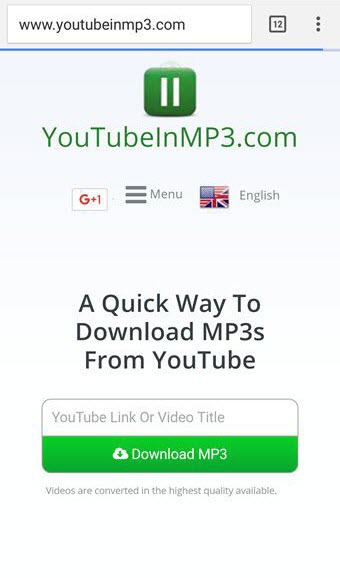 Youtubeinmp3.com is the best online mp3 cutter and ringtone maker where you can trim the soundtrack of a YouTube video and make the trimmed part as your mobile ringtone. You can quickly make your own ringtone using this free online ringtone maker. This mp3 ringtone maker works on almost all devices. The best part of this website is that it always provides MP3 files in the highest quality available. It will be based on the maximum audio quality of your YouTube video.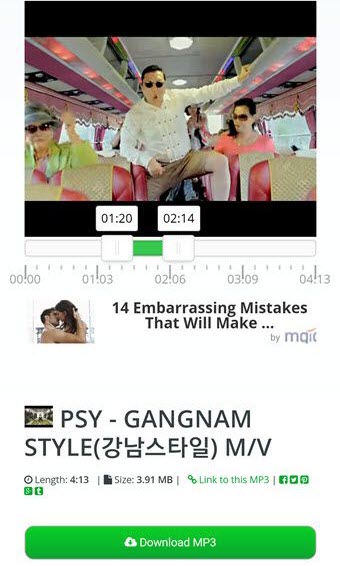 Youtubeinmp3 also features a video editor. It helps to cut specific part from the YouTube video files to make them ringtones. This free online ringtone maker also offers browser extensions for most major web browsers including Chrome, Firefox, and Opera. These browser extensions enable to download the desired YouTube video soundtrack as your mobile ringtone right on the YouTube website.
Pros:
It has a built-in video player and audio cutter.
User-friendly interface and simple to use.
Can be able to change the title of the output file.
No registration or installation required.
Multiple languages are available.
Cons:
It shows sponsored content (but not the annoying pop-up or sound type)
Mymp3converter: Free Online Ringtone Maker
Mymp3converter.com is a free online ringtone maker that helps users to edit YouTube videos, and then it lets them download the desired portion of the YouTube videos' soundtrack as a ringtone. Mymp3converter offers several features to make your own ringtone from YouTube videos.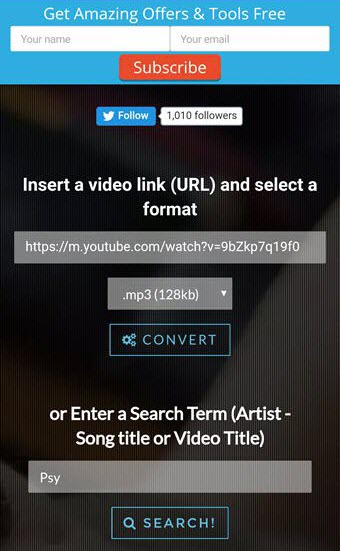 Apart from YouTube videos, this YouTube ringtone maker supports many other video and audio sharing websites like Vevo, Facebook, Vimeo, SoundCloud, Dailymotion, etc. In addition to that, you may be able to edit any part of YouTube videos' audio and then download it to your cellphone for free.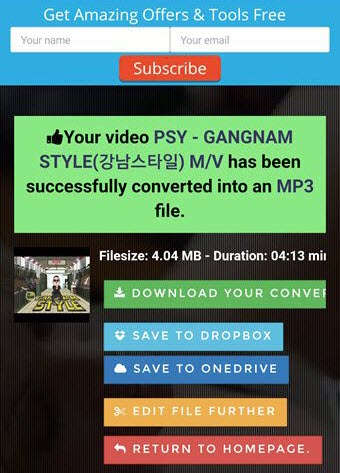 Using this Mymp3converter tool, you can download your ringtone as an MP3 (128kp,) MP3 (256kb,) AAC, M4A, 3GP, F4V, MP4, and WebM. And the good part of this online ringtone maker is that you can directly upload your converted ringtone to the Google Drive or One Drive. While editing your MP3 file, you can add metadata to your ringtone as well.
Pros:
Unlike other online ringtone makers, Mymp3converter web app offers some advanced features.
There is a built-in audio editor with waveform viewer.
Able to save the output ringtones on the cloud storages.
Support for iOS, Windows and Android devices.
Chrome and Firefox Browser extensions available.
Cons:
It won't support for Adblocker extension installed internet browsers.
You can only download/convert one video at a time.
Final words:
This is a list of 5 best free online ringtone makers. All of these websites help you create your own ringtone from YouTube videos. And don't worry about your device because these mp3 ringtone makers will work on Android, iPhone, iPad, and PC as well. And some of these online YouTube ringtone makers come with a built-in MP3 cutter which helps you cut the desired portion from YouTube videos to make it a ringtone.