Here are 2 of the best phone lock apps that take pictures when the password is incorrect. Using these intruder selfie apps, you can easily take a photo of the intruder and catch them with the evidence. See Also: How to lock WhatsApp with a Password.
So, do you also wish to catch the people who look into your Android phone without your permission? If yes, then now you can do it simply because there are a large number of apps on the Google Play Store, which can be used for taking a picture of anyone who tries to unlock your phone when you were away. Even though there are so many apps are named with intruder selfie app on Google Play, only a few number of apps works perfectly. Thus, today I am going to introduce some of the best intruder detection lock apps that take pictures of the snooper silently.
Third Eye:

 (App That Takes Pictures when someone enters a Wrong Password)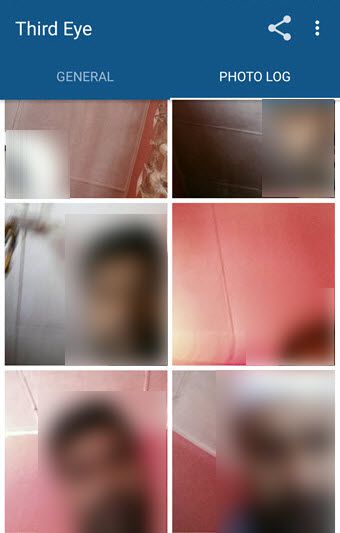 Third Eye is an Android lock app that takes pictures automatically when someone enters an incorrect password/pin or draws a wrong pattern on your phone while you were not paying attention. The Third Eye app works perfectly than other intruder selfie apps. The app has designed with a simple user interface, and there are no any limitations in the free version.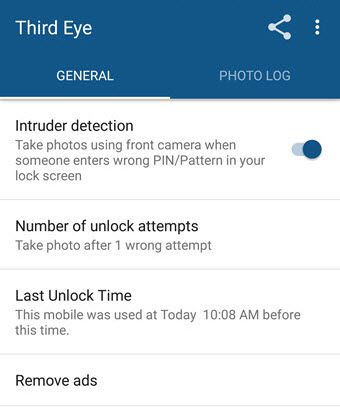 Third Eye app uses your device's front camera to take a picture of the person who tries to unlock your Android mobile. Besides taking snoopers' photos, it features to reveal the last unlocked time as well. You can see the last unlock time at the apps' main screen, or the app automatically shows the last unlock time with a small stamp whenever you unlock your lock screen.  In addition to that, you can also set a maximum number of unsuccessful attempts. Once exceed the specified number of failed attempts, Third Eye app will start to take the intruder's selfie without them knowing.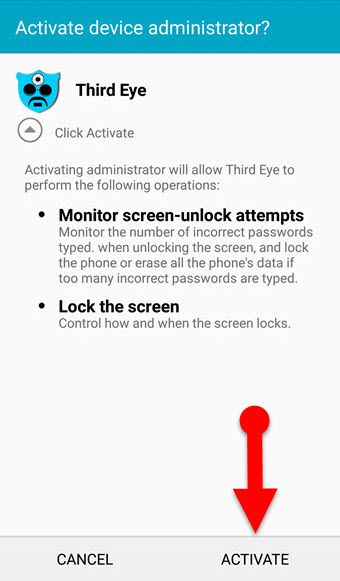 Third Eye intruder selfie app is also very simple to use. Once you opened the app, it will ask you to set "Third Eye" as the device administrator to take the monitor the number of incorrect unlock attempts. After configured the app as the device administrator, it will start to take the intruder's photo automatically from the background.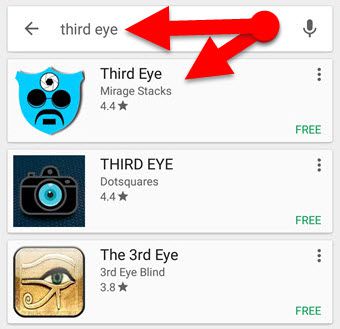 Download Third Eye App From Google Play Store
Pros:
Easy to use.
It works accurately.
Option to prevent the intruder selfies appearing from your gallery.
Able to change the storage directory to save the intruder photo on the SD Card or another location.
Cons:
It shows the advertisement inside the app.
Not able to receive intruder photo via email.
Intruder Photo Log:

(App That Takes Photos When Phone is Unlocked)

Intruder Photo Log app is also a quite helpful app to catch your jealous boyfriend or girlfriend who tries to access your Phone without your permission. The best part of this app is that it takes photos of all the people who unlock your phone, including you. Thus, you can also know the someone who enters your password correctly and snoops into your phone. The app will show the intruder's selfies along with the date and time of the intrusion. In addition to that, Intruder Photo Log app let you find the apps used by intruder date and time & duration of the time spent on the device as well.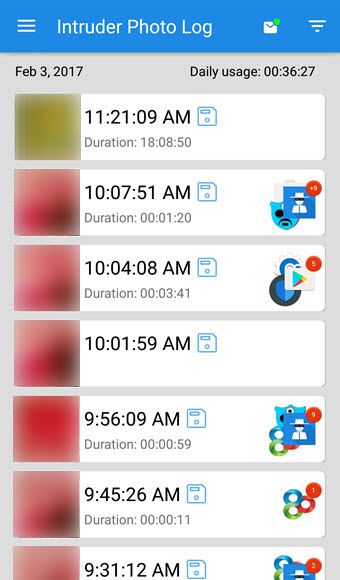 Intruder Photo Log app will show the red colored question mark next to the intruder selfie to identify the incorrect password attempt among all logins. Whereas, you can also view the selfies by filtering them according to the duration, saved log, and failed password attempts. Intruder Photo Log app lets you keep the intruder selfie on the Google Drive as well.
Besides these, this Android intruder selfie app will show the notification if any failed attempts occurred before your successful login. And this will save the all logins up to 10 days. After that, it will be removed automatically by the app. However, you can configure the app for showing a notification before deleting the unwatched logs.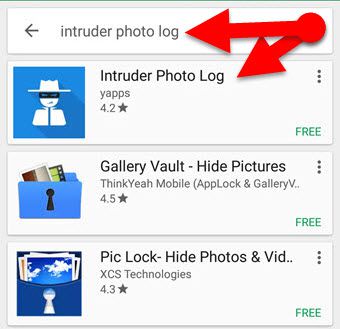 Download Intruder Photo Log app from Google Play Store
Pros:
You will be able to see the intruder selfie anytime, anywhere in the world through Google Drive.
You can see the usage and duration of the apps along with the exact time and date.
Cons:
It not only takes intruder selfie but also it takes photos of you.
Ad-supported.
Final Word:
These are two best free Android lock apps that take pictures when someone enters an incorrect pin or draws a wrong pattern. These intruder selfie app will be useful for catching your jealous friends, partner, family members, or anyone else.
There are so many intruder selfie apps on the Google Play Store though these two Android apps work excellently regarding the intruder selfie. I hope this article will be useful for those who are looking for an app that takes a picture when someone tries to unlock their Android.