Have you ever wondered the way to save websites for offline viewing? Yes, you could. The Google Chrome offline feature now allows users to save any web pages for offline reading quickly. You can access this useful feature on the latest version of the Google Chrome 55.
You know that Google Chrome is one of the powerful Internet browsers in the world. Many users prefer to use Google Chrome because of its simplicity, fast, and secure. Recently, Google has updated Chrome browser with several significant features. The latest version of the Google Chrome browser now lets you save websites for offline reading.
Many users are activating Chrome offline feature through its experiments settings section, which will automatically save the cache copy of the web page in the local storage whenever you are visiting a website. So, users were able to access those web pages without connecting the internet. It was little complicated for some users.
But the new feature is handy, and it is simpler than ever. You can save the web pages in your phone's local storage with a single tap even you may able to share them with your friends and others. To bring this new facility, you only need to download the latest version of the Google Chrome for your Android phone. Let's take a look at how to download an entire website using Google Chrome Offline Feature.
Learn Also: How to Block Porn from Google Search
Steps To Use Google Chrome Offline
Download and install the latest version of the Google Chrome browser for your Android.
Open the Google Chrome from the app drawer.
Visit a web page in which you wish to save for offline reading.
Tap three-dot menu button at the right corner of the Chrome browser.
Then, tap on the arrow (download) button from the menu.
That's it, now that website will be saved on your local storage for offline reading.
From where I can find the saved websites on chrome?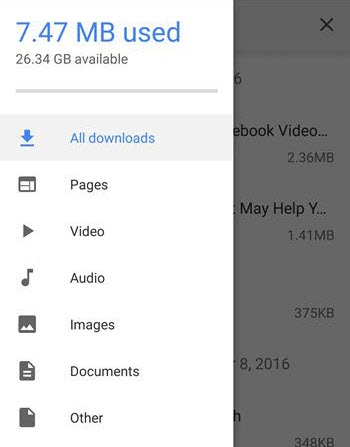 Once you saved a website on your phone, you can access it from the Chrome Download Manager. Chrome's download manager lets you view downloaded files according to its types such as images, pages, video, audio, documents, and other. So, it would be much easier to access.
How to open a saved website in Chrome (Android)
Open Google Chrome browser on your Android.
Tap the menu button at the top right corner of the browser.
Select the "Downloads" from the menu.
Now you can view all the web pages that you have saved earlier for offline reading.
Final Words:
It is a complete guide about the way to use Google Chrome offline feature in Android phone. This offline facility will be useful for all Internet users including you and me. And you don't need to enable Chrome offline function through experiments settings section anymore. All you have to download the latest version of the Google Chrome to access this valuable feature (Chrome 55 or above version.) And start browsing your favorite website anytime, anywhere in the world even without an internet connection.