Google has released a brand new app for Android, which is called Trusted Contacts. It would be useful for those who wish to track the geographical location of their friends, loved ones, partners, family members, or spouse. You can download Google Trusted Contacts For Android using the link below.
The Trusted Contacts app lets you add your parents, siblings, close friends, relatives or any others to this service as a trusted contact. Once you added them to this service, they could use this application to make sure where you are, or they can use this app to find you in an emergency.
A Trusted Contacts user can do either they can request the geographical location of their friend from the app or they can share their current location with a particular trusted contact or all contact. After sending a location request, the recipient may be able to accept them, or they can decline it if everything's fine, and vice versa.
When you receive a location request, it will be shown on your phone up to 5 minutes, you can accept or deny it, but if you do nothing, your location will be shared automatically after 5 minutes. Also, a Trusted Contact user can broadcast their location, or they can get location update from another Trusted Contact user, in real-time.
Download Trusted Contacts for Android
Google Trusted Contacts app is free to use; you can download it from Google Play Store, but it is currently available only for Android devices, and it works on Android 4.1 and higher devices. App size around 7MB. You can also download APK file of this app from APK Downloader websites. The Trusted Contacts app is currently not available for iPhone, but it will be released soon by Google. And iPhone users may also be able to get an email notification from Google once the app is live.
How To Use Google Trusted Contacts
Share Location with Trusted Contacts
First of all, download and install Trusted Contacts app on your phone. 
Tap "SIGN IN" button and select your existing Google account or sign in with a new account.
Tap continue button in the next steps and turn on location sharing on your phone if you haven't enabled it already.  
Then, your all the Google contacts will be listed, tap on the "ADD" button next to the contacts that you trust. 
Once you added contacts to the trusted list, tap the "Location sharing" button at the top right corner of the app.  
In the next window, select either "CHOOSE RECIPIENT" if you wish to share your current location with a specific contact, or select "SHARE NOW" button if you wish to share your current location with all contact once.
That's it. Your emergency alert will be sent to the trusted contacts! And they will be notified.
How to Send a location request in the Trusted Contacts
Before you ask their location through the Trusted Contacts app, they should be added you as a trusted contact on their contact list. If they had done so, you would be able to make a location request in the following way.
Open Trusted Contacts app.
Tap on the Trusted Contact which you wish to ask location.  
Then tap "ASK FOR CONTACTS'S LOCATION" button.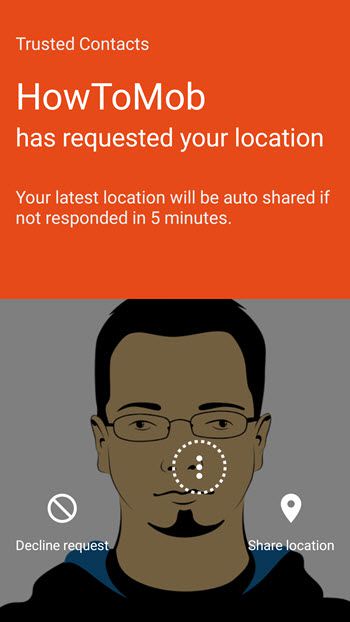 That's it. You will receive your loved ones' real-time location update if the accept your request or they are unable to respond within 5 minutes.
Closing Words:
Google's Trusted Contacts app is a good app and service to share our location with loved ones in an emergency or unsafe situation. The best part of this app is that you can find out your friend's last known location even they are offline, and vice versa. Apart from this, you may also be able to receive their real-time location updates through this app, and you can view it through Google Maps. So, this app will be useful for different types of people to stay connected with their loved ones in everyday life.