Advanced Download Manager for Android is one of the most powerful download managers for Android which helps users to download files from the internet to their Android phone in a faster way. The app is also known as ADM download manager. ADM app uses the multi-thread connection to download videos, music, pictures, documents, and other files. This feature can boost your download speed so you can save your time by downloading large files in minimum time. And the Advanced Download Manager app allows you to pause and resume your downloads as well. In addition to that, this app also may be able to auto-resume corrupted downloads due to connection failure or device restart.
Advanced Download Manager supports almost every internet browsers like Google Chrome, Firefox, Opera, Dolphin, UC Browser, and many other browsers. And the best part of this app is that it can quickly interception download links whenever you copy a link from the download browsers. Moreover, you can assign ADM app to download files only when Wi-Fi available.
 ADM app is a Fast Downloader for Android: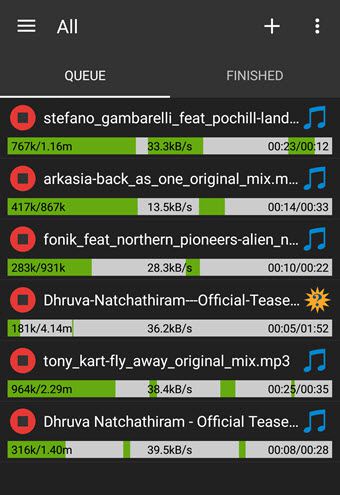 As I mentioned above, Advanced Download Manager for Android enables Faster downloading by splitting the download file into multiple parts and then downloading them together. By the way, this free download manager lets users download up to 3 files simultaneously. Parallel download files will be added to a queue and will be downloaded automatically after the ongoing downloads finish.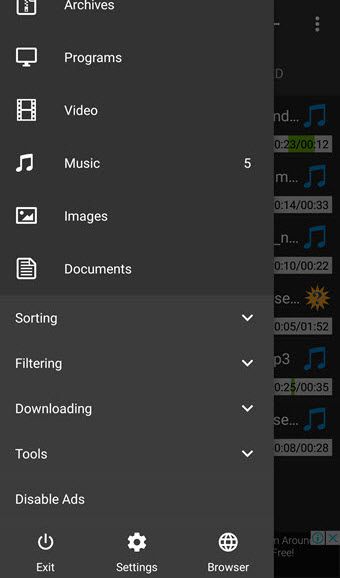 Advanced Download Manager for Android also features an integrated web browser that has some useful features such as multiple tabs,  advanced media downloader, interception of mp4 video, history and bookmarks feature, etc. Furthermore, using ADM app, you can save your time by downloading content directly to the external SD card. (This feature support only for the Android Lollipop and Marshmallow versions.)
Other Features of ADM download manager:
Supports download all Major file types: mp4, 3GP, mp3, APK, pdf, etc.
Support files larger than 2GB files.
Integrated music downloader and video downloader.
You may be able to monitor download progress in real-time from the notification panel.
Some simultaneous file downloads, multi-threads, and download speed are configurable.
Notifications for download completion/ interruption. (Sound/Vibration)
Customizable interface.
Download advanced download manager for Android:

Advanced Download Manager is available only for the Android devices. And it is crossed more than 10 million downloads in the Google Play Store. ADM app will work on Android Ice Cream Sandwich, KitKat, Lollipop and Marshmallow versions. Advanced Download Manager has both free and paid versions; free version shows ads within the app whereas the premium version gets rid of the advertisements. The app size is only 3.9MB, so it is very simple to download and install on your phone. To download the Open Google Play Store on your Android phone and search "Advanced Download Manager," then tap on the first result and download the app to your Mobile.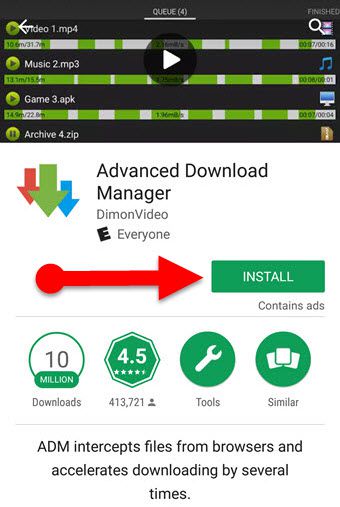 Alternatively, you can also grab the Advanced Download Manager APK from an APK Downloader website. Or read my previous article to learn How to download an APK file from Google Play. Also read: How to manually install Android apps
Download the APK: http://bit.ly/ADM-App-APK
How to use Advanced Download Manager (ADM):
First of all, download and install the app from Google Play Store using one of above method.  
Then, browse the download file using your favorite web browser and copy the download link. 
As soon as you copy the link to the clipboard, ADM will pop-up.
Now, select "Start" button from the pop-up window to download the file, or you can choose "ADD" button to download it at a later time.
That's it.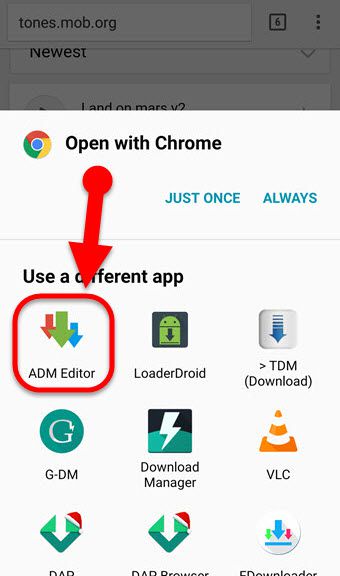 Besides this method, you can copy the download link and paste it into the ADM app or easily share your download link with the ADM app to download the file.
Final word:
Advanced Download Manager for Android will be quite useful for those who usually download files from the internet and who are looking for the best download manager to their Android smartphone. And it is fast and free Android download manager even simple to use. If you found this article is useful, then don't forget to share this article with your friends. Also, I love to hear your thoughts about this guide.