UPDATED 2022:
Telegram custom client, Mobogram app, was discontinued in 2018. Google and Apple have also removed it from their mobile app stores. But there are so many APKs remain on the internet. They were too old and may have security holes. So please keep away from such APK files. And you can use one of the following Mobogram alternatives if you still prefer to use a modified version of Telegram.
Mobogram Alternative
Have you heard about the Mobogram? It is a Telegram client for Android just like Plus Messenger. This Telegram modified app lets you bring some extra features to the Telegram service such as ghost mode, download manager, category Chats, ID finder, etc. In addition to that, you can use two telegram accounts on a single Android phone.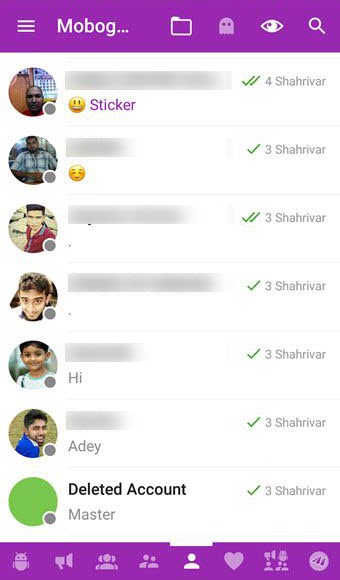 Mobogram interface is just like the official Telegram app although we can customize the Mobogram interface with various colors and advanced themes. In the themes section, It provides some popular sets of colors like purple, green, brown, black, pink, orange, red, etc. Besides these, you can choose any of the custom colors according to your convenience.
Key Features of Mobogram
File Manager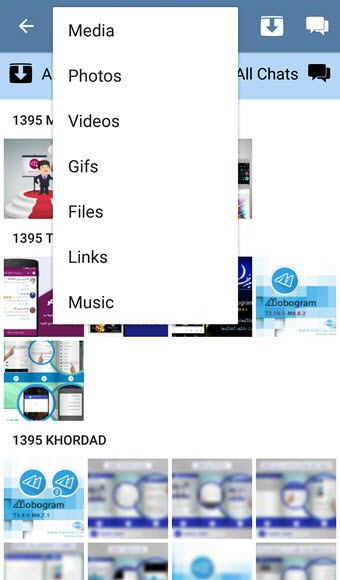 Unlike other messengers, Mobogram has some useful built-in tools. Its built-in File Manager is very helpful to use, which allows users to browse all media files at a glance. Using Mobogram's File Manager tool, you can explore all sent and received photos, videos, GIFs, Files, links, and music. Also, you may be able to filter them according to its file type or download status (downloaded or not downloaded); Additionally, this File Manager tool allows users to view media files from an individual contact, group, supergroup, or channels.
Download manager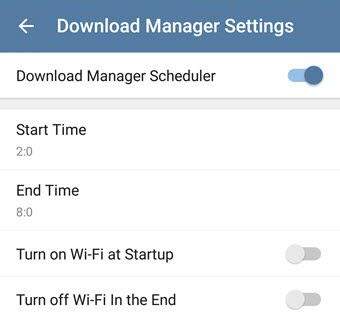 Mobgram also provides a powerful download manager. It enables users to download media files from a particular contact, group, supergroup, or channel. And you can also determine the proper file types to download from Telegram chats. Apart from that, you can also schedule this file manager to download media files.
Category Management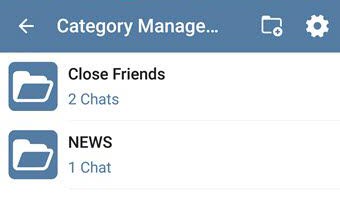 Another useful feature of this app is that you can categorize your Telegram chats according to its type. Using this feature, you can put all your "NEWS" channels into a "NEWS" category. Likewise, you create a category to put personal chats to a category. In such a way, you can create an unlimited number of the category. It will help users to manage their Telegram conversations simply.
Specific contacts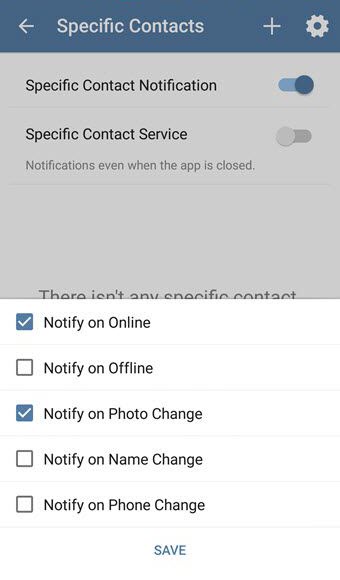 Users also can able monitor a specific Telegram contact using this app. That means we can get a notification for recent changes of a Telegram contact such as online/offline status, photo changes, name, or phone changes. You can access this feature through the "Specific contacts" section in Mobogram.
Username Finder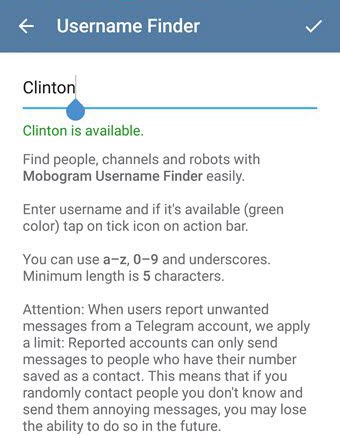 You can see all online contacts at once (in one place.) And you can find people, channels, and robots with Mobogram Username Finder easily. And has a navigation bar on top just like in Plus Messenger. Using this navigation bar, you can simply navigate to personal chats, groups, supergroups, channels, and bots. Also, you may be able to move or remove that bar.
Ghost Mode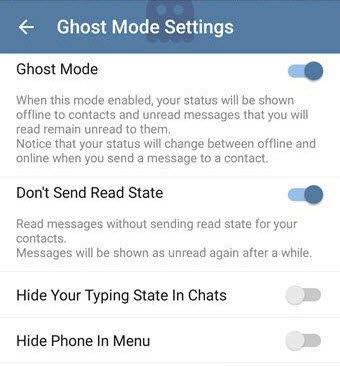 The best part of this app is that enables users to appear offline in Messenger as well as you can read messages without senders knowing. In addition to that, you can hide your typing state when you are chatting with your Telegram friends. Also,  Mobogram users can hide their phone numbers from the menu. All these privacy-related features are called "Ghost Mode" on Mobogram. You can activate "Ghost Mode" through the "Mobo settings > Ghost Mobe settings" section. Also, you can find a shortcut icon at the top of the app to enable/disable Ghost Mode in this Telegram mod.
Besides these, this Telegram mod offers many other cool features to Telegram users including the option to customize Passcode or Pattern Lock.
Download Mobogram APK T4.2.1-M10.0
The latest version of Mobogram 10.0 has been designed based on Telegram version T4.2.1. You can download Mobogram's latest version APK file using this link. (size around 15MB.) This app can install on Android 4.0 and above versions. if you have trouble with installing APK files on your Android, then check out my previous article to learn how to install APK on Android.
What's new in Mobogram T4.2.1-M10.0:
You could add a biography to your profile (In settings)
You may be able to send self-destructive photos and videos in all individual conversations.
Now you can simply edit images with the improved image editor of Mobogram.
The new encrypted CDN provides you very high downloading speed, so now, you can download the media files from large public channels in a very short time.
Monogram's default language is Persian so after installing the Mobogram app, it will open on your phone in the Persian language. Don't worry! Watch the following video and learn how to change the Mobogram language to English.
Update: The latest version of the Telegram app lets you change the language while you are installing the app.
Final words:
Mobogram is not a standalone app. Instead, it works based on Telegram. And it is the best alternative to Plus Messenger. Both apps are also known as Telegram mod. And it is useful for those who wish to use the Telegram app with customization features. Personally, I like the Ghost Mode of this app because it lets users show offline for friends even they using Telegram. Hope this article will be useful for those who wish to learn about "What is Mobogram?" Love to hear your thoughts about this app, don't forget to leave a comment below.