Systweak Anti-Malware is a quite useful app to identifying and removing malware from your Android device. It offers lots of features to protect your device from malicious apps and files. In this article, I am going to tell you some key features of the app. See Also: Systweak Android Cleaner App For Android
With the development of new technology and improved security features, malware threats have also been increased multifold in recent times. Today malware threats are more vicious and harmful than ever. You can find these malicious threats in the form of viruses, spyware, adware, Trojans, phishing attempts and other malware acts. Despite following rigid schedule while being online, the average user is largely exposed to malware menace. Apart of online expansion virus is scattered all around using various tools like sharing devices etc. You can avoid virus threats following few simple steps like avoiding clicking on suspicious links and websites, avoid downloading from unknown sources, sharing data using protected devices, using anti-malware software and much more.
In the list of these steps, the anti-malware software provides strong protection shield to your device to keep it safe from various virus threats. These software tools use advanced algorithms and techniques to find and delete all viruses and malware effectively and instantly to keep your device performance intact. These tools are designed to protect your device even from latest malware risks as they keep on updating malware database version. Let's discuss one such tool called Systweak Anti-malware which offers numerous useful features to keep your Android device safe and intact. It offers many useful features let's discuss some of them here. Read Also: Systweak Duplicate Files-Finder And Remover App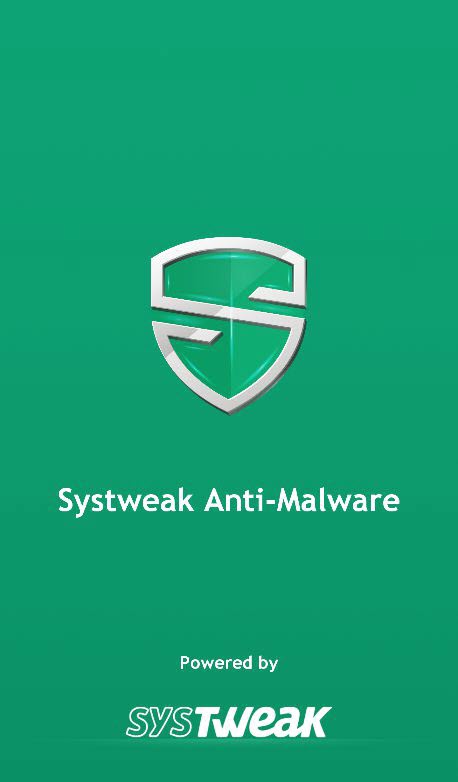 Features of the Systweak Anti-Malware app:
Scan: (Start Page Of The App)
In the beginning of the app, it displays scan option. Here you can find basic details like database version is updated or not, real-time protection is on or not, and last scan date. If you find the database version is obsolete, then you can update it by logging out of the app and then again logging back in. It will automatically update the database version. To turn on real-time protection feature, you can access "More" option under Settings. Here you can find a green sign mark which displays that your device is protected against viruses. If it displays a red sign mark, then it is showing that it has found some malicious content on your device. The real-time option will inform you about malicious content while downloading any app in real-time.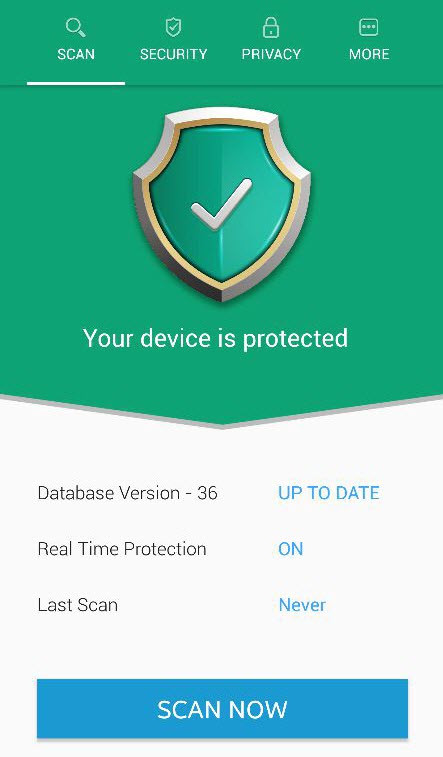 To start scanning your device for malicious content press "Scan Now" button. It will display results with information like files scanned, time elapsed and malware found. If it found your device malware free, then it will display message No Threats Detected with green check mark. You can click on Security Checkup button to move to next step. If it found something malicious, then it will display message Malware Detected with a red background. Next is to press "view Scan Result" button to view the scan results.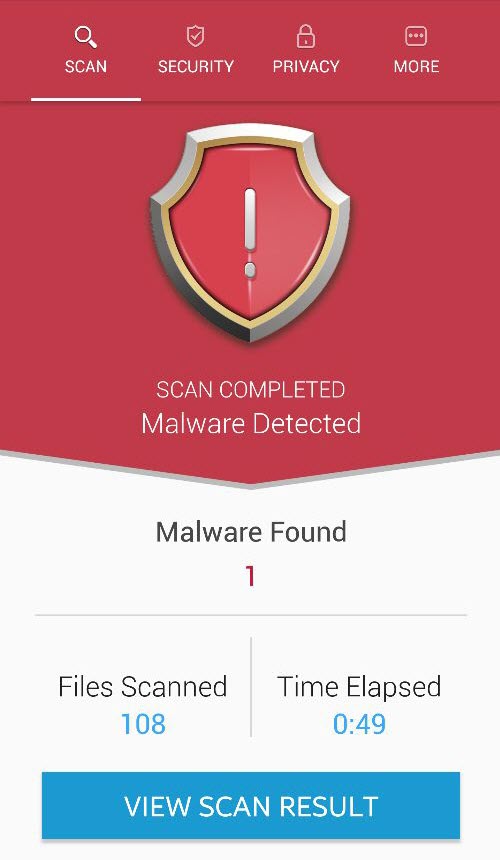 In the results, it will display all malicious apps found on your device and malware type next to them. You can swipe on any app to "Uninstall" or "Whitelist" the app. In Whitelist option, it will keep the affected app in device storage tagging it as Whitelist, safe or useful for the device. When you list any app as Whitelist, then it will not be displayed on scan results further. Click on "Clean Malware" button to remove all malicious apps instantly.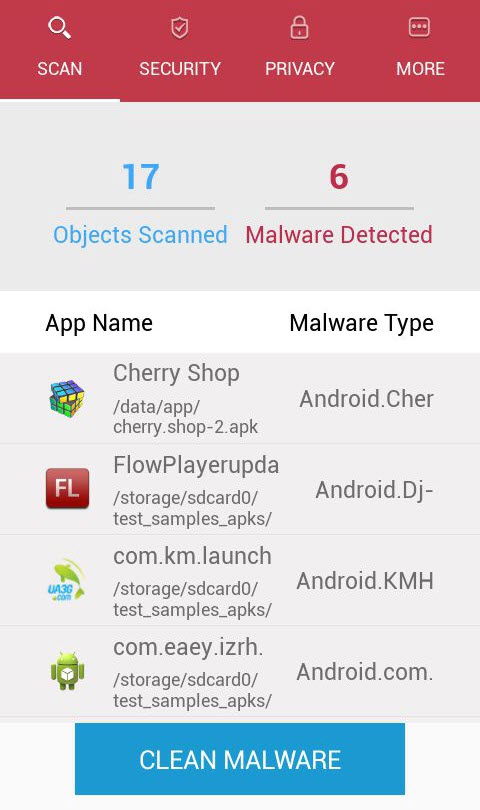 Security:
It displays all non-secure settings of the app to help you disable them. Under Security, you can find these options.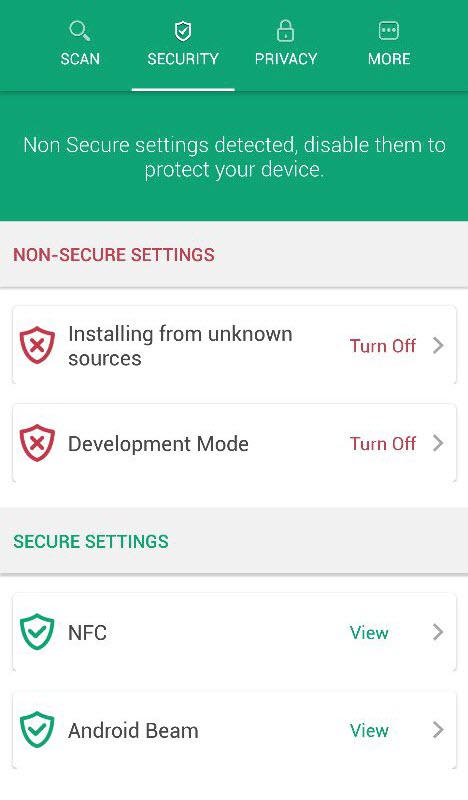 Installing from unknown sources: You can manage this feature to avoid downloading from unknown sources.
Development mode: you can manage Development Mode using this function. It allows you to avert a situation where anyone can tweak your settings using development mode.
NFC (Near field communication): This feature helps you manage near field communication (NFC) functions which allow you to data exchange, mobile payment services and reading & writing of tags when your device touches another device.
Android Beam: This feature comes installed on many devices it works similar to NFC. You can manage Android Beam function using this feature.
Privacy:
It displays the status of all your apps on your device. Using this feature, you can find which app is accessing which permissions on your app. You can click on any of these apps to manage them well.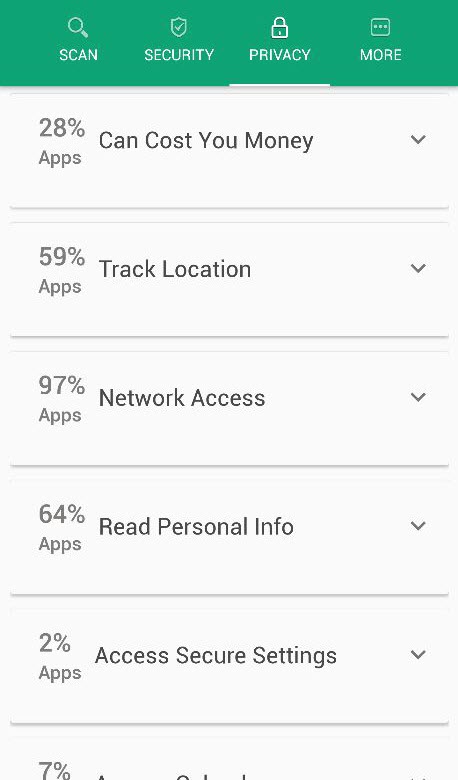 More:
Here you can find these features.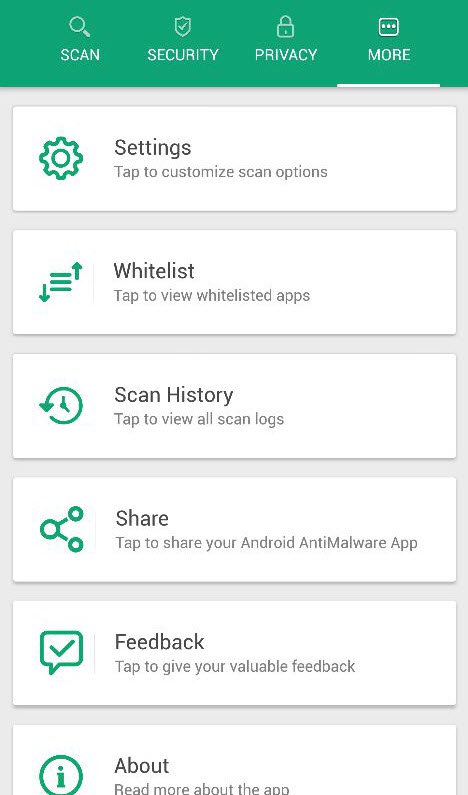 Settings: It allows you to customize scan options. You can turn on or off real-time protection feature here and select from Quick or Deep Scan mode.
Whitelist: All Whitelist apps display here.
Scan history: It displays previous scan history by the app.
Share: You can share the app through various mediums.
Feedback: You can submit your feedback about the app.
About: It display app information.
Recommended Article: Free Android App To Clean Duplicate Photos Instantly
Verdict:
Systweak Anti-malware is an advanced tool that works on advanced algorithms to keep your device safe even from latest virus threats using its updated malware database version. It finds and deletes malicious content from your entire device including SD card on it. It is designed to provide you many useful features to keep security and privacy of your device intact. It offers many useful features like Whitelist, Scan history, real-time protection, and other privacy & security features. We have used this tool and experienced improved device performance in no time! We would like to suggest this amazing software protect your device efficiently.