If are you looking for an offline Tamil dictionary app to translate Tamil words to English or English words to Tamil on your Android, then here is the best English to Tamil dictionary app for Android. Using this free language translator app, you can translate more than 20 languages to your mother tongue. The app is called "U-Dictionary." Currently, it supports approximately 10 India languages and 12 international languages. See Also: How To Type Tamil in WhatsApp
U-Dictionary: (English To Tamil Dictionary App: Offline)
As you all know that Google Translate is the world's best language translate service among the desktop and mobile device users. And it supports more than 100 languages. But the major shortcoming of Google Translate is that it doesn't support to translate the most Indian languages on mobile or desktop without connecting to the internet.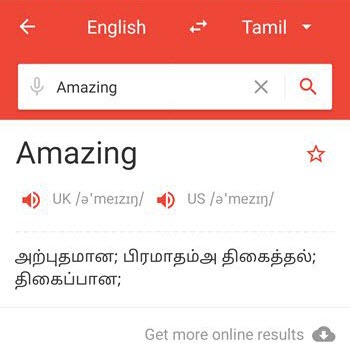 Fortunately, the U-Dictionary app comes with the offline language pack for almost all popular Indian languages such as  Tamil, Hindi, Telugu, Marathi, Kannada, Malayalam, Urdu, Punjabi, Bengali, and Gujarati. So you can simply translate English to Tamil or Tamil to English while you're offline by downloading Tamil offline package onto your device. Read Also: Best English to Tamil Transliteration Keyboard App For Android
In addition to that, the U-Dictionary app has designed with a clean interface and offers so many useful features like tap to translate, quick translate, words for the day, etc.
Tap To Translate:
U-Dictionary also has a tap to translate feature which can be used for translate any languages to Tamil or any other languages right from any app. It is very simple to use. By default, the function will be enabled on the app. However, you can disable the tap to translate feature through the settings section anytime you want. To translate a word from other apps, all you have to do is copy the corresponding word to your clipboard. After that, the word will be automatically translated into your language and show up in a pop-up window.
Offline Dictionary: (English To Tamil, Hindi, Telugu, Urdu, Etc.)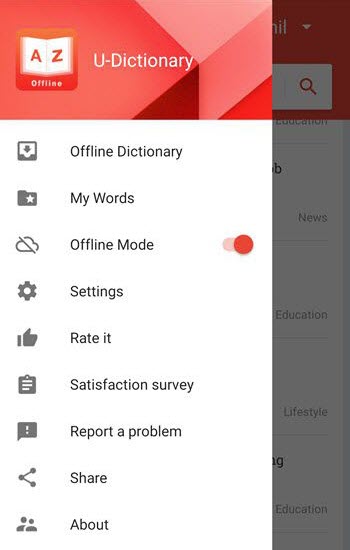 As I mentioned above, U-Dictionary for Android has the offline language pack for 10 India languages as well as two international languages. You can simply install any desired language pack from "Offline Dictionary" section onto your phone.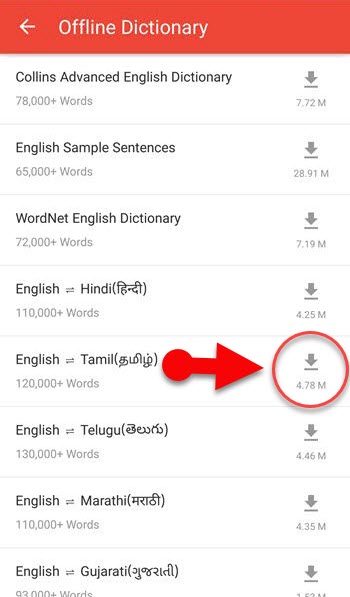 If you prefer to translate the Tamil language when you are offline, then you have to install Tamil language pack. To install Tamil offline pack, you need to tap on the menu button at the top right corner of the app and tap on the "Offline Dictionary." After that, U-Dictionary will list all available language packs. Then choose the download button next to the appropriate offline language pack to install.
Quick Translate: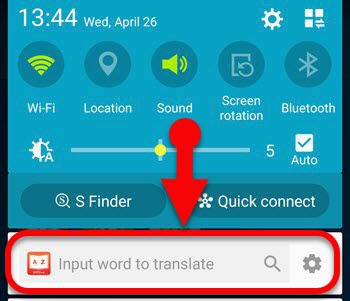 Like tap to translate facility, the Quick Translate feature also will be enabled by default on the app, so once you have installed the app, you will see the Quick Translate bar on your notification panel. By using this bar, you may be able to simply enter the word into the U-Dictionary app to translate words much faster. However, if you prefer not see Quick Translate bar on your notification panel, then there is also an option to disable it on the app.
Other Features: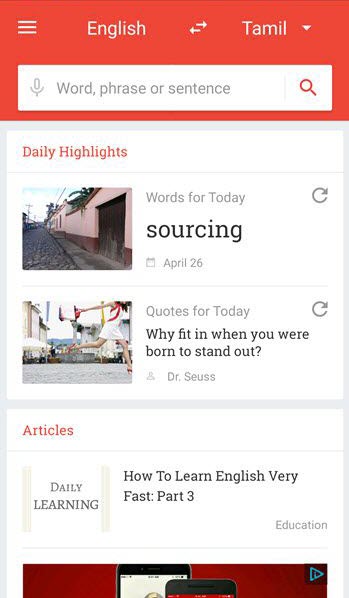 Apart from above features, instead of typing letters one by one, you may also speak to the microphone to get the meaning. And there is also an option to save your favorite words on the app so that you can see them later. Moreover, U-Dictionary features audio pronunciation in both American and British English.
Download U-Dictionary App From Google Play Store
Verdict:
The U-Dictionary app is the best English to Tamil dictionary app for Android. The best part of this app is that it lets you translate any English words to Tamil without the internet connection. Apart from Tamil, it supports Hindi, Kannada, Telugu, Marathi, Urdu, Bengali, Malayalam, Punjabi, and Gujarati as well. And U-Dictionary is not only a dictionary app but it also a learning tool, because it provides daily English lessons, articles, words, and so on.