These days, cutting, trimming, and splitting videos has become a crucial part of our daily life. Sometimes we need to cut out parts of a video to put on our WhatsApp status, social media Instagram stories, social media posts, etc.
Cutting off segments of a video or movie is now easier than ever. Thanks to contemporary Android and iPhone video cutter apps.
There are many free apps for trimming and cutting videos on the Google Play Store and the App Store. With a video cutter app, we can easily cut out the parts of a video we don't want, while a video trimming app lets us cut out the beginning or end of a video. We can also use video splitter apps to slice a video into two or more segments. We can download almost all of these apps for free from Google Play and App Stores.
Some apps only allow you to take off specific sections of videos. Some apps allow you to chop out the end or beginning of a video segment, while others will enable you to do both.
In this list of the best video-cutting apps, we will include both dedicated video-cutting apps and well-known video-editing apps because many apps for editing videos have powerful tools for trimming, cutting, and splitting videos.
Let's see the top video cutter apps for Android and iPhone.
YouCut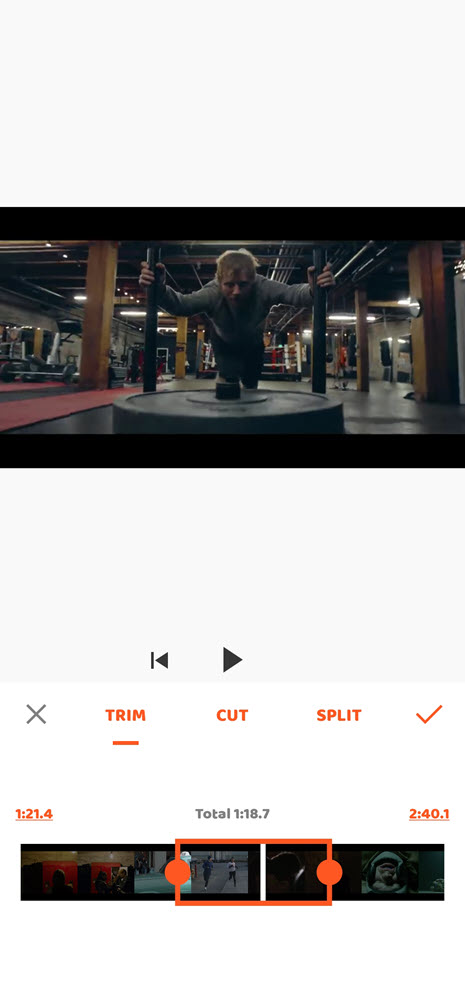 YouCut is a robust video editor for mobile devices that includes a powerful built-in video trimmer tool for cutting, trimming, and splitting videos. The YouCut app makes it easy to cut out parts of a movie or video file you don't need.
With its easy-to-use interface, even people who have never used it before can cut and trim their videos quickly and easily.
And from the app's main interface, you may select the Trim tool to access the cut, trim, and split tools of the YouCut App.
Cut: You can use the Cut tool to eliminate portions of your original video segments that you don't want to keep.
Trim: You can use this tool to pull chunks of a video from the beginning, the middle, or the end of the clip.
Split: If you want to separate your video into two segments at any point, you can use the Split tool.
You can also turn off the sound of your trimmed video clips in the YouCut app if you want to.
The Inshot App To Cut Videos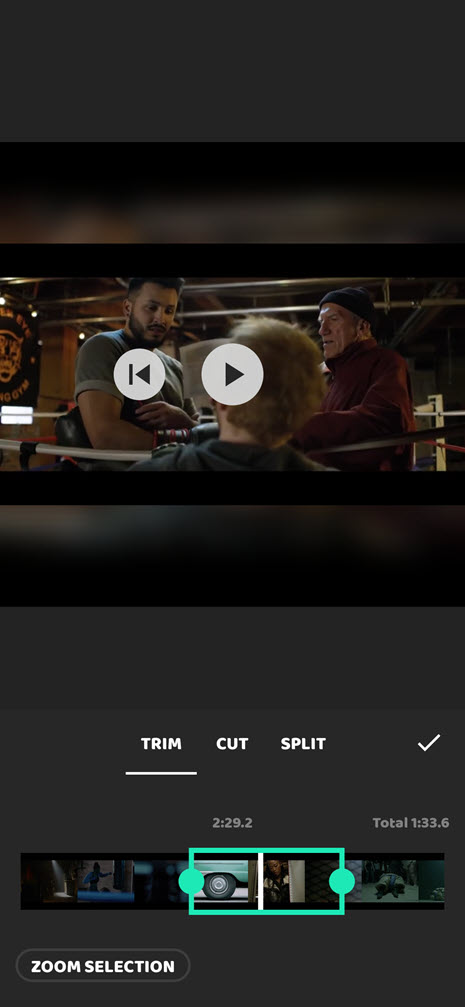 Another excellent choice for trimming and merging movies or video clips without losing quality is the Inshot app, which is available for iOS and Android.
The app has various video editing capabilities and an intuitive user interface. Like the YouCut app, the Inshot app has a built-in video cutter tool that allows users to cut videos into several chunks, delete undesirable scenes from videos, and shorten the overall length of videos.
The best thing about this app is that you can zoom in on the video frames to find a specific spot in any part of your video. And using the multi-split feature of the Inshot app, you can divide your videos into many portions simultaneously.
The Inshot app will show you the length of the video in seconds and milliseconds from where you started while utilizing the split, cut, or trim tool. It will help you cut your film into 15-second, 30-second, 60-second chunks, or any other length you desire.
You can cut videos into equal pieces that can be used for many different things with this app. For instance, you can use this app to post a long video as your WhatsApp status update, even though WhatsApp only lets you post 30-second video clips. This app lets you cut videos into 30-second pieces. Then, you can put a longer video as several 30-second videos in your WhatsApp status.
Apart from using this app as a video trimmer, cutter, or splitter, you can use this app to make cute video clips using its advanced tools, such as text, stickers, filters, cropping video, etc.
VidTrim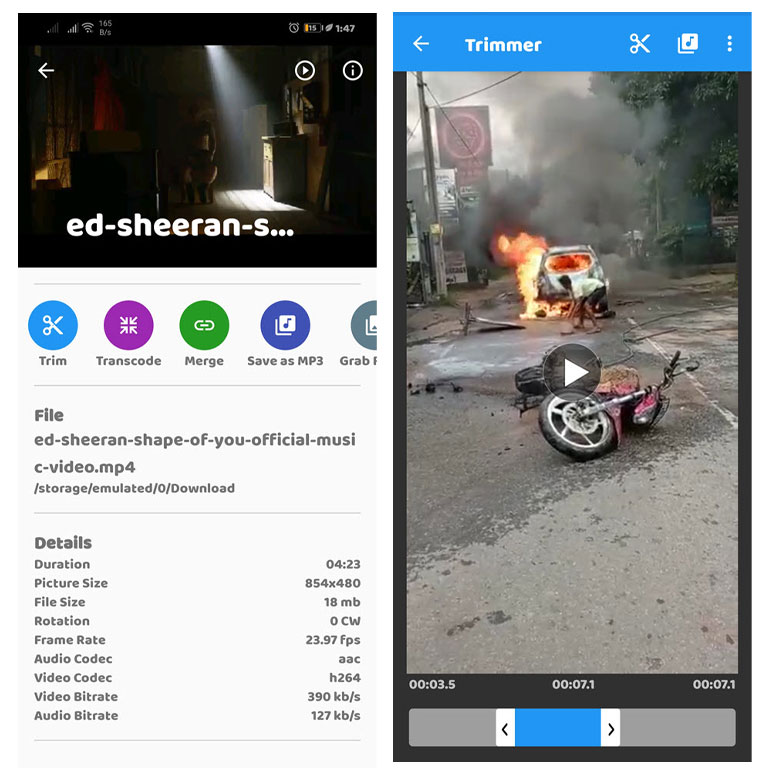 The VidTrim app comes in handy when you need to save a specific portion of a video from the beginning, middle, or end in its original quality.
The app is simple to use and includes many essential video editing tools on the main screen, such as transcode, merge, grab frames, etc.
VidTrim also has a simple file browser that lets you view your video files. When you use VidTrim's file browser to look at your video files, it will also show you how long they take to play and how big they are.
The unique thing about this app is that once you import a video file, it shows all of its details, such as its name, size, location, audio and video codec, bitrate, etc.
On the other hand, VidTrim just allows you to trim the videos; it does not provide a cut or split function.
AndroVid
AndroVid is another excellent free video cutter Android app with video editing features. You can also use this video editing application to cut segments out of longer videos and save them on your phone as individual video clips.
Like the VidTrim app, the AndroVid app can quickly chop or trim your videos. To trim a video with the AndroVid app, you must first import the video from your phone. After that, you must select the starting and ending points by dragging the left and right side handles. Thereafter, tap the scissors icon at the top of the app. The app will then prompt you to cut or trim the video, select your preferred option, and save the video clip to your device.
If you are looking for an app to cut videos, this app will help you do so without adding a watermark or any other limitations to the final video clip that you create. However, it does not provide the capability to break videos into many parts.
Video Splitter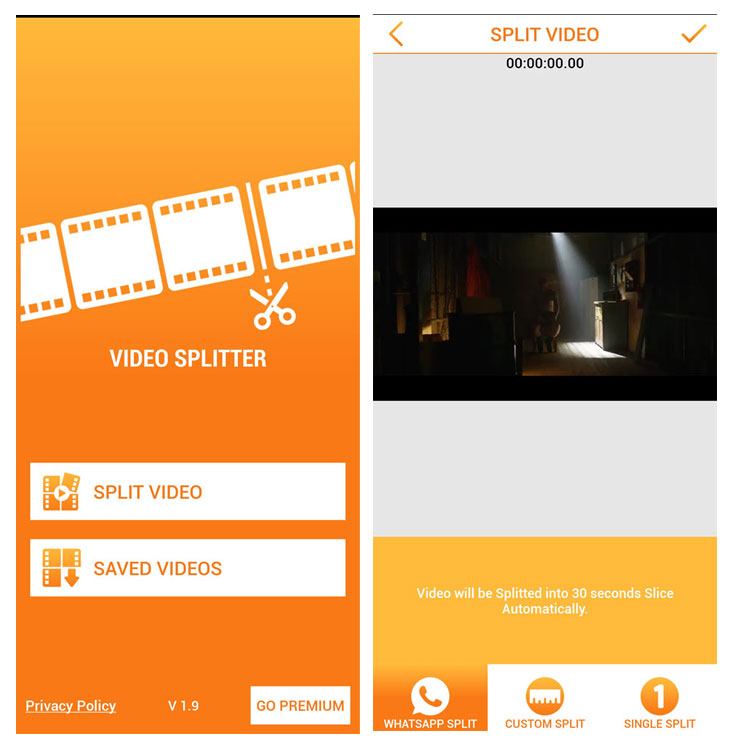 The Video Trimmer app is yet another fantastic and free app that can automatically cut videos into segments of 30 seconds each. The main reason for the app is to let people make WhatsApp video status updates from videos that are longer than 30 seconds.
However, you can use this Video Splitter app to create videos for Instagram stories, Snapchat, TikTok, or any other purpose by splitting the whole video into multiple equal-length segments.
You can also manually choose what part of your video to keep or get rid of by going to the SINGLE SPLIT section of the app.
You can download this free video splitter app from the Google Play Store.
The Video Cutter App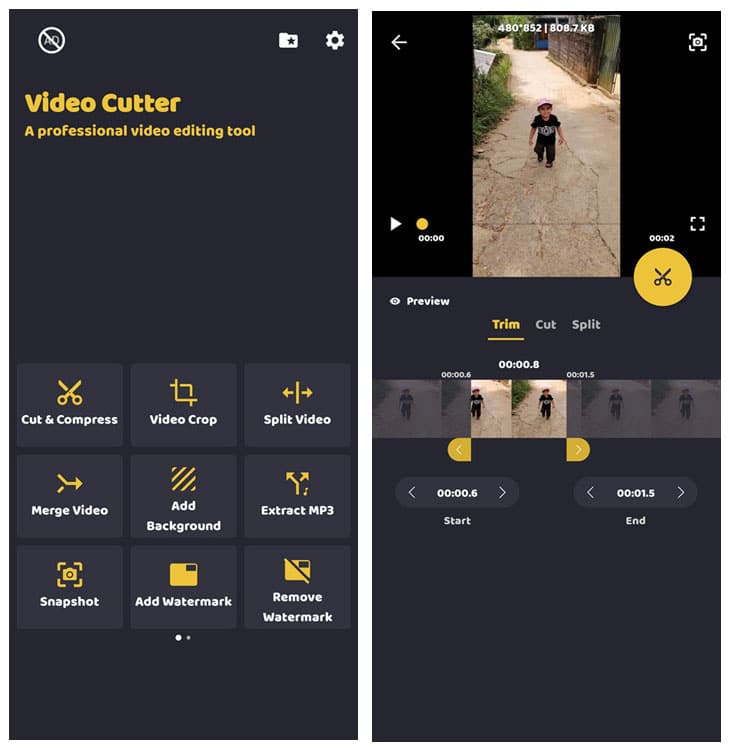 The Video Cutter is another incredible app for people who want to automatically cut their videos into 2 parts or more than two segments at the same time.
The app has a lot of tools for editing videos, but we will only look at its tools for cutting, trimming, and splitting videos.
On the app's main screen, there are two options for cutting and splitting videos: "clip & compress" and "split video." If you choose "cut & compress," you will be provided with "Cut," "Trim," and "Split" tools, which allow you to cut and trim your videos with numerous options, but you can only split them into two parts.
To break your movies or videos into many segments using the Video Cutter App, you must pick "Split Video." When you tap "Split Video," you'll be able to access tools that aren't available in the other video cutter apps I mentioned.
Using the Split tool in the Video Cutter app, you can tell the Video Cutter app to cut your videos into specific pieces or durations. When you select the segment quantity in the app, the app will automatically display how long each clip will be played after being divided and vice versa.
Splice App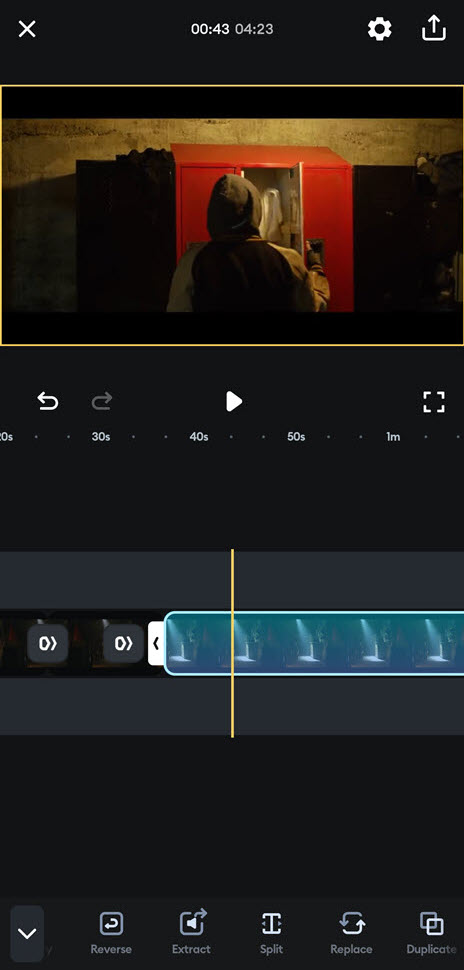 The Splice app would be a fantastic solution for you to meet your video cutting needs. It's a well-known video editing app that works on Android and iPhone.
On your Android or iPhone, use the Splice app to simply remove a portion of your video from the beginning, middle, or end. Even though the app has several tools for editing videos, you can only use the Splice app to cut videos using its built-in trim and split functions.
After opening a video in the Splice app, tap and hold the video clip in the preview pane. The app will then display white handles on either side of the video; tap the left-side handle and drag it in the preview pane until you reach the position where you want to keep your trimmed video, and then repeat on the right-side handle to trim a video using the Splice app.
Also, you can cut up the video as much as you want at any point by tapping the "split" button on the toolbar at the bottom. After dividing your video into multiple parts, you can quickly eliminate parts you don't want by tapping the trash can icon at the bottom of the app.
In the same way, you can add as many videos as you want to the preview pane of the Splice app. You can then cut, trim, and split them as you like. Finally, you can combine them to make new video clips.
Summary:
We can use an iPhone or Android video cutter app to delete undesirable chunks from a video, shorten a long video, or divide a film into halves or numerous pieces.
We can look at a lot of video-cutting apps on the Google Play Store and the App Store, but only some of them will work the way we want. Many of them will have a lot of ads, and some won't support important video formats. Many of them may also have bugs.
From that long list of video cutter apps, we chose some of the best ones for Android and iPhone. I hope that these best apps will help you cut, trim, and split your videos the way you want.