Duplicate Files Fixer for Android is one of the powerful tools to remove duplicate files from your Android Phone. The app comes with a simple and clean user interface. And it provides a number of features, very simple to use, even it is free. See Also: Search Duplicate File for Android
Duplicate files accumulate on your system due to various reasons like file downloading, file sharing, data backup, etc. These files not only occupy valuable storage space but they also affect system speed and performance negatively. To deal with these duplicate files, you can perform a manual cleaning of the system, or you can use a duplicate file remover tools for instant and accurate results. One such tool is Duplicate Files Fixer which is offered by leading software firm Systweak Software. Let's discuss some of its unique features here.
Read Also: Systweak Android Cleaner App for Android
Features of Duplicate Files Fixer App: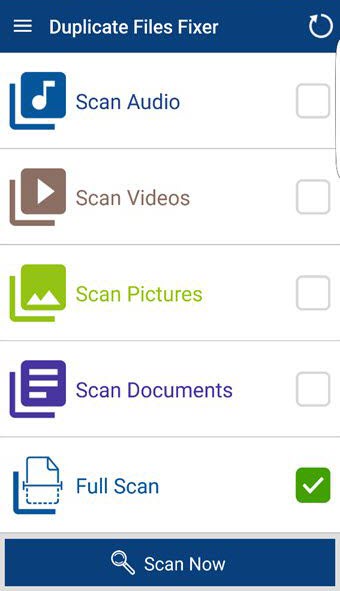 At home page screen it asks you to select scan type to find duplicate files on your device. You can choose from audio, videos, pictures, documents and full scan options. Once you have selected the scan type, hit the "Scan Now" button to initiate the process.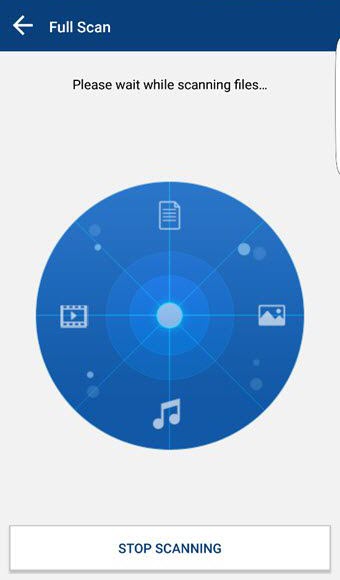 Scan process time may vary according to the data it needs to scan. Though process is swift and efficient to find accurate results.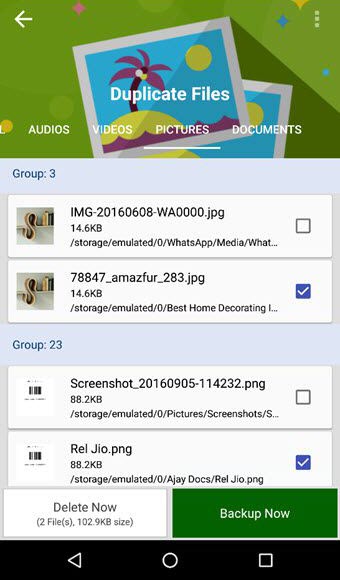 It displays scan results in groups in an auto-mark format where last file(s) of the group remain marked to be deleted. You can change the settings by selecting "Mark all except last" option from the options menu to mark all first files from the group. You can also select 'Unmark All' option to manually select the files to delete. You can take backup of the files by pressing 'Backup Now' button, or you can easily delete duplicate files by pressing 'Delete Now' button.
Unmark Shortest File Location: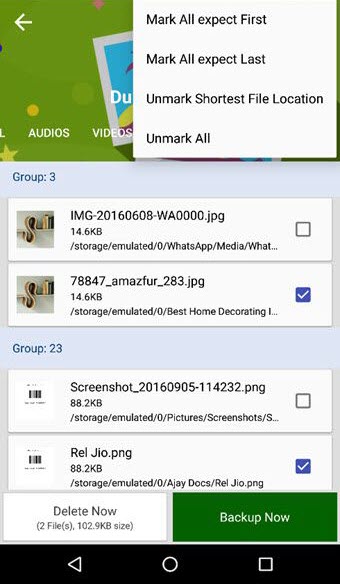 This option is given to provide you swift access to your files. It helps you eliminate all such duplicate files which exist at longest file location of your device storage space by unmarking files which exist at the shortest file location. It is an instant way to manage your storage space in a better manner.
Duplicate Files Fixer is Personalizable: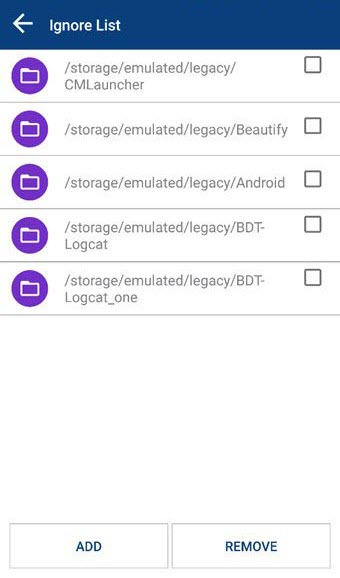 This is a useful function of the app which helps you keep your sensitive data untouched. Using this function, you can add any file or folder to 'Ignore list' to avert scanning process for that particular file or folder.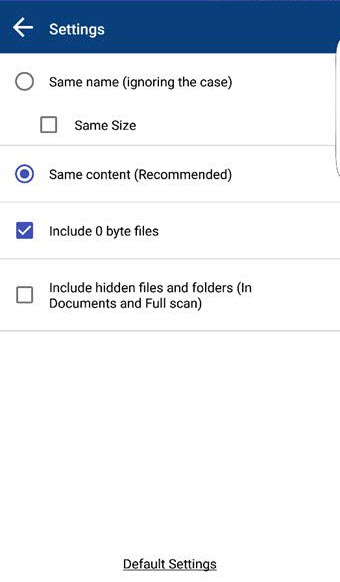 This useful app uses advanced algorithms to find similar or exact files using the same name, same size, same content and other attributes. You can set filters on these parameters. Apart of it, you can also include 0-byte files, hidden files & folders to initiate a scanning process.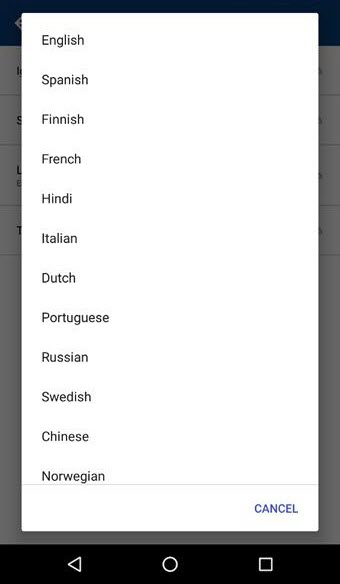 This useful app offers some amazing features to users around the world with various language options. You can select the language of your choice from a list of options.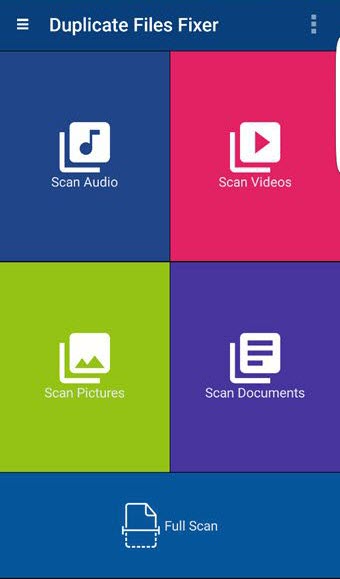 It offers two intuitive themes to users. You can select Classic or Material theme to perform tasks on this app.
Highlights of the App
Helps you de-duplicate your device storage space for better performance.
Recover a lot of precious storage space.
Uses advanced algorithms for accurate results.
Intuitive user-interface and user-friendly app.
Verdict:
Duplicate Files Fixer for Android offers most advanced features to provide you accurate results. Using this app, you can de-duplicate your device storage space to improve its speed and performance. You can expect instant and effective results using this fantastic app. This app is highly recommended to users around the world.