Plus Messenger is a Telegram mod just like GBWhatsApp for WhatsApp. It can bring a bunch of customization features to the Telegram messenger such as themes, fonts, navigation bar and much more.
You can install official Telegram app with Plus Messenger without any issues on your Android phone, and also you can run both apps at once with two different accounts.
The app is totally free to use; it won't show ads, and they don't charge subscription fees from users. And the Plus Messenger has designed with the native interface of official Telegram app. But it has an additional navigation bar on its interface; wich lets users access some extra features instantly. Using quick navigation bar, you can explore personal chatting window, Group chats, Supergroups, Channels, Bots, and Favorites quickly. You can customize navigation bar through Plus Messenger settings section. However, you can hide it from the main screen if you think it is unsuitable for you.
Another cool feature of Plus Messenger is that you can completely change colors and size of many objects such as main interface, texts, avatars, headers, etc. Apart from that, you can create your own theme for this Telegram mod app, or you can download awesome themes for Plus Messenger using the Plus themes app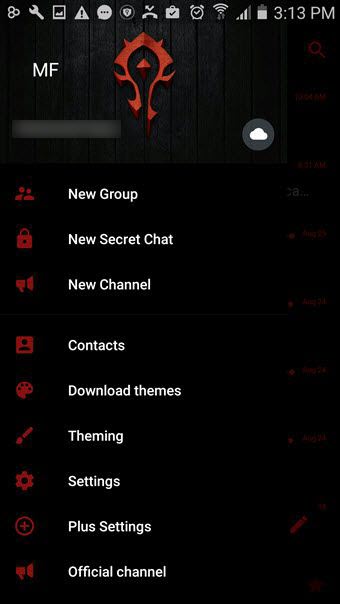 Some Features of Plus Messenger
Option to add some cool themes to Telegram Messenger. 
Able to use device font on Telegram. 
Users can bring or hide navigation bar on the app.
Able to move the navigation bar to bottom from the top.
You may able to show/hide components from the bar.
Ability to resize the height of the navigation bar. (30 – 48)
You can determine the quality of sent photos.
Able to hide typing indicator when you are chatting with friends on Telegram.
You can hide online status on Telegram messenger.
You may able to hide your phone number from the menu on Telegram. 
Simply jump to a chatting window from another chatting window using "quick" bar.
You can hide instant camera button.
Able to hide "left group" message. 
You can mark telegram chats as unread.
Able to create a shortcut for personal conversations, group, supergroups, channels, bots, or favorites.
You can add conversation, Supergroups, channels, and bots to your favorites list.
Download Plus Messenger (V3.13.1.4)
You can download Plus Messenger from Google Play Store. To download the app, First open Google Play Store app on your phone and search "Plus Messenger" on the Play Store app, you will see this Telegram mod app as a first result, then choose it and select install button. (Current version 3.13.1.4) App size around 15.5 MB. Size may depend on you Android OS version.  Also, you can download the APK file of this app from APK Pure.
Check out: Another excellent Telegram Mod | Mobogram for Android
Final verdict: Plus Messenger Telegram
Telegram is a good alternative to WhatsApp and it is well-known secure messaging service in the world so that Plus Messenger has added more benefits for Telegram users. The good thing is that this Telegram mod app doesn't show annoying ads to users. Instead, it is entirely free for all Android users. Hope this article will be useful for those who wish to use Telegram with their personalities.