Have you ever wondered a way to send any files through Facebook messenger? Here is the answer. This article tells you to a way to send any files through your favorite messaging app using Dropbox.
Facebook messenger service is not like before, which allows us to use the bunch of 3rd party application within the app. so now we can send Dropbox files through the Facebook messenger, but some people still wonder how to do this. Therefore, this article will be helpful for them. Before you do this, it's better to have an understand about Dropbox.
What is Dropbox?
Dropbox is
one of the most popular cloud services e
ven though some people ignore it. And this cloud service offers 2GB free space for every user. If you want to increase your storage spaces, then you can purchase it by giving extra dollars.
Facebook Messenger
At the same time, we all know about the Facebook Messenger well. It's not only for chatting but also Facebook Messenger offers to use third-party apps with their service.
So, we can use Dropbox service within Facebook Messenger. And also it allows sharing our Dropbox files quickly with Facebook friends. Read continuously to know more about this
Send Dropbox files with Facebook Messenger
Step 1: First of all, you need to install both of applications on your smartphone. (Download links are given end of this article)
Step 2:
Now, create an account on Dropbox using
this link
, if you already have an account in Dropbox, ignore it and log into Dropbox application.
Step 3: Then open the facebook messenger and go to the chatting page with whom you want to share the files.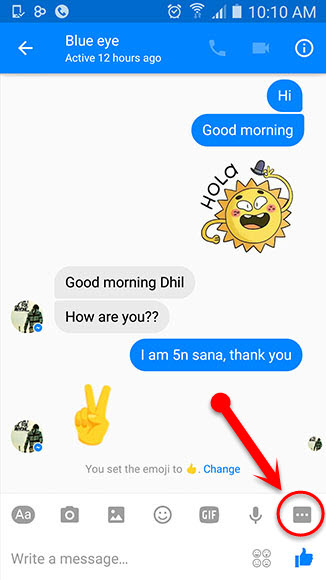 Step 4: After that, tap the three dots icon at the bottom of right corner on the chat window. Then, a popup will appear on your chatting page now simply select Dropbox from that popup window.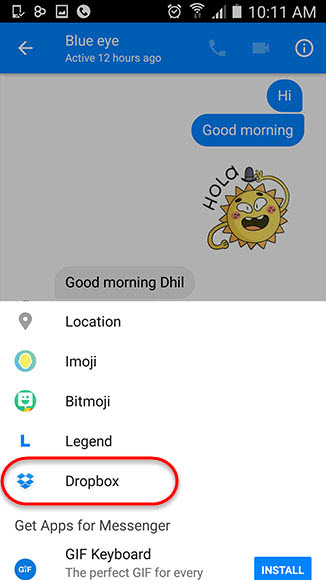 Step 5: Finally, the Dropbox app will open. Then select a file which you want to send to your friends or others and tap the send button.
That's it!
I think it's Simple, Easy and Faster way to share files with your Facebook friends Enjoy it! I would like to hear your thoughts, so if you have any queries about this article. Don't forget to leave a comment below.