Do you search a Best Hidden Camera App for Android phone? Or Have you ever wondered the best way to secretly record video on Mobile? Then this article will help you to fulfill your thoughts.
Secret Video Recorder is one of the best "hidden camera apps" for Android. It is a handy app to record videos secretly, and it has a simple user interface, which allows users to understand about the app quickly. And it has plenty of features that lets you record a secret video even better.
The main advantage of the Secret Video Recorder app is that the app won't show preview while you are recording a video. Also, it provides a shortcut icon to record a video immediately with a single tap. And you can able to hide recorded video from your phone gallery through its settings section.
Recommended Article: Learn a way to Hide WhatsApp Photos from Gallery in Android
Additionally, the app lets you change the icon of the Secret Video Recorder app which helps you to hide the app from others trickily. The app also has an option to use a password thus you don't need to install any of third-party app to protect  Secret Video Recorder app with a password.
Download Secret Video Recorder: Hidden Camera App for Android
Secret Video Recorder app is free to use; it will work on Android 4.0.1 and higher devices. And the file size is around only 3.5MB, so it is simple to download. You can download the app from Google Play Store by searching the name of the app. If you have trouble with downloading Apps from Google Play Store, then you can use Online APK downloaders to download APK file of Secret Video Recorder, and you can lean way to install APK file on Android phone without any issues through my previous article.
How to Record Secret Video using Secret Video Recorder
The app has several ways to record videos in the background on your Phone. You can start to record a video with tapping "video" icon on the app, or you can record a secret video by tapping its shortcut icon on the home screen or the app also allows you to record a video by scheduling it. You can select one of these methods as your needs.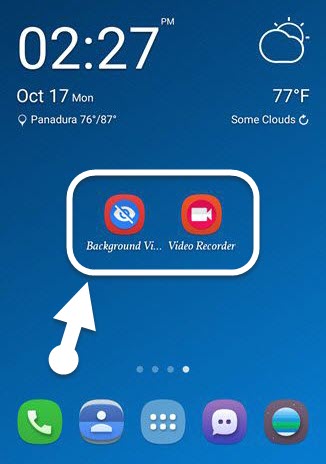 Once you installed the app, it will create two different icons on the home screen of you phone one is "Background Video Recorder" and the other one is "Video recorder."
Background Video Recorder
Background Video recorder app icon allows you to personalize the app such as schedule video recording, video trimming, enable/disable shutter sound, camera (front/back,) enable/disable Flashlight, video quality, white balance, Password protection and so on.
Video recorder
Don't need to wait to record a video! Or you don't want to navigate to the app drawer! "Video recorder" icon lets you record a video immediately even without opening the app. After you tapped the "Video recorder" icon, Secret Video Recorder app will run silently in your phone's background, and it will record whatever will happen there even without a shutter sound or video preview.
How to record a video without anyone knowing.
Step 1: First, Download and install Secret Video Recorder app.
Step 2: Tap the "Background Video Recorder" icon from the app drawer.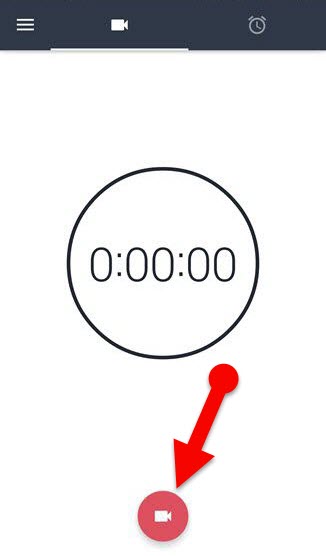 Step 3: Then, tap the video record button. (Alternatively, you can tap "Vide record" button from App drawer or Homescreen)
Record Secret Video at a particular time
Step 1: Download and open Secret Video Recorder.
Step 2: Select the "Schedule" icon at the top right corner of the app.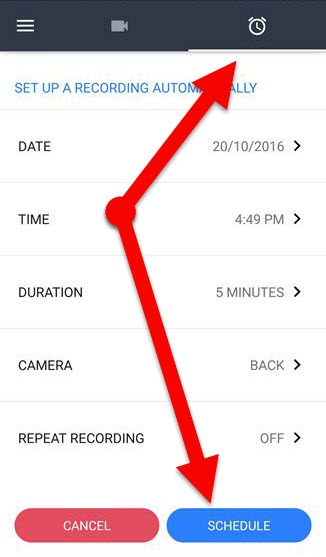 Step 3: In the Schedule section, you can Schedule a video with proper time, date, and duration. Also, you can able to choose a camera either the front or back that you wish to use while recording a video.
Step 4: Finally, tap the "SCHEDULE" button.
That's it. Now secret video will be recorded by the Secret Video Recorder app at the scheduled time.
Stop recording secret video on Secret Video Recorder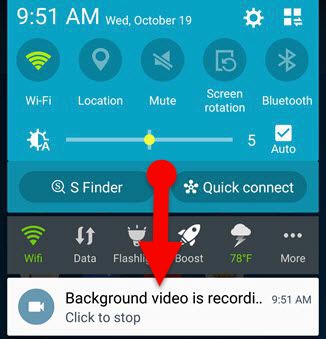 After you selected the "Video record" button, the video will be recorded in the background of your phone. And a notification will appear on Notification Panel. You can stop recording video anytime you want by tapping that notification although schedule recording will end automatically after the selected duration.
Final words: Best way to secretly record video
There is no way to record a video without preview in Android built-in feature yet although there are many apps on Google Play Store to overcome this deficiency. In that respect, Secret Video Recorder is the best app to record video without anyone knowing. And it offers a bunch of options about recording secret videos. Hope this article will be useful for those who wish to use a simplicity hidden Camera App on their Android phone.