Do I need a third-party app to hide and unhide chats on Viber? Have you ever thought like this? The answer is not necessary; you can hide and unhide individual chats on Viber without using any third-party apps. But you couldn't find this feature on any other services like this. Such as WhatsApp, Facebook Messenger, Snapchat, Etc.
Get a little understand about Viber
Viber is a well-known messaging service like WhatsApp, Facebook Messenger, and Telegram. It offers to make free voice calls and video calls between Viber installed devices. Even more, you can also send free text messages, photos, videos, draw doodles, locations, record audio messages, and able to send any type of file.
Viber is a multiplatform messaging service, and you can experience it on Android OS phones, tablets, Windows, Mac, Linux, Wearable devices, iPhone, and iPads. Viber app regularly updates with some attractive features and Viber also introduced to hide and unhide individual chats on Viber. But someone still searching a way to hide individual chats on Viber. So today I am going to explain about this method, and it's simpler than what you think.
Hide individual chat
Step 1: Open the Viber app and navigate to chat window.
Step 2: Long press the individual chats of a person or a group from the chat window, which you want to hide.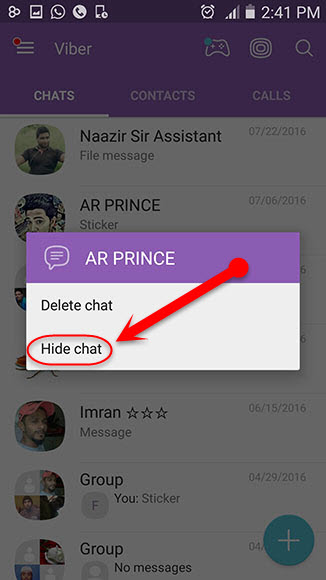 Step 3: Then a popup window will appear. now tap the hide chat on that window.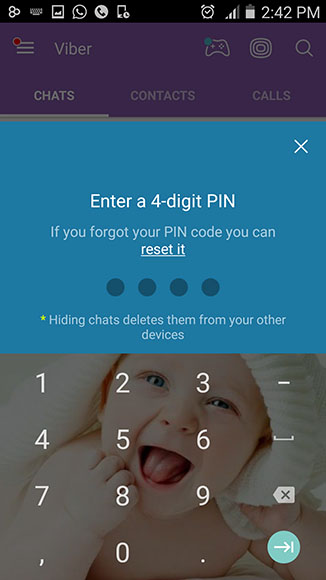 Step 4: After that, it will ask you to set a four-digit pin number, then set your pin number by tapping the "SET PIN" button.
That's it. Now selected chat will be hidden.
How to open the hidden chats on Viber
Step 1: Tap the search button wich was on Viber main screen.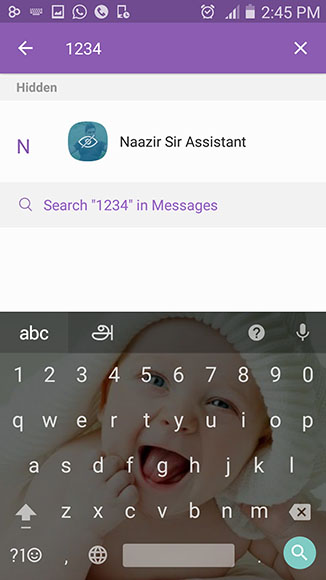 Step 2: Then type your 4-digit password in the search box
Step 3: Now, your hidden chat will appear. Simply tap it and now you can read it.
Unhide chat on Viber
Step 1: Open the hidden chat on Viber as explain in above method.
Step 2: Now tap Settings (gear icon) at the top of the right corner.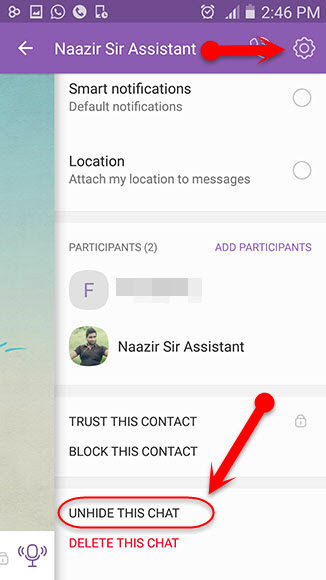 Step 3: Then setting page will appear. After that go to the bottom of that page.
Step 4: Finally, tap the "UNHIDE THIS CHAT" button and type your password on appeared window.
That's it
You can download Apps, Softwares from here
Hope this article helps you to get a bright idea of hiding and unhiding the individual chats on Viber. If you have any queries with this article leave a comment below