If you are new to Android and have you faced trouble with installing Android APK files on your Android Phone? Don't worry guys! Here is everything about "How to Install APK on Android" on your Android Phone.
.apk is an extension of Android applications, which contains all the file of an Android application just like a .exe file of Windows OS. Although Android OS has a built-in Apk installer, I don't know why somebody is looking third-party APK installer. However, there is some third-party installer in the Play store and outside of them.
Many websites offer to download APK files to your Android Phone; APK Mirror is a one the most popular websites to download APK file, and it's safe though there are many sites on the internet which could deliver malicious files to your Phone. So beware about downloading and installing APK files to your Android phone ever. And Make sure every time, if you are downloading APK files from the safer websites. Also, Some sites offer stolen apps. Installing those apps are against to the law and should be avoided.
Do you have a downloaded APK file? Or Have you transferred an APK file from you friend's phone to your Phone? And now, have you wondered a way to installing them to your phone? It's Simple, but you could face one or more error messages while you were installing them on your Phone.
Before you Install APK on Android, you should make a small change in your Phone Settings. Keep on reading, learn more about so.
Installed blocked because of "Unknown source" file
Have you confused with this message? Don't afraid. The "Unkown sources" is the most common error message which will appear while installing APK file on an Android Mobile. This error message is showing because of security purpose. By the default, the Android OS doesn't allow you to installing an APK file directly, without the help of Google Play Store. Though, you can directly install an APK file to your phone by making a small change in Android settings. The following explanation will help you to bypass this error message.
How to avoid "Unknown source" error on Android
Step 1: Go to Settings on your Android Phone.
Step 2: Navigate to General > Security.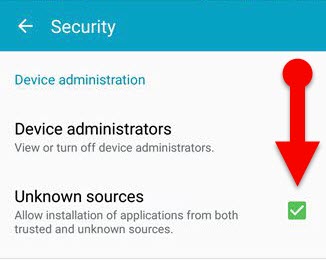 Step 3: Find "Unknown sources" under the "Device Administration" section and select the checkbox next to it.
How to install APK on Android (Directly)
Step 1: First, Make sure if you have ticked on "Unknown sources" in your Phone settings.
Step 2: Then, tap and open APK file, you can simply locate a downloaded or transferred APK file by using a file manager on your Android phone, you can use ES File Explorer or any other file managers to do so.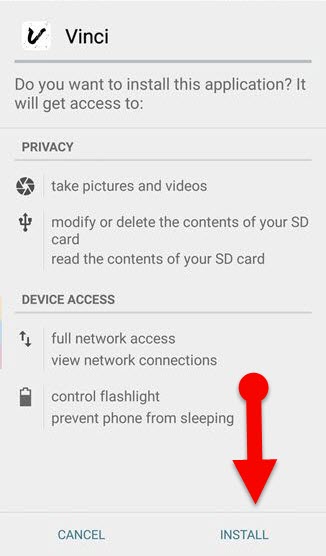 Step 3: After that, you will see installation window on your Phone, then click "Install" button.
Step 4: That's it. Now you can open the installed app through app drawer.
How to install APK on Android from PC
There are any ways to install APK from PC to Android. As far as "pure APK installer" is a pretty much Software to install APK from Windows PC, even it is free and lightweight. Let's see how we can do this task on PC and Phone.
Step 1: Download and install "Pure APK installer" to you PC. (File size is around 8MB.)
Step 1: Then, Connect your PC and Phone with a data cable.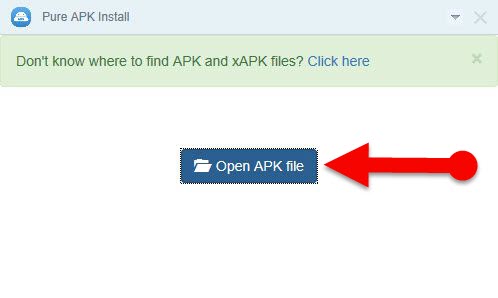 Step 1: Now launch the "Pure APK Installer" on your Windows PC and Click on "Open APK File" button.
Step 1: Select APK File from your PC.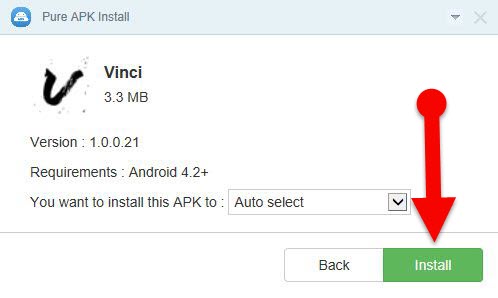 Step 1: Finally, tap the "Install" button.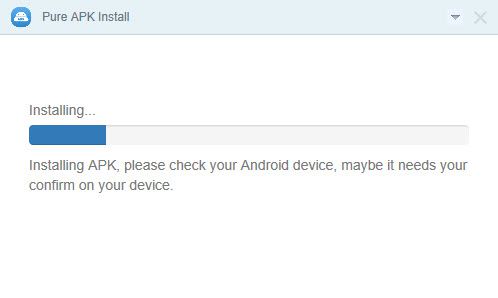 That's it; your app will have installed on your Phone shortly.
Note: You should enable "USB debugging mode" on your Android Phone to complete above task. To enabling USB Debugging mode, go to settings on your phone, navigate to "General > Developer option" and select "USB debugging mode" checkbox.
Tip: You can also use SHAREit app on Windows PC to transfer Android APK files from PC to Phone.
Advantages of installing app through APK
You can install Android apps without having a Google account.
Some apps could release before its official release. So, you don't need to wait until its official release to use those apps.
You can simply bypass country restrictions when you are installing Android apps through APK.
Can be able to install apps outside of the Google Play store Such as GBWhatsApp, Amazon, Etc.
You can get the latest version of an app before it is going to live on Google Play.
In some cases, you can install Android apps without downloading it, because you can transfer installed apps from you friend's Phone.
Final Words:
This article is the answer to the question that "How to Install APK on Android?" I have Provided ways to install APK from either directly on Android or from PC to Android. Hope this article will be easy to understand for both beginners and Advanced Android users.
Although there are so many benefits when installing Android apps using APK files, be aware of untrusted APK files and avoid installing stolen apps. Have you found this article is useful? Then don't forget to share with your friends and if you have any queries related to this article then leave a comment on below.