Prisma for PC: Do you like to turn your photo into Art on Windows PC like Prisma app? It is not only you; there are hundreds of thousands of people thinking to use Prisma photo filters on their PC. And some people trying to use Prisma app through the Blustacks Software but it will not give a better experience to everyone. After reading this article, you can be able to turn photo into art on PC without BlueStacks (Prisma online editing tool)
Nowadays, Prisma photo filter becomes popular on the internet and almost every my friends are falling into this trending activity. So, I have covered many articles about the Prisma app through my previous posts. If you miss reading those articles, you can also read it through below links:
Prisma online editing tool (Prisma bot)
Today I am going to explain about another easy way to use Prisma photo filters on PC. In fact, it is very easy. Not needed to think about BlueStacks or any other external Softwares. Although this is not a direct photo editing tool, it is a Telegram bot. And No matter how old your computer is! You can use it on any version of Windows such as Windows 7/8/8.1/ or Windows 10 even you can use it on Mac too.
This Telegram bot called Prisma; it allows you to turn your photos into awesome artworks. So, you should use web-version of  Telegram messenger to get this feature on PC. if you already have an experience with Telegram web-version, then it is much appreciable. If not, then don't worry. It simple to use. There are many ways to use Telegram on PC; I also recommend you to read the below article.
Get Prisma for PC Using a Telegram bot
Before you get started to turn your photo into art, you must have an account on Telegram. So, first of all, you need to create an account on Telegram. To do this follow the below instruction.
Step 1: Go to the Telegram web version page.
Step 2: Enter your mobile number with country code in required field and click the next button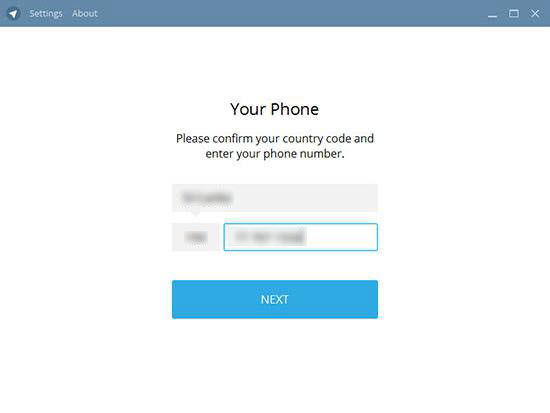 Step 3: Then Telegram will send a verification code to your mobile number and enter the particular code on Telegram web.
Step 4: That's it. Now you must integrate your telegram messenger with Prisma bot. To do this continue the follow instruction.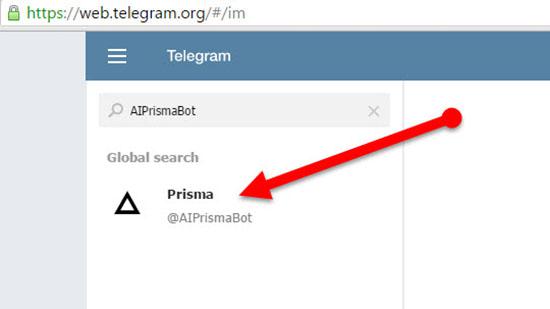 Step 5: Type "AIPrismaBot" at the search box on the top of the Telegram Web App and click the "Prisma" username which will show on message list with Prisma iCon or simply click on Prisma bot link and directly go to the Prisma bot page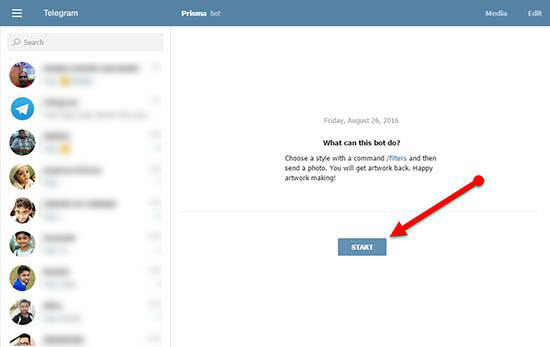 Step 6: Finally, click the Start button. Now you are ready to use Prisma bot on Telegram.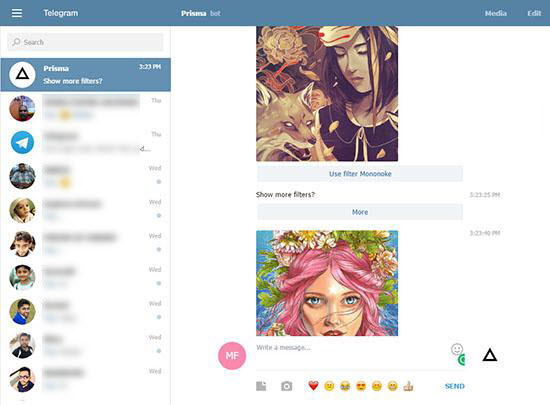 Step 7: Now you can turn your photo into art by sending a picture to Prisma Bot on Telegram. And also you can list all photo filters on Prisma bot by sending "/Filters" command.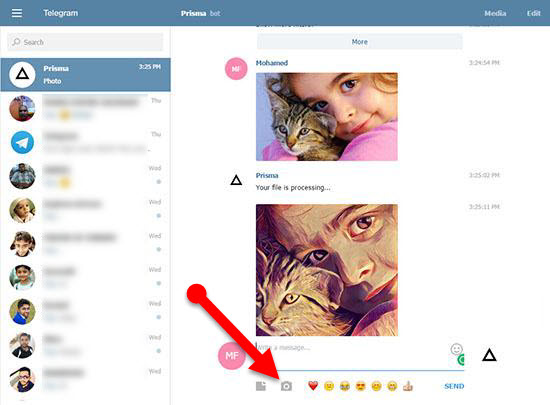 Closing words:
This article is all about to get Prisma for PC without BlueStacks. Hope this article will be useful for everyone who wishes to use Prisma filters on their Windows PC or Mac. Moreover, this is easy to use because it is a Prisma online editing tool. So, you don't need to install any software on your PC, and no matter What's your Windows version is (Windows 7/8/8.1/ or Windows 10). Guys if you found this article is useful then don't forget to share with your friends.